Bill Moyers: Trump Fought the Freedom Caucus over Healthcare and Lost
The most extreme conservatives are capable of holding the House hostage.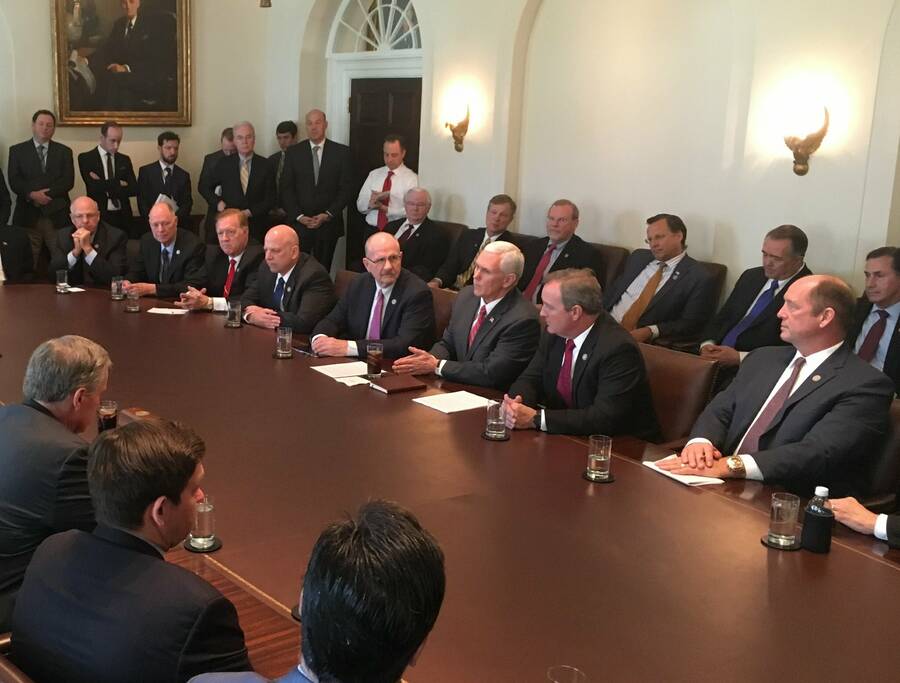 This arti­cle was first post­ed at Bill​Moy​ers​.com.
"How better to satisfy Trump's insatiable need for spectacle than for him to fiddle as Obamacare crashes and burns, bringing pain and suffering to millions?"
The day after Repub­li­cans pulled the plug on Trump­care (or was it Ryan­care?), the front-page head­line of the tabloid New York Post asked: ​"Is There a Doc­tor in the House?"
None were in sight, but there were plen­ty of quacks wield­ing butch­er knives instead of scalpels as they turned the body politic into a bloody mess and left it gasp­ing for life on the floor of the House.
This is the Repub­li­can idea of governance?
Based on the howls emit­ting from the oth­er end of Penn­syl­va­nia Avenue, you might have thought they had ampu­tat­ed the president's ego. But that would have required a chain­saw while Arnold Schwarzeneg­ger held him down. No, the bel­low­ing and bark­ing from the Oval Office was just the pres­i­dent at his King Kong worst, hurl­ing goril­la dust at Democ­rats for refus­ing to self-destruct by vot­ing for the mon­ster of a health care bill the Repub­li­cans had engi­neered in the House, only to turn on their own cre­ation and at the last minute dri­ve a stake through its heart.
Two days lat­er, Trump was at it again, beat­ing his chest and tweet­ing like a venge­ful god who bruis­es eas­i­ly, this time direct­ing his tirades at the real vil­lains — his fel­low Repub­li­cans, right-wing think tanks and espe­cial­ly the rough­ly three dozen mem­bers of the so-called ​"Free­dom Cau­cus," the most extreme con­ser­v­a­tives in the House.
When they vote as a bloc these guys — all of them are male — can hold the House hostage and stop any leg­is­la­tion they abhor, and believe me, they always abhor leg­is­la­tion that might enhance free­dom for women. In their House, ​"free­dom" is chron­i­cal­ly mas­cu­line. Look close­ly at the group pho­to Vice Pres­i­dent Pence proud­ly tweet­ed when he met with them last week: not a sin­gle woman in it. So in a coun­try where women are in the major­i­ty, we have a Free­dom Cau­cus that is defi­ant­ly and boast­ful­ly unrep­re­sen­ta­tive in its pow­er over the House of Representatives.
We could see it com­ing back in Jan­u­ary. The Free­dom Cau­cus was out in force like a SWAT team as the House passed the first bill of the Trump era — a sweep­ing anti-abor­tion act mak­ing the pro­ce­dure more expen­sive and hard­er to achieve. The bill rewards pri­vate health insur­ers if they drop abor­tion cov­er­age. It bans abor­tion cov­er­age in mul­ti-state health insur­ance plans except in cas­es of rape, incest or life endan­ger­ment. And it denies women and small busi­ness­es tax cred­its if they choose health plans that cov­er abor­tion. Get the pic­ture? These guys loathe sub­si­dies that help the poor obtain health care, but they lav­ish ben­e­fits on busi­ness­es that will­ful­ly deny women their repro­duc­tive rights.
These lovers of free­dom-up-to-a-cer­tain-point object­ed to the entire­ty of Paul Ryan's com­pro­mise health care plan last week. They sim­ply don't want gov­ern­ment health care, peri­od, but they espe­cial­ly were foam­ing at the mouth over its cov­er­age for preg­nan­cy, new­born babies and mater­ni­ty care. These hap­pen to be among the 10 ​"essen­tial health ben­e­fits" that under Oba­macare all health insur­ance plans must pro­vide. But the sovi­et of pale, male and stale in the Free­dom Cau­cus want­ed all 10 pro­vi­sions removed, as if they were mere ves­ti­gial, appen­dix-like polyps instead of life-sav­ing, health-encour­ag­ing mea­sures for the moth­ers of all our children.
The cau­cus also want­ed to end sup­port for a woman's repro­duc­tive rights so hard won by Planned Par­ent­hood and oth­er groups. In this, Trump, of course, has proved a kin­dred spir­it with the right-wing band of broth­ers on Capi­tol Hill. In one of his first acts as pres­i­dent he signed an exec­u­tive order with­hold­ing U.S. for­eign aid from any inter­na­tion­al orga­ni­za­tions that tol­er­ate fam­i­ly plan­ning options that include abor­tion. Ear­li­er this month, he appoint­ed two del­e­gates to the upcom­ing Unit­ed Nations Com­mis­sion on the Sta­tus of Women who believe access to birth con­trol is ​"anti­thet­i­cal to the val­ues and needs of women world­wide." This, when an esti­mat­ed 225 mil­lion women world­wide want­i­ng to avoid preg­nan­cy ​"lack access to safe and reli­able contraceptives."
Giv­en this com­mon con­tempt for women's free­dom, it wasn't sur­pris­ing last Fri­day when Trump, des­per­ate for a com­pro­mise bill that would pass and hop­ing to appease the Free­dom Cau­cus, yield­ed and agreed to remove the essen­tial 10 ben­e­fits of health care from the Repub­li­can bill. But still no deal. Speak­er Ryan then pulled it off the table, ahead of what would have been a los­ing vote, spar­ing his par­ty the fur­ther humil­i­a­tion of Ryan­care (or was it Trump­care?) going down to defeat as peo­ple across the coun­try watched on tele­vi­sion. Bet­ter to beat the crit­ter to death behind the barn than make a pub­lic spec­ta­cle of its cru­el end out in the open.
(A short detour here: On the morn­ing fol­low­ing Bloody Fri­day, The New York Times did a help­ful analy­sis of the role of this Free­dom Cau­cus. But alas, the writer failed to take us down the mon­ey trail. It would have led to the three largest cau­cus donors: The Club for Growth, a gag­gle of megadonors whose idea of ​"good gov­ern­ment" is one that vows secre­cy for off­shore tax shel­ters; Koch Indus­tries, the vast empire run by right-wing oli­garchs Charles and David Koch; and the Amer­i­can Bankers Asso­ci­a­tion, reput­ed­ly the largest finan­cial trade group in the country.
Get this: The Koch net­work even went so far as to assure mem­bers of the Free­dom Cau­cus and oth­er con­ser­v­a­tives who want­ed to vote against the GOP plan that the broth­ers had their backs if they bucked Trump and House Speak­er Paul Ryan. The Kochs want­ed an all-out repeal of Oba­macare, and were will­ing to pay for it.
As Kevin Robil­lard report­ed for Politi­co, they promised a ​"sev­en-fig­ure" slush fund — sor­ry, a reserve fund — to pro­vide finan­cial aid to con­ser­v­a­tive rebels if a venge­ful Trump or Ryan comes after them with an oppo­nent in the next Repub­li­can pri­ma­ry. One top Koch hireling put it this way:
"We want to make cer­tain that law­mak­ers under­stand the pol­i­cy con­se­quences of vot­ing for a law that keeps Oba­macare intact. We have a his­to­ry of fol­low­ing up and hold­ing politi­cians account­able, but we will also be there to sup­port and thank the cham­pi­ons who stand strong and keep their promise."
Promise to whom — the pub­lic or the plu­to­crats? Chris Car­son, the pres­i­dent of the League of Women Vot­ers, was out­raged when she heard about the Koch broth­ers' offer. The League opposed the Repub­li­can health care plan, though for dif­fer­ent rea­sons than the Kochs. Said the dis­gust­ed Ms. Car­son: ​"The Amer­i­can peo­ple have long believed that cam­paign con­tri­bu­tions from big mon­ey and spe­cial inter­ests are bribery, and today's action shows how true it is. ​'You give me your vote, and we'll give you the mon­ey.' That's just not right."
But back to Bloody Fri­day. Trumped, so to speak, by his own par­ty, the pres­i­dent by Sun­day was once again his berserk self, tweet­ing his fol­low­ers to watch a cer­tain news show whose host, Jea­nine Pir­ro, called on Speak­er Ryan, the man who was Trump's ally on Fri­day, to resign.
Hail, Trump; we can only imag­ine the sweet plea­sure it would have giv­en his fes­tooned head if he had been a real Roman Cae­sar, rather than a fake one — ris­ing up in the col­i­se­um, turn­ing thumbs up on one glad­i­a­tor, thumbs down on anoth­er, and then, just for the sheer sadis­tic glee of it, revers­ing his choices.
Who knows that Friday's deba­cle wasn't what he want­ed all along? The man thrives on chaos, cru­el­ty and cir­cus, and the hat­ed Oba­macare lives on, name­sake of his pre­de­ces­sor, the Kenyan inter­lop­er who rose to the pres­i­den­cy with­out even a pass­port. How bet­ter to sat­is­fy Trump's insa­tiable need for spec­ta­cle than for him to fid­dle as Oba­macare crash­es and burns, bring­ing pain and suf­fer­ing to millions?
He made his incli­na­tions clear on Fri­day when he told The Wash­ing­ton Post, ​"The best thing polit­i­cal­ly is to let Oba­macare explode." Democ­rats would then take the blame and Trump could go off to Mar-a-Lago to con­tem­plate where to wreak hav­oc next.
As was said of an ear­li­er pres­i­dent, he has, after all, the ​"pecu­liar pow­ers as an assailant, and almost always, even when attacked, gets him­self into that atti­tude by mak­ing war upon his accuser; and he has, with­al, an instinct for the jugu­lar and the carotid artery, as unerr­ing as that of any car­niv­o­rous animal."
That was Pres­i­dent John Quin­cy Adams, as described by Mass­a­chu­setts con­gress­man Rufus Choate. But Choate not­ed a qual­i­ty Adams pos­sessed that Trump does not: ​"untold trea­sures of facts, and they are always at his com­mand." Trump's slip­pery grasp of ​"alter­na­tive facts" doesn't count. Not that it ever stops him.
Mean­while, the best line of the week went to Minor­i­ty Leader Nan­cy Pelosi. The Repub­li­can health plan, she said, would have made ​"being a woman a pre­ex­ist­ing condition."

Bill Moy­ers
is the pres­i­dent of the Schu­mann Cen­ter for Media and Democ­ra­cy and the host of
Bill Moy­ers Jour­nal
on PBS.