When Billionaires Battle for Public Office, Working People Always Lose
The upcoming Illinois governor's race is more proof that big campaign spending narrows political possibilities and increases inequality.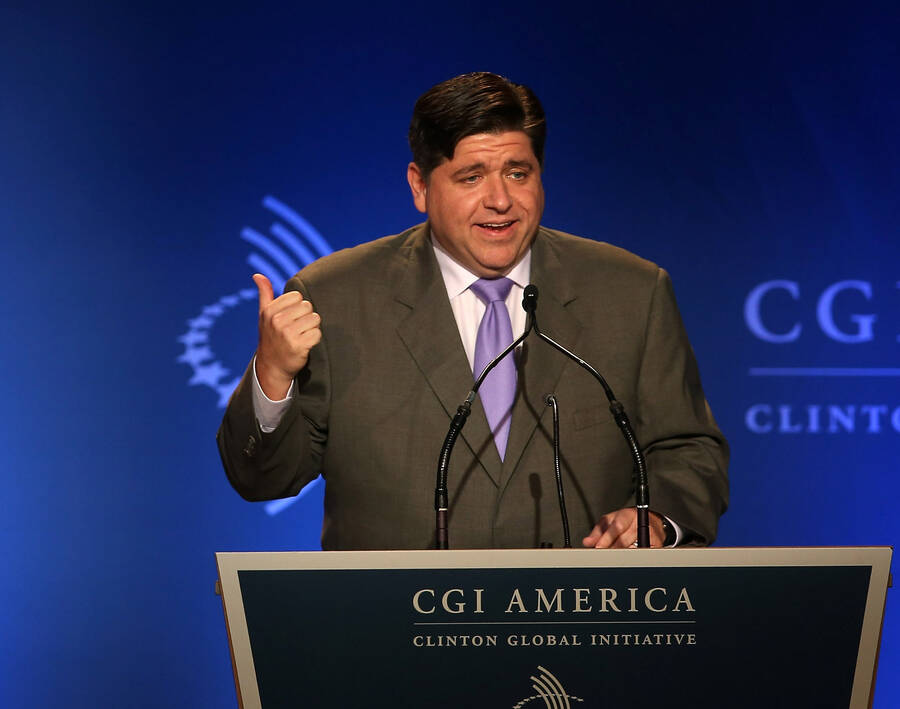 With dys­func­tion and polit­i­cal dead­lock on the rise in Wash­ing­ton, D.C., impor­tant pol­i­cy fights have been pushed to the state and local lev­els. And in a polit­i­cal envi­ron­ment already inun­dat­ed in cam­paign cash, big mon­ey has followed.
We must start now, and undertake the difficult task of building power in a rigged system. We have to look to organizing to give political expression to the social movements growing across the country.
So, too, has pub­lic dis­con­tent. Take the case of Chica­go. In a mid-Sep­tem­ber poll, two-thirds of Chica­go vot­ers said that city gov­ern­ment is seri­ous­ly off track. Just one in five approved of the direc­tion the city is going.
By most indi­ca­tors, the qual­i­ty of life for aver­age Chicagoans con­tin­ues to erode. High lev­els of gun vio­lence claim a trag­ic num­ber of vic­tims in areas across the city. Res­i­dents in gen­tri­fy­ing neigh­bor­hoods face ris­ing rents and the threat of dis­place­ment. And the assault on the pub­lic sec­tor has left schools, clin­ics, libraries, and oth­er pub­lic resources shut­tered or under­fund­ed while inten­si­fy­ing seg­re­ga­tion and racial inequities.
At a time when the peo­ple of Chica­go needs their lead­ers to tack­le these dif­fi­cult prob­lems for the ben­e­fit of the many, our polit­i­cal class has all too often pro­posed solu­tions for a nar­row few.
Across all lev­els of gov­ern­ment, out-of-con­trol polit­i­cal spend­ing by cor­po­ra­tions and the rich is poi­son­ing pub­lic dia­logue, cor­rod­ing our polit­i­cal process and lead­ing to lim­it­ed options and bad outcomes.
Take the recent debate over imple­ment­ing a soda tax in Cook Coun­ty. In a big-mon­ey brawl between the bev­er­age indus­try which opposed the tax and for­mer New York may­or Michael Bloomberg, who sup­port­ed it, each pro­posed unsat­is­fy­ing solutions.
On one side, the bev­er­age indus­try pushed a pro-job nar­ra­tive to pro­tect its abil­i­ty to rake in prof­its by ped­dling sug­ary drinks. Mean­while, Bloomberg, one of the rich­est men in the world, harped on pub­lic health ben­e­fits to jus­ti­fy regres­sive tax­es on the poor and mid­dle class.
Drowned out from the debate were the voic­es of work­ing-class Cook Coun­ty res­i­dents, who might won­der if they could have both health and jobs if bil­lion­aires and cor­po­ra­tions paid their fair share — an option nev­er put on the table. Spend­ing on both sides of the soda tax fight served to lim­it the debate to a range of ​"solu­tions" accept­able to the rich and powerful.
In Illi­nois, cam­paign-relat­ed dona­tions have explod­ed over the past 20 years, accord­ing to the non­par­ti­san Illi­nois Cam­paign for Polit­i­cal Reform. In 1996, polit­i­cal donors in Illi­nois spent $37 mil­lion on can­di­dates and cam­paigns. In 2016, that num­ber bal­looned to $413.2 million.
Each year, a small group of ultra-rich donors accounts for more and more of that polit­i­cal spend­ing. The same few names show up over and over again, includ­ing finance mogul Ken Grif­fin, the rich­est man in the state and top donor to Demo­c­ra­t­ic May­or Rahm Emanuel. Over the course of three years, Grif­fin also gave over $40 mil­lion to Repub­li­can Gov. Bruce Rauner and oth­er Illi­nois GOP leaders.
Of course, when it comes to polit­i­cal spend­ing in Illi­nois, no one tops Gov­er­nor Rauner him­self. The pri­vate equi­ty exec­u­tive has worked to remake the Illi­nois Repub­li­can Par­ty in his own image through cam­paign cash and a lav­ish­ly fund­ed net­work of lob­by­ists and inter­est groups.
A new polit­i­cal boss for our new gild­ed age, Rauner has wreaked hav­oc on the state in a failed attempt to ram through his hard-right, big busi­ness agen­da. Prepar­ing to try again in 2018, he's kicked off his re-elec­tion effort with a $50 mil­lion per­son­al con­tri­bu­tion to his own campaign.
Up against Rauner's near­ly $67 mil­lion war chest, the Illi­nois Demo­c­ra­t­ic Par­ty has searched for its own bil­lion­aire to self-finance a guber­na­to­r­i­al cam­paign. Many par­ty lead­ers are look­ing to bil­lion­aire J.B. Pritzk­er, an heir to the Hyatt Hotel for­tune who has already donat­ed tens of mil­lions to his own cam­paign. Oth­ers are jump­ing on board with busi­ness­man Chris Kennedy, the mul­ti-mil­lion­aire son of Robert Kennedy.
Both major par­ties increas­ing­ly rely on the mon­ey — and can­di­dates — from the 1%, claim­ing there is no oth­er path to victory.
But what is lost when we com­pete on these terms? Depend­ing on benev­o­lent bil­lion­aires — no mat­ter how sin­cere — and the solu­tions they present us, means resign­ing our­selves to leav­ing pow­er in their hands and tak­ing pro­pos­als for deep­er change off the table.
The increas­ing con­cen­tra­tion of wealth and polit­i­cal pow­er are dri­ving caus­es of aus­ter­i­ty and inequal­i­ty, not a sep­a­rate con­cern. The wealthy few, by and large, engage in pol­i­tics to expand their pri­vate prof­its, not the pub­lic good.
Bil­lion­aire lib­er­als like Pritzk­er and Kennedy may be less despi­ca­ble than Rauner, the Koch broth­ers or Trump. But the fail­ure of these estab­lish­ment Democ­rats to name racism, extreme wealth and cor­po­rate pow­er as the pri­ma­ry cul­prits for the prob­lems plagu­ing our soci­ety shows they are com­mit­ted to treat­ing the symp­toms with­out address­ing the under­ly­ing diseases.
The ever-shrink­ing land­scape of polit­i­cal pos­si­bil­i­ty is direct­ly linked to the explo­sion in polit­i­cal spend­ing by just a hand­ful of ultra-rich indi­vid­u­als. No won­der vot­ers are so disgusted.
The kid­nap­ping of our polit­i­cal process by the wealth­i­est 1% has been a gen­er­a­tional project. It will take many years to abol­ish ​"cor­po­rate per­son­hood," reverse the struc­tur­al changes that the well-financed Right has used to dis­en­fran­chise and mar­gin­al­ize huge swaths of the elec­torate, and to build the polit­i­cal orga­ni­za­tions we will need to advance a pro­gres­sive agenda.
But we must start now, and under­take the dif­fi­cult task of build­ing pow­er in a rigged sys­tem. We have to look to orga­niz­ing to give polit­i­cal expres­sion to the social move­ments grow­ing across the country.
Sen­a­tor Bernie Sanders out­per­formed all expec­ta­tions in the 2016 Demo­c­ra­t­ic pri­ma­ry by build­ing a strong, diverse base of sup­port­ers, orga­niz­ers, vol­un­teers and small donors.
Unit­ed Work­ing Fam­i­lies, an inde­pen­dent polit­i­cal orga­ni­za­tion in Chica­go fund­ed entire­ly by work­ing peo­ple and our mem­ber­ship orga­ni­za­tions, aims to do just that in the 2018 elec­tions, back­ing a pro­gres­sive slate of grass­roots can­di­dates of col­or who can begin to restore our hope in the process and to build the polit­i­cal orga­ni­za­tions we need on the ground to take our state and city back.
Emma Tai is exec­u­tive direc­tor of Unit­ed Work­ing Fam­i­lies, a Chica­go-based orga­ni­za­tion that unites work­ing fam­i­lies around eco­nom­ic, polit­i­cal and racial jus­tice issues.