Mul­ti­ple out­breaks of dead­ly H5 bird flu are dec­i­mat­ing poul­try across Europe, Asia and the Mid­dle East. The epi­dem­ic, mov­ing across Eura­sia in waves, fol­lows an erup­tion of H5N2 here in the Unit­ed States in 2015. All the new strains — H5N2, H5N3, H5N5, H5N6, H5N8, and H5N9, togeth­er called H5Nx — are descen­dants of the H5N1 sub­type that first emerged in Chi­na in 1997 and, since 2003, has killed 452 people.
Big Poul­try and its col­lab­o­ra­tors in gov­ern­ment are blam­ing wild water­fowl, which act as reser­voirs for many influen­za strains, for the new poul­try out­breaks. For instance, research under the aegis of Uni­ver­si­ty of Min­neso­ta Pro­fes­sor Car­ol Car­dona, who holds the indus­try-fund­ed Pomeroy Chair in Avian Health, claims that cli­mate change is dri­ving shifts in wild water­fowl ecol­o­gy and there­fore in the influen­za to which indus­tri­al poul­try here in Min­neso­ta are now exposed.
Con­trary to the industry's claim, how­ev­er, exhaus­tive sam­pling con­duct­ed by state ornithol­o­gists found no H5N2 in wild water­fowl in Min­neso­ta. Yet Cardona's team con­tin­ues to search for H5N2 in Spring 2015 sam­ples. Why? Sim­ply because it claims the virus must be there. The absence of evi­dence is treat­ed as no bar­ri­er to an expe­di­ent assump­tion about the nature of the out­break that favors the poul­try industry.
Blam­ing water­fowl is based on anoth­er fal­la­cy. Even if a search for H5N2 in water­fowl proved suc­cess­ful, what would it show? How would the pres­ence of H5N2 in water­fowl here in Min­neso­ta explain the dam­age the out­break has caused to indus­tri­al turkey and chick­en egg lay­ers here in the Mid­west in 2015 or across Eura­sia today?
The industry's line of research omits address­ing why mul­ti­ple influen­za strains, includ­ing H5N2 and many of the oth­er new H5Nx strains, devel­op a dead­li­ness in its poul­try that isn't found in most water­fowl. Indeed, no cas­es of high­ly path­o­gen­ic flu in wild water­fowl were record­ed any­where before 2005. Dead­ly flu in water­fowl has since been dis­cov­ered only as col­lat­er­al blow­back from out­breaks on farms.
As agri­cul­tur­al pro­duc­tion turns wet­lands into farm­land, migrat­ing water­fowl that have tra­di­tion­al­ly vis­it­ed wet­lands along their fly­ways have switched to feed­ing on grain on indus­tri­al farms. That is, the expand­ing inter­face between water­fowl and inten­sive poul­try pro­duc­tion isn't caused exclu­sive­ly by cli­mat­ic changes, as the Car­dona team sug­gests, but by the actions of the indus­tri­al agri­cul­tur­al sec­tor itself.
Focus­ing on wild water­fowl and cli­mate change shifts scruti­ny from an indus­tri­al mod­el of poul­try pro­duc­tion that a grow­ing sci­en­tif­ic lit­er­a­ture indi­cates is itself a poten­tial­ly cat­a­stroph­ic pub­lic health dan­ger. Math­e­mat­i­cal mod­els of pathogen evo­lu­tion — reviewed here and here—show that inten­sive hus­bandry (rais­ing barns of thou­sands of poul­try in packed homo­ge­neous mono­cul­ture) offers much food for flu (and oth­er pathogens), spurring the evo­lu­tion of explo­sive deadliness.
The mod­els infer that a con­tin­u­al sup­ply of cramped-in genet­ic clones removes a cap on how dead­ly influen­za can evolve. With one new batch of birds after anoth­er every six weeks, thou­sands of immuno­log­i­cal­ly weak clones are always avail­able. The most vir­u­lent bird flu can be select­ed for, dec­i­mat­ing fowl pop­u­la­tions with­out run­ning out of new hosts to infect. The now dead­lier flu rou­tine­ly spills back out among local small­hold­er flocks and wild water­fowl. But indus­tri­al sci­en­tists blame the result­ing poul­try and water­fowl deaths as the cause of the outbreak.
Now new research is show­ing that the broad­er envi­ron­men­tal fac­tors, on which Cardona's team is bank­ing as an expla­na­tion, like­ly had at best only mar­gin­al effect on the emer­gence of the new H5 influen­zas. In a peer-reviewed paper recent­ly pub­lished in eLIFE, a team led by Bel­gian spa­tial ecol­o­gist Mar­ius Gilbert intro­duced mod­els explain­ing the dif­fer­ence in spa­tial dis­tri­b­u­tions in influen­za out­breaks between the H5N1 sub­type and its daugh­ter H5Nx. Gilbert's team showed that mod­els includ­ing pop­u­lar eco-cli­mat­ic vari­ables, such as land sur­face tem­per­a­ture, open water and veg­e­ta­tion, added lit­tle in explana­to­ry value.
Instead, the study demon­strates, it's the com­bi­na­tion of host species that best explained the dis­tri­b­u­tion of outbreaks.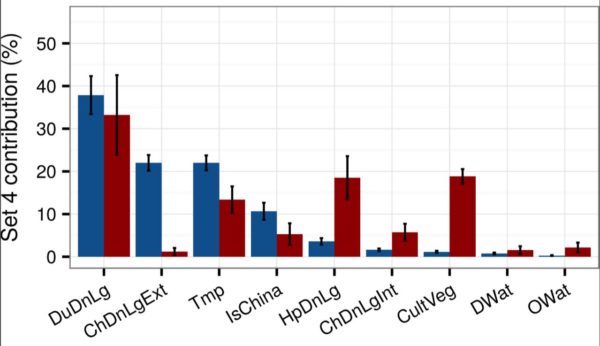 FIG­URE 1. MEAN REL­A­TIVE CON­TRI­BU­TIONS (%) ± STAN­DARD DEVI­A­TION OF DIF­FER­ENT SETS OF PRE­DIC­TOR VARI­ABLES FOR REGRES­SION TREE MOD­ELS FOR HIGH­LY PATH­O­GEN­IC AVIAN INFLUEN­ZA H5N1 (IN BLUE) AND H5NX CLADE 2.3.4.4 (IN RED). THE REL­A­TIVE CON­TRI­BU­TION IS A MEA­SURE OF THE REL­A­TIVE IMPOR­TANCE OF EACH PRE­DIC­TOR VARI­ABLE INCLUD­ED IN A REGRES­SION MOD­EL TO COM­PUTE THE MOD­EL PRE­DIC­TION. FUR­THER INFOR­MA­TION CAN BE FOUND HERE. (REPRINT­ED UNDER CRE­ATIVE COM­MONS ATTRI­BU­TION 4.0 INTERNATIONAL.)
As shown in Fig­ure 1, Gilbert's team inferred the rel­a­tive con­tri­bu­tions the var­i­ous vari­ables made in explain­ing the glob­al spa­tial dis­tri­b­u­tions of old school H5N1 (blue) and new­bie H5Nx (red). We see that, yes, duck den­si­ty (DuDnLg) is a major con­trib­u­tor to both kinds of bird flu — although less so for H5Nx — but we should keep in mind that ducks are also raised as poul­try in inten­sive con­di­tions in many Euro­pean and Asian countries.
The head­line news here is that the H5 virus shift­ed from exten­sive chick­en pro­duc­tion (ChDnL­gExt) char­ac­ter­is­tic of most­ly small­hold­er pro­duc­tion to inten­sive chick­en pro­duc­tion (ChDNL­gInt), urban­ized human pop­u­la­tions (HpDnLg), and man­aged hor­ti­cul­ture (CultVeg). This means that the new strains now appear to be adapt­ed to indus­tri­al poul­try pro­duc­tion near urban centers.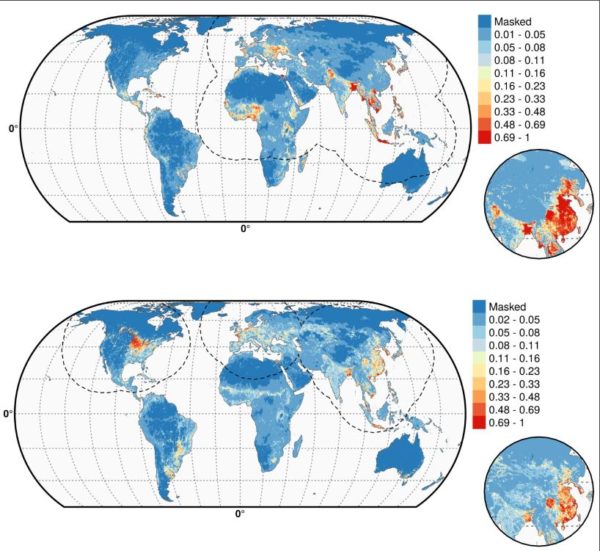 FIG­URE 2. PRE­DICT­ED PROB­A­BIL­I­TY OF OCCUR­RENCE OF HIGH­LY PATH­O­GEN­IC H5N1 (TOP) AND OF H5NX CLADE 2.3.4.4 (BOT­TOM). THE DASHED BLACK LINE REP­RE­SENTS A BUFFER AROUND THE OCCUR­RENCE DATA FOR THE HPAI H5N1 AND H5NX CLADE 2.3.4.4 PRE­DIC­TIONS, COR­RE­SPOND­ING TO AN AREA FROM WHICH PSEU­DO-ABSENCES WERE SELECT­ED. THE CIR­CLE INSET SHOWS THE PRE­DIC­TION OBTAINED WHEN THE EFFECT OF THE VARI­ABLE ISCHI­NA, A VARI­ABLE TO ACCOUNT FOR THE EFFECT OF MASS VAC­CI­NA­TION OF POUL­TRY IN CHI­NA, WAS REMOVED. FUR­THER INFOR­MA­TION CAN BE FOUND HERE. (REPRINT­ED UNDER CRE­ATIVE COM­MONS ATTRI­BU­TION 4.0 INTERNATIONAL.)
As shown in Fig­ure 2, the Gilbert team glob­al­ly mapped the result­ing shift in influenza's envi­ron­men­tal niche (the com­bi­na­tion of fac­tors sup­port­ing out­breaks) show­ing already doc­u­ment­ed hot spots for H5N1 (top) and H5Nx (bot­tom). As report­ed in the press, H5Nx is shown spread­ing in the U.S., Europe, Chi­na, and South Korea, among oth­er hot zones.
But the maps also show areas in poten­tial dan­ger of the new virus, albeit under the con­straint of apply­ing data from the ear­ly stages of an ongo­ing out­break. Bangladesh, Indone­sia, Aus­tralia, parts of South Amer­i­ca, and, prophet­i­cal­ly it turns out, the Nile Delta, are in dan­ger of host­ing out­breaks, should H5Nx migrate there.
The H
5

Nx virus is evolv­ing to bet­ter infect poultry

H5Nx's rise isn't just a mat­ter of a shift in where the virus is spread­ing, how­ev­er. The new strains have also mol­e­c­u­lar­ly adjust­ed. That is, the virus is evolv­ing new attrib­ut­es fit for infect­ing poultry.

In anoth­er new paper, a team of virol­o­gists from Utrecht Uni­ver­si­ty and the Scripps Research Insti­tute show an evo­lu­tion in a par­tic­u­lar mol­e­cule called hemag­glu­tinin – the H of H5 – that the influen­za virus uses to enter host cells.

A rare amino acid sub­sti­tu­tion in the recep­tor-bind­ing part of the mol­e­cule per­mits the new H5Nx both broad­er and more effi­cient bind­ing to tar­get cells. The virus has switched from bind­ing specif­i­cal­ly to recep­tors in water­fowl intestines to expand­ing to recep­tors found in poul­try throats. That means the virus is able to infect a broad­er range of host species, now includ­ing the poul­try glob­al agribusi­ness rais­es by the billions.

The mol­e­c­u­lar changes may also account for why there is a rapid rise in so many new strains of H5Nx, which swap gene seg­ments by a process called reas­sort­ment. As the virus begins to evolve more effi­cient­ly to tar­get its hosts, new ver­sions of the neu­raminidase pro­tein — the N in Nx — are appar­ent­ly being swapped in and out of the var­i­ous strains of H5Nx. How much virus is shed as a result dur­ing an infec­tion and the rapid­i­ty of dis­ease pro­gres­sion may also be affected.

For­tu­nate­ly, the Utrecht team found no adap­ta­tion to mam­malian recep­tors. So it seems no sus­tained trans­mis­sion of the virus among humans is like­ly. But the researchers only test­ed H5N8 in this study and human cas­es of H5N6 have already been doc­u­ment­ed in Chi­na. As H5Nx diver­si­fies and adapts to poul­try that tens of thou­sands of human han­dlers care for and process every day, the like­li­hood of a dead­ly human-spe­cif­ic flu emerg­ing increases.
Indus­try-fund­ed research is ignor­ing alarm­ing trends
The imme­di­ate take-home is that we have here diver­gent eco­log­i­cal and evo­lu­tion­ary analy­ses con­verg­ing upon the con­clu­sion that the new H5Nx are increas­ing­ly influen­zas adapt­ed to inten­sive­ly raised poul­try. That is, a grow­ing lit­er­a­ture of scrupu­lous­ly doc­u­ment­ed sci­ence is show­ing alarm­ing trends that are beyond the con­trol of agribusi­ness-fund­ed research.
These find­ings are in stark con­trast to the rosy nar­ra­tive pre­sent­ed by extreme­ly well-paid researchers backed by Big Poul­try in what the Uni­ver­si­ty of Min­neso­ta describes as the ​"Sil­i­con Val­ley of food." Those teams con­tin­ue to blame any­thing and any­one for bird flu oth­er than the eco­nom­ic mod­el at the heart of indus­tri­al poul­try production.
Farm­ers around the world, and the pop­u­la­tions they feed, deserve bet­ter. Grow­ers are bear­ing the eco­nom­ic costs of a mod­el of pro­duc­tion that sup­ports pathogens dead­ly to poul­try and poten­tial­ly dan­ger­ous to humans. The new research show­ing a new­ly adapt­ed influen­za must be heed­ed and adopt­ed for a fun­da­men­tal change in pub­lic pol­i­cy. Safer mod­els of poul­try pro­duc­tion now being devel­oped here in Min­neso­ta and around the world must be sup­port­ed before the next dead­ly pan­dem­ic sweeps the globe.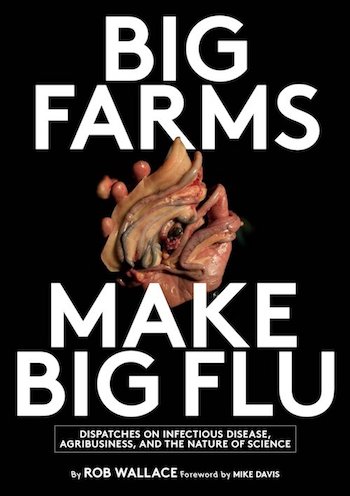 "Indus­tri­al Pro­duc­tion of Poul­try Gives Rise to Dead­ly Strains of Bird Flu H5Nx" was orig­i­nal­ly pub­lished on the ​"Think For­ward" Blog of the Insti­tute for Agri­cul­ture and Trade Pol­i­cy and is repost­ed on Rur­al Amer­i­ca In These Times with per­mis­sion from Inde​pen​dentScience​News​.org. To learn more about this sub­ject, check out Rob Wal­lace's new book Big Farms Make Big Flu: Dis­patch­es on Infec­tious Dis­ease, Agribusi­ness, and the Nature of Sci­ence. (Cov­er Image: ama​zon​.com)
[If you like what you've read, help us spread the word. ​

"

Like" Rur­al Amer­i­ca In These Times on Face­book. Click on the ​

"

Like Page" but­ton below the bear on the upper right of your screen. Also, fol­low RAITT on Twit­ter @RuralAmericaITT]