Birmingham's New Mayor Randall Woodfin on How to Win the Political Revolution Down South
In an exclusive interview, Woodfin discusses his victory, how he plans to redefine progress in Alabama's biggest city, and how other progressive challengers can win.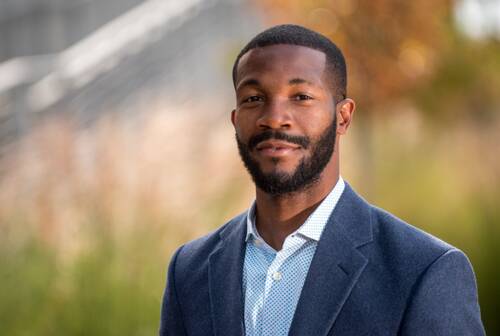 On Oct. 3, Ran­dall Woodfin beat two-term incum­bent William Bell in a com­bat­ive runoff elec­tion to become the next may­or of Birm­ing­ham, Alabama.
"If you want to be successful, the foundation of your campaign should be rooted in the ground. Everything else is a supplement."
Woodfin's plat­form includes sweep­ing pro­gres­sive poli­cies such as debt-free col­lege for high school grad­u­ates, a sum­mer jobs pro­gram for city teens and a $15 min­i­mum wage.
Woodfin beat Bell by a stag­ger­ing 17 points, even win­ning Bell's own neigh­bor­hood precinct. The 36-year-old chal­lenger ran a year-long cam­paign that com­bined tech-savvy com­mu­ni­ca­tion and data tech­niques with an old-fash­ioned grass­roots ground game. His cam­paign team claims it knocked on 50,000 doors and made direct con­tact with 19,000 peo­ple. AL​.com polit­i­cal reporter Kyle Whit­mire said Woodfin's cam­paign was the smartest he'd ever seen in Birm­ing­ham politics.
Late in the cam­paign, Woodfin was backed by nation­al pro­gres­sive groups includ­ing Our Rev­o­lu­tion and the Work­ing Fam­i­lies Par­ty, as well as Bernie Sanders.
But his cam­paign pledges weren't all in line with a tra­di­tion­al left plat­form. For exam­ple, Woodfin also hopes to expand Birmingham's police force. In a city where where vio­lent crime is on the rise, Woodfin says his goal is to improve the qual­i­ty of life for res­i­dents in all 99 neigh­bor­hoods by direct­ly address­ing their con­cerns, from com­mu­ni­ty safe­ty and job train­ing to police accountability.
In August, I shad­owed Woodfin for In These Times dur­ing a can­vas and saw first­hand his con­ta­gious charm, how quick­ly peo­ple seemed calmed by his soft-spo­ken demeanor, how hon­est they were with him. Those inter­ac­tions, he said, built his plat­form. Now, will those 19,000 peo­ple hold him accountable?
When I met Woodfin a week after his vic­to­ry at a café, he was still in high-five and hug mode, greet­ing dozens of patrons before we took a seat to talk about how his win is being viewed nation­al­ly and what he hopes to accom­plish first as mayor.
So, you whooped Bell. Why do you think the mar­gin was so big?
I think we put in the work. We spent our time engag­ing vot­ers direct­ly. The estab­lish­ment orga­ni­za­tions, all the peo­ple with the mon­ey, all the peo­ple in the know, they spent their time talk­ing to the choir. We went direct­ly to the con­gre­ga­tion — the vot­ers. We knocked on their doors. We called their homes. We lis­tened to them and we offered solu­tions to their issues, and we did that on repeat for a year and six weeks.
After you won, much of the nation­al media was quick to say Bernie Sanders or oth­er nation­al sup­port led to your vic­to­ry, but they missed the nar­ra­tive of your grass­roots campaign.
Our Rev­o­lu­tion sup­port­ed us in May. We had been run­ning for a year. So, from that stand­point, we put the work in. And I get [that narrative].
Why?
Local elec­tions are extreme­ly impor­tant in the nation­al con­text. Issues in 2020, issues in 2018, if they can't be solved at the nation­al lev­el, then you have to cre­ate a bench. That bench is at the local lev­el. We're look­ing at a coun­try where the major­i­ty of gov­er­nors are Repub­li­can, and so we have to look toward our Demo­c­ra­t­ic may­ors for solu­tions to address the issues that affect peo­ple every day.
You have to look at our plat­form, too. Our plat­form wasn't nec­es­sar­i­ly ​"cen­ter." It was ​"lean left." What we've been doing [here in Birm­ing­ham] is not work­ing, in terms of actu­al­ly help­ing peo­ple. I think it's com­mon sense, prag­mat­ic things we have to do. I don't call it extreme.
So, there was also this nar­ra­tive of a far-left pro­gres­sive run­ning, but the plat­form you ran on, as you told me in August, came direct­ly out of the mouths of vot­ers you talked to while campaigning.
We got the endorse­ments of Our Rev­o­lu­tion and Work­ing Fam­i­lies Par­ty, but we also got the endorse­ments of the Birm­ing­ham Police Depart­ment. Those things don't usu­al­ly marry.
Con­sid­er what we did. Out of 69 precincts, we won 57. That is every gen­er­a­tion. That's boomer, X, Y. That's black, white. That's home­own­er. That's renter. That's pub­lic hous­ing. That's every­thing in between. We won the entire city: North, South, East, West. It was a sweep. That's overwhelming.
We didn't leave one vot­er group on the table. If you're defin­ing that as ​"far left," if that's the new def­i­n­i­tion of far left, oh well. I don't think it is. I think it's one of the most peo­ple-cen­tered cam­paigns the city of Birm­ing­ham has ever wit­nessed. It's one of the most peo­ple-cen­tered cam­paigns the state of Alaba­ma has ever seen. We end­ed up rais­ing over half a mil­lion dol­lars, $566-thou­sand and some change from almost 4,000 dona­tions. So it was every­thing we did, from doors to phone calls to fundrais­ing. It was grass­roots, grass­roots, grass­roots. Peo­ple, peo­ple, people.
Do you think run­ning that cam­paign allowed you to tap into a move­ment that's hap­pen­ing in the South? Or do you think these peo­ple have been ignored in the South?
I think both. Hon­est­ly, it's both.
We're so quick to define peo­ple by par­ty line pol­i­tics, but I think most peo­ple don't have can­di­dates who can rep­re­sent their val­ue sys­tem whol­ly, and they're just look­ing for some­one who can do the best job.
We had to com­mu­ni­cate with peo­ple who were giv­en 12 options for may­or. We made our way from 12 down to two. The work we put in was nev­er geared toward what we want­ed, but what the vot­er want­ed, what the res­i­dent needed.
So, does that make you feel a great deal of responsibility?
Man, lis­ten. It is heavy. We have to now gov­ern. We have to address pover­ty. We have to address bureau­crat­ic issues because peo­ple are ready to open their busi­ness­es. We have a cul­ture we have to change. We pro­vide a ser­vice on behalf of our city so we have to engage peo­ple dif­fer­ent­ly on behalf of City Hall. That's a cul­ture shift. We've got to have a sense of urgency to address the issues of crime and work­force train­ing and work­force development.
What poli­cies will you put in place first to move these things forward?
I think we take an imme­di­ate look at trans­paren­cy. That's the first thing we do. What­ev­er issues around nepo­tism and crony­ism exist; ex-ed out. I think the sec­ond thing we do is take a look at the strate­gic ini­tia­tives around edu­ca­tion and work­force and around com­mu­ni­ty devel­op­ment and crime.
You had huge grass­roots sup­port. What about those 19,000 peo­ple whose doors you knocked on? Are you putting an expec­ta­tion on them to participate?
Yes. So far, we've been oper­at­ing under two sce­nar­ios. Sce­nario one: Peo­ple don't vote and com­plain. Sce­nario two: Peo­ple vote and then check out and don't hold any­body account­able. I'm ask­ing those 19,000 peo­ple and the 211,000 peo­ple who live in our city to exer­cise a third option: Vote and hold me accountable.
Are there lead­ers local­ly or through­out the coun­try who you look to for that type of lead­er­ship and that type of integrity?
The new may­or in Jack­son, Mis­sis­sip­pi, [Chok­we Antar Lumum­ba]. That brother's tight. We were endorsed and sup­port­ed by some of the same peo­ple. We're both from the same gen­er­a­tion. I'm a huge fan of Walt Mad­dox in Tuscaloosa. He fights for the peo­ple he rep­re­sents. He does it with integri­ty. He does it with a sense of urgency. He does it for all peo­ple: black, white, every­thing in the mid­dle. He's a people's mayor.
The Birm­ing­ham City Coun­cil has pushed for­ward pro­gres­sive poli­cies in the past. It's not nec­es­sar­i­ly a rar­i­ty to have some­one here who leans progressive.
I think the rar­i­ty is this: No one has seen in Birm­ing­ham, the largest city in Alaba­ma, Gen X and Gen Y cam­paign­ing with one anoth­er the way we have. I think it's the cam­paign. It was how we wrapped tech­nol­o­gy around that grass­roots, door to door move­ment: micro-tar­get­ing, the dig­i­tal piece. I had a lot of young peo­ple around me.
What advice do you have for oth­er pro­gres­sive chal­lengers as they pre­pare for sim­i­lar races?
Out-orga­nize your com­pe­ti­tion. TV and radio are sup­ple­ments to orga­ni­za­tion and orga­niz­ing. If you want to be suc­cess­ful, the foun­da­tion of your cam­paign should be root­ed in the ground. Every­thing else is a supplement.
How will you run your office dif­fer­ent­ly than Bell has?
We're going to be open. We're going to be trans­par­ent. We're going to have a sense of urgency every day, every week, every month. Not just dur­ing the elec­tion year. We're going to have a vision and not just say this is what we're going to do but we'll report to you: This is what we've done toward that goal. It's a col­lab­o­ra­tive style. Not just with the city coun­cil but with every­body out here, pub­lic and private.
You've talked about how a pro­gres­sive can­di­date or a can­di­date for the peo­ple on the local lev­el is a form of nation­al resis­tance. Can you talk more about that?
It's the issue of inter­ac­tions with police and our young boys. It's issues of fight­ing food deserts. It's infra­struc­ture issues that are at the nation­al lev­el. It's issues with edu­ca­tion, with Bet­sy Devos, the assault on pub­lic education.
The front line of these issues, par­tic­u­lar­ly in an urban area, is going to be the mayor's office. We have bud­gets that are large enough to make a tan­gi­ble qual­i­ty of life improve­ment for the peo­ple we represent.
Kather­ine Webb-Hehn
is a Birm­ing­ham-based writer. Her work has appeared in The New York Times, The Bit­ter South­ern­er, PANK, Arts
&
Letters,and else­where. Cur­rent­ly, she's the Alaba­ma Polit­i­cal Reporter for Scalawag Mag­a­zine. You can fol­low her on Twit­ter @KAWebb_