Meet the LGBTQ Prison Abolitionists Leading the Way to a Better World
For Black and Pink, relationship-building plays a critical role in countering the violence of prisons.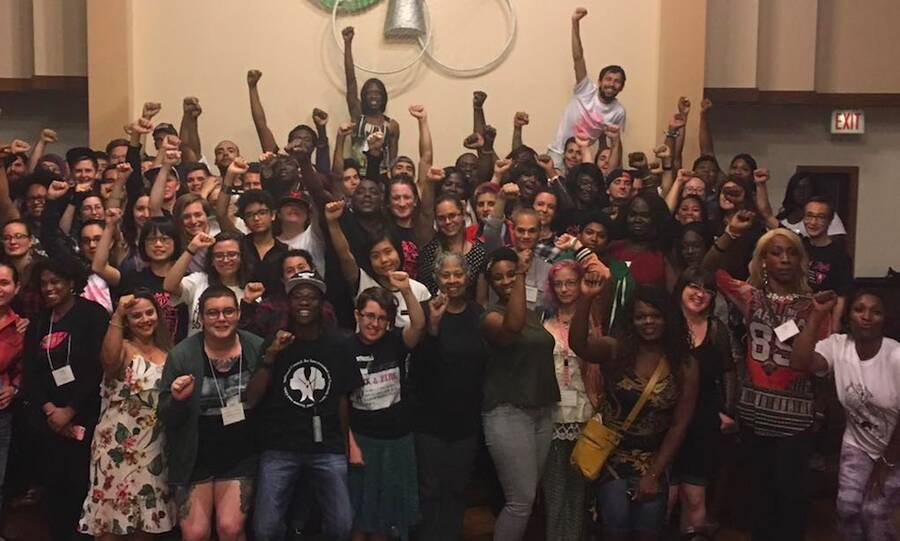 The nation­al gath­er­ing of Black and Pink, an LGBTQ prison abo­li­tion orga­ni­za­tion, com­bined a rad­i­cal vision with the imme­di­a­cy of per­son­al nar­ra­tive. Dur­ing the open­ing cel­e­bra­tion on August 4 in Chica­go, the group host­ed a wide array activists, most of them for­mer­ly incar­cer­at­ed, to tell their stories.
Eisha Love described being impris­oned for defend­ing her­self from a hate crime. Ricar­do Jimenez spoke to being the first open­ly gay Puer­to Rican polit­i­cal pris­on­er, and how his com­ing out chal­lenged the homo­pho­bia with­in the inde­pen­dence movement.
Tra­cy John­son recount­ed how her son, Michael, is incar­cer­at­ed for alleged­ly not dis­clos­ing his HIV sta­tus. ​"They treat HIV like it's against the law," she said, ​"and it's not against the law to be sick."
Pinky Shear spoke of her part­ner, Ky Peter­son, who she met in prison. Peter­son, like Love, was con­vict­ed for defend­ing him­self, but his pub­lic defend­er told him he could not win his case by plead­ing self-defense because, as a black man, the white peo­ple in his com­mu­ni­ty saw him as too much of a threat.
On August 5, Eliz­a­beth Ramirez, Kristie May­hugh and Anna Vasquez — three of the women col­lec­tive­ly known as the ​"San Anto­nio four" — spoke on a pan­el, dis­cussing their expe­ri­ences being false­ly con­vict­ed of child sex­u­al abuse in a case heav­i­ly influ­enced by homo­pho­bia and a nation­wide para­noia about satanism. While the San Anto­nio Four were even­tu­al­ly exon­er­at­ed, the pan­elists stressed the worth of all pris­on­ers, regard­less of guilt or inno­cence. ​"You can't just walk out of prison after all those years and say ​'bye' to those peo­ple," Ramirez explained. ​"Whether they're inno­cent or not, they're human beings."
Black and Pink is a prison abo­li­tion­ist orga­ni­za­tion that serves queer, trans­gen­der, and HIV-pos­i­tive pris­on­ers, a demo­graph­ic which is severe­ly impact­ed by mass incar­cer­a­tion. The LGBTQ com­mu­ni­ty is heav­i­ly policed and dis­pro­por­tion­ate­ly impris­oned. Accord­ing to a Feb­ru­ary 2017 study by Williams Insti­tute of the UCLA School of Law, les­bian, gay and bisex­u­al peo­ple com­prise rough­ly 3.5 per­cent of the U.S. pop­u­la­tion but account for 5.5 per­cent of men and 33.3 per­cent of women locked up in prison. The 2011 Nation­al Trans­gen­der Dis­crim­i­na­tion Sur­vey found that 16 per­cent of trans­gen­der peo­ple, and 47 per­cent of black trans­gen­der peo­ple, had been incarcerated.
Once in prison, queer and trans­gen­der peo­ple suf­fer dis­pro­por­tion­ate abus­es. In 2011 and 2012, the U.S. Depart­ment of Jus­tice report­ed that 5.4 per­cent of non-het­ero­sex­u­al pris­on­ers and 15.2 per­cent of trans­gen­der pris­on­ers had been sex­u­al­ly abused by prison staff, com­pared to 2.4 per­cent of the prison pop­u­la­tion as a whole.
The ​"num­ber one issue is that [LGBTQ pris­on­ers are] dis­pro­por­tion­ate­ly tar­get­ed and put into soli­tary con­fine­ment," Black and Pink orga­niz­er Alex Garza told In These Times. Com­ing Out of Con­crete Clos­ets, Black and Pink's 2015 sur­vey of LGBTQ incar­cer­at­ed peo­ple, found that 85 per­cent of respon­dents had spent time in soli­tary con­fine­ment, which has been wide­ly con­demned as a form of tor­ture. Oth­er prob­lems, Garza explained, are the ​"lack of resources, lack of med­ical treat­ment, lack of care. And it goes into not get­ting their hor­mones, it goes into them being put in the wrong gen­der cell, it goes into them get­ting the psy­cho­log­i­cal treat­ment that they need."
Black and Pink sup­ports its incar­cer­at­ed mem­bers through ser­vices such as a pen pal pro­gram, a news­pa­per writ­ten by peo­ple who are locked up, court accom­pa­ni­ment and ​"know your rights" trainings.
The nation­al gath­er­ing brought togeth­er Black and Pink mem­bers and sup­port­ers for a week­end of work­shops, talks, art and com­mu­ni­ty-build­ing. The bulk of the gath­er­ing was meant only for Black and Pink mem­bers and for­mer­ly incar­cer­at­ed peo­ple, reflect­ing the organization's com­mit­ment to the safe­ty and com­fort of those it serves. This pro­gram­ming includ­ed work­shops such as ​"HIV Edu­ca­tion, Harm Reduc­tion, and Pol­i­cy," ​"Ditch­ing the chains of youth oppres­sion!" and ​"Vogue and the Prison Indus­tri­al Complex."
"The abo­li­tion of prison in its cur­rent struc­ture is the end goal," Black and Pink's soon-to-be nation­al direc­tor Tray Johns told In These Times. ​"But in the mean-time-between-time, we have to cre­ate a sys­tem of human­i­ty … to help and serve the peo­ple that are being most impact­ed by the prison sys­tem as we tear down the prison system."
This com­mit­ment to imme­di­ate sup­port shows in the heal­ing arts and harm reduc­tion work­shops Black and Pink host­ed at the gath­er­ing, as well as the organization's pen pal pro­gram, the largest of its kind. Coor­di­nat­ing cor­re­spon­dence with the free world is essen­tial because, as Johns explains, ​"a lot of LGBTQ peo­ple have already been ostra­cized before they went to prison, so there's no moth­er, no one writ­ing them, nobody say­ing, ​'I'm going to be here when you come home. I care. You mat­ter. Some­body loves you.'"
A sense of rad­i­cal poten­tial also per­vades Black and Pink's short-term sup­port work. In a record­ed state­ment played at the gath­er­ing, Patrice Daniels, an incar­cer­at­ed Black and Pink mem­ber, spoke to the impor­tance of the pen pal pro­gram: ​"Every time you write, in a very real, con­crete way, it is an act of resis­tance … You have made the deci­sion to engage with some­one who, a, you don't know, but b, soci­ety has cast out."
The gath­er­ing gave a plat­form to peo­ple who rarely have one. Speak­er after speak­er stepped onstage and explained that they were not used to talk­ing in front of an audi­ence. ​"I actu­al­ly thought it was going to be a sto­ry that was going to nev­er be told," Love said of the attack she sur­vived and her incarceration.
The pow­er of Black and Pink's work also derives from its com­mu­ni­tar­i­an nature. Event orga­niz­ers encour­aged atten­dees to give what they could and take what they need­ed, from dona­tions to home­s­tays to tran­sit pass­es to the labor of set­up and cleanup. When peo­ple referred to the organization's net­work of pris­on­ers, for­mer pris­on­ers and free world allies as the ​"Black and Pink fam­i­ly," it did not seem like a platitude.
When brought onstage to receive an award, for­mer­ly incar­cer­at­ed activist Afri­ka Queen Lock­ett explained that she want­ed to be as avail­able as pos­si­ble to fel­low trans women, urg­ing them to call or write her if they need­ed any­thing. Black and Pink's goal of trans­for­ma­tive jus­tice is ambi­tious. With­in the orga­ni­za­tion itself, mem­bers strive to cre­ate a micro­cosm of the soci­ety they want — by rec­og­niz­ing human worth and meet­ing everyone's needs.
Black and Pink is also under­go­ing some trans­for­ma­tions of its own. The orga­ni­za­tion recent­ly achieved 501(c)(3) sta­tus, a shift which out­go­ing nation­al direc­tor Jason Lydon insist­ed would not change their pri­or­i­ties. Acknowl­edg­ing the exis­tence of a ​"non­prof­it indus­tri­al com­plex," in which cor­po­rate foun­da­tions often sup­press rad­i­cal ambi­tions in the groups they fund, he assured the audi­ence that Black and Pink is ​"not account­able to corporations."
With Lydon on his way out, Johns is set to replace him as Nation­al Direc­tor. Their goals? ​"In five years," Johns told In These Times, ​"I want some trans­gen­der, queer man or woman to be in some obscure prison in some obscure state, not get­ting their med­ica­tions or being beat­en, and they tell the war­den, ​'I'm call­ing Black and Pink to advo­cate for me.' And the war­den go back to his office and hang his head and say, ​'I don't feel like being both­ered with Black and Pink. Just give them what they need.' I want Black and Pink to strike fear of equal­i­ty in the minds and hearts of every warden."