Meet the LGBTQ Prison Abolitionists Leading the Way to a Better World
For Black and Pink, relationship-building plays a critical role in countering the violence of prisons.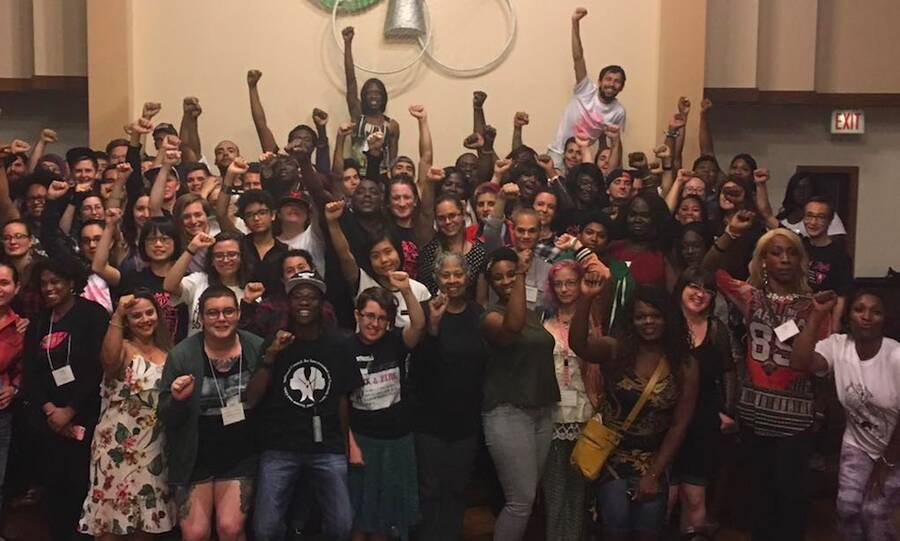 The national gathering of Black and Pink, an LGBTQ prison abolition organization, combined a radical vision with the immediacy of personal narrative. During the opening celebration on August 4 in Chicago, the group hosted a wide array activists, most of them formerly incarcerated, to tell their stories.
Eisha Love described being imprisoned for defending herself from a hate crime. Ricardo Jimenez spoke to being the first openly gay Puerto Rican political prisoner, and how his coming out challenged the homophobia within the independence movement.
Tracy Johnson recounted how her son, Michael, is incarcerated for allegedly not disclosing his HIV status. ​"They treat HIV like it's against the law," she said, ​"and it's not against the law to be sick."
Pinky Shear spoke of her partner, Ky Peterson, who she met in prison. Peterson, like Love, was convicted for defending himself, but his public defender told him he could not win his case by pleading self-defense because, as a black man, the white people in his community saw him as too much of a threat.
On August 5, Elizabeth Ramirez, Kristie Mayhugh and Anna Vasquez — three of the women collectively known as the ​"San Antonio four" — spoke on a panel, discussing their experiences being falsely convicted of child sexual abuse in a case heavily influenced by homophobia and a nationwide paranoia about satanism. While the San Antonio Four were eventually exonerated, the panelists stressed the worth of all prisoners, regardless of guilt or innocence. ​"You can't just walk out of prison after all those years and say ​'bye' to those people," Ramirez explained. ​"Whether they're innocent or not, they're human beings."
Black and Pink is a prison abolitionist organization that serves queer, transgender, and HIV-positive prisoners, a demographic which is severely impacted by mass incarceration. The LGBTQ community is heavily policed and disproportionately imprisoned. According to a February 2017 study by Williams Institute of the UCLA School of Law, lesbian, gay and bisexual people comprise roughly 3.5 percent of the U.S. population but account for 5.5 percent of men and 33.3 percent of women locked up in prison. The 2011 National Transgender Discrimination Survey found that 16 percent of transgender people, and 47 percent of black transgender people, had been incarcerated.
Once in prison, queer and transgender people suffer disproportionate abuses. In 2011 and 2012, the U.S. Department of Justice reported that 5.4 percent of non-heterosexual prisoners and 15.2 percent of transgender prisoners had been sexually abused by prison staff, compared to 2.4 percent of the prison population as a whole.
The ​"number one issue is that [LGBTQ prisoners are] disproportionately targeted and put into solitary confinement," Black and Pink organizer Alex Garza told In These Times. Coming Out of Concrete Closets, Black and Pink's 2015 survey of LGBTQ incarcerated people, found that 85 percent of respondents had spent time in solitary confinement, which has been widely condemned as a form of torture. Other problems, Garza explained, are the ​"lack of resources, lack of medical treatment, lack of care. And it goes into not getting their hormones, it goes into them being put in the wrong gender cell, it goes into them getting the psychological treatment that they need."
Black and Pink supports its incarcerated members through services such as a pen pal program, a newspaper written by people who are locked up, court accompaniment and ​"know your rights" trainings.
The national gathering brought together Black and Pink members and supporters for a weekend of workshops, talks, art and community-building. The bulk of the gathering was meant only for Black and Pink members and formerly incarcerated people, reflecting the organization's commitment to the safety and comfort of those it serves. This programming included workshops such as ​"HIV Education, Harm Reduction, and Policy," ​"Ditching the chains of youth oppression!" and ​"Vogue and the Prison Industrial Complex."
"The abolition of prison in its current structure is the end goal," Black and Pink's soon-to-be national director Tray Johns told In These Times. ​"But in the mean-time-between-time, we have to create a system of humanity … to help and serve the people that are being most impacted by the prison system as we tear down the prison system."
This commitment to immediate support shows in the healing arts and harm reduction workshops Black and Pink hosted at the gathering, as well as the organization's pen pal program, the largest of its kind. Coordinating correspondence with the free world is essential because, as Johns explains, ​"a lot of LGBTQ people have already been ostracized before they went to prison, so there's no mother, no one writing them, nobody saying, ​'I'm going to be here when you come home. I care. You matter. Somebody loves you.'"
A sense of radical potential also pervades Black and Pink's short-term support work. In a recorded statement played at the gathering, Patrice Daniels, an incarcerated Black and Pink member, spoke to the importance of the pen pal program: ​"Every time you write, in a very real, concrete way, it is an act of resistance … You have made the decision to engage with someone who, a, you don't know, but b, society has cast out."
The gathering gave a platform to people who rarely have one. Speaker after speaker stepped onstage and explained that they were not used to talking in front of an audience. ​"I actually thought it was going to be a story that was going to never be told," Love said of the attack she survived and her incarceration.
The power of Black and Pink's work also derives from its communitarian nature. Event organizers encouraged attendees to give what they could and take what they needed, from donations to homestays to transit passes to the labor of setup and cleanup. When people referred to the organization's network of prisoners, former prisoners and free world allies as the ​"Black and Pink family," it did not seem like a platitude.
When brought onstage to receive an award, formerly incarcerated activist Afrika Queen Lockett explained that she wanted to be as available as possible to fellow trans women, urging them to call or write her if they needed anything. Black and Pink's goal of transformative justice is ambitious. Within the organization itself, members strive to create a microcosm of the society they want — by recognizing human worth and meeting everyone's needs.
Black and Pink is also undergoing some transformations of its own. The organization recently achieved 501(c)(3) status, a shift which outgoing national director Jason Lydon insisted would not change their priorities. Acknowledging the existence of a ​"nonprofit industrial complex," in which corporate foundations often suppress radical ambitions in the groups they fund, he assured the audience that Black and Pink is ​"not accountable to corporations."
With Lydon on his way out, Johns is set to replace him as National Director. Their goals? ​"In five years," Johns told In These Times, ​"I want some transgender, queer man or woman to be in some obscure prison in some obscure state, not getting their medications or being beaten, and they tell the warden, ​'I'm calling Black and Pink to advocate for me.' And the warden go back to his office and hang his head and say, ​'I don't feel like being bothered with Black and Pink. Just give them what they need.' I want Black and Pink to strike fear of equality in the minds and hearts of every warden."