Puerto Rican Former Political Prisoner: "Colonialism Is a Crime Against Humanity"
Ricardo Jimenez talks about anti-conialism, prison abolition and LGBTQ liberation.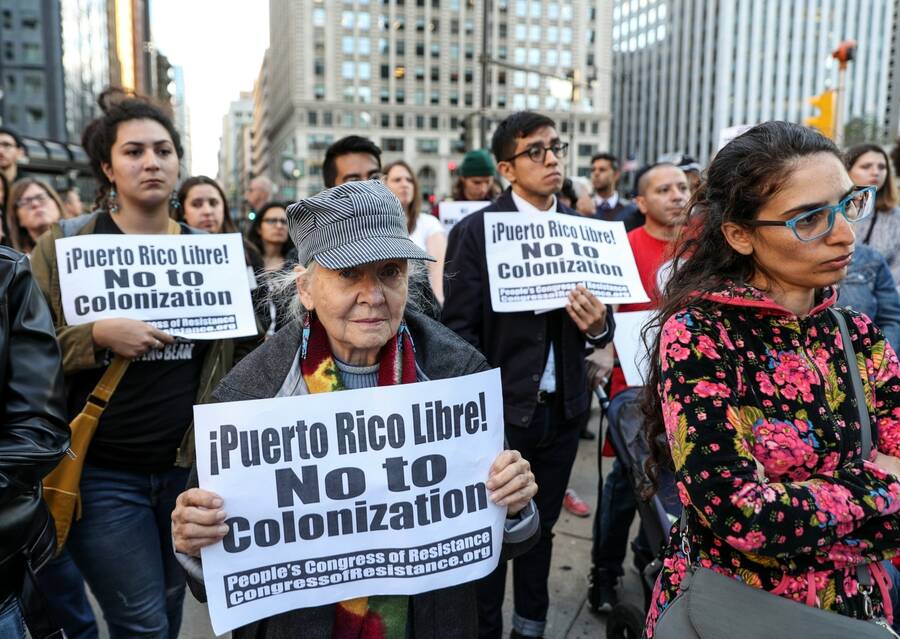 The devastation of Puerto Rico by Hurricanes Irma and Maria, and the U.S. government's inadequate response, shed new light on the island's long-standing exploitation as one of five inhabited, unincorporated U.S. territories — essentially, modern-day colonies. The political and economic subjugation of Puerto Rico is especially damaging now as the island faces a deepening crisis, fueled in part by human-made climate change. As an indifferent Trump administration looks on, the voices of the Puerto Rican independence movement are especially instructive. Ricardo Jimenez offers one such voice.
You not only have cultural imperialism, the imperialism of controlling other countries, but the imperialism of racism. Racism is the foundation of the United States.
Jimenez is part of a long history of Puerto Rican freedom fighters. Born in San Sebastian, Puerto Rico and raised in Chicago, Ill., he became politically involved at an early age. Some of his first activism as a teenager focused on freeing political prisoners such as Oscar Collazo and Lolita Lebrón, who had been incarcerated for their roles in Puerto Rican nationalist struggles.
In 1981, Jimenez and 9 others were convicted of ​"seditious conspiracy" because of his involvement with the independence group Fuerzas Armadas de Liberación Nacional, or Armed Forces of National Liberation. Jimenez was sentenced to 90 years in prison, and former President Bill Clinton granted him clemency in 1999.
Jimenez came out as gay soon after his release, becoming the first openly gay Puerto Rican former political prisoner. Today, in addition to advocating for Puerto Rico's independence, he is deeply involved in LGBTQ rights activism and HIV prevention. In August, he delivered an address at the national gathering of the queer prison abolitionist organization Black and Pink. While there, he spoke to In These Times about incarceration, imperialism and queer rights.
Sophie Drukman-Feldstein: Could you tell us about yourself?
Ricardo Jimenez: I'm a former political prisoner who was incarcerated for 20 years, and the first openly gay Puerto Rican prisoner of war. I'm a freedom fighter, a person fighting against U.S. imperialism — particularly the colonial status of Puerto Rico. Colonialism is an international crime against humanity, and Puerto Rico has been a colony of the United States since 1898.
I'm first and foremost a Puerto Rican and a freedom fighter — a political prisoner. I was a gay man, but within the context of society at the time, I couldn't come out. I was closeted because of the circumstances in the 60s and 70s. The gay movement was not where it is today.
Sophie: How should communities approach safety and justice?
Ricardo: Prisons have a special role in the United States against oppressed people, especially Black and Latino people. The abolition of prisons ties with the whole liberation of humanity. There are different ways to deal with the ills of society, instead of incarcerating somebody for such outrageous sentences and treating them so inhumanely while incarcerated.
However, I don't think that you can define justice and safety in one net. I think that each country has to decide how to do it humanely. Not every society is developed the same way. What would work in Puerto Rico, in Latin America, might not work in the United States. Liberation movements are not the same in every place. We have to break that down. How do we deal with prisons, for example, in Puerto Rico? In the United States? There's also the question of what prison is to society. If we abolish this, what alternatives exist in the society that you specifically are talking about?
Sophie: What is the relationship between imperialism and prisons?
Ricardo: You not only have cultural imperialism, the imperialism of controlling other countries, but the imperialism of racism. Racism is the foundation of the United States. That's not going to change until we destroy what we have now. Racism is far from over. White people have to understand white privilege and the difference between prejudice and racism.
Do I think imperialism is the fault of this country? Of course it is. Do I see that their agenda involves the oppression of Blacks and Latino people? Yes. But into that equation, we have to put the existence of the LGBTQ community. We have to look at how we are not included in the society, and how that is a violation of human rights. We are talking about a system in this country that has to be changed. But unfortunately, white privilege does not let you do that. Because people are very engaged in what's going on, but without having any knowledge of what United States is.
So, education is of foremost importance. Why is Puerto Rico a colonial possession? Because Puerto Rican history is not taught. Puerto Ricans don't know that Puerto Rico is a colony of the United States. So we have to see how we as a people are going to have a solution. How are we going to get the youth of this country, which is the foundation of any country, to understand what is happening here? Imperialism, for the great majority of this country, is not understandable.
Sophie: What steps need to be taken to begin to address racism and imperialism?
Ricardo: We have to look at the economic situation of this country and the power it has worldwide. This country is based on money, where most countries are based on humanity.
Why is it that this country and its people are suffering and not getting services, and don't have access to universal medical care? Out of all the industrialized nations, only one doesn't have universal medical care. Why is that? And why is it that you still don't fight for that? Because the country, through the means of communication, controls the thoughts. They actually think that you have free press here, and don't understand that the news that you hear on ABC, CBS, NBC and CNN is all from the same perspective.
How do we engage people in the United States to understand their own existence — in a country so advanced, the most powerful country in the world, the richest country in the world? And then you have somebody like Trump and his cohorts able to control the mentality of this nation. What solutions do we have? How can we educate? I think the future would be the youth. And I see the change. I can see it in the LGBTQ community, which is much more accepting. Today, eople are freer to express themselves, to come out at an early age.
I know that, because I could never come out the way youths do now. I didn't come out until I was 45. And not fully out. And there had to be a struggle for that to happen, because of who I was in my country — a national hero.
Then we look at marriage equality. People want to get married, and that's fine. But for me, we have go to the root of this. Change the definition of family. This thing about marriage, it's just about money.
Sophie: Did your experience being gay inform your politics?
Ricardo: No. My politics were defined, first and foremost, by my anticolonial decision on Puerto Rico. I became actively involved as a Puerto Rican activist at the age of 14 because in my community I was not accepted. My parents couldn't rent a place. I was looked at differently, because of my language, how I ate and how I celebrated my holidays.
Because of the colonial experience that I had, I involved myself in a struggle for better housing, better education, for being treated humanely. That developed my conscience. I was always not gay — I grew up but I would not accept it. I would say, ​"This is a phase I'm going through." Later on, I become a human rights activist, and then the definition for gay, for LGBT, was a human rights issue. After I come out and get more involved, I get more in tune with myself and accepted me for who I am. I become then an LGBTQ activist.
After most of us political prisoners were released, there was one left — Oscar Lopez Rivera. He was released on May 17. So now, the biggest issue for me, besides the Puerto Rican independence movement, is LGBTQ rights. It's not about accepting or tolerating: It's about inclusion. We are going to be respected.
The independence movement used to be very homophobic, I have to say. It always has been. But once they found out I was gay, they changed completely around. Now, they have taken the lead for LGBTQ human rights — because of who I am as a political prisoner, because I was for 20 years incarcerated, because I'm respected at that level. So, if you cannot accept me for who I am and the struggle I am, you tell me I'm not a man, then do the 20 years that I did and see how much of a man you are.
Now, you see an activism in Puerto Rico that's much more accepting, where big names are coming out.
Sophie: What issues do LGBTQ prisoners face?
Ricardo: It's sickening. In prison, gay people are treated as piece of property. You know, when I was in prison in the 1980s, I saw the beginning of HIV epidemic, what was called the gay plague. I saw people in prison who had HIV, and how inhumanely they were treated. There were also people who supposedly were not gay, but at that time we didn't know that one of the modes of transmission was intravenous drug use. So we had other people who were dying, who were not from that category, but also treated so inhumanely.
Some other convicts and I took initiative. We developed a prevention and education intervention program in order to educate not only the prisoners, but also the staff. That became a source of support and a reference for a lot of gay people there, who were being treated so outrageously. Because of education, we were able to humanize their condition a little bit.
Sophie: Anything else you'd like our readers to know?
Ricardo: One of the biggest things is that people understand the plight of the Puerto Rican people. There's no voice from our country. There's no voice from anybody. Even the legislature, which is a puppet anyway, even they don't have power now.
You have a junta controlling Puerto Rico — a handful of people control the destiny of Puerto Rico. What have they done so far? They cut and close more than 180 public schools. Education is in the hands of the rich. We have people leaving Puerto Rico, and too many in foreclosure.
And, since Puerto Rico's a colony, we have no solution, because we don't control our economy. Who controls our economy is United States, because we cannot trade with other countries.
I think a lot of the North American Left has forgotten Puerto Rico. People in this country must know that United States, which calls itself the protector of human rights, in reality is our biggest violator.