Black Farmers Still Losing Ground
A new federal lawsuit settlement won't stem the decline in black land ownership, activists say.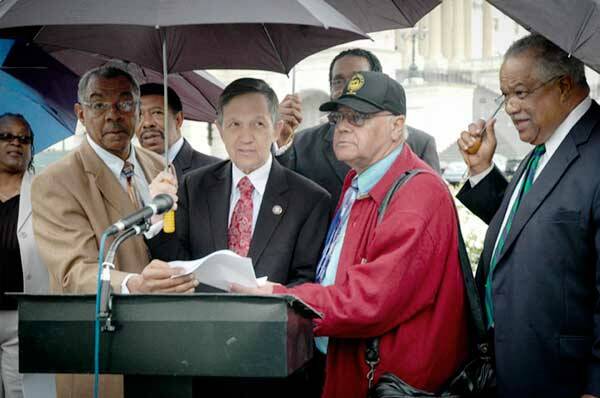 It only took 11 years and 10 floor votes. In late Novem­ber, Con­gress final­ly agreed to pay black farm­ers $1.15 bil­lion in com­pen­sa­tion for decades of dis­crim­i­na­tion in lend­ing prac­tices and access to U.S. agri­cul­tur­al sub­sidy pro­grams. The claims stem from a civ­il-rights law­suit set­tle­ment reached in 1999 between 400 farm­ers and the government.
'Many people don't understand that land is not only power,' BFAA President Gary Grant says. 'It is an economic base that brings about independence.'
But even as pay­outs begin, America's black farm­ers are still los­ing ground – lit­er­al­ly. ​"It's not resti­tu­tion for what's been done," says Gary R. Grant, nation­al pres­i­dent of the Black Farm­ers and Agri­cul­tur­al­ists Asso­ci­a­tion (BFAA). ​"Folks still don't under­stand that farm­ers are con­tin­u­ing to lose."
The num­ber of U.S. farms oper­at­ed by black farm­ers decreased by a stag­ger­ing 97 per­cent between 1920 and 2007 (925,710 farms to 30,599) farms, accord­ing to gov­ern­ment statistics.
The BFAA, a nation­al non­prof­it orga­ni­za­tion based in Tillery, N.C, with more than 1,500 mem­bers across the coun­try, works to reverse black farm­ers' loss­es by con­nect­ing black farm­ers with ser­vices and mon­i­tor­ing the U.S. Depart­ment of Agri­cul­ture (USDA). For the new­ly set­tled law­suit, known as Pig­ford II, BFAA worked with a coali­tion of oth­er black farm­ers' orga­ni­za­tions to lob­by for relief through Con­gress, Grant said. The group is now help­ing claimants obtain their due in the Claims Res­o­lu­tion Act of 2010.
The total sum to be claimed by black farm­ers is $1.25 bil­lion, as Con­gress approved $100 mil­lion under the Food, Con­ser­va­tion and Ener­gy Act of 2008. (They aren't the only group see­ing jus­tice: The Claims Set­tle­ment Act of 2010 also includ­ed $3.4 bil­lion in resti­tu­tion for Native Amer­i­can farm­ers, who won a law­suit against the gov­ern­ment for loss­es due to mis­han­dled trust funds. In Octo­ber, anoth­er group of Native Amer­i­can farm­ers won $680 mil­lion in a dis­crim­i­na­tion law­suit filed against the USDA.)
But Grant says that because the approach­ing relief is no panacea for black farm­ers, the orga­ni­za­tion is work­ing to call atten­tion to the con­tin­ued decrease in black-owned farms before there are none. In Octo­ber, BFAA host­ed its first annu­al Save the Land: Black Farm­ers Ben­e­fit and Ral­ly, in Tillery, to ​"bring aware­ness to the plight of the con­tin­ued decline of black farm­ers and black land own­er­ship." The event con­sist­ed of local music, food and film screen­ings – all with jus­tice for black farm­ers in mind. More than 200 peo­ple attend­ed the event, says Grant, with rep­re­sen­ta­tion from states across the coun­try. One of the films, We Shall Not Be Moved: The His­to­ry of the Tillery Reset­tle­ment Farm, shows pre-Civ­il Rights era black farm­ers strug­gling against racism and dis­crim­i­na­tion in the Tillery farm community.
The BFAA is plan­ning addi­tion­al events in 2011, per­haps in New York City or Wash­ing­ton D.C., to gen­er­ate aware­ness of black land loss and empow­er black farm­ers to stand their ground. (Vis­it bfaa​-us​.org for more infor­ma­tion.) Grant says the goal is to edu­cate the pub­lic on the true stand­ing of black farm­ers in Amer­i­ca. ​"The farm­ers who were involved in Pig­ford are still try­ing to mere­ly sur­vive," he says. ​"Many peo­ple don't under­stand that land is not only pow­er. It is an eco­nom­ic base that brings about inde­pen­dence and cre­ates safe spaces for peo­ple to stand their ground."