Black Friday Actions Empower Wal-Mart Workers
Wal-Mart touts a caring culture. Now, its workers are caring for each other by speaking out.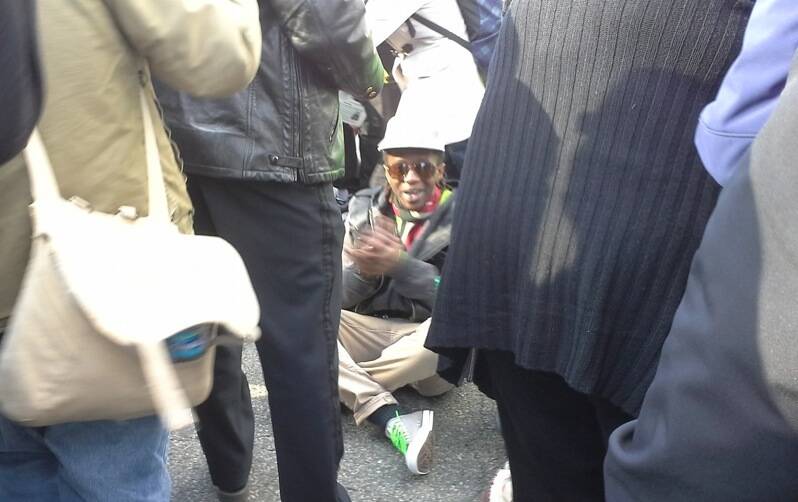 ​"I've come today to rep­re­sent all the silent Wal-Mart work­ers that are afraid to stand up for their rights," Elaine Rozi­er, a Wal-Mart employ­ee of eight years, told a crowd of about 150 labor activists and com­mu­ni­ty sup­port­ers — accom­pa­nied by rau­cous musi­cians with Occu­py Gui­tarmy and the Rude Mechan­i­cal Orches­tra—on Fri­day in Secau­cus, N.J., across the street from a well-guard­ed Wal-Mart and Sam's Club (the whole­sale club owned by Wal-Mart and named for the company's cel­e­brat­ed founder, Sam Wal­ton). ​"I'm stand­ing up for my rights, my kids, my grand­kids, and their kids," Rozi­er said.
'When I saw the food bins in Ohio, it made me think, "Employees are not just hungry on Thanksgiving, they're hungry every day because they're getting paid low wages," ' says Tiffany Beroid, a worker at a Wal-Mart in Laurel, Md.
Per­haps because of the fear she men­tioned, Rozi­er, who comes from Mia­mi, was one of the only iden­ti­fied Wal-Mart employ­ees in the crowd. Along with Mark Bow­ers and Col­by Har­ris, two Wal-Mart work­ers from Texas, Rozi­er trav­eled to New Jer­sey for Black Fri­day, Wal-Mart's biggest retail sales day, to demon­strate to the work­ers inside the Secau­cus store that they, too, could stand up for their rights.
Accom­pa­nied by ten sup­port­ers, the three work­ers blocked traf­fic on the street along­side the Wal-Mart, chant­i­ng, singing and clap­ping until police took them away in handcuffs.
The protest was one of hun­dreds of Black Fri­day actions orga­nized by OUR Wal­mart, a Unit­ed Food and Com­mer­cial Work­ers-backed group of Wal-Mart work­ers — includ­ing Rozi­er, Bow­ers and Har­ris — that has been putting on strikes, protests, and direct actions at Wal-Mart for over a year in sup­port of bet­ter wages, ben­e­fits and con­di­tions. The first wave of strikes hit in Octo­ber of 2012, and on Black Fri­day of that year, some 400 work­ers report­ed­ly went on strike at stores around the country.
​"Stand up, live bet­ter" has become the ral­ly­ing cry of the move­ment, a twist on the retail giant's own slo­gan, ​"Save mon­ey, live bet­ter." On Fri­day, work­ers in Secau­cus repeat­ed­ly echoed the ​"stand up" line.
OUR Wal­mart has always focused on pre­vent­ing Wal-Mart from retal­i­at­ing against work­ers for orga­niz­ing, but after the fir­ings of sev­er­al strik­ers this sum­mer, the group has dou­bled down on the issue. ​"I'm get­ting arrest­ed because Wal-Mart has con­tin­ued to retal­i­ate against the asso­ciates who've been speak­ing up," Har­ris told In These Times before sit­ting down in the mid­dle of the street to risk arrest — one of at least 111 pro­test­ers arrest­ed in eight cities this Black Fri­day, accord­ing to UFCW. ​"I was actu­al­ly fired ille­gal­ly Sep­tem­ber 30 for par­tic­i­pat­ing in con­cert­ed activ­i­ty over the past year and a half. That's why I'm here today: to call on Wal-Mart to rein­state those who were ille­gal­ly fired and work with the asso­ciates to end pover­ty wages [and] give us con­sis­ten­cy with sched­ul­ing and hours."
Wal-Mart has denied that the fir­ings were ille­gal, but the Nation­al Labor Rela­tions Board dis­agrees. Last week, the board found evi­dence that Wal-Mart had in fact vio­lat­ed labor law by retal­i­at­ing against work­ers who took action over the past year.
The NLRB rul­ing added wind to the movement's sails. As actions heat­ed up over the last week — includ­ing strikes and a vig­il in front of Wal-Mart's Ben­tonville, Ark. head­quar­ters — the work­ers took heart that offi­cials under­stood what they were going through.
​"That was very encour­ag­ing, being able to get the NLRB on our side," says Yvette Brown, a Plac­erville, Calif., Wal-Mart work­er, who was fired, she says, about two weeks after going on an unfair labor prac­tices strike in June. ​"It's about time, I've been real­ly excited."
Brown spoke to In These Times by phone from Ben­tonville. She was one of sev­er­al work­ers who stood out­side the com­pa­ny's home office demand­ing to be rein­stat­ed in the days lead­ing up to Black Fri­day. She'd been hired, she said, about two and a half years ago for what she thought was a man­ag­er posi­tion in the fab­rics and crafts depart­ment of her store. But, she said, she was told once she start­ed that she was sim­ply a sales asso­ciate. ​"They promised me all these won­der­ful things, it didn't seem like it was hap­pen­ing," she said. Yet found the company's much-tout­ed open door pol­i­cy did­n't work for her. ​"Each time I'd address an issue, I felt like I was a nuisance."
With­in a year of get­ting the job, Brown found out about OUR Wal­mart. Join­ing the orga­ni­za­tion encour­aged her to step up and speak out, and in June, she went on strike and trav­eled to Ben­tonville for the first time. The trip left her even more empow­ered: Cor­po­rate head­quar­ters, far from intim­i­dat­ing her, made her feel at ease. ​"I was real­ly impressed at how small this town was, it kind of remind­ed me of my home­town, Plac­erville, how coun­try­ish it felt, like a home away from home," she said. ​"When I got to home office I felt I expect­ed some big­ger, elab­o­rate place."
That feel­ing has been part of Wal-Mart's image — the homey, fam­i­ly com­pa­ny that cares for its employ­ees. But it seems like that image and the cul­ture of work­ers car­ing for one anoth­er that goes along with it are begin­ning to back­fire on Wal-Mart. Brown felt com­fort­able enough in Ben­tonville to return once again with a protest sign. And the car­ing fam­i­ly cul­ture that Wal-Mart prides itself on embar­rassed the com­pa­ny recent­ly with the news that a Can­ton, Ohio, Wal-Mart store had bins out ask­ing asso­ciates to donate to those going hun­gry on Thanks­giv­ing: their cowork­ers. The com­pa­ny, when con­front­ed with this issue, called it evi­dence that Wal-Mart employ­ees care about one anoth­er, but it also serves as evi­dence that while the asso­ciates might care, their employ­er seems not to.
​"When I saw the food bins in Ohio, it made me think, ​'Employ­ees are not just hun­gry on Thanks­giv­ing, they're hun­gry every day because they're get­ting paid low wages,' " says Tiffany Beroid, a work­er at Wal-Mart in Lau­rel, Md., who went on her first strike on Tues­day, Novem­ber 26, as part of the week of actions lead­ing up to Black Friday.
Many of the Wal-Mart work­ers I've spo­ken to this week and over the last year note that con­cern for one anoth­er led them to get involved with OUR Wal­mart. Mark Bow­ers, who also worked at Wal-Mart in Dal­las, Texas for eight years before being fired after going on strike, expressed that sen­ti­ment: ​"Right now I'm here to fight for every­body who has been done wrong. I feel like if I don't fight our next gen­er­a­tion of kids will not have a future."
Beroid took the fam­i­ly cul­ture a step fur­ther, bring­ing her 8‑year-old daugh­ter with her as she went on strike. She con­sid­ers it a great expe­ri­ence for her daugh­ter to be part of a his­toric moment. ​"Like she said, when she was protest­ing, she is the future," Beroid says.
The future of the Wal-Mart move­ment remains unclear. In the midst of a week of bad news for Wal-Mart, the com­pa­ny announced that Doug McMil­lon would replace five-year chief exec­u­tive Mike Duke. In a press state­ment, McMil­lon promised to ​"cre­ate oppor­tu­ni­ty for our asso­ciates." If the incom­ing exec­u­tive is look­ing for a good­will ges­ture, one option would be to hon­or the work­ers' demands for bet­ter wages, rein­state­ment of fired work­ers, an end to retal­i­a­tion and more con­sis­tent hours.
I asked Beroid what she'd like to say to the com­pa­ny's new CEO, and she replied, ​"First of all, I would want to thank him for applaud­ing the work­ers. That was the first time that I've ever heard that, busi­ness nev­er applauds us." But, she con­tin­ued, she would like him to own up to the com­pa­ny's low wages.
It still seems more like­ly that Beroid and her col­leagues will get a raise if the fed­er­al or state gov­ern­ments act to raise the min­i­mum wage — some­thing that, thanks to the grow­ing move­ment of oth­er low-wage work­ers tak­ing action at fast-food restau­rants and retail out­lets around the coun­try, seems ever more possible.
Work­ers around the coun­try have ral­lied to the cause of the Wal-Mart and fast-food work­ers — sur­round­ing the Wal-Mart work­ers at the Secau­cus store were rep­re­sen­ta­tives from the Retail Action Project, 99 Pick­ets and many oth­er work­ers' groups from the New York and New Jer­sey area; seat­ed on either side of Col­by Har­ris as the police closed in were a Boil­er­mak­er and a postal work­er. While increas­ing pub­lic sup­port does­n't help work­ers force con­ces­sions from the com­pa­nies they work for, it does build pres­sure on elect­ed offi­cials — sev­er­al mem­bers of Con­gress, includ­ing Sen­a­tor Sher­rod Brown (D‑Ohio) and Rep. Jan Schakowsky (D‑Ill.), released a state­ment sup­port­ing the work­ers. Naqua­sia LeGrand, a KFC work­er from Brook­lyn, told the crowd, ​"It doesn't make no sense that these com­pa­nies is mak­ing this mon­ey off our backs. So now it's time that we stand up straight and take back what's ours."
It's hard to mea­sure the suc­cess of OUR Wal­mart in con­crete con­ces­sions — while there have been none at the nation­al lev­el, some may be hap­pen­ing at the indi­vid­ual stores. But per­haps the very fact that McMil­lon, the company's new CEO, is a for­mer hourly asso­ciate should be count­ed as a vic­to­ry for the work­ers' move­ment. Wal-Mart does­n't appear like­ly to show­er its work­ers with ben­e­fits as its stock price stag­nates and its sales shrink, but the com­pa­ny has, how­ev­er indi­rect­ly, acknowl­edged its weak point.
The work­ers risk­ing arrest in Secau­cus today remain deter­mined to keep fight­ing, and judg­ing from the size of the cheer­ing crowd, they will con­tin­ue to have com­mu­ni­ty support.
I asked Har­ris, who has been with the move­ment since the ear­ly days and went on three sep­a­rate strikes before his fir­ing, how he thinks OUR Wal­mart has changed since it began.
He replied, ​"I feel like it's got­ten a lot stronger, a lot of work­ers have got­ten over their fears and decid­ed to join us. The real­i­ty is the retal­i­a­tion is still there, so a lot of work­ers who would like to speak out still aren't. But through our con­sis­ten­cy and us con­tin­u­ing to speak out, even­tu­al­ly those work­ers will get enough strength and courage to stand with us."
Sarah Jaffe
is a for­mer staff writer at
In These Times
and author of
Nec­es­sary Trou­ble: Amer­i­cans in Revolt
, which Robin D.G. Kel­ley called ​
"
The most com­pelling social and polit­i­cal por­trait of our age." You can fol­low her on Twit­ter
@sarahljaffe
.