Black Lives Matter. Do Elections?
Barbara Ransby profiles today's Black freedom fighters, who are posing sophisticated new answers to old Left questions—like how to engage in electoral politics.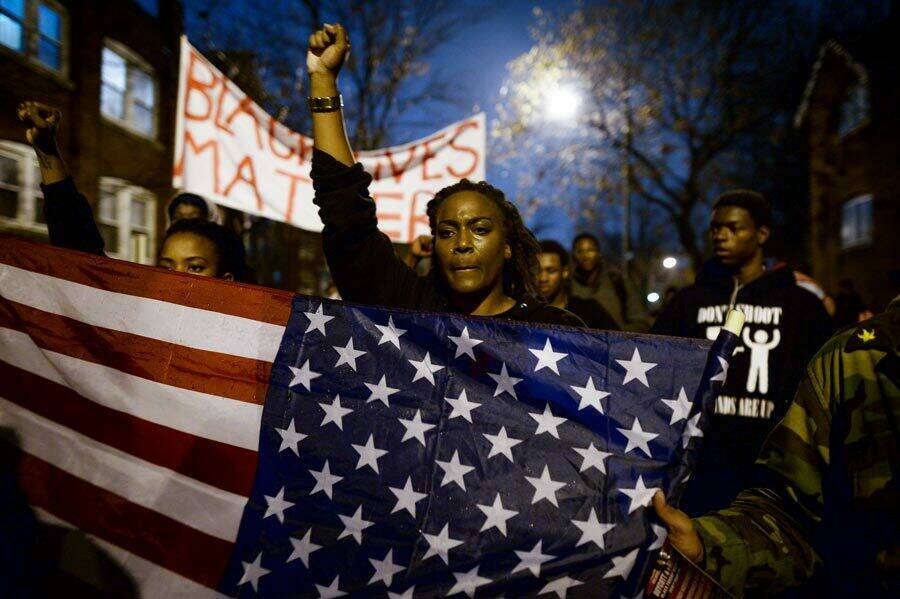 Schol­ar Bar­bara Rans­by, known for her influ­en­tial biog­ra­phy of Ella Bak­er, is a par­tic­i­pant in the protest move­ment we usu­al­ly call Black Lives Mat­ter (BLM). Now she has writ­ten an account of that move­ment that draws heav­i­ly on her expe­ri­ence, Mak­ing All Black Lives Mat­ter: Reimag­in­ing Free­dom in the 21st Cen­tu­ry. It is, as a result, as much a move­ment biog­ra­phy (or auto­bi­og­ra­phy) as a his­to­ry. Rans­by was there, in the ranks of the lead­er­ship, and tells the sto­ry with the urgency and pas­sion we might expect from a participant.
The election of Donald Trump provoked "much reassessing and soul searching" within BLM.
The BLM move­ment burst into the pub­lic sphere in 2014 and 2015 with street protests over police mur­ders of black young men and boys. Rans­by lays out the diverse groups involved and, in the process, the movement's far-flung roots.
One dis­tinc­tive trait of BLM that emerges is its ecu­meni­cal stance toward prob­lems of inter­nal struc­ture, prob­lems that often absorb and dis­tract activists. BLM activists have con­struct­ed a loose coali­tion of move­ment groups, and they seem sat­is­fied with that arrange­ment. Rans­by and the activists she quotes talk of work­ing to ​"stitch togeth­er — or weave togeth­er — dis­parate patch­es of struggle."
Anoth­er is a shared skep­ti­cism of the elec­toral are­na. Instead, the BLM move­ment favors dis­rup­tive col­lec­tive action. Or, to put it anoth­er way, while these activists by no means reject elec­toral pol­i­tics, they don't rely on it either. They believe in movements.
To me, it seems evi­dent that BLM is the new Black Free­dom Move­ment. How­ev­er, that move­ment arose and grew in a very dif­fer­ent polit­i­cal con­text. The reign­ing Demo­c­ra­t­ic Par­ty of the 1960s had come to depend on black elec­toral sup­port, par­tic­u­lar­ly in the north­ern cities. This rel­a­tive­ly favor­able elec­toral con­text gave the civ­il rights move­ment courage and ulti­mate­ly helps account for its sub­stan­tial leg­isla­tive vic­to­ries. (Sim­i­lar­ly, the elec­toral envi­ron­ment of the 1930s made labor vic­to­ries pos­si­ble, as the unsta­ble New Deal Demo­c­ra­t­ic Par­ty could not afford to alien­ate work­ing-class vot­ers who had been won over by FDR's rhetoric.)
The favor­able elec­toral moment of the 1960s passed, how­ev­er. The Demo­c­ra­t­ic Par­ty failed to respond to move­ment pres­sure around the Viet­nam War and then tracked right­ward as the move­ments sub­sided and busi­ness influ­ence grew on both major par­ties. Many activists, per­haps espe­cial­ly young activists, came to view move­ment pol­i­tics and elec­toral pol­i­tics as alter­na­tive and anti­thet­i­cal paths to social change. And there is truth in the view that involve­ment in elec­toral pol­i­tics has tamed and even co-opt­ed move­ment activists.
The extra­or­di­nary event of the elec­tion of the first black pres­i­dent and the move­ment rhetoric of his cam­paign talk no doubt raised hopes, but the Oba­ma pres­i­den­cy was, in the end, a crush­ing dis­ap­point­ment. When Fred­die Gray's death in Bal­ti­more police cus­tody in April 2015 sparked mass protest, Oba­ma and oth­er black elect­ed offi­cials alien­at­ed BLM activists by coun­sel­ing calm. His poli­cies did lit­tle or noth­ing to reverse soar­ing inequal­i­ty, or to rein in the abu­sive prac­tices of the carcer­al sys­tem. For­mer Black Youth Project 100 direc­tor Char­lene Car­ruthers tells Rans­by that in Oba­ma she saw ​"the lim­i­ta­tions of any politi­cian to change our lives or trans­form our lives."
The elec­tion of Don­ald Trump pro­voked ​"much reassess­ing and soulsearch­ing" with­in BLM, Rans­by writes. The same is true for many of us on the Left. We now have to wor­ry about the impact of the bel­li­cose Trump admin­is­tra­tion, as well as the pro­to-fas­cist white nation­al­ists whom Trump has worked to pro­voke and nour­ish. The repres­sive capac­i­ties of the nation­al admin­is­tra­tion are enor­mous, and they are com­ple­ment­ed by souped-up state-lev­el Repub­li­can regimes. The his­tor­i­cal truth is that mas­sive repres­sion usu­al­ly works, at least for a time, and some­times for a long time. The first black free­dom move­ment after the Civ­il War was destroyed by vio­lent and legal repression.
In the wake of the 2018 midterms, we all har­bor the hope of a dif­fer­ent future. Maybe the new Demo­c­ra­t­ic House will be suf­fi­cient­ly aggres­sive in its inves­ti­ga­tions that it will at least par­a­lyze the mad king and his régime, and at the same time pro­mote the poli­cies, or at least the polit­i­cal dis­course, that will make left reform seem pos­si­ble. That hope means we have come to the con­clu­sion that elec­toral pol­i­tics is impor­tant for the growth and suc­cess of social movements.
This is a big change in the think­ing of the broad Left. The ener­gy of move­ment activists as they worked to elect left-lean­ing Democ­rats reflects not only a recog­ni­tion of the dan­gers of the Repub­li­can Right, but also a recog­ni­tion that move­ments ben­e­fit in impor­tant ways when a régime includes sym­pa­thet­ic polit­i­cal lead­ers. Sup­port­ive politi­cians pro­tect the move­ment from repres­sion. They can also encour­age the move­ment with their rhetoric, and even pro­duce small con­ces­sions. Yes, they may do this out of their own cal­cu­la­tions of elec­toral advan­tage; they are politi­cians. Yet those con­ces­sions can be cru­cial to move­ment growth, as the ear­ly civ­il rights vic­to­ries were.
In oth­er words, elec­toral and move­ment pol­i­tics are not sep­a­rate and uncross­ing paths. Rather, they are deeply intertwined.
BLM activists have found­ed sev­er­al elec­toral groups since Novem­ber 2016, such as the Elec­toral Jus­tice Project, whose co-founder Jes­si­ca Byrd is described by Rans­by as ​"a savvy opti­mist" with ​"no illu­sions that elec­tions alone will lib­er­ate the Black peo­ple" but a con­vic­tion that ​"elec­toral work can make a dif­fer­ence." Rans­by her­self sees a mod­el in BLM's mobi­liza­tion of black anger to oust Cook Coun­ty State's Attor­ney Ani­ta Alvarez in 2016. ​"Col­lec­tive rage can be sim­ply the refusal to tol­er­ate the intol­er­a­ble," she writes. ​"And that refusal can show up in many forms, from the streets to the polls."
As move­ments grow and become more assertive and dis­rup­tive, they can threat­en to cause vot­er defec­tions that force the hand of reign­ing politi­cians, whether sym­pa­thet­ic or not. This, at least, is my hope for BLM and the next phase of Amer­i­can politics.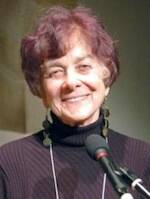 Frances Fox Piv­en
writes on move­ments and U.S. pol­i­tics. She is on the fac­ul­ty of the Grad­u­ate Cen­ter of the City Uni­ver­si­ty of New York, and the author of sev­er­al books, includ­ing
Poor Peo­ple's Move­ments
and
Chal­leng­ing Author­i­ty: How Ordi­nary Peo­ple Change Amer­i­ca
.