Your White Neighbor's "Black Lives Matter" Yard Sign Is Not Enough
Being anti-racist means making places safe for Black people to inhabit. Without that, BLM yard signs are just performative allyship.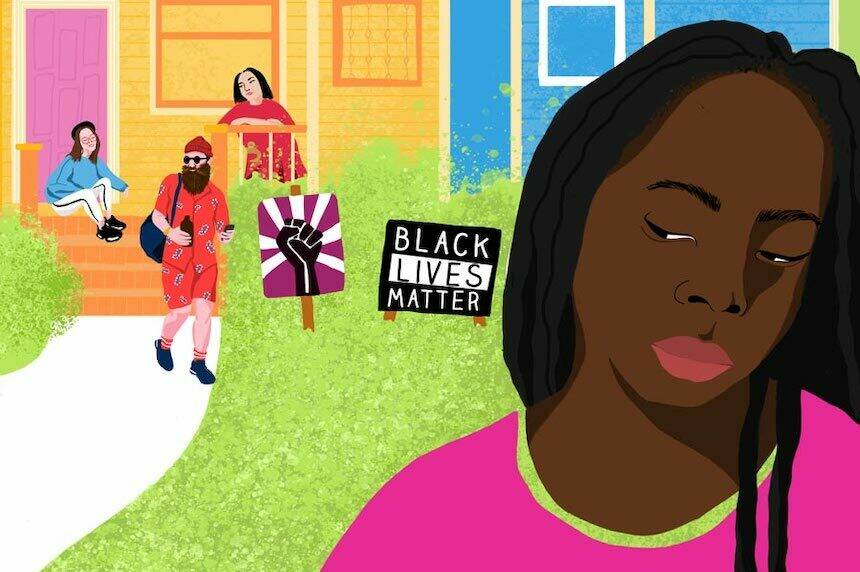 While I was liv­ing in Port­land, Ore­gon, I was asked to teach To Kill a Mock­ing­bird to a group of mid­dle school­ers dur­ing a Black His­to­ry Month free­lance gig. The stu­dents were bright and eager. When I asked them what they knew about the his­to­ry of racism in Amer­i­ca — slav­ery, seg­re­ga­tion, Jim Crow and Civ­il Rights — their arms shot in the air res­olute­ly, in that endear­ing way we've all lost by our fresh­man year of high school.
We've migrated into a time in which it is more important for people to *feel* not-racist than it is for them to *act* not-racist.
Those are all things that hap­pened in ​"The South," Ms. Law­son, the kids par­rot­ed in the igno­rant haze that is how most kids in this coun­try are taught to think about its racist past.
But, lit­tle friends, Ms. Law­son is from ​"The South," I answered. They scrunched up their noses and cocked their heads to one side. They didn't believe me. To their cred­it, I don't fit the image of what most peo­ple think a south­ern­er looks or sounds like — one con­coct­ed most­ly from books and movies and inher­it­ed prej­u­dices — but here I am. I grew up in Ken­tucky and went to col­lege there. I once saw some neigh­bors hang a bob­ble­head toy of a black bas­ket­ball coach in effi­gy after the team lost a cham­pi­onship game. I went to grad­u­ate school in Indi­ana; tech­ni­cal­ly not the South, but a state that often vied with Ken­tucky for the dubi­ous dis­tinc­tion of being the ances­tral home of the Ku Klux Klan.
Yes, I told my wide-eyed stu­dents, Ms. Law­son grew up in the South. I walked to the back of the class­room to place my hand on the fried-drum­stick shape of Ken­tucky on the wall map. And so often she hears peo­ple talk about ​"The South" as if it is this place full of evil, racist, bad peo­ple. But I want you to know To Kill a Mock­ing­bird isn't a famous book about ​"The South," it is a famous book about Amer­i­ca, an Amer­i­ca in which, less than 50 years ago, Ms. Law­son would not have been able to be your teacher. Right here. I scanned the room of pre­dom­i­nant­ly white upper-class stu­dents. How many of you have par­ents, grand­par­ents, friends who are 50 years old? Half the kids raised their hands.
What I knew that my stu­dents didn't is that Amer­i­can racism has nev­er been exclu­sive to region. I con­sid­ered show­ing them a pho­to­graph from a 1921 edi­tion of Portland's news­pa­per, the Port­land Telegram, in which Ku Klux Klan mem­bers in full regalia stand beside the may­or and promi­nent gov­ern­ment offi­cials. ​"Chief Klux­ers Tell Law Enforce­ment Offi­cers Just What Mys­tic Orga­ni­za­tion Pro­pos­es to Do in City of Port­land," the cap­tion reads. I thought about shar­ing this image with them, but I did not.

Ms. Law­son, it has come to our atten­tion that some of our stu­dents have been … dis­turbed … by your teach­ing of To Kill a Mock­ing­bird, the prin­ci­pal said after invit­ing me in for a chat.
I'm so glad that you men­tion it … sir … I have had my reser­va­tions about teach­ing a book with such mature sub­ject mat­ter to sev­enth graders.
—Mature — Ms. Law­son, that's beside the point. We're con­cerned that you're focus­ing too much on the … racial … ele­ments of the book.
The ​"racial ele­ments" … of … To Kill a Mockingbird?
—Ms. Law­son, we've been teach­ing Lee's clas­sic here for years now, and we've nev­er got­ten so many … com­plaints. … Our par­ents are unset­tled by their children's inter­est in the racial nature of the book, and this is becom­ing a cause for concern.
Yes, I do agree the racial nature of the book is a cause for concern.
—Shay­la, we didn't hire you to teach To Kill a Mock­ing­bird as a book about ​"race."
But it is, I said.
—As an edu­ca­tor myself, I strong­ly disagree.
If To Kill a Mock­ing­bird is not a book about race, what is the sto­ry? He opened his mouth to answer, scrolling through his cur­so­ry remem­brance of the beloved nov­el: trawl­ing through the high grass of May­comb, Alaba­ma, with Scout, attempt­ing to catch a glimpse of Boo Radley. He replayed his favorite scene from the icon­ic movie — Gre­go­ry Peck's clos­ing argu­ment — its mono­lith­ic depic­tion of white good­ness firm­ly ensconced in his mind.
It can be hard to talk to peo­ple like this, peo­ple so square­ly con­vinced they stand on the right side of the racial divide they will do any­thing to pro­tect it. We've migrat­ed into a time in which it is more impor­tant for peo­ple to feel not-racist than it is for them to act not-racist. It almost makes me miss the times in my life when peo­ple felt enti­tled enough to spew their racist hatred from their neigh­bor­hood porch­es. Or maybe not — our country's last 10 years have offered up enough new atroc­i­ties that I needn't feel wist­ful for bla­tant racism, as if it's some dis­tant rec­ol­lec­tion of the past.
"We're clear­ly not in a post-racial Amer­i­ca," stat­ed pub­li­cist Rachel Noerdlinger on the Melis­sa Har­ris-Per­ry show in 2013. ​"We're in a post-Trayvon Mar­tin Amer­i­ca." As much as it pains me to use the death of a young boy — a boy the same age as many of the stu­dents I've taught over the years — as the touch­stone of an era, I fear she's right.

Ore­gon was estab­lished as a white utopia on the North Amer­i­can con­ti­nent. Laws pro­hibit­ing black peo­ple to take up res­i­dence in the region go back to 1844, 15 years before the West Coast ter­ri­to­ry ever became a state. In ser­vice to its orig­i­nal utopi­an mis­sion, Ore­gon kept the zon­ing laws rel­e­gat­ing peo­ple of col­or to spe­cif­ic neigh­bor­hoods on the books well into the mid- and late twen­ti­eth century.
Dur­ing the 1940s, black peo­ple moved from the south­ern Unit­ed States to the north, Mid­west and Pacif­ic North­west as part of the Great Migra­tion. Van­port, locat­ed just north of Portland's Albi­na dis­trict, became a pop­u­lar des­ti­na­tion dur­ing World War II because of the ship­yards along the Colum­bia Riv­er and because it was one of the few places in the coun­try offer­ing all its employ­ees equal pay, regard­less of race. The ship­yards employed so many peo­ple that the gov­ern­ment built wartime pub­lic hous­ing for the migrants. Ore­gon, a state whose racist poli­cies made it impos­si­ble for black peo­ple to live there, went from hav­ing about 1,800 black res­i­dents in 1940 to more than 15,000 by the time the war end­ed. Van­port had become the sec­ond-largest city in Ore­gon and home to Van­port Col­lege (which lat­er grew into Port­land State Uni­ver­si­ty) and to the largest fed­er­al hous­ing project in America.
Vanport's black ship­yard employ­ees were essen­tial dur­ing the war. But when the war end­ed and the ship­yards closed, Port­land wasn't par­tic­u­lar­ly keen on its new dark neigh­bors. Although by 1947, African Amer­i­cans com­posed, depend­ing on reports, as lit­tle as 17% — or at most 35% — of the total pop­u­la­tion of Van­port, wealthy Port­landers lodged a cam­paign against the hous­ing project with the goal of clos­ing it. Port­land, a city that had, up until that time, main­tained its idyl­lic image as a white utopia, con­sid­ered the Van­port hous­ing project a phys­i­cal man­i­fes­ta­tion of the black pub­lic scourge. Van­port was also home to war vet­er­ans, Van­port Col­lege fac­ul­ty, white ship­yard work­ers and all these men's fam­i­lies (as was report­ed by Port­land news­pa­per the Ore­gon Jour­nal in arti­cles and op-eds dur­ing the time, which refut­ed Vanport's pres­ence as a crime-infest­ed com­mu­ni­ty eye­sore). But, unlike for these white inhab­i­tants — many of whom moved into Port­land as the ship­yards laid off employ­ees — Portland's strict reg­u­la­tions around where black peo­ple could live made migra­tion into the city almost impossible.
On Memo­r­i­al Day in 1948, the two rivers that flanked Port­land and Van­port reached flood height. Van­port lay in the basin of the flood zone, and Hous­ing Author­i­ty of Port­land offi­cials knew that its cheap­ly built ten­e­ments wouldn't sur­vive a flood. But they did not say this to its res­i­dents. In fact, with the flood immi­nent, Van­port res­i­dents woke up to signs post­ed all over their neigh­bor­hood read­ing, ​"Remem­ber. Dikes are safe at present. You will be warned if nec­es­sary. You will have time to leave. Don't get excit­ed." By 4:17 p.m., the dike broke, and with­in 10 min­utes, the entire town was swept away by the flood. The peo­ple man­aged an emer­gency evac­u­a­tion. But Van­port disappeared.

When I moved to Port­land, I didn't know I was just anoth­er instru­ment of the city's ongo­ing black era­sure, but I should have guessed. I spent a lot of time there walk­ing the streets wear­ing a hood, often at night. Doing this makes me acute­ly aware of the dan­gers of being alone and black at night, espe­cial­ly in the places we think of as America's ​"good," ​"safe" neigh­bor­hoods. After a few months of walk­ing in the dusk in Lau­rel­hurst, where my black dog and I made up the entire black pop­u­la­tion, the neigh­bor­hood start­ed to feel less idyl­lic and more men­ac­ing. I encoun­tered one too many Step­ford-look­ing cou­ples eager to inter­ro­gate me as I attempt­ed to pass their homes, the wife on her knees cut­ting shrub­bery, the hus­band hold­ing a water­ing hose over the lawn.
What do you do for work? he asks. (Trans­la­tion: How can you afford to live here?). How long have you been here? she asks. (Trans­la­tion: How did you move in with­out my know­ing about it?) They fire their ques­tions in rapid suc­ces­sion as I try to keep walking.
There is absolute­ly noth­ing more impor­tant to the lib­er­al res­i­dents of my gen­tri­fied neigh­bor­hood, one lit­tered with Black Lives Mat­ter signs, than to pro­tect their sense of feel­ing ​"not racist," despite their inhos­pitable prej­u­dices against our pres­ence. In this, Port­land is not alone. Cities across Amer­i­ca are carv­ing lib­er­al, pre­dom­i­nant­ly white, enclaves out of what used to be social­ly and cul­tur­al­ly mixed, or pre­dom­i­nant­ly black, neigh­bor­hoods. But I ques­tion Portland's loy­al­ty to the cause of Black Lives Matter.
In the sum­mer of 2017, the FBI marked Black Lives Mat­ter as a ter­ror­ist orga­ni­za­tion, a ​"Black Iden­ti­ty Extrem­ist" group. This label­ing should scare all Amer­i­cans, but it should sur­prise none of us. I nev­er once believed my neigh­bors kept their impec­ca­ble Black Lives Mat­ter yard signs up as a sign of true protest. Black Lives Mat­ter yard signs mat­tered to my neigh­bors because, in a world increas­ing­ly inter­est­ed in pro­tect­ing the rights of a select few, they were look­ing for ways to feel safe from white guilt. They didn't want to take a hard look at how they too are con­tribut­ing to this country's undo­ing, by active­ly ben­e­fit­ing from the com­fort of exclu­sion­ary lib­er­al white com­mu­ni­ties. Com­mu­ni­ties that don't have to con­front their bla­tant dis­crim­i­na­tion because they are not forced to ask them­selves if the way they treat their non­white neigh­bors is right. They stay inside their hous­es, believ­ing they are pro­tect­ing Amer­i­can democ­ra­cy like the Con­sti­tu­tion-quot­ing Atti­cus Finch. Black Lives Mat­ter yard signs do, on their lawns, what signs have always been designed to do: main­tain con­trol, to keep what­ev­er is out­side out.
Despite my hav­ing grown up in the South, Port­land is the most racist place I have ever lived. This is because being anti-racist isn't about using polit­i­cal­ly cor­rect buzz­words and giv­ing lip ser­vice to sen­si­tive con­ver­sa­tion top­ics. Being anti-racist is about con­struct­ing a land­scape that is safe for dark peo­ple to inhab­it. It is not about white peo­ple try­ing to prove they are ​"woke" by putting up yard signs. That is not even what ​"woke" means. ​"Woke" is a ter­ri­to­ry of open-eyed, unsu­per­fi­cial, cul­tur­al aware­ness white peo­ple are nowhere close to occu­py­ing; they are not even in the neigh­bor­hood. But being anti-racist in this dan­ger­ous era is some­thing they can do, by going out of their way to make non­white peo­ple feel safe.
Adapt­ed from Shay­la Lawson's This Is Major, for sale now from Harp­er Perennial.