Black Lung Plagues Surface Miners, New Study Shows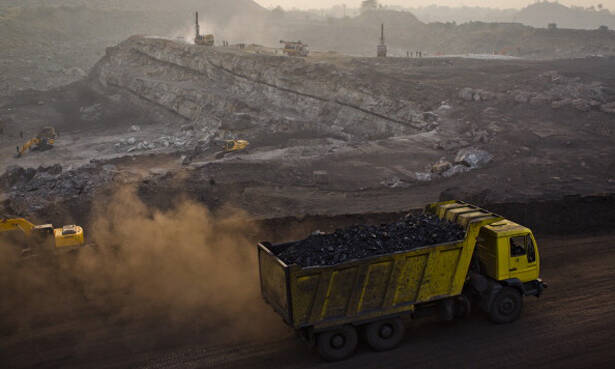 Black lung dis­ease, a sick­ness long asso­ci­at­ed with work­ers who mine coal under­ground, has now been linked to work­ers who take part in sur­face coal min­ing, accord­ing to a report released Fri­day by the CDC.
Although sur­face min­ing — a prac­tice that does not access coal from below ground, but instead removes the tops of moun­tains to access coal seams — pro­duces 48 per­cent of the nation's total coal sup­ply, stud­ies had not been con­duct­ed on work­ers to test for black lung dis­ease since 2002. The new CDC study exam­ined 2,257 sur­face min­ers, and found that 46 (rough­ly 2 per­cent) test­ed pos­i­tive for black lung disease.
The region most notably hit was cen­tral Appalachia, which includes the states of Vir­ginia, Ken­tucky and West Vir­ginia. Thir­ty one out of the 46 work­ers that test­ed pos­i­tive for black lung dis­ease came from Cen­tral Appalachia. Twelve of the 46 that had black lung dis­ease had con­tract­ed the most severe form of it. Six­teen oth­er states were stud­ied along with the cen­tral Appalachi­an region.
A ​"crude preva­lence" was found in the three Appalachi­an states as com­pared to the 16 oth­er states that were stud­ied. Sur­face min­ers in the cen­tral Appalachi­an region were more like­ly to con­tract black lung dis­ease than under­ground min­ers nation­al­ly. The nation­al rate for black lung dis­ease in under­ground min­ing is 3.2 per­cent; for sur­face min­ers in Appalachia, the rate is 3.7 percent.
The report stat­ed that employ­ers should take pre­ven­tive measures:
Sur­face coal mine oper­a­tors should mon­i­tor work­er expo­sures close­ly to ensure that both res­pirable dust and sil­i­ca are below rec­om­mend­ed lev­els to pre­vent CWP. Clin­i­cians should be aware of the risk for advanced pneu­mo­co­nio­sis among sur­face coal min­ers, in addi­tion to under­ground coal min­ers, to facil­i­tate prompt dis­ease iden­ti­fi­ca­tion and intervention.
A lawyer inter­viewed by The Couri­er-Jour­nal in Louisville, Ky., sug­gest­ed the high per­cent­age of black lung tied to Appalachi­an sur­face mines might be linked to the short­age of union­ized mines in the region. ​"Non-union min­ers are job-scared," the lawyer told The Couri­er Jour­nal. ​"It's (black lung dis­ease) a prod­uct of non-union work­places. It's sad, really."
The three cen­tral Appalachi­an states that were found to pro­duce high­er rates of black lung dis­ease among sur­face min­ers also had three of the high­est black-lung claims paid. Accord­ing to the U.S. Depart­ment of Labor, West Vir­ginia paid $46 mil­lion in black lung claims in 2011, Ken­tucky paid $34 mil­lion and Vir­ginia paid $23 million.
Despite coal dust serv­ing as a major cause of acci­dents and ill­ness­es, fed­er­al laws that require the amount of dust in the air are not always fol­lowed. For exam­ple, the Upper Big Branch Mine explo­sion, which killed 29 min­ers, was linked to large amounts of coal dust that enabled a methane explo­sion to occur. Of the 24 min­ers' lungs that were able to be autop­sied, three-fourths test­ed pos­i­tive for black lung disease.
Despite a 40-year effort to end black lung dis­ease, an esti­mat­ed 10,000 min­ers have died from the dis­ease since 1995 — near­ly 1,000 min­ers each year.