RIP Larry Gibson, Anti-MTR Activist and Lover of Kayford Mountain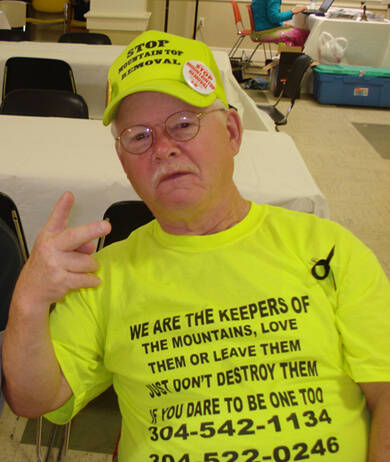 The first time I saw Lar­ry Gib­son speak I cried. He was speak­ing at my uni­ver­si­ty in West Vir­ginia and it was rain­ing and cold and not many peo­ple were in atten­dance. But by the time he was through, the entire room was touched by his sto­ries about his fight to stop moun­tain­top removal (MTR) min­ing from destroy­ing his ances­try and home on Kay­ford Moun­tain in Raleigh Coun­ty, W.Va. He was the face of resis­tance to MTR in Appalachia. He died Sun­day from a heart attack while work­ing on his home on Kay­ford Moun­tain. He was
66
.
I had lived my whole life in Appalachia, but had nev­er lived near a moun­tain­top removal site. I knew about the prac­tice of MTR. I knew that it was slow­ly dec­i­mat­ing com­mu­ni­ties, poi­son­ing well-water sup­plies, caus­ing birth defects and increas­ing the risk of can­cer for those who lived near min­ing sites. But I had nev­er seen the faces or heard the voic­es of those who were adverse­ly affect­ed by MTR. Lar­ry was that face and that voice for me, and for a lot of peo­ple both in Appalachia and the rest of the coun­try.The land on which Lar­ry lived had been in his fam­i­ly for near­ly
200
years. His fam­i­ly was buried there and he ded­i­cat­ed him­self to pre­serv­ing it. Coal com­pa­nies had bought the land and min­er­al rights to the land all around his prop­er­ty.
&
nbsp; MTR sites sur­round­ed his plot
&
mdash;a patch of green amidst gray dust and min­ing equip­ment. He could have sold his
50
acres for a small for­tune. The prop­er­ty he claimed was said to be worth $
650
mil­lion to the min­ing indus­try. But he nev­er sold his land; instead, he opened it up for tours to show peo­ple the MTR sites that sur­round­ed him. He would not allow it to be wiped away for coal. His his­to­ry was on Kay­ford and that is where he died on Sun­day.
&
ldquo;When my dad passed away you could still smell the moun­tain air on him,
&
rdquo; his daugh­ter, Vic­to­ria, told a local news­pa­per in West Vir­ginia.
&
ldquo;You could still see the dirt under­neath his nails and the stains on his hands. He was work­ing. He lived his life devot­ed to the moun­tain.
&
rdquo;Lar­ry toured the coun­try and the world to tell peo­ple about the pil­lag­ing of the Appalachi­ans through MTR. He found­ed Keep­ers of the Moun­tains in
2004
, and it has become one of the major non­prof­its ded­i­cat­ed to the fight against MTR. The say­ing for Lar­ry and the group was sim­ple:
&
ldquo;Love em or leave em; just don
&
rsquo;t destroy em.
&
rdquo; Each time Lar­ry made an appearance
&
mdash;whether it be at a mid­dle school or CNN
&
mdash;he wore a neon green sweat shirt and match­ing hat with that mot­to print­ed on them.One of his most recent appear­ances came in Chris Hedges and Joe Sacco
&
rsquo;s new book, Days of Destruc­tion, Days of Revolt. He gave the authors a tour of his prop­er­ty on Kay­ford Moun­tain, just like he had for hun­dreds of oth­er vis­i­tors.
&
ldquo;Do you know what it
&
rsquo;s like to hear a moun­tain get blowed up?
&
rdquo; he asked Hedges and Sac­co.
&
ldquo;A moun­tain is a live ves­sel, man; it
&
rsquo;s a life itself. You walk through the woods here and you
&
rsquo;re gonna hear the crit­ters mov­ing, scam­per­ing around, that
&
rsquo;s what a moun­tain is. Try to imag­ine what it would be like for a moun­tain when it
&
rsquo;s get­ting blowed up, fif­teen times a day, blowed up every day, what that moun­tain must feel like as far as pain, as life.
&
rdquo;Through his years of fight­ing against MTR, Lar­ry faced oppo­si­tion from min­ers afraid his activism endan­gered their jobs. His liv­ing quar­ters on Kay­ford had been van­dal­ized. One of his trail­ers was lit­tered with gun shots. Two of his dogs were shot. One dog was near­ly hanged before he was able to res­cue it. In
2007
, one of his fam­i­ly ceme­ter­ies was bull­dozed in front of him by Massey Ener­gy oper­a­tors while he was giv­ing a tour of his prop­er­ty to vis­i­tors. Through this, he per­sist­ed and his resis­tance seemed to grow stronger, even as his health declined.Lar­ry was large­ly respon­si­ble for bring­ing MTR to the con­scious­ness of hun­dreds of thou­sands of peo­ple with­in Appalachia and out­side of it as well. He moved peo­ple through the sto­ries he told and I feel for­tu­nate to have heard them.When I saw him speak, he told a joke about his wife and him­self.
&
ldquo;She said,
&
lsquo;Do you cheat on me,
&
rsquo; I said, ​
'
Yeah, I sure do,
&
rsquo;
&
rdquo; he said.
&
ldquo;She says,
&
lsquo;Do I know her?
&
rsquo; I say,
&
lsquo;Yeah, you do.
&
rsquo; She says,
&
lsquo;is she pret­ty?
&
rsquo; I say,
&
lsquo;Yeah, she
&
rsquo;s the most beau­ti­ful woman I ever seen.
&
rsquo; She says,
&
lsquo;what
&
rsquo;s her name?
&
rsquo; I say,
&
lsquo;Kay­ford Mountain
&
mdash;the pret­ti­est lady I ever met.
&
rsquo;
&
rdquo;
&
nbsp;
&
nbsp;
&
nbsp;
&
nbsp;
&
nbsp;
&
nbsp;
&
nbsp;
&
nbsp;
&
nbsp;
&
nbsp;
&
nbsp;Lar­ry is sur­vived by his wife, Car­ol; two sons, Cameron and Lar­ry Jr; and his daugh­ter, Vic­to­ria. The fam­i­ly requests that those who wish to express con­do­lences donate to Keep­ers of the Mountains.