Want To Know How To Fix Facebook? Listen to Black Twitter.
For years, Black people have been the canaries in the coal mine for social media abuses.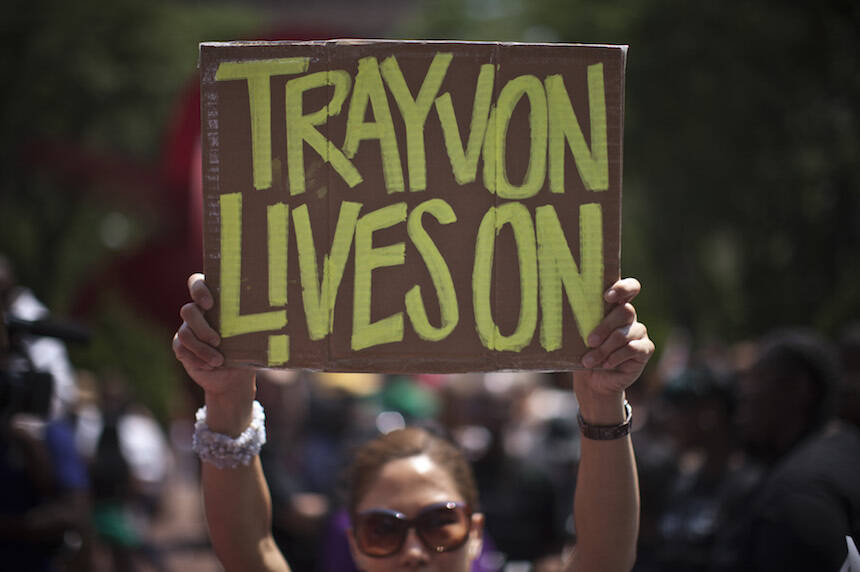 In their 2002 book The Miner's Canary: Enlisting Race, Resisting Power, Transforming Democracy, Lani Guinier and Gerald Torres warned, ​"Those who are racially marginalized are like the miner's canary: Their distress is the first sign of a danger that threatens us all."
Twitter should target the domestic terrorism of white supremacists (the single greatest threat to American democracy), who use social media to gain a greater platform and notoriety.
This metaphor holds true on social media, in particular among the online communities making up the cultural phenomenon known as ​"Black Twitter." Issues from fake news to trolling have long affected Black Twitter users, and we have long been raising the alarm and fighting back.
After Trayvon Martin was killed in February 2012, white supremacists took to social media to send pictures of his dead body to Black users. Some went further and turned his tragic murder into a game they called ​"Trayvoning." They would dress up in clothes vaguely similar to Martin's, and then pose in his death position, often with a can of soda and Skittles.
This harassment was psychologically traumatizing, resonating with a racist tradition that goes back at least to the post-slavery South, when white supremacists circulated postcards with photographs of lynching victims. The goal is to put Black Americans ​"back in their place," or, as they say now, to ​"Make America Great Again."
Each picture and each account had to be separately reported, and Black Twitter spent a great deal of time tweeting out messages such as ​"Please report this account," a form of collective defense to get Twitter to ban users and see the pattern.
Contrast this sluggish reaction to what happened in 2014, when two Twitter users photoshopped pictures of Robin Williams' dead body and sent them to his 25-year-old daughter, Zelda. She, understandably, left Twitter and Instagram, asking followers to report her abusers.
The next day, Twitter began ​"reviewing policies." ​"We will not tolerate abuse of this nature on Twitter," said the company's vice president of trust and safety, Del Harvey. ​"We have suspended a number of accounts related to this issue for violating our rules and we are in the process of evaluating how we can further improve our policies to better handle tragic situations like this one."
Would Zelda Williams have received photoshopped pictures of her father's dead body if Black Twitter's 2012 complaints had been taken more seriously?
It's not that Twitter could not have dealt with trolls. An April 5 Endgadget report stated that Twitter has removed 1.2 million accounts promoting terrorism since 2015, utilizing the company's own ​"internal tools and algorithms" created from ​"years of hard work making our site an undesirable place for those seeking to promote terrorism." Twitter should target the domestic terrorism of white supremacists (the single greatest threat to American democracy), who use social media to gain a greater platform and notoriety.
Now that Robert Mueller's investigation of the relationship between Putin, Russia and U.S. elections has revealed heavy manipulation of both Twitter and Facebook platforms to purposefully troll the public and spread ​"fake news," the full toxicity of this coal mine has been exposed. Everybody is in danger, not just Black people and not just women. Recent headlines reflect Twitter's sudden panic: ​"Twitter CEO Admits Company Did Not Fully Grasp Abuse Problem," ​"Twitter Asks for Help Fixing Its Toxicity Problem," ​"Jack Dorsey Asks for Help to Make Twitter ​'More Healthy' " and, my personal favorite, ​"Twitter Is Now Specifically Focusing on Increasing Black, Latinx and Female Representation." Oh, the irony of Twitter trying to increase employee diversity: I can't help but remember a piece I wrote for Al Jazeera America, ​"Time for Twitter to Pull From Its (Diverse) Ranks," back in 2014.
Americans must decide what kind of country they want to live in and take action during the midterms and beyond. We can only hope that Twitter's changes are not too little, too late. It is a testament to the power of Black America, Black culture and Black Twitter that, unlike the canary in the mine, we do not die from the toxic air. But we surely could have used protection much sooner. We would all be breathing the better for it.
Kimberly C. Ellis
, Ph.D., is the author of the upcoming book The Bombastic Brilliance of Black Twitter: A Decade of Tweets (
2009
−
2018
) and a producer for the
50
Shades of Silence (@
50
Shades) campaign to end cyber abuse, online harassment and revenge porn.