Black Women Have to Work 7 Months Longer Than White Men to Receive the Same Pay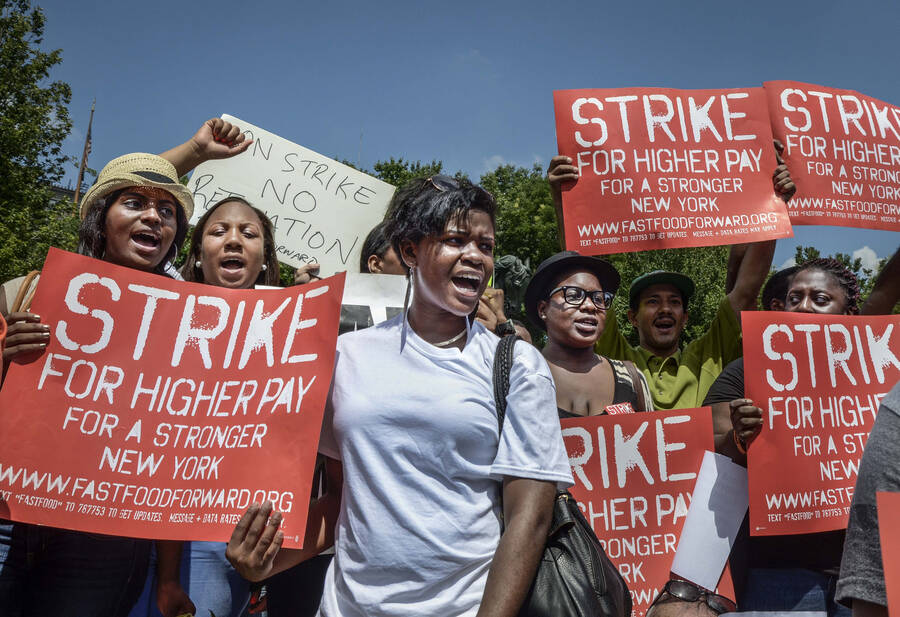 Valerie Wil­son, Janelle Jones, Kay­la Bla­do and Elise Gould wrote this arti­cle, which was first pub­lished by the Work­ing Eco­nom­ics Blog of the Eco­nom­ic Pol­i­cy Institute.
July 31st is Black Women's Equal Pay Day, the day that marks how long into 2017 an African Amer­i­can woman would have to work in order to be paid the same wages as her white male coun­ter­part was paid last year. Black women are unique­ly posi­tioned to be sub­ject­ed to both a racial pay gap and a gen­der pay gap. In fact, on aver­age, black women work­ers are paid only 67 cents on the dol­lar rel­a­tive to white non-His­pan­ic men, even after con­trol­ling for edu­ca­tion, years of expe­ri­ence, and location.
Why does this wage gap exist for black women?
Pay inequity direct­ly touch­es the lives of black women in at least three dis­tinct ways. Since few black women are among the top 5 per­cent of earn­ers in this coun­try, they have expe­ri­enced the rel­a­tive­ly slow wage growth that char­ac­ter­izes grow­ing class inequal­i­ty along with the vast major­i­ty of oth­er Amer­i­cans. But in addi­tion to this class inequal­i­ty, they also expe­ri­ence low­er pay due to gen­der and race bias.
In the last 37 years, gen­der wage gaps have unques­tion­ably nar­rowed — due in part to men's wages decreas­ing — while racial wage gaps have got­ten worse. Despite the large gen­der dis­ad­van­tage faced by all women, black women were near par­i­ty with white women in 1979. How­ev­er in 2016, white women's wages grew to 76 per­cent of white men's, com­pared to 67 per­cent for black women rel­a­tive to white men — a racial dif­fer­ence of 9 per­cent­age points. The trend is going the wrong way — progress is slow­ing for black women.
Myth #1: If black women worked hard­er, they'd get the pay they deserve.
The truth: Black women work more hours than white women. They have increased work hours 18.4 per­cent since 1979, yet the wage gap rel­a­tive to white men has grown.
Over the last sev­er­al decades, both black and white work­ers have increased their num­ber of annu­al hours in response to slow wage growth. While men typ­i­cal­ly work more hours than women, the data reveal that growth in work hours, for both whites and blacks, was heav­i­ly dri­ven by the growth of work hours among women. The increase in annu­al hours is par­tic­u­lar­ly strik­ing for work­ers in the bot­tom 40 per­cent of the wage dis­tri­b­u­tion, where it has been dri­ven almost entire­ly by women.
Among low­er paid work­ers, the growth in annu­al hours is larg­er for black women than for white women and men. This trend is par­tic­u­lar­ly strik­ing for the low­est wage work­ers. In the bot­tom fifth, annu­al hours for black women grew 30.1 per­cent (from 1,162 hours/​year to 1,511 hours/​year) between 1979 and 2015 com­pared to a 27.6 per­cent increase (from 1,086 hours/​year to 1,386 hours/​year) for white women and a 3.2 per­cent increase (from 1,553 hours/​year to 1,602 hours/​year) for white men.
Work­ing moms are sig­nif­i­cant con­trib­u­tors to this trend—half of all African Amer­i­can female work­ers are moms, as are 55.3 per­cent of His­pan­ic work­ing women and 44.5 per­cent of white female work­ers – although women often face a wage penal­ty when tak­ing time out of the work­force to care for chil­dren. While all moms are work­ing more hours per year and con­tribut­ing more to their house­holds finan­cial­ly, African Amer­i­can work­ing moms are unique­ly cen­tral to the eco­nom­ic well-being of their families.
Even when faced with the added demands on their time that come with hav­ing a fam­i­ly, in 2015, mar­ried black women with chil­dren worked over 200 hours more per year than mar­ried white or His­pan­ic women with chil­dren, and 339 hours more than black sin­gle moth­ers. Mar­ried black work­ing moms also worked 132 hours more per year than child­less non-elder­ly black work­ing women.
The data make it clear that there has been no lack of effort on the part of black women work­ers. Even in the face of per­sis­tent racial wage gaps, labor mar­ket dis­crim­i­na­tion, occu­pa­tion­al seg­re­ga­tion, and oth­er labor mar­ket obsta­cles, black women con­tin­ue to increase their annu­al hours and weeks worked per year.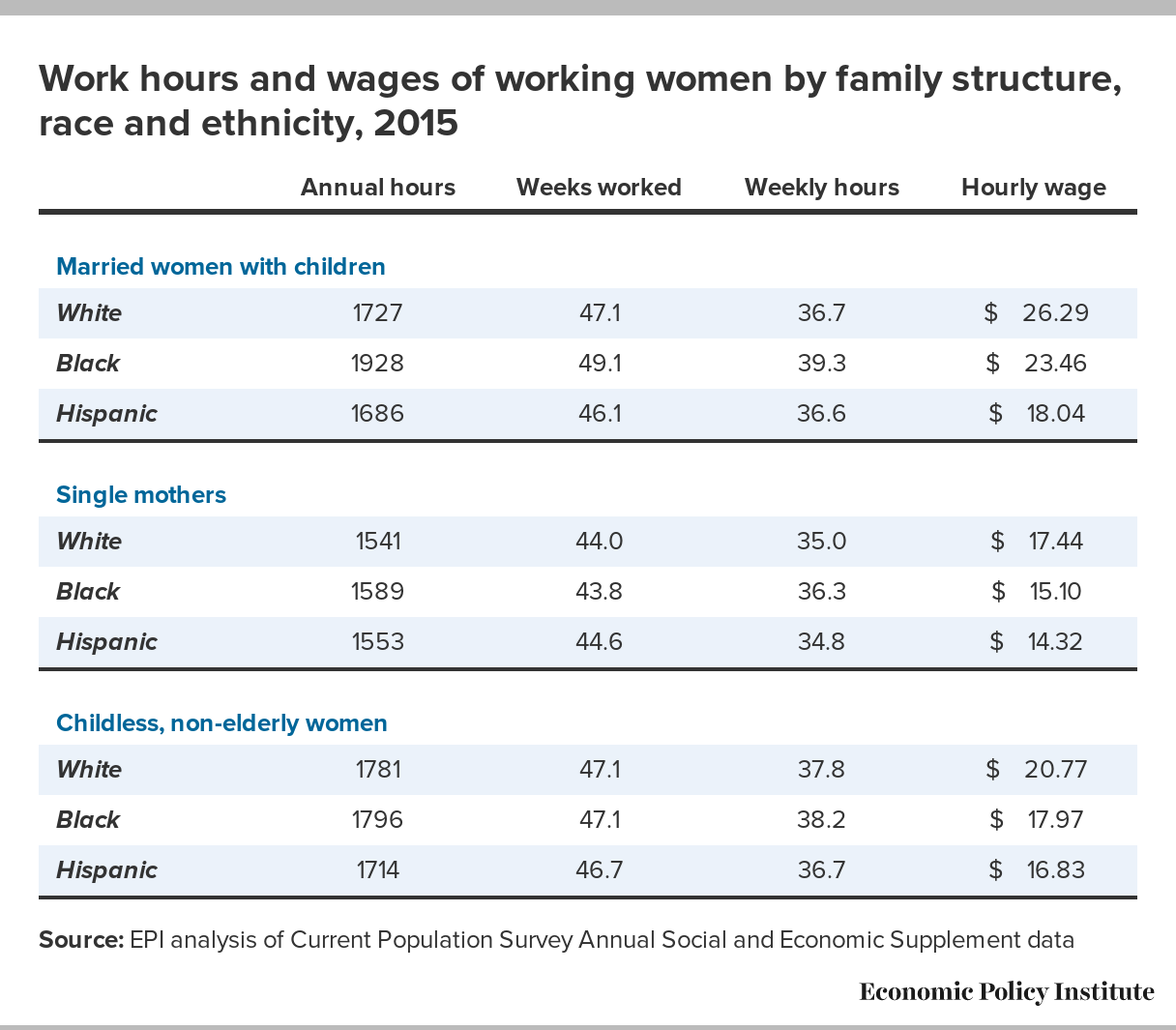 Myth #2: Black women can edu­cate them­selves out of the pay gap.
The truth: Two-thirds of black women in the work­force have some post­sec­ondary edu­ca­tion, 29.4 per­cent have a bachelor's degree or high­er. Black women are paid less than white men at every lev­el of edu­ca­tion.
The fig­ure below shows aver­age wages for white men and black women in 2016. As black women increase their edu­ca­tion­al attain­ment, their pay gap with white men con­tin­ues to grow. The largest gap, of near­ly $17 an hour, occurs for work­ers with more than a col­lege degree. But even black women with an advanced degree earn less, slight­ly more than $7 an hour less, than white men who only have a bachelor's degree.
This, again, in part like­ly reflects labor mar­ket poli­cies that fos­ter more-equal out­comes for work­ers in the low­er tier of the wage dis­tri­b­u­tion. It also may be affect­ed by cer­tain chal­lenges that dis­pro­por­tion­ate­ly affect women's abil­i­ty to secure jobs at the top of the wage dis­tri­b­u­tion, such as earn­ings penal­ties for time out of the work­force, exces­sive work hours, domes­tic gen­der roles, and pay and pro­mo­tion discrimination.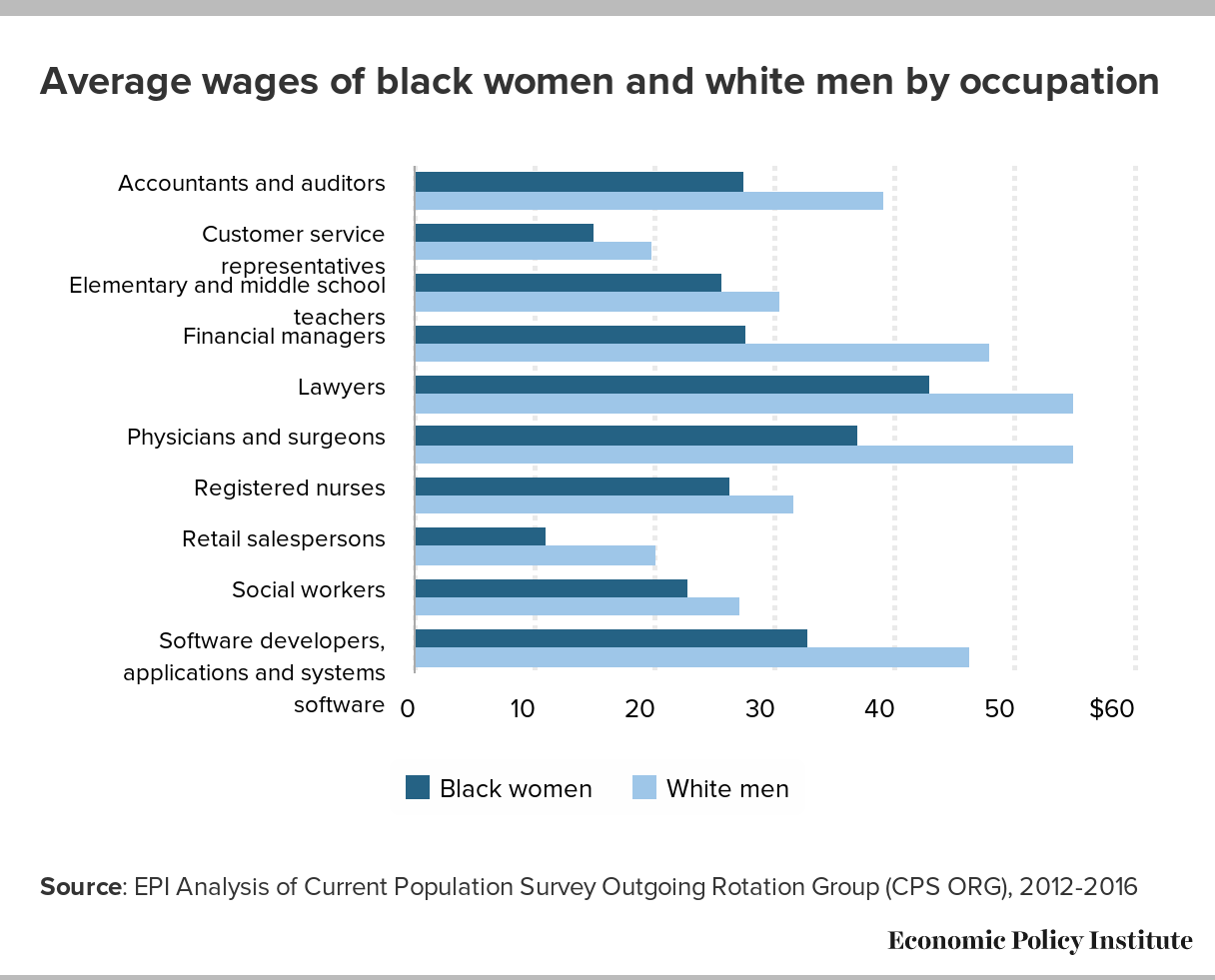 Myth #3: The wage gap is the result of black women choos­ing careers that pay less.
The truth: In all occu­pa­tions — both female-dom­i­nat­ed and male-dom­i­nat­ed — black women earn less than white men.
The table below shows the aver­age wages for black women and white men in a range of occu­pa­tions. In var­i­ous indus­tries and occu­pa­tions across the labor mar­ket, black women earn less than white men. Occu­pa­tion­al seg­re­ga­tion, which push­es black women into jobs most­ly pop­u­lat­ed by oth­er black women, has had an effect on the racial wage gap in recent years. But the racial wage gap is present in jobs dom­i­nat­ed by black women and jobs dom­i­nat­ed by white men, as shown below. While white male physi­cians and sur­geons earn, on aver­age, $18 per hour more than black women doing the same job, the gap for retail sales­per­sons is also shock­ing, at more than $9 an hour.
As black women con­tin­ue to be over-rep­re­sent­ed in low-wage jobs, poli­cies that lift wages at the bot­tom will have a sig­nif­i­cant impact on their wages. An increase of the fed­er­al min­i­mum wage to $15 by 2024 would affect more than one in four black women workers.
The data con­firm black women are under­paid. The usu­al expla­na­tions of the pay gap per­pet­u­ate racial and gen­der bias­es and stereo­types of black work­ers as unmo­ti­vat­ed and lazy, but the data tell anoth­er sto­ry. Regard­less of their con­nec­tion to the labor mar­ket, their lev­el of edu­ca­tion­al attain­ment, or their occu­pa­tion, they are paid less than their white male coun­ter­parts. The ongo­ing gen­der and racial dis­crim­i­na­tion faced by black women means that sev­en months into 2017, black women final­ly have equal pay with what white men earned last year.