Here Are the 10 Worst Attacks on Workers From Trump's First Year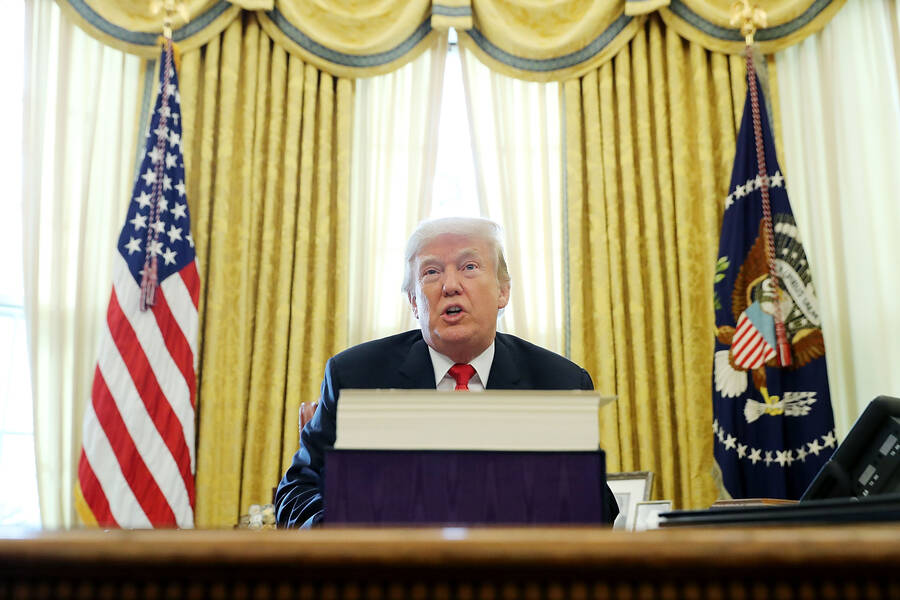 Jan­u­ary 20th marks the one-year anniver­sary of Pres­i­dent Don­ald Trump's inau­gu­ra­tion. Since tak­ing office, Pres­i­dent Trump has over­seen a string of poli­cies that will harm work­ing peo­ple and ben­e­fit cor­po­ra­tions and the rich. Here we present a list of the 10 worst things Con­gress and Trump have done to under­mine pay growth and erode work­ing con­di­tions for the nation's workers.
1) Enact­ing tax cuts that over­whelm­ing­ly favor the wealthy over the aver­age worker
The Tax Cuts and Jobs Act (TCJA) signed into law at the end of 2017 pro­vides a per­ma­nent cut in the cor­po­rate income tax rate that will over­whelm­ing­ly ben­e­fit cap­i­tal own­ers and the top 1%. Pres­i­dent Trump's boast to wealthy din­ers at his $200,000-initiation-fee Mar-a-Lago Club on Dec. 22, 2017, says it best: ​"You all just got a lot rich­er."
2) Tak­ing bil­lions out of work­ers' pock­ets by weak­en­ing or aban­don­ing reg­u­la­tions that pro­tect their pay
In 2017, the Trump admin­is­tra­tion hurt work­ers' pay in a num­ber of ways, includ­ing acts to dis­man­tle two key reg­u­la­tions that pro­tect the pay of low- to mid­dle-income work­ers. The Trump admin­is­tra­tion failed to defend a 2016 rule strength­en­ing over­time pro­tec­tions for these work­ers, and took steps to gut reg­u­la­tions that pro­tect servers from hav­ing their tips tak­en by their employers.
3) Block­ing work­ers from access to the courts by allow­ing manda­to­ry arbi­tra­tion claus­es in employ­ment contracts
The Trump admin­is­tra­tion is fight­ing on the side of cor­po­rate inter­ests who want to con­tin­ue to require employ­ees to sign arbi­tra­tion agree­ments with class action waivers. This forces work­ers to give up their right to file class action law­suits, and takes them out of the court­rooms and into indi­vid­ual pri­vate arbi­tra­tion when their rights on the job are violated.
4) Push­ing immi­gra­tion poli­cies that hurt all workers
The Trump admin­is­tra­tion has tak­en a num­ber of extreme actions that will hurt all work­ers, includ­ing detain­ing unau­tho­rized immi­grants who were vic­tims of employ­er abuse and human traf­fick­ing, and end­ing Tem­po­rary Pro­tect­ed Sta­tus for hun­dreds of thou­sands of immi­grant work­ers, many of whom have resided in the Unit­ed States for decades. But per­haps the most strik­ing exam­ple has been the administration's ter­mi­na­tion of the Deferred Action of Child­hood Arrivals program.
5) Rolling back reg­u­la­tions that pro­tect work­er pay and safety
Pres­i­dent Trump and con­gres­sion­al Repub­li­cans have blocked reg­u­la­tions that pro­tect work­ers' pay and safe­ty. By block­ing these rules, the pres­i­dent and Con­gress are rais­ing the risks for work­ers while reward­ing com­pa­nies that put their employ­ees at risk.
6) Stack­ing the Fed­er­al Reserve Board with can­di­dates friend­lier to Wall Street than to work­ing families
Pres­i­dent Trump's actions so far — includ­ing his choice not to reap­point Janet Yellen as chair of the Fed­er­al Reserve Board of Gov­er­nors, and his nom­i­na­tion of Ran­dal Quar­les to fill one of the vacan­cies — sug­gest that he plans to tilt the board toward the inter­ests of Wall Street rather than those of work­ing families.
7) Ensur­ing Wall Street can pock­et more of work­ers' retire­ment savings
Since Trump took office, the Depart­ment of Labor has active­ly worked to weak­en or rescind the ​"fidu­cia­ry" rule, which requires finan­cial advis­ers to act in the best inter­ests of their clients when giv­ing retire­ment invest­ment advice. The Trump administration's repeat­ed delays in enforc­ing this rule will cost retire­ment savers an esti­mat­ed $18.5 bil­lion over the next 30 years in hid­den fees and lost earn­ing potential.
8) Stack­ing the Supreme Court against work­ers by appoint­ing Neil Gorsuch
Trump's nom­i­nee to the Supreme Court, Neil Gor­such, has a record of rul­ing against work­ers and sid­ing with cor­po­rate inter­ests. Cas­es involv­ing col­lec­tive bar­gain­ing, forced arbi­tra­tion and class action waivers in employ­ment dis­putes are already on the court's dock­et this term or are like­ly to be con­sid­ered by the court in com­ing years. Gor­such may cast the decid­ing vote in sig­nif­i­cant cas­es chal­leng­ing work­ers' rights.
9) Try­ing to take afford­able health care away from mil­lions of work­ing people
The Trump admin­is­tra­tion and con­gres­sion­al Repub­li­cans spent much of 2017 attempt­ing to repeal the Afford­able Care Act. They final­ly suc­ceed­ed in repeal­ing a well-known pro­vi­sion of the ACA — the penal­ty for not buy­ing health insur­ance — in the tax bill signed into law at the end of 2017. Accord­ing to the Con­gres­sion­al Bud­get Office, by 2027, the repeal of this pro­vi­sion will raise the num­ber of unin­sured Amer­i­cans by 13 mil­lion.
10) Under­cut­ting key work­er pro­tec­tion agen­cies by nom­i­nat­ing anti-work­er leaders
Trump has appoint­ed — or tried to appoint — indi­vid­u­als with records of exploit­ing work­ers to key posts in the U.S. Depart­ment of Labor (DOL) and the Nation­al Labor Rela­tions Board (NLRB). Nom­i­nees to crit­i­cal roles at DOL and the NLRB have — in word and deed — expressed hos­til­i­ty to the work­er rights laws they are in charge of upholding.
This list is based on a new report out from the Eco­nom­ic Pol­i­cy Institute.