A new automotive accoutrement, for bloggers on the go: LED diplay picture rims. This video clip showcases the technology. More than a few possibilities for creative graphic imaging will likely come to the minds of vehicle operators. Full color LED display graphics, controllable via wireless modem from a laptop while vehicle is at speed. Imagery may be sent to each wheel individually, or all wheels at the same time. Up to six images may be preloaded into each wheel and programmed to change automatically at preselected time intervals. The wheels are environmentally sealed, protected against weather or car wash. Displays are powered by the vehicle's electrical system (no batteries to run out or change, ever). Pimpstar Custom Wheels $12,500 for 22 inch rims or 26-inchers for $19,500 (well, of course, the power of the blog on wheels belongs to the person who owns one)
For a limited time: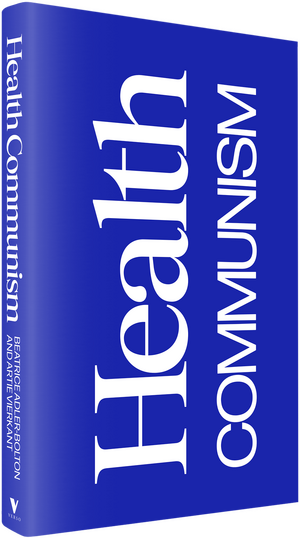 Donate $25 or more to support In These Times and we'll send you a copy of Health Communism.
A searing analysis of health and illness under capitalism from hosts of the hit podcast "Death Panel," Health Communism looks at the grave threat capitalism poses to global public health, and at the rare movements around the world that have successfully challenged the extractive economy of health.
"This is a book you should read before you die, because the ideas synthesized by Adler-Bolton and Vierkant could save our collective lives." –Jon Shaffer