Blood on the Beach
The kidnapping and brutal murder of a sea turtle conservationist.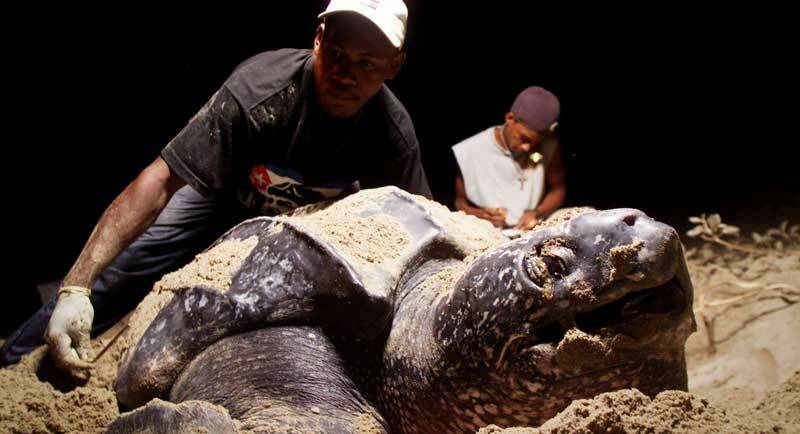 Two months after the kid­nap­ping and bru­tal mur­der of a Cos­ta Rican con­ser­va­tion­ist, activists in sev­er­al nations ral­lied in late July to demand pros­e­cu­tion of the killers and greater pro­tec­tion for con­ser­va­tion workers.
Costa Rican officials claimed the individuals apprehended in the brutal murder of a conservationist were part of a criminal gang responsible for robberies and rapes. But they downplayed the link to egg poaching, leaving activists uncertain whether the right people had been arrested.
On the evening of May 30, masked men car­ry­ing guns kid­napped Jairo Mora San­doval and four women while they patrolled the nest­ing sites of sea tur­tles on Cos­ta Rica's north­ern Caribbean coast, near the town of Limon.
The women were locked up in an aban­doned shack, and the masked men drove off with Mora, who was bound and beat­en. He died from blunt force trau­ma and asphyx­i­a­tion from swal­lowed sand. The women escaped and called the police. Mora, 26, had grown up in the area and from a young age had been involved in tur­tle con­ser­va­tion work, vol­un­teer­ing and work­ing on nest­ing beach­es in Cos­ta Rica. At the time of his death, he was work­ing for WIDE­CAST, a region­al con­ser­va­tion­ist orga­ni­za­tion fund­ed by the Unit­ed States Agency for Inter­na­tion­al Devel­op­ment. (WIDE­CAST has closed its sea-tur­tle con­ser­va­tion pro­grams in the region because of the murder.)
Leatherbacks are an endan­gered species, and poach­ing their eggs is ille­gal in Cos­ta Rica (with the excep­tion of one beach on the Pacif­ic coast). Leatherbacks which can reach almost 10 feet in length are the world's largest sea tur­tle. Their eggs are con­sid­ered an aphro­disi­ac and sell for $1 each in bars. A sin­gle nest can yield 100 eggs, and a poach­er can har­vest sev­er­al nests in one night.
Accord­ing to vol­un­teers with Mora's pro­gram, poach­ers on Cos­ta Rica's north­ern Caribbean coast have recent­ly become more aggres­sive, and in recent months they had warned Mora to end his egg-pro­tec­tion endeav­ors. In April 2012, his tur­tle hatch­ery was raid­ed by poach­ers who tied up the vol­un­teers and stole the eggs.
Mora had demand­ed more pro­tec­tion from local law enforce­ment offi­cers, who only irreg­u­lar­ly patrolled the beach that he protected.
​"Con­ser­va­tion activists on the front lines are not police and need the back­up of author­i­ties to pro­tect endan­gered species, espe­cial­ly from orga­nized crim­i­nal ele­ments," says Teri Shore of the Tur­tle Island Restora­tion Net­work (TIRN, which I found­ed). ​"We demand that sea-tur­tle nest­ing beach­es be made safe for nest­ing tur­tles and the peo­ple work­ing to save them."
After Mora's death, a coali­tion of orga­ni­za­tions and indi­vid­u­als began orga­niz­ing on behalf of jus­tice for Mora and for increased pro­tec­tion of front­line con­ser­va­tion work­ers. Spear­head­ed by TIRN and the Cen­ter for Bio­log­i­cal Diver­si­ty, they estab­lished a reward fund for infor­ma­tion lead­ing to the arrest and con­vic­tion of the per­pe­tra­tors. Sea​Tur​tles​.org, a project of TIRN, set up a peti­tion and a memo­r­i­al fund to help Mora's fam­i­ly and cre­ate con­ser­va­tion pro­grams in his memory.
By late August, more than 150,000 peo­ple had signed the peti­tion that demands Cos­ta Rica Pres­i­dent Lau­ra Chin­chilla ​"cap­ture these sea tur­tle poach­ers and pros­e­cute them to the full extent of the law." Dona­tions to the reward fund have topped $56,000.
Activists also held ral­lies around the world in late July, deliv­er­ing copies of the peti­tion to Cos­ta Rican embassies and con­sulates in Los Ange­les, Hous­ton, El Sal­vador, India, Spain, Ecuador, Ger­many and Aus­tralia. The peti­tion not­ed that ​"Cos­ta Rica is respect­ed around the world … for its peace­ful, safe soci­ety that sup­ports eco­tourism. Now that human and sea tur­tle lives are in jeop­ardy on Cos­ta Rican beach­es, the entire eco­tourism econ­o­my is in jeopardy."
On the morn­ing the protests began, Cos­ta Rican secu­ri­ty forces launched raids in sev­er­al towns near the mur­der site and arrest­ed eight sus­pects.
In a press con­fer­ence fol­low­ing the arrests, Cos­ta Rican offi­cials claimed the indi­vid­u­als appre­hend­ed were part of a crim­i­nal gang respon­si­ble for rob­beries and rapes. But they down­played the link to egg poach­ing, leav­ing activists uncer­tain whether the right peo­ple had been arrested.
​"Even though sus­pects have been arrest­ed, we are not cel­e­brat­ing until we are sure the right peo­ple are locked up for good to rot in jail," says Ran­dall Arauz, pres­i­dent of the Cos­ta Rican Sea Tur­tle Restora­tion Pro­gram.
For now, activists are wait­ing for the tri­al to begin and for more facts to emerge. They vow to take to the streets again if jus­tice is not served. ​"Jairo will not be for­got­ten, nor will we allow his death to be in vain," Shore says.
​"Until there is jus­tice and addi­tion­al pro­tec­tion for con­ser­va­tion work­ers, we will keep this issue alive in the media and in the streets."