Bob Kjellander and Nicholas Hurtgen: The Pension PiratesӔ
Robert Kjellander is accused of multiple qustionable state pension deals in Illinois he did while working for the Carlyle Group,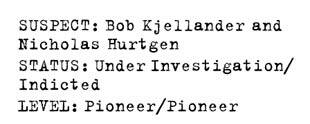 Illinoisan Robert Kjellander is a large man, but that's not why they call him ​"Big Bob". Kjellander is a heavyweight Illinois Republican insider. What Kjellander does for his day job is a little hard to pin down, but he and his consulting group have made millions in recent years off his connections to state officials through several deals with state-run pension funds that have sparked a series of state and federal investigations.
Beginning in 2002, the Republican-connected Carlyle Group hired Kjellander to secure an eventual $500 million investment from the state teacher's pension fund. Kjellander received a finder's fee of $4.5 million, which the pension board now says they knew nothing about. The scandal sparked a public uproar that caused the Illinois State Senate to pass legislation banning such payments. Kjellander called the bill an ​"overreaction." Federal investigators probing the deal have subpoenaed records on Kjellander, but he has yet to be accused of a crime.
In 2003, Kjellander was involved in another state pension deal, this time a $10 billion bond deal with the Bear Stearns investment firm that netted him a ​"finder's fee" of $809,000. When the deal came under scrutiny by the state General Assembly in 2004, neither state officials nor Bear Stearns could produce any kind of documentation showing what Kjellander had actually done on the deal, which helped sparked ongoing investigations by the SEC, Illinois Attorney General and the governor's inspector general.
The scandal began in earnest, however, when a whistleblower lawsuit filed in 2004 alleged that a Bear Stearns broker who had worked with Kjellander on the deal had helped secure the contract for the firm through a criminal kickback scheme. That broker? Nicholas Hurtgen, who also happened to be a Pioneer for Bush's 2004 campaign. The details in the suit are still sealed, but Hurtgen, who resigned from Bear Stearns in July 2004, also earned his firm a $500,000 consulting fee for a separate $100 million investment from the beleagured teachers pension system that federal investigators are investigating as well. Hurtgen was also indicted on separate criminal charges last year for allegedly extorting hospital officials in Naperville, Ill., into using Bear Stearns to finance their new hospital construction project.
Socialism ... Seriously
"The most fun and accessible introduction to socialist ideas I've ever read."—Anand Gopal
For a limited time, when you donate $20 or more to support In These Times, we'll send you a copy of the new, expanded edition of Socialism ... Seriously by Danny Katch.

Conor Kenny
is the editor of Con​gress​pe​dia​.org, a collaborative online citizen's encyclopedia on Congress. He is also a former money in politics investigative researcher for Public Citizen.