When Distance Becomes a Matter of Life and Death: The Walk to Save Rural Hospitals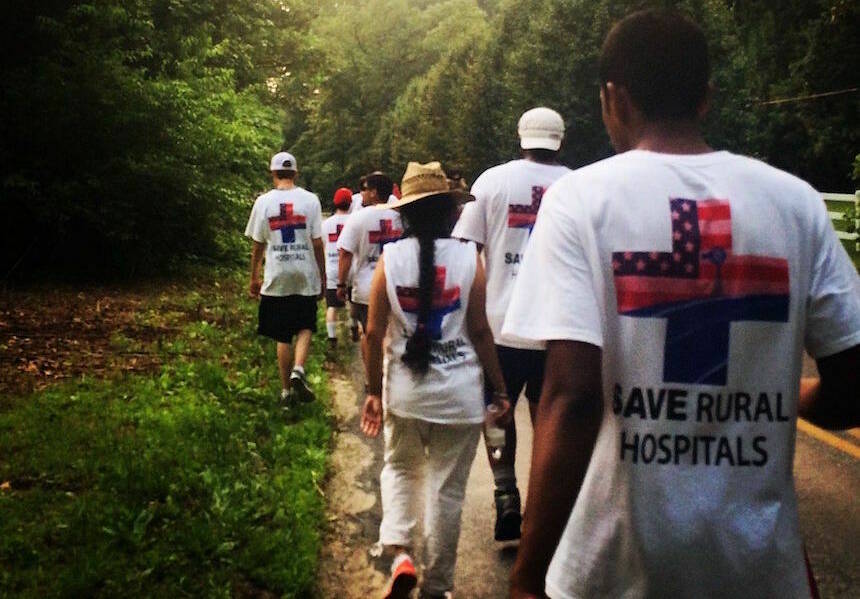 In 2014, the For­ward Togeth­er Moral Move­ment from North Car­oli­na con­nect­ed with Adam O'Neal, the Repub­li­can may­or of Bel­haven, N.C., a small town in the south­east part of the state. Belhaven's only hos­pi­tal and emer­gency room was shut down by Vidant Health last year. After Vidant was been brought in by the town to help man­age the hos­pi­tal, they cre­at­ed a new board under their con­trol. The board decid­ed to close the hos­pi­tal down, which meant that peo­ple in and around Bel­haven had to dri­ve an extra 30 miles to the near­est emer­gency room, to a hos­pi­tal that Vidant itself owns. Soon after the clo­sure, a woman named Por­tia Gibbs had a heart attack. She died in a park­ing lot wait­ing for a heli­copter to come take her to Vidant's hos­pi­tal those addi­tion­al 30 miles away.
O'Neal decid­ed that dras­tic mea­sures were need­ed to get the hos­pi­tal open again, so he planned to walk hun­dreds of miles from Bel­haven to Wash­ing­ton, D.C., in mem­o­ry of Por­tia Gibbs, to draw atten­tion to the issue. He was joined by Rev. Dr. William Bar­ber and the For­ward Togeth­er Moral Move­ment who sup­port­ed this life-and-death strug­gle for health care. After attend­ing the send-off ral­ly, Bob Zell­ner, a long time rur­al orga­niz­er and civ­il rights activist, walked with May­or O'Neal almost the whole way.
This year, O'Neal and Zell­ner orga­nized The Walk again, this time broad­en­ing the fight from just one hos­pi­tal to the 283 hos­pi­tals around the coun­try in dan­ger of being closed. Read more about this year's walk at their web­site, and on the Kairos Cen­ter blog.
(Note: This is part II of Shail­ly Gup­ta Barnes' inter­view with Bob Zell­ner. Click here for Part I of the con­ver­sa­tion, ​"Orga­niz­ing with Klans­men for Social Jus­tice: Bob Zell­ner Tells His Sto­ry." The inter­view has been edit­ed for length and clarity.)
Can you tell us about May­or Adam O'Neal and the kind of leader he is?
The rea­son Adam O'Neal is May­or O'Neal today is because Black men­tors took him in hand ear­ly on. They had gone to school with him in high school and seen some­thing in his spir­it. And he said he want­ed to run for may­or, and they said, ​"You want to be may­or? We can make you mayor."
One of the first things that Arthur Butch, who took Adam under his wing, says to Adam is, ​"Have you been to a Black church ser­vice?" Adam says, ​"Well, no." ​"Well, you're going to need to do that." So the next Sun­day, Adam, for the first time in his life, went to a Black Bap­tist church. And he said, ​"You know, I'm not much for hold­ing hands or hug­ging and every­thing, but this big black dea­con met me at the front door with a hand about this big, full of cal­lous­es and every­thing, strong farm­work­er or maybe works in the pulp­wood indus­try or some­thing." He said, ​"That black dea­con took my hand in his big old paw and he didn't let me go for two hours." He told me, ​"All day that dea­con stuck with me." So he start­ed to learn about the culture.
What's May­or O'Neal's rela­tion­ship with Moral Mondays?
Adam now orga­nizes non-vio­lent work­shops for he and I and oth­er peo­ple to run. We've been doing typ­i­cal clas­si­cal SNCC non­vi­o­lent work­shops, doing lunch coun­ters, march­es, how do you orga­nize pick­et lines, how do you have spokes­peo­ple, for some­times 100, 125 peo­ple, 50 – 60 per­cent of them might be white. A good per­cent­age of Black peo­ple, but lots of white peo­ple in there.
This to me as an orga­niz­er, I mean what kind of oppor­tu­ni­ty do you ever have for some­thing like that, at the grass­roots? I mean these peo­ple, some of them are true right-wingers, who are begin­ning to change but they don't even real­ize the extent to which they're chang­ing just by doing the things they've already done.
And what pre­cip­i­tat­ed this action around the Bel­haven hos­pi­tal closures?
Well, Bel­haven is in Beau­fort Coun­ty and just east of that is the largest coun­ty in North Car­oli­na, which is also the most sparse­ly pop­u­lat­ed, and the poor­est. So the two coun­ties togeth­er are the poor­est areas in the state. There's a Hill-Bur­ton hos­pi­tal from 1945 there, the first one ever built, a his­toric hos­pi­tal. And this Vidant cor­po­ra­tion comes in and thinks absolute­ly noth­ing of com­ing in with the inten­tion of clos­ing and destroy­ing the hos­pi­tal, so that peo­ple would have to go 30 more miles to their hos­pi­tal in Wash­ing­ton, North Car­oli­na, which is also a feed­er hos­pi­tal to their hos­pi­tal fur­ther west in Greenville, so they can make more mon­ey. Vidant already has 700 mil­lion dol­lars in reserve — a non-prof­it orga­ni­za­tion. And the CEO makes $2 mil­lion a year.
The hos­pi­tal board is head­ed by Art Keeney who is from Engel­hard, North Car­oli­na, which is about 80 miles east of Bel­haven. Those peo­ple used to have to come 60 or 80 miles to Bel­haven, now they have to add anoth­er 30 on that, 100 miles or so, or over. Those peo­ple are dying down there. And Art Keeney, he's in charge of eco­nom­ic devel­op­ment for all of east­ern North Car­oli­na, his idea of eco­nom­ic devel­op­ment is to close the hos­pi­tal and destroy a two or three coun­ty area.
But the fact is it didn't have to be closed, not for finan­cial rea­sons or any­thing. I mean, for finan­cial rea­sons, to enrich a tremen­dous­ly wealthy cor­po­ra­tion that already has almost a bil­lion dol­lars, and because you lost maybe a mil­lion dol­lars in a year when the CEO makes 2 mil­lion dol­lars? Vidant want­ed to close the hos­pi­tal and they kept pump­ing mon­ey into it and charg­ing expens­es from oth­er hos­pi­tals to Bel­haven that it didn't even incur. The whole salary of the hos­pi­tal man­ag­er — he was only there two days a week — was charged to the hos­pi­tal. So they loaded up this hos­pi­tal with all of this stuff and unnec­es­sary peo­ple and all kinds of things to show that it's los­ing mon­ey so they can close the hospital.
So, in Bel­haven, Vidant lied about it. They said they had lost a mil­lion dol­lars so they had to close it. Well they intend­ed to close it when they moved there and took over the hos­pi­tal. And they did that because it was the poor­est area, heav­i­ly Black, the coun­ty is prob­a­bly 70 per­cent Black, and a Demo­c­ra­t­ic area basi­cal­ly, with the aber­ra­tion of being rep­re­sent­ed by this Repub­li­can may­or. Adam O'Neal. And the whole econ­o­my of the area depends on this hospital.
Now what if your child gets hit and you need to have them be 5 min­utes from emer­gency care rather than half an hour. And it might mean the dif­fer­ence between that child sur­viv­ing. A 16-year-old was just run over the oth­er day in Bel­haven and since the ambu­lances were off some­where else, there's no emer­gency room there any­more, they had to wait on the heli­copter. And he's bleed­ing, he's bad­ly bad­ly injured. And the heli­copter gets there and they said he's too unsta­ble to go on the heli­copter now. So he was maybe 5 min­utes from the emer­gency room at Bel­haven, which had been closed, he would've been there, he would've had blood, he would've had doc­tors and he would've had trained peo­ple with­in 5 min­utes. And he died the next day because there was an hour and a half before he could get any med­ical atten­tion. He just bled to death basi­cal­ly, a 16-year-old. It strikes all ages but that is the main wor­ry that peo­ple have in Bel­haven. Peo­ple are going to leave who have young chil­dren, because it's a fish­ing com­mu­ni­ty, it's a boat­ing com­mu­ni­ty, hunt­ing, farm­ing, all kinds of things. This young 16 year old, if he'd been tak­en right to the hos­pi­tal he'd at least of had a chance that he could've lived, but once there's no hos­pi­tal there it means he dies.
What Adam says is that they under­es­ti­mat­ed the peo­ple in Bel­haven, because the peo­ple are used to hur­ri­canes, they're fish­ing peo­ple, they work in the woods, tim­ber, they're farm­ers, resilient peo­ple. He says they total­ly dis­re­gard­ed the fact that they were resilient peo­ple that were sur­vivors, and that they by-gol­ly were going to fight if they had the right lead­er­ship and Adam was there to give the leadership.
So what hap­pened with the Health Care March last year? How did you get involved?
I didn't go to Bel­haven last year and say, ​"Oh I'm here I'm going to march with you." I just went with Rev. Bar­ber to get the walk kicked off and we were doing what­ev­er orga­niz­ing we could to make it a suc­cess. I remem­ber it was July, 101 degrees, mid­dle of the day. It was about the dumb­est thing you could pos­si­bly do. We had a press con­fer­ence with Rev. Bar­ber and Adam and all of the peo­ple want­i­ng to get the hos­pi­tal back. So I just set off with the others.
And I didn't plan to go on the whole thing, but after the sec­ond day they were down to like 2 peo­ple or 3 peo­ple, and pret­ty soon it was just me and Adam. And we're walk­ing along and it's me, and Adam, and Adam's moth­er, Pam. Three peo­ple, way out in the mid­dle of nowhere. We got treed by some dogs one time. We got stopped on this back road and we couldn't get past the dog. But any­way, Adam he says to me, ​"Bob, why are you still here?" He was think­ing it would just be him and his moth­er now, walk­ing on the march. And I said, ​"Well, two march­es in my whole life that I know of that were sin­gle peo­ple march­ing. And one was William Moore, post­man from Bal­ti­more march­ing in Alaba­ma — he was shot and killed. And James Mered­ith march­ing by him­self in Mis­sis­sip­pi was shot and could've been killed." And I said, ​"I'm just not going to, no mat­ter what is going on out there, what­ev­er things I have going on, and the fact that my feet are total­ly destroyed, I'm going to be here with you, you know, for the duration."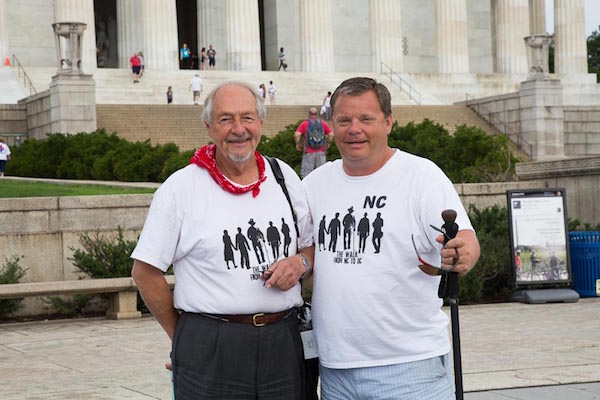 Bob Zell­ner (left) and May­or Adam O'Neal at the Ral­ly to Save Rur­al Hos­pi­tals in Wash­ing­ton D.C. (Pho­to: Kairos Center)
What hap­pened after the Walk last year?
Well, we've had some real vic­to­ries. They've got the hos­pi­tal back now [in Bel­haven], but now comes the point of hav­ing to crank it up again. They had done a lot of dam­age to the build­ing. They intend­ed to bull­doze the build­ing but we got a tem­po­rary restrain­ing order to stop them from destroy­ing the build­ing. And all the peo­ple of Bel­haven now are ready to come as wit­ness­es. We're hop­ing to get 10 mil­lion dol­lars now from Vidant to open up the hos­pi­tal in Belhaven.
What's been Vidant's response?
They've revert­ed to some of the old tac­tics, which have back­fired on them bad­ly. They've said that may­or Adam is a favorite now on Moscow tele­vi­sion, that he was on some kind of Russ­ian pro­gram and that Al Jazeera has been cov­er­ing him and the Guardian, the well known rad­i­cal news­pa­per in Britain has been, too.
So they're red-bait­ing. But red-bait­ing doesn't work in the same way that it used to work now. And peo­ple say ​"Well they must be pret­ty des­per­ate if they're accus­ing Adam O'Neal of being a com­mu­nist." And they've tried to under­mine him in the com­mu­ni­ty, but peo­ple know him too well. And he's just that kind of guy, he's just there and he con­tin­ues to work with people.
What was the idea behind this year's walk?
Well, Adam went last year to the nation­al con­ven­tion of the Asso­ci­a­tion of Rur­al Hos­pi­tals, a thou­sand hos­pi­tals around the coun­try. And he found 283 oth­er hos­pi­tals around the coun­try that are clos­ing, about to close, or just closed. And so at that meet­ing, he had said the idea came to him to have a reprise of the march from Bel­haven to D.C., but this time make it nation­al. And he said we want a rep­re­sen­ta­tive, a walk­er from each state, because there's one or two of those hos­pi­tals that are clos­ing in every state. Most of them are in the South but many of them are in the North.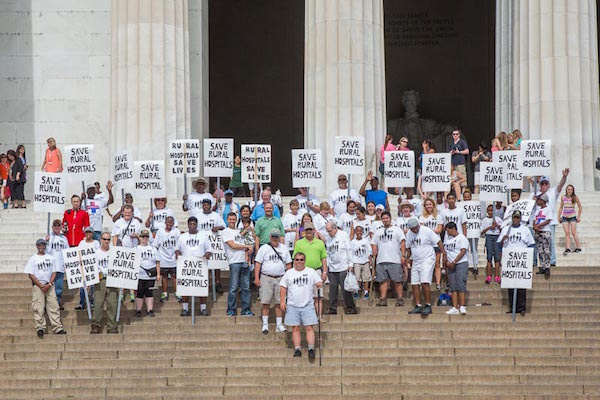 The Walk arrives in Wash­ing­ton D.C. on June 15, 2016. (Pho­to: Kairos Center)
And I mean it's cold and cyn­i­cal and peo­ple will die. What Adam says is if 283 hos­pi­tals close around the coun­try for sim­i­lar rea­sons, 2,800 peo­ple a year will die unnec­es­sar­i­ly, which is like a 9⁄11 every year, for the next 25-to-30 years. And it costs less to keep these hos­pi­tals open, than it will to close them — the long run expens­es of clos­ing them will be much greater. The dete­ri­o­ra­tion of the health, the chron­ic dis­eases and all these things that peo­ple deal with. If you're not close to a hos­pi­tal, you're not going to go get help for your dia­betes or oth­er prob­lems until it's so bad that you have to go to the emer­gency room at the big hospital.
Call­ing out the ​
"

immor­tal­i­ty" of the cur­rent system

From June 1 to 15, the Kairos Cen­ter joined the Walk From NC to DC, a 283 mile march from Bel­haven, N.C., to Wash­ing­ton, D.C., to save 283 rur­al hos­pi­tals that are being threat­ened or sched­uled to close across the coun­try. We met up with Bob, May­or O'Neal, Rev. Bar­ber, and lead­ers from Ten­nessee, Texas, Wash­ing­ton, West Vir­ginia, North Car­oli­na and more who were com­mit­ting them­selves to the right to health care and to save these hospitals.

The Walk was a clear expres­sion of the prob­lems fac­ing our soci­ety today, and the kinds of respons­es that are sore­ly need­ed, espe­cial­ly around our right to health care. Indeed, a human right to health care isn't lim­it­ed to ques­tions of prof­itabil­i­ty or even afford­abil­i­ty. Instead, it asks whether we are meet­ing the health care needs of our fam­i­lies, chil­dren, vet­er­ans, and broad­er com­mu­ni­ties and if not, how we can and must do so. In this way, the Walk from NC to DC was an expres­sion of what a New Poor People's Cam­paign for Today looks like — bring­ing peo­ple togeth­er across race, age, and geog­ra­phy to raise the ques­tion of how we meet our most basic human needs in a time of plenty.

The pow­er of this moment is in the peo­ple who are call­ing out the immoral­i­ty of the cur­rent sys­tem and demand­ing that we seize the oppor­tu­ni­ties made pos­si­ble today. And while we walked for rur­al hos­pi­tals, we all know that this is only the beginning.

This inter­view was orig­i­nal­ly post­ed on the Kairos Cen­ter web­site and is repost­ed on Rur­al Amer­i­ca In These Times with per­mis­sion. Kairos works to strength­en and expand trans­for­ma­tive move­ments for social change that can draw on the pow­er of reli­gions and human rights.
[If you like what you've read, help us spread the word. ​

"

Like" Rur­al Amer­i­ca In These Times on Face­book. Click on the ​

"

Like Page" but­ton below the bear on the upper right of your screen. Also, fol­low RAITT on Twit­ter @RuralAmericaITT]
Shail­ly Gup­ta Barnes
is the Pro­gram Man­ag­er at the Kairos Cen­ter and part of the Rights and Reli­gions pro­gram area. Orig­i­nal­ly from Chica­go, she has a back­ground in law, eco­nom­ics and inter­na­tion­al devel­op­ment and has spent the past
10
years work­ing with and for poor and mar­gin­al­ized com­mu­ni­ties in var­i­ous capac­i­ties. She earned a B.A. in Eco­nom­ics from the Uni­ver­si­ty of Chica­go (
1999
), a J.D. from UCLA School of Law (
2002
), and an M.I.A. from Columbia's School of Inter­na­tion­al and Pub­lic Affairs (
2009
). Shail­ly has two awe­some chil­dren with Adam Barnes and lives in New York City.