Organizing with Klansmen for Social Justice: Bob Zellner Tells His Story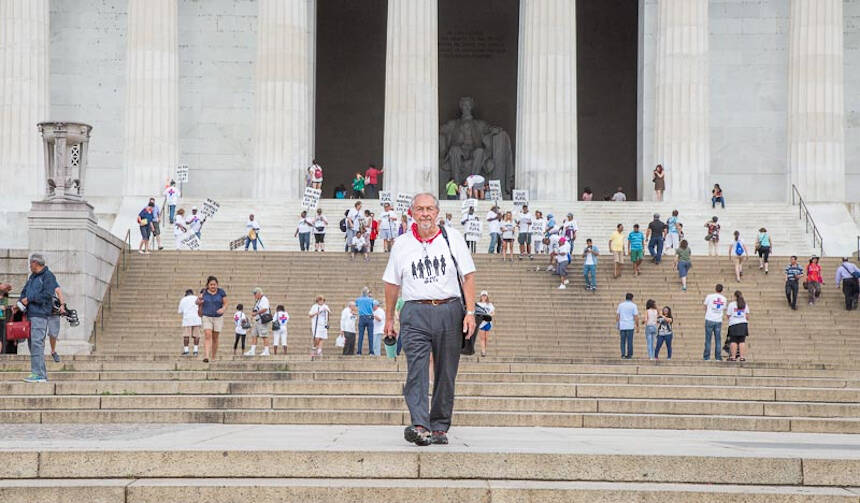 Bob Zell­ner is a vet­er­an of the Civ­il Rights move­ment. He grew up in rur­al Alaba­ma, the son and grand­son of Ku Klux Klan mem­bers and min­is­ters. When Bob was a kid, his father took the dan­ger­ous step of renounc­ing his Klan mem­ber­ship. The deci­sion had a pro­found effect on Bob, who went on to be the first white field sec­re­tary for the Stu­dent Non­vi­o­lent Coor­di­nat­ing Com­mit­tee (SNCC) in Mis­sis­sip­pi. After SNCC became an all-black orga­ni­za­tion Bob joined the staff of SCEF, the South­ern Con­fer­ence Edu­ca­tion­al Fund. With Anne Braden, Dot­tie Zell­ner and oth­ers, Bob found­ed the GROW Project (Grass Roots Orga­niz­ing Work aka Get Rid of Wallace).
Today, Bob plays an impor­tant role in North Carolina's For­ward Togeth­er Moral Move­ment, men­tor­ing young lead­ers and draw­ing on decades of expe­ri­ence to help guide the effort. He's also been a major force, along with May­or Adam O'Neal of Bel­haven, N.C., behind The Walk from NC to DC to save rur­al hospitals.
In his more than 50 years of orga­niz­ing with the poor in Mis­sis­sip­pi, Alaba­ma and across the South, Bob faced con­sid­er­able chal­lenges to his work of bridg­ing entrenched racism and prej­u­dice. This came in mul­ti­ple forms, includ­ing bru­tal con­fronta­tions with the Ku Klux Klan as well as deal­ing with the skep­ti­cism of pro­gres­sives who doubt­ed whether the racism of poor white south­ern­ers could ever be over­come. Bob addressed these chal­lenges by show­ing what was, in fact, pos­si­ble when peo­ple were giv­en the oppor­tu­ni­ty to work togeth­er towards some­thing big­ger than what they were ever told was possible.
Ear­li­er this year, I spoke with Bob about his own his­to­ry, the work around rur­al hos­pi­tals and the effort to build a new Poor People's Cam­paign for Today. This is the first part of my inter­view. The sec­ond will be pub­lished tomor­row. (Note: The inter­view has been edit­ed for length and clarity.)
Why did you get involved with the Civ­il Rights move­ment and poor people's organizing?
All through my life a lot of peo­ple would read my name, they would assume that I'm from New York, I'm a Jew and so on, not know­ing that my Daddy's a Methodist preach­er and a mem­ber of the Klan. There's not a lot of Jew­ish peo­ple who are mem­bers of the Klan. All through my Civ­il Rights career, peo­ple would say to me: ​"Why did you go South to help the Black peo­ple?" And I would say ​"Wrong, moose breath! Num­ber one, I didn't go South, I was already there. Num­ber two, I didn't do any­thing to help the Black peo­ple, I hope what I did helped Black peo­ple, but I got involved because I was not free. I was not free.
What was it like when you first became involved in the Civ­il Rights movement?
The Ku Klux Klan cap­tured me at the first demon­stra­tion I was ever in — in McComb, Mis­sis­sip­pi — they almost killed me that day. They beat me, real­ly real­ly bad, and I thought they were going to kill me in the street. And then they took me inside, and then lat­er on they turned me over to the mob. And the mob had hangman's noos­es. They intend­ed to lynch me and the oth­er pro­test­ers.. They said, ​"We're going to hang you with this rope from that limb right there." And of course, being a soci­ol­o­gist, I began to get out­side my body and think about what's hap­pen­ing here. And the first thing I thought was, ​"This is my first demon­stra­tion. These peo­ple are over react­ing! This is my first day out, and they're going to hang me."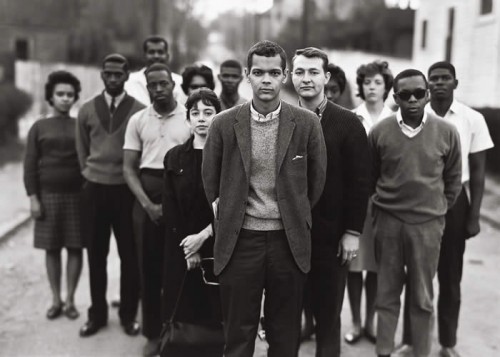 Bob Zell­ner stands to the right of Julian Bond (cen­ter) in the ear­ly days of SNCC. (Pho­to: Kairos Center)
What was it like, lat­er on, orga­niz­ing with poor white com­mu­ni­ties in Mis­sis­sip­pi, as part of an effort to build rela­tion­ships across col­or lines?
We were orga­niz­ing in Mis­sis­sip­pi at the same time that Dr. King was mur­dered. Our project was called GROW — Grass­roots Orga­niz­ing Work, and Get Rid of Wal­lace. And we were going into the areas that were par­tic­u­lar­ly strong Klan strong­holds. When peo­ple used to tell SNCC, ​"You can't orga­nize in Mis­sis­sip­pi," SNCC would say, ​"Okay, that's where we're going, we're going to Mis­sis­sip­pi, because yes we can orga­nize there and we've got to take this ter­ror of lynch­ing away from the ene­my. We're not afraid, we know that we may die, but we're going to go ahead and do it anyway."
So what we start­ed to do was to work with, first of all, the very poor peo­ple in the Delta that Mrs. Fan­nie Lou Hamer had worked with for years. A lot of very poor white peo­ple in the Delta had come to the Head Start pro­grams to get jobs and also to have their kids have the ben­e­fit of the edu­ca­tion. Mrs. Hamer was the first per­son — a Black Mis­sis­sip­pi­an share­crop­per — who helped launch the white people's orga­niz­ing project in Mis­sis­sip­pi. So we were work­ing with her, and she says to us, ​"Well a lot of these peo­ple you have to work with them on a mate­r­i­al basis: They need a job, and they need their kids to be tak­en care of. And so what­ev­er they feel about race, that's sec­ondary to what­ev­er they need." We extrap­o­lat­ed that to, if peo­ple need a good union, a good strong union, they're going to have to work Black and white togeth­er to get that.
The the­o­ry was that racism is very high up on the val­ue sys­tem of a lot of white South­ern­ers, but it's not always at the top. Maybe a strong union or a good edu­ca­tion or bet­ter income and stuff might trump their racism.
So what did GROW do to get started?
We start­ed in the Mis­sis­sip­pi Delta and we even­tu­al­ly came to the con­clu­sion that the peo­ple that Mrs. Hamer was work­ing with were so poor and so far down that they need­ed social work, and we were in a lit­tle bit of dan­ger of slip­ping into a social work orga­ni­za­tion. And we didn't intend to do social work. We had to do a cer­tain amount of it, just to get our orga­niz­ing done, but we under­stood that we need­ed to get to where the work­ing peo­ple were because they had an orga­ni­za­tion­al structure.
One of the work­ers was M.O. McCar­ty. McCar­ty was a work­er in the plant, a mem­ber of the union, and a mem­ber of the Ku Klux Klan, as a lot of them were. But he was a mil­i­tant trade union guy, so were able to start work­ing with him and some of the oth­er Klan peo­ple on the basis of being trade unionists.
What was it like orga­niz­ing with Klan mem­bers? How did they respond to the GROW project?
We made it very clear from the very begin­ning — GROW stands for Grass­roots Orga­niz­ing Work and it also means Get Rid of Wal­lace — and we opposed the Klan method of sep­a­rat­ing work­ers. We'd say, ​"You may be a Klans­man, you may be a racist, but if you want a union and you want GROW project to work with you, you need to under­stand that we're from SNCC, the Stu­dent Non­vi­o­lent Coor­di­nat­ing Com­mit­tee, we're from SCEF, the South­ern Con­fer­ence Edu­ca­tion­al Fund." And they knew these orga­ni­za­tions. SCEF was on bill­boards in the South — pic­tures of Mar­tin Luther King, Myles Hor­ton, Aubrey Williams and oth­ers, pic­tures of all the peo­ple that we knew were on these bill­boards that said: ​"Com­mu­nist Train­ing School, High­lander Folk School." We said we all asso­ciate with the High­lander Folk School, and if you work with us the FBI's going to come and tell you that we're dan­ger­ous Communists.
And I said, ​"I've been arrest­ed for crim­i­nal anar­chy. I've been arrest­ed under the John Brown statute for insur­rec­tion." So the old Klans­men would hit the table and say, ​"You think you're the only one being messed over by the FBI? They fol­low us all the time! You think you're the only one that's been charged with shit? We've been charged with every­thing too!" So we began to form a kind of cama­raderie around that.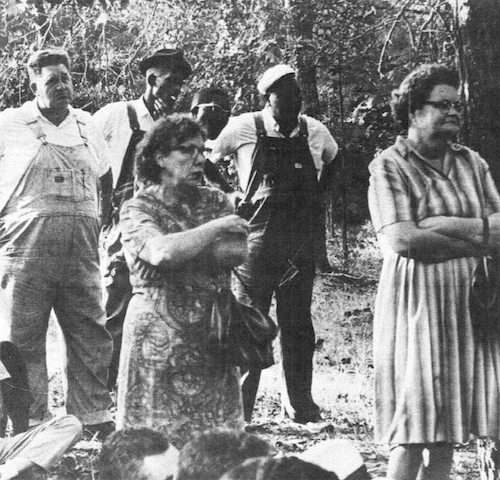 The GROW project meets in Lau­rel, Miss. (Pho­to: Kairos Center)
How did this rela­tion­ship change as you began work­ing together?
I'm just going to tell you about M.O. McCar­ty. He start­ed hav­ing me come stay with him at his house all the time and one night he said, ​"Bob, you know I was a mem­ber of the Ku Klux Klan." He said, ​"I still go to meet­ings, but I'm not with them any­more." And he showed me his arse­nal, the most bru­tal arse­nal of weapons, home-made weapons, all kinds of stuff that you can imag­ine. I mean he want­ed me to know for sure, since he was going through a tran­si­tion, he want­ed me to know for sure how bad he, M.O. McCar­ty, had been.
And Wal­ter Collins was one of our few African Amer­i­can staff peo­ple. This was the time of Black Pow­er, SNCC had become all Black. But we couldn't do the orga­niz­ing project of GROW, which had been pre­sent­ed as a SNCC project, if we were orga­niz­ing white peo­ple just as white peo­ple. We said: ​"We have to orga­nize in an inter­ra­cial way. \We're going to have to have an inter­ra­cial staff." Wal­ter Collins was a mem­ber of the New Repub­lic of Africa, so he was a very mil­i­tant dude. But he saw the neces­si­ty of work­ing with poor white people.
And M.O. McCar­ty always want­ed Wal­ter to come and stay with him. So here's the old Klans­man, and his favorite peo­ple were me and Walter.
Wal­ter would say to me, ​"Bob, do I have to go stay at M.O.'s this week­end?" I'd say, ​"Yeah Wal­ter, you know, M.O. likes for you to stay over there." And so he says, ​"Well, it's okay, but you know M.O. and his wife they go to sleep as soon as it gets dark and the daugh­ter," she's about 18 or 19, ​"she wants to play Bob Dylan and she wants to dance." This is the white daugh­ter of an old Mis­sis­sip­pi Klans­man, and a very dark Wal­ter Collins, and Wal­ter says, ​"I don't know what to do." I said, ​"Well, just be cool man."
And how did oth­ers react to this inter­ra­cial organizing?
One day, a group from Cal­i­for­nia who had been sup­port­ing us came, two peo­ple, man and a woman. They'd been giv­ing us a lot of mon­ey for the orga­niz­ing. They would come to New Orleans, and they would always want to go to Mis­sis­sip­pi and see the project, see ​"the peo­ple." So they came down and we drove up to Mis­sis­sip­pi in their El Dora­do Cadil­lac. And M.O. McCar­ty was the per­son who was sup­posed to be the host for that day. When­ev­er there were peo­ple from out­side, the local union or the work­ing people's com­mit­tee would appoint some­body to be the host. So M.O. was the host, and we went to the meet­ing at the com­mu­ni­ty house that Sun­day morn­ing, and then in the after­noon there was a big ral­ly in the next coun­ty. We had 1,500, 2,000 work­ers, half Black, half white, half with Wal­lace stick­ers and half with NAACP stick­ers, in the cow pas­ture meet­ing togeth­er. This is in 1968, 1969, in Mississippi.
On the way out there, this woman from Cal­i­for­nia says, ​"Well tell me, Mr. McCar­ty," refer­ring to my white Mis­sis­sip­pi friend, ​"what do you think of the Negroes?" So, M.O. said, ​"Oh, I get along fine with them, some of my best friends are Black." And then he said, ​"The only thing I don't want is to have to eat with them or have one mar­ry my daugh­ter." The typ­i­cal line, right? So, that was a con­ver­sa­tion stopper.
When we got to the ral­ly, M.O. kind of wan­dered off, so the woman turned to me and she said, ​"How can you work with peo­ple like that?" And I said, ​"Well, that's the peo­ple we sup­posed to be work­ing with! What do you think?" She asked me, ​"Well, didn't you hear what he said?" And I said, ​"Of course I heard what he said, but I think you're miss­ing the point." She said, ​"What do you mean?"
So M.O. was over talk­ing to some of his old Klan bud­dies and I waved to him, I said, ​"M.O.! Come here!" So he comes back over and I said, ​"M.O., where did you have din­ner today?" He said, ​"Over at the com­mu­ni­ty house." I said, ​"M.O., did you stand up when you ate din­ner?" He said ​"No, I sat at the table with every­body else." I said, ​"Do you remem­ber who was sit­ting there?" He said, ​"Well, Ivory Gary was on my right and James Nealy was on my left." And I said, ​"What col­or is Mr. Gary?" He said, ​"He's Black." I said, ​"What about James Nealy?" He said, ​"He's Black." And I said, ​"M.O. if you don't have bet­ter luck with your daugh­ter than you're hav­ing with your eat­ing, you're going to be in real­ly big trou­ble." So M.O. slapped his knee and he said, ​"I see what you talk­ing about!" And I already knew that his daugh­ter was want­i­ng to dance to Bob Dylan records with Wal­ter Collins.
So, you see, we knew that people's rhetoric can be the last thing that'll change. We told them we don't care what you believe as long as you act in an equal way, know­ing that peo­ple don't want a dis­con­nect between what they're doing and what they're think­ing, and their think­ing begins to change. But that's just one sto­ry. That's our poor people's organizing.
Look­ing at the exam­ple of that trans­for­ma­tion, what lessons do you think we can draw from that expe­ri­ence for our work in build­ing a New Poor People's Cam­paign for today?
One of things I want to tell you as young orga­niz­ers, the last thing that lib­er­als or pro­gres­sives or polit­i­cal mil­i­tants who are white want to do is talk to peo­ple who are actu­al­ly white racists. That's the last thing they want to do. To be in their homes, to be in their wed­dings, in their funer­als, and in their church­es, you know.
But when we do SNCC-type orga­niz­ing we become part of the com­mu­ni­ty. This is the kind of orga­niz­ing that goes on. I mean this is up close and per­son­al. This is engaged. These were peo­ple that worked in the plant togeth­er for 20 years now.
You know, Lau­rel, Mis­sis­sip­pi, is where the killers of the three Civ­il Rights work­ers in 1964 were from. That was mas­ter­mind­ed right out of Lau­rel. So when we were orga­niz­ing in Lau­rel we were orga­niz­ing in the mouth of the Klan, and we went direct­ly at the Klan mem­bers and we orga­nized them away from the Klan. So, it could still be done today.
This inter­view was orig­i­nal­ly post­ed on the Kairos Cen­ter web­site and is repost­ed on Rur­al Amer­i­ca In These Times with per­mis­sion. Kairos works to strength­en and expand trans­for­ma­tive move­ments for social change that can draw on the pow­er of reli­gions and human rights.
[If you like what you've read, help us spread the word. ​

"

Like" Rur­al Amer­i­ca In These Times on Face­book. Click on the ​

"

Like Page" but­ton below the bear on the upper right of your screen. Also, fol­low RAITT on Twit­ter @RuralAmericaITT]
Shail­ly Gup­ta Barnes
is the Pro­gram Man­ag­er at the Kairos Cen­ter and part of the Rights and Reli­gions pro­gram area. Orig­i­nal­ly from Chica­go, she has a back­ground in law, eco­nom­ics and inter­na­tion­al devel­op­ment and has spent the past
10
years work­ing with and for poor and mar­gin­al­ized com­mu­ni­ties in var­i­ous capac­i­ties. She earned a B.A. in Eco­nom­ics from the Uni­ver­si­ty of Chica­go (
1999
), a J.D. from UCLA School of Law (
2002
), and an M.I.A. from Columbia's School of Inter­na­tion­al and Pub­lic Affairs (
2009
). Shail­ly has two awe­some chil­dren with Adam Barnes and lives in New York City.