These 2020 Candidates Are the Darlings of Wall Street. The Numbers Are Proof.
Cory Booker, Kamala Harris and Kirsten Gillibrand are among the top beneficiaries of Wall Street money, despite their rhetoric about regulating the banking industry.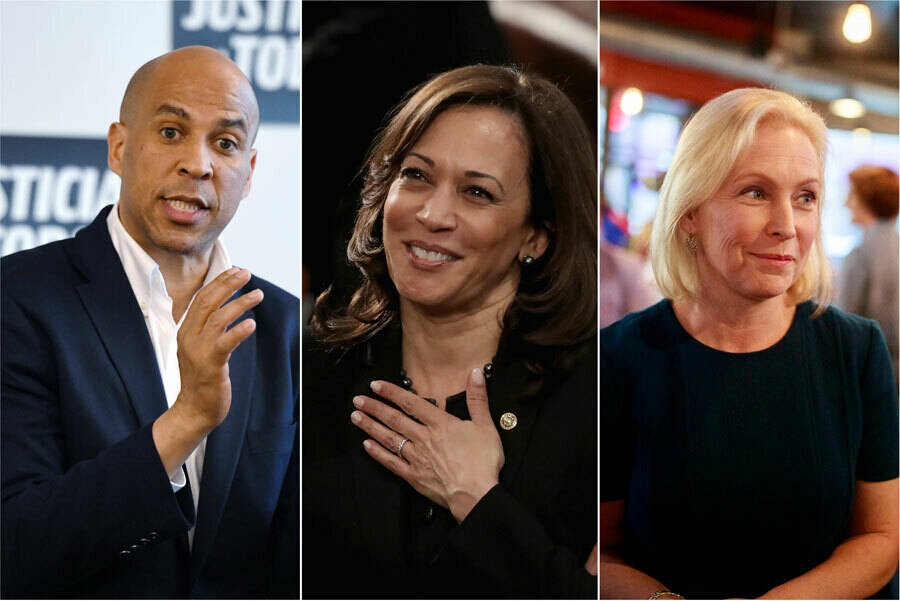 The 2020 Demo­c­ra­t­ic pres­i­den­tial race has so far fea­tured a com­mon theme: can­di­dates clam­or­ing to demon­strate who will most fear­less­ly take on cor­po­rate Amer­i­ca. Across the field, Democ­rats have staked out pro­gres­sive — and at times star­tling­ly new — posi­tions on every­thing from insti­tut­ing sin­gle-pay­er health­care to reviv­ing the Glass-Stea­gall Act, reject­ed cor­po­rate PAC mon­ey and refused to take lob­by­ist cash, all in a bid to prove their pro­gres­sive bona fides.
Even as these candidates vocally reject corporate America, their latest fundraising reports show corporate America hasn't rejected them.
"These num­bers reveal a cam­paign pow­ered by the peo­ple," said a mem­ber of Cal­i­for­nia Sen. Kamala Har­ris' cam­paign about her first 24-hour dona­tion haul. ​"The sys­tem is being rigged by peo­ple with mon­ey and peo­ple with pow­er," said New Jer­sey Sen. Cory Book­er as he pledged not to ​"take a dime from cor­po­rate PACs." ​"I think it's impor­tant for peo­ple to know my val­ues are nev­er for sale," said New York Sen. Kirsten Gillibrand.
But even as these can­di­dates vocal­ly reject cor­po­rate Amer­i­ca, their lat­est fundrais­ing reports show cor­po­rate Amer­i­ca has­n't reject­ed them. In These Times exam­ined the April 15 FEC fil­ings of the lead­ing Demo­c­ra­t­ic can­di­dates — Cory Book­er, Pete Buttigieg, Kirsten Gilli­brand, Kamala Har­ris, Beto O'Rourke, Bernie Sanders and Eliz­a­beth War­ren — and ana­lyzed the dona­tions they received from employ­ees of the six largest U.S. banks (J.P. Mor­gan Chase, Bank of Amer­i­ca, Cit­i­group, Wells Far­go, Gold­man Sachs and Mor­gan Stan­ley) and the world's six largest pri­vate equi­ty firms (The Car­lyle Group, Black­stone, KKR, Apol­lo Glob­al Man­age­ment, CVC Cap­i­tal Part­ners and War­burg Pincus).
While these firms don't rep­re­sent the total­i­ty of cor­po­rate Amer­i­ca, their prof­its ride on the con­tin­ued growth of cor­po­ra­tions, and they remain deeply finan­cial­ly invest­ed in main­tain­ing the sta­tus quo in pol­i­cy areas such as tax­es, health­care, phar­ma­ceu­ti­cals and the environment.
Wall Street, a fundrais­ing back­bone for the Demo­c­ra­t­ic Par­ty, guides many deci­sions in Wash­ing­ton around these poli­cies. The sup­port a can­di­date receives from these finan­cial behe­moths is instruc­tive in judg­ing how far they would go as pres­i­dent in sid­ing with pro­gres­sives and buck­ing mon­eyed inter­ests. Not to men­tion that fail­ing to prop­er­ly reg­u­late and break up the nation's largest banks — which are now big­ger than they were before the 2008 crash and are again engag­ing in risky lend­ing—could lead to anoth­er dev­as­tat­ing crash, as Johns Hop­kins Uni­ver­si­ty eco­nom­ics pro­fes­sor Lawrence Ball has warned.
The find­ings show that, despite can­di­dates' stat­ed antipa­thy toward Wall Street, a num­ber of them are ben­e­fit­ting great­ly from exec­u­tives and employ­ees of these finan­cial firms.
Book­er
By far the can­di­date most favored by these 12 firms is New Jer­sey Sen. Cory Book­er, who received a total of $88,492 from them over the first quarter.
Book­er, who jump­start­ed and then fuelled his polit­i­cal career with con­tri­bu­tions from the finance world, has in recent years attempt­ed to shed his Wall Street-friend­ly rep­u­ta­tion. Book­er drew par­tic­u­lar scorn dur­ing the 2012 pres­i­den­tial cam­paign, when then-Pres­i­dent Oba­ma was lead­ing a pop­ulist-tinged assault on oppo­nent Mitt Rom­ney's time as head of pri­vate equi­ty firm Bain Capital.
Book­er called these crit­i­cisms ​"ridicu­lous" and ​"nau­se­at­ing." ​"Stop attack­ing pri­vate equi­ty. Stop attack­ing Jere­mi­ah Wright," he said on Meet the Press, appear­ing to equate crit­i­cism of the indus­try to the racial­ly tinged crit­i­cism of Oba­ma's rela­tion­ship to Wright, his for­mer pas­tor, through­out 2008. After get­ting a call from an Oba­ma aide, Book­er walked back his defense of pri­vate equi­ty in a YouTube video in which he encour­aged scruti­ny of Rom­ney's busi­ness record. Then a few months lat­er, in an inter­view with the Wall Street Jour­nal, he described it as a ​"hostage video" and called film­ing it a ​"dumb decision."
Since becom­ing a sen­a­tor in 2013, how­ev­er, Book­er has vot­ed con­sis­tent­ly against weak­en­ing Wall Street reg­u­la­tions (though, unlike a num­ber of oth­er 2020 can­di­dates, he has yet to join the calls for a rein­state­ment of the Glass-Stea­gall Act — the Depres­sion-era leg­is­la­tion that sep­a­rat­ed com­mer­cial and invest­ment bank­ing, and whose par­tial repeal in 1999 is cit­ed by some as a cause of the 2008 cri­sis). These lat­est dona­tions, as well as those reg­is­tered dur­ing the 2018 cycle, sug­gest Wall Street has­n't let these votes sour it on Booker.
In total, Book­er received a total of near­ly $15,000 from eight J.P. Mor­gan Chase employ­ees as well as $17,750 from nine employ­ees of Mor­gan Stan­ley, includ­ing one finan­cial advi­sor who man­ages the wealth of ​"a select group of ultra-high net worth" clients com­prised of ​"entre­pre­neurs, senior exec­u­tives, multi­gen­er­a­tional fam­i­lies and foun­da­tions." Ultra-high net worth indi­vid­u­als are the top tier of the wealth­i­est 1% — those with $30 mil­lion or more avail­able to invest.
But it's the pri­vate equi­ty world that was most gen­er­ous to Book­er, who in the past quar­ter received a total of $49,500 from four of the world's six largest firms. Book­er received $10,200 from Black­stone, a firm awash in con­tro­ver­sy for every­thing from its slum­lord prac­tices after snap­ping up much of the Unit­ed States' fore­closed hous­ing stock to a plan hatched by one of its exec­u­tives dur­ing the 2016 elec­tion to put Amer­i­cans' retire­ment sav­ings into hedge funds. Book­er received $2,800 from Blackstone's exec­u­tive vice chair, Hamil­ton ​"Tony" James, who in 2012 echoed Book­er's com­plaints about Oba­ma's crit­i­cisms of the pri­vate equi­ty industry.
Apol­lo Glob­al Man­age­ment (AGM) has shown a par­tic­u­lar affin­i­ty for Book­er, with 28 of its employ­ees show­er­ing him with a total of $32,100. Donors from AGM includ­ed not only investors and port­fo­lio man­agers, but the fir­m's chief legal and finan­cial offi­cers, four of its part­ners and the glob­al head of its ​"human cap­i­tal" divi­sion. Like many pri­vate equi­ty firms, Apol­lo has been crit­i­cized for its use of lever­aged buy­outs to acquire busi­ness­es, often lead­ing to job loss­es and even bank­rupt­cy, as when cloud com­put­ing com­pa­ny Rack­space laid off 275 employ­ees in 2017 mere months after being acquired by Apollo.
Gilli­brand
A dis­tant sec­ond to Book­er is New York Sen. Kirsten Gilli­brand, who received a total of $46,600 from these 12 firms. Gilli­brand took in $30,600 from the six largest U.S. banks, includ­ing $11,100 from four Mor­gan Stan­ley employ­ees, and $5,600 from two Cit­i­group exec­u­tives — chief oper­at­ing offi­cer (COO) Hamid Biglari and Man­ag­ing Direc­tor Christi­na A. Mohr.
Like Book­er, Gilli­brand is also a pro­lif­ic Wall Street fundrais­er with a past check­ered by sid­ing with the indus­try in Con­gress who has, since Trump's vic­to­ry, worked to turn over a new leaf. The pro­tégé of fel­low New York Sen. Chuck Schumer — him­self no slouch when it comes to solic­it­ing hefty cam­paign con­tri­bu­tions — Gilli­brand has said in the past that ​"rais­ing mon­ey is the very same effort as devel­op­ing a grass­roots advo­ca­cy." Gilli­brand had pre­vi­ous­ly worked against insti­tut­ing new rules around deriv­a­tives pro­posed by fed­er­al reg­u­la­tors, with the New York Times accus­ing her of ​"going against the cause of reform."
Gilli­brand has since moved sharply left in response to pub­lic opin­ion, estab­lish­ing her­self ear­ly as a con­sis­tent anti-Trump vote, join­ing calls to abol­ish ICE and even advo­cat­ing to bring back Glass-Stea­gall. Yet she's also been crit­i­cized for reach­ing out to Wall Street to fund her cur­rent bid for the White House, out­reach that appears to have been reciprocated.
Gilli­brand also received a total of $16,000 this quar­ter from pri­vate equi­ty employ­ees, includ­ing Apol­lo Senior Part­ner Lau­rence Berg, War­burg Pin­cus man­ag­ing direc­tor Cary Davis and Car­lyle Group man­ag­ing direc­tor James Attwood. While Book­er had the biggest total haul from Black­stone, the company's pres­i­dent and COO, Jonathan Gray, donat­ed to Gillibrand.
Har­ris
Then there's Cal­i­for­nia Sen. Kamala Har­ris, who received a total of $44,947 from these 12 firms. Har­ris, who was once brand­ed a ​"bankster's worst night­mare," and has tout­ed her pros­e­cu­to­r­i­al record against banks as evi­dence of her pro­gres­sive cred­i­bil­i­ty, received dona­tions from five exec­u­tives of these firms. They include Black­stone man­ag­ing direc­tor Tia Break­ley, Mor­gan Stan­ley's new head of inter­na­tion­al wealth man­age­ment Col­bert Nar­cisse, Bank of Amer­i­ca senior vice pres­i­dent for diver­si­ty and inclu­sion Alex Rhodes, and Gold­man Sachs vice pres­i­dent of finan­cial crime com­pli­ance Mar­garet Cullum.
Har­ris's most enthu­si­as­tic source of sup­port among these firms, how­ev­er, is Wells Far­go, from whose employ­ees she received a total of $16,713 — the most fund­ing from the bank out of any oth­er can­di­date exam­ined. The donors span mul­ti­ple tiers of the bank's hier­ar­chy, from bankers and con­sul­tants, to a region­al direc­tor and a man­ag­er, to exec­u­tives like Nation­al Head of Cards and Retail Ser­vices Bev­er­ly Ander­son, both of whom gave the max­i­mum indi­vid­ual dona­tion of $2,800 to Harris.
Wells Far­go's gen­eros­i­ty to Har­ris rais­es eye­brows for sev­er­al rea­sons. For one, the bank was one of the key play­ers in the 2008 finan­cial cri­sis, pay­ing bil­lions of dol­lars worth of fines for its con­tri­bu­tions to the crash, and it has con­tin­ued to earn legal sanc­tion for doing things like open­ing up accounts with­out cus­tomers' con­sent and acci­den­tal­ly fore­clos­ing on hun­dreds of cus­tomers between 2010 and 2015. Ver­mont Sen. Bernie Sanders has called the bank ​"the poster child for greed, reck­less­ness and ille­gal behav­ior," and Mass­a­chu­setts Sen. Eliz­a­beth War­ren has made it a par­tic­u­lar tar­get of her cam­paign, call­ing for the fir­ing of its CEO and for col­leges to stop let­ting it mar­ket finan­cial ser­vices to students.
The oth­er cause for con­cern is Har­ris's role in the 2012 fore­clo­sure set­tle­ment with Bank of Amer­i­ca, Wells Far­go, JPMor­gan Chase, Cit­i­group and Ally Bank, a key ele­ment of her cur­rent cam­paign pitch. While Har­ris played hard­ball to get more mon­ey from the firms, reporter David Dayen has called the set­tle­ment she helped nego­ti­ate ​"a blight on this coun­try" for its gross­ly inad­e­quate relief to fore­closed homeowners.
As a sen­a­tor, Har­ris has opposed Trump's roll­back of Wall Street reg­u­la­tions and co-spon­sored a bill giv­ing state law enforce­ment the pow­er to sub­poe­na when inves­ti­gat­ing bank fraud, but has not as of yet called for the revival of Glass-Stea­gall. Har­ris has received crit­i­cism in the past for fail­ing to pros­e­cute OneWest Bank, run by now-Trea­sury Sec­re­tary Steve Mnuchin (who went on to donate to her Sen­ate cam­paign), for fraud­u­lent fore­clo­sure prac­tices, as well as her Mort­gage Fraud Strike Force, which pros­e­cut­ed a dis­pro­por­tion­ate­ly small num­ber of cases.
Oth­er notable dona­tions to Har­ris include $13,600 from invest­ment man­agers at pri­vate equi­ty firm TPG Cap­i­tal, includ­ing Senior Part­ner Karl Peter­son, a Gold­man Sachs alum who finan­cial­ly backed Mitt Rom­ney's GOP cam­paign against Oba­ma in 2012. Anoth­er is Michael Brown­rigg, two-term may­or of Burlingame, Calif., cur­rent state sen­ate can­di­date and pri­vate equi­ty vet­er­an. Brown­rigg has praised ​"the Chi­na mir­a­cle in the 1990s," which he calls a ​"suc­cess­ful anti-pover­ty pro­gram [that] was based on mar­ket incen­tives and entre­pre­neur­ship," and which shows ​"pri­vate enter­prise can be a pow­er­ful engine for social ben­e­fits" — state­ments that ignore the vast social and envi­ron­men­tal costs of this ​"mir­a­cle."
O'Rourke and Buttigieg
For their part, for­mer Texas Rep. Beto O'Rourke and South Bend, Ind., May­or Pete Buttigieg have received com­par­a­tive­ly lit­tle from the six biggest banks — $12,987 and $9,035, respec­tive­ly — and none from the top six pri­vate equi­ty firms.
Both have gen­er­al­ly been vague on their pol­i­cy pro­pos­als. But O'Rourke has been crit­i­cized for his past votes, join­ing with Repub­li­cans to chip away at Wall Street reg­u­la­tions, includ­ing weak­en­ing the Vol­ck­er Rule, which bars banks from mak­ing spec­u­la­tive invest­ments with ordi­nary peo­ple's mon­ey. Buttigieg, mean­while, described his aims as may­or as ​"generat[ing] eco­nom­ic growth and maintain[ing] con­fi­dence in the busi­ness community."
While a cou­ple of exec­u­tives made dona­tions to these can­di­dates, such as $500 to Buttigieg from J.P. Mor­gan Chase COO Michael Ash­worth and $500 to O'Rourke from Citibank Direc­tor Eric McMichael, most of their dona­tions from these firms appear to be from low­er-lev­el employ­ees, and typ­i­cal­ly num­ber in the hun­dreds of dol­lars each, rather than thousands.
That does­n't mean finance has avoid­ed the two young upstarts' cam­paigns entire­ly, how­ev­er. Rather, their pri­ma­ry base of sup­port from the finance world appears to be root­ed in more region­al enti­ties. O'Rourke, for instance, has received maxed-out dona­tions from exec­u­tives and part­ners of finance firms such as Sanders Part­ners and High Desert Cap­i­tal — both based in his home­town of El Paso — as well as Minneapolis/​St. Paul-based Madeira Part­ners, Chicago's Wick­low Cap­i­tal and Den­ver-based KSL Cap­i­tal Part­ners. KSL part­ner John Ege, who donat­ed $5,600 to O'Rourke, pre­vi­ous­ly worked at Mer­rill Lynch and for the anti-reg­u­la­tion Vir­ginia Repub­li­can Rep. Bob Goodlatte.
O'Rourke also received $1,000 from Robert Wolf, the for­mer CEO of invest­ment bank UBS Amer­i­c­as, who devel­oped a close advi­so­ry rela­tion­ship with Oba­ma as one of his most loy­al and effec­tive fundrais­ers dur­ing his pres­i­den­tial cam­paigns. Wolf, a high-pro­file Trans Pacif­ic Part­ner­ship trade deal sup­port­er, went on to become the Clin­ton cam­paign's ​"effec­tive busi­ness sur­ro­gate" (in the words of John Podes­ta) and defend­ed her rejec­tion of rein­stat­ing the Glass-Stea­gall Act. Now, Wolf has become an enthu­si­as­tic and vocal backer of O'Rourke.
Buttigieg, mean­while, has received many thou­sands of dol­lars from two part­ners of the South Bend-based pri­vate equi­ty firm Great Lakes Cap­i­tal, as well as an exec­u­tive and sev­er­al employ­ees of ven­ture cap­i­tal and finan­cial ser­vices firms Wick­low Cap­i­tal, Chica­go-based Chilmark Part­ners founder David Schulte, San Fran­cis­co-based Tao Cap­i­tal Part­ners exec­u­tive Isaac Pritzk­er and Seat­tle-based Sec­ond Avenue Part­ners co-founder Nick Hanauer. Hanauer has actu­al­ly called for more pro­gres­sive eco­nom­ic poli­cies, warn­ing his ​"fel­low zil­lion­aires" to reduce inequality.
Buttigieg also received $500 from Staci Bar­ber, whose hus­band John Bar­ber has served as man­ag­ing part­ner of both Citi Pri­vate Equi­ty and Cohe­sive Cap­i­tal Part­ners. Oth­er notable dona­tions in Buttigieg's fil­ing are from 12 employ­ees and three part­ners of McK­in­sey and Com­pa­ny, the con­tro­ver­sial man­age­ment con­sult­ing firm that has drawn out­rage for work­ing for var­i­ous auto­crat­ic gov­ern­ments and ICE. One for­mer McK­in­sey and Com­pa­ny employ­ee described the orga­ni­za­tion as ​"mis­sion­ar­ies for cap­i­tal" (Buttigieg him­self pre­vi­ous­ly worked for the com­pa­ny, which he has called his most ​"intel­lec­tu­al­ly inform­ing expe­ri­ence"). He also received $2,800 from Joe Sifer, the exec­u­tive vice pres­i­dent of defense con­trac­tor Booz Allen Hamil­ton, par­tic­u­lar­ly notable at a time when the par­ty base is call­ing for an end to record-high defense budgets.
Sanders and Warren
Unsur­pris­ing­ly, Bernie Sanders and Eliz­a­beth War­ren, who have spent vir­tu­al­ly their entire polit­i­cal careers rail­ing against the excess­es of Wall Street and pledg­ing to chal­lenge and rein in cor­po­rate pow­er, received the least amount of mon­ey from the six largest banks.
Sanders and War­ren received $7,034 and $2,800, respec­tive­ly, and their sup­port came exclu­sive­ly from low­er lev­el employ­ees, such as man­agers, attor­neys and bank clerks.
Employ­ees of the top six pri­vate equi­ty firms snubbed Sanders and War­ren com­plete­ly, giv­ing zero contributions.
War­ren and Sanders are not only receiv­ing the least finan­cial back­ing from employ­ees and exec­u­tives of the biggest banks and pri­vate equi­ty firms in the world — they have the least sup­port from exec­u­tives of any finan­cial insti­tu­tions, period.
In fact, only three donors in Sanders' and War­rens' fil­ings appear to be exec­u­tives or part­ners at banks or finan­cial firms of any size. Joseph Alsop, part­ner at ven­ture cap­i­tal firm Alsop Louie Part­ners, and Roger McNamee, man­ag­ing direc­tor of pri­vate equi­ty firm Ele­va­tion Part­ners, each gave $2,700 to War­ren. For Sanders, it's $500 from Paul Met­zger, the chief tech­nol­o­gy offi­cer of Dynasty Finan­cial Part­ners, a firm that advis­es oth­er invest­ment firms how to grow their businesses.
Demo­c­ra­t­ic pres­i­den­tial con­tenders have made much of the fact that they're large­ly reject­ing cor­po­rate PAC mon­ey. But as these ear­ly fil­ings show, Wall Street high­er-ups are still con­tribut­ing to a num­ber of 2020 can­di­dates' cam­paigns. And only a few months into the long race, as vot­ers begin to sur­vey the grow­ing field, Wall Street already appears to have a clear hier­ar­chy of preferences.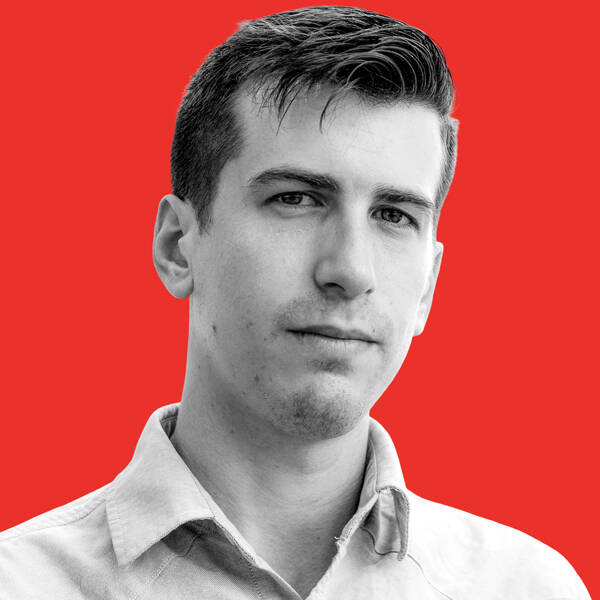 Branko Marcetic
is a staff writer at Jacobin mag­a­zine and a
2019
 – 
2020
Leonard C. Good­man Insti­tute for Inves­tiga­tive Report­ing fel­low. He is work­ing on a forth­com­ing book about Joe Biden.