Sorry To Bother You Is the Anti-Capitalist Black Comedy We've Been Waiting For
Boots Riley's new film shows how black liberation and labor politics are enmeshed. And it's funny.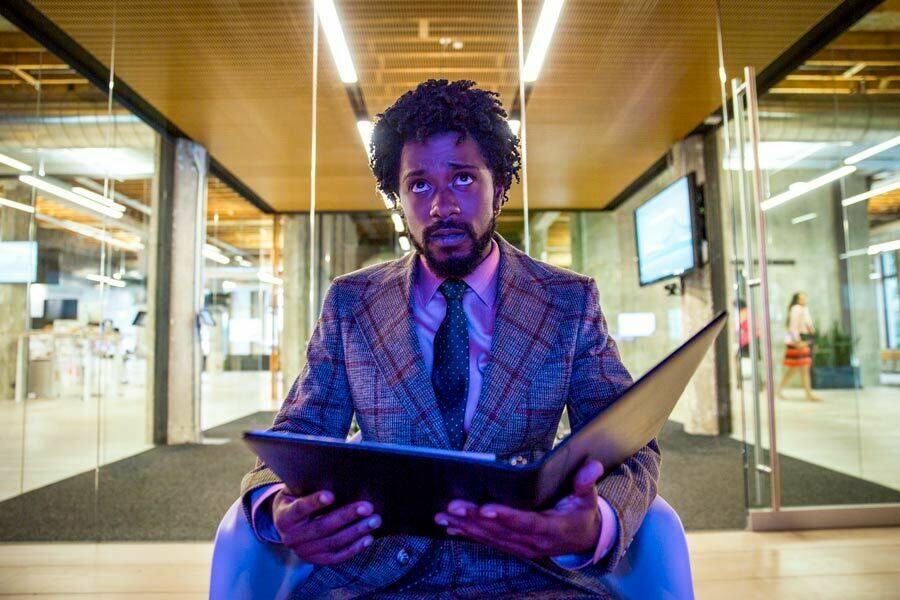 Con­trary to con­tem­po­rary debates about so-called iden­ti­ty pol­i­tics, black lib­er­a­tion and labor pol­i­tics are quite enmeshed. In W.E.B. Du Bois's less­er-read tome, the 1935 Black Recon­struc­tion in Amer­i­ca, he con­ceives of slave fugi­tiv­i­ty in terms of ​"a gen­er­al strike against slav­ery"— slaves were also work­ers, and their inter­fer­ence with the nor­mal­ized, inhu­mane hum of South­ern prof­its was a stop­page and protest against unten­able labor con­di­tions. ​"The whole move was not dra­mat­ic or hys­ter­i­cal," Du Bois wrote, ​"rather it was like the great unbro­ken swell of the ocean before it dash­es on the reefs." In Boots Riley's new film Sor­ry to Both­er You, also a sto­ry of work­ers and white cap­i­tal­ists, the exploit­ed rise and crash and recal­i­brate the terms of their labor, though dra­ma and hys­te­ria are not out of the question.
For Riley, who both wrote and directed the film, U.S. class politics originated on the plantation.
For Riley, who both wrote and direct­ed the film, U.S. class pol­i­tics orig­i­nat­ed on the plan­ta­tion. Slav­ery per­vades the film's real­i­ty, a ver­sion of Oak­land, Calif., in a world and time just slight­ly askew of ours. Back­ground adver­tise­ments pro­mote the mer­its of Wor­ryFree, a com­pa­ny offer­ing food and hous­ing in exchange for life­time labor con­tracts. In a tele­vi­sion inter­view, WorryFree's CEO, Steve Lift (Armie Ham­mer), rebuffs the obvi­ous con­no­ta­tion— Wor­ryFree is not enslav­ing any­one, but ​"trans­form­ing life" instead. (The film also invokes all the euphemisms sur­round­ing the so-called ​"gig economy.")
More point­ed­ly, Detroit (Tes­sa Thomp­son), an artist-slash-activist-slash-sign twirler and girl­friend of tele­mar­keter Cas­sius Green (Lakei­th Stan­field), tells Cas­sius, ​"Cap­i­tal­ism began by steal­ing labor from Africans." Cas­sius isn't lis­ten­ing, though, trans­fixed by the in-focus blunt in her hand as they stand togeth­er in a half-emp­ty, makeshift gallery space. He's exhaust­ed, pre­oc­cu­pied by a very 21st-cen­tu­ry (but also eter­nal) prob­lem of cap­i­tal. He's just been pro­mot­ed, an achieve­ment that alle­vi­ates his mate­r­i­al con­cerns while intro­duc­ing cer­tain eth­i­cal dilem­mas. As per the Bad Boy Enter­tain­ment refrain: mo' mon­ey, mo' prob­lems. Cas­sius' prob­lem? He might be work­ing in the inter­ests of slav­ery. Wor­ryFree is his employer's biggest client.
The film opens on one of those reg­u­lar sites of work­place indig­ni­ties: the job inter­view. Cas­sius needs a job and will lie to get it. ​"I'm a sales­man at heart," he claims, more tru­ly than he knows. Oth­er, more ver­i­fi­able lies are caught — the num­ber for a restau­rant list­ed in his sup­posed employ­ment his­to­ry belongs to his friend Sal­va­tor, who already works at Regalview — but the inter­view­er doesn't care so long as Cas­sius can read well enough to fol­low the firm's mantra: Stick to the script, S.T.T.S. for short.
At first, shilling ran­dom doo­dads over the phone proves more dif­fi­cult than that. Plat­i­tudes like ​"build a bridge" or ​"make any prob­lem a sell­ing point" fail spec­tac­u­lar­ly on calls that trans­port him into the receiver's per­son­al space, a clever cin­e­mat­ic con­ven­tion that might also be hap­pen­ing for real: a din­ing room while a cou­ple eats break­fast, a liv­ing room while a cou­ple has sex, the home of an elder­ly woman whose prob­lem turns out to be a dying hus­band. Most every­one hangs up short­ly after Cas­sius utters his new mot­to, ​"Sor­ry to both­er you." A cowork­er, Dan­ny Glover's Langston, offers a tip: Cas­sius should ​"use [his] white voice." Make it ​"the real deal," says Langston. Not what white peo­ple sound like so much as ​"what they wished they sound­ed like." Wealthy, priv­i­leged, ​"breezy."
Cas­sius suc­ceds, sum­mon­ing a voice that is much more than the ​"prop­er" gram­mar and high nasal car­i­ca­ture com­mon to comedic imi­ta­tions of white speech. His white voice is David Cross, man­i­fest­ed as an exag­ger­a­tion but also lit­er­al­iza­tion of the respectabil­i­ty imposed on black folks. Cas­sius ascends to the rank of a spe­cial class called ​"pow­er caller," a name that, when spo­ken, rings sim­i­lar to ​"col­lar," con­jur­ing those col­or-coor­di­nat­ed sym­bols of classed employment.
Cas­sius can turn on the voice at will, like a par­lor trick, much to Detroit's cha­grin. The sync­ing doesn't feel quite exact, a mis­match that ampli­fies the uneasi­ness of wit­ness­ing a cross-racial ven­tril­o­quist. Cross speak­ing out of Stanfield's mouth grows less hilar­i­ous as the film goes on. Pro­mot­ed to the glass-walled top-floor office of a pow­er caller, Cas­sius is instruct­ed to use his white voice ​"at all times." Even­tu­al­ly, his abil­i­ty to codeswitch is impaired. He greets a wak­ing Detroit in the voice while the two are in bed and she balks. He ​"didn't even real­ize" he'd been using it.
Though sen­sa­tion­al, the voice mere­ly exem­pli­fies how the racial imag­i­na­tion feeds on the hos­til­i­ties of class endem­ic to the Amer­i­can work­place. In a floor meet­ing, super­vi­sors coöpt famil­ial lan­guage to describe pro­fes­sion­al rela­tion­ships ("team mem­bers," et al.), but fum­ble Cas­sius' sug­ges­tion that such affin­i­ty could mean an increase in pay. Diana DeBauch­ery, played by the delight­ful­ly dis­com­fort­ing Kate Berlant, turns his inquiry about ben­e­fits into an abstrac­tion: ​"What is cap­i­tal?" An employ­ee named Squeeze (Steven Yeun) orga­nizes a union­iza­tion effort. Cas­sius, ini­tial­ly on board, retreats upon encoun­ter­ing the uncom­fort­able truth that one can't be of The Peo­ple and col­lect large sums of mon­ey at the same time. He is injured cross­ing the pick­et line, a bright red head wound that won't heal.
Though already the film has been posit­ed as the ​"next Get Out," a thin­ly guised euphemism for smart, comed­ical­ly dra­mat­ic sto­ries about race, Sor­ry to Both­er You unique­ly gen­er­ates its absur­di­ties from accept­ed eco­nom­ic fact. Riley's film beau­ti­ful­ly, hys­ter­i­cal­ly demon­strates the way sys­tems can wedge them­selves between peo­ple in ways not unre­lat­ed, but also not reducible, to those inter­per­son­al acts of prej­u­dice com­mon­ly called ​"microag­gres­sions." The strange­ness of the fic­tions we put our faith in is cause to wor­ry. Cor­po­ra­tions are evil. (And if a geeky gazil­lion­aire CEO offers a swirling plate of coke, do not snort it.)
Lau­ren Michele Jack­son
teach­es in the depart­ments of Eng­lish and African Amer­i­can stud­ies at North­west­ern Uni­ver­si­ty. She is the author of the forth­com­ing book White Negroes: When Corn­rows Were in Vogue … and Oth­er Thoughts on Cul­tur­al Appropriation.