Brazilian Companies Pressure Workers to Vote for a Fascist Presidential Candidate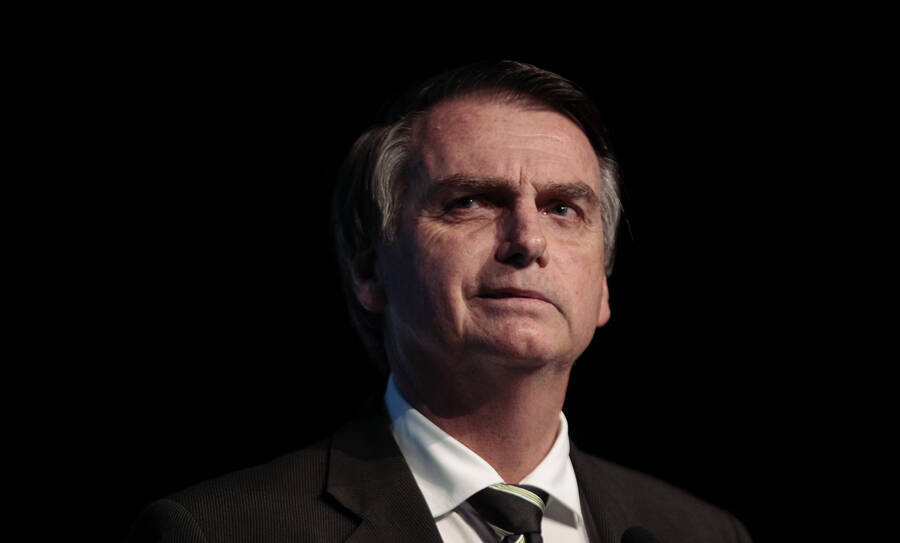 Just off the inter­state high­way near the Brazil­ian city of Flo­ri­anópo­lis is a large repli­ca of the Stat­ue of Lib­er­ty. Behind it the façade of the mega depart­ment store is mod­eled after the White House. Rows of columns beneath a tri­an­gu­lar roof. Inside busy shop­pers look for bar­gains on rugs, children's toys, sil­ver­ware and every­thing in between.
This is one of 114 mega­s­tores in 15 states belong­ing to Havan, one of Brazil's largest depart­ment store chains. Since April, Havan's rough­ly 15,0000 employ­ees have been made to wear offi­cial green and yel­low t‑shirts, the col­ors of the Brazil­ian flag. The text, ​"The Brazil we want depends on us," is embla­zoned across the front in yel­low let­ters, beneath a small Brazil­ian flag and a com­pa­ny logo. Employ­ees were told the shirts were made in sup­port of the Brazil­ian team at the World Cup.
"But we know bet­ter," one employ­ee work­ing a cash reg­is­ter, who asked not to be named, told In These Times in Sep­tem­ber. ​"They are in sup­port of one of the pres­i­den­tial candidates."
That pres­i­den­tial can­di­date is the far-right can­di­date Jair Bol­sonaro, who hand­i­ly won the first round of the elec­tions on Octo­ber 7, and is now head­ed to the 2nd round against the left­ist Work­ers Par­ty can­di­date Fer­nan­do Had­dad lat­er this month.
Bol­sonaro, a for­mer Cap­tain in the Brazil­ian mil­i­tary, has sup­port­ed tor­ture and praised the country's dic­ta­tor­ship, which ran from 1964 through 1985. He has been fined for racist, sex­ist and homo­pho­bic remarks, and recent­ly joked about killing Work­ers Par­ty sup­port­ers at a ral­ly in Acre. He promis­es to fight cor­rup­tion and vio­lence with an iron fist, which has won him over­whelm­ing sup­port. His cam­paign slo­gan, ​"Brazil above every­thing, God above every­one," is a nod to his deep con­nec­tions with the country's grow­ing evan­gel­i­cal move­ment, which now makes up rough­ly a quar­ter of the pop­u­la­tion. Despite his incen­di­ary rhetoric, Bol­sonaro is ahead of Had­dad in the lat­est poll, and expect­ed to win the 2nd round.
The own­er of Havan, Luciano Hang, is an avid Bol­sonaro sup­port­er. In late Sep­tem­ber, an inter­nal mes­sage to employ­ees was leaked stat­ing that they could vote for whomev­er they choose, but ​"if the left wins," Hang would close stores and fire employees.
Six days before the first round of the Brazil­ian elec­tions, Hang assem­bled hun­dreds of employ­ees at the store's head office in Brusque, San­ta Cata­ri­na. Clad in their green and yel­low com­pa­ny t‑shirts, the employ­ees were lined into order­ly rows. Hang stood on the stage before them — with a micro­phone and a yel­low shirt bear­ing Bolsonaro's face — and led them in a 39-minute ral­ly in sup­port of the candidate.
They sang the nation­al anthem. He had them dance to one of Bolsonaro's catch­i­er theme songs. He railed against the fail­ures of com­mu­nism, and said the Work­ers Par­ty was threat­en­ing to destroy the country.
"Have you ever seen a Work­ers Par­ty mem­ber, a left­ist, do well in life, work­ing hon­est­ly?" He asked the crowd toward the end of his mono­logue. ​"Either we change the coun­try now, in the first round, or we will become a Venezuela."
Hang tele­vised the ral­ly live on his Face­book page. Two weeks lat­er it had 1.2 mil­lion views.
This was an extreme case, but it was not iso­lat­ed. Accord­ing to reports, in the lead-up to the first round, in two Brazil­ian states alone — San­ta Cata­ri­na and Paraná — the Pub­lic Labor Min­istry received 87 com­plaints against 23 com­pa­nies for attempt­ing to coerce their employ­ees to vote in favor of one can­di­date or another.
Paraná's Con­dor super­mar­ket chain was one of them. The com­pa­ny has 44 stores and 12,000 employ­ees. Five days before the first-round elec­tion, own­er Pedro Joanir Zon­ta sent a let­ter to his employ­ees high­light­ing his sup­port for Bol­sonaro and ask­ing them to trust him and Bol­sonaro ​"to put Brazil on the right track."
The Pub­lic Labor Min­istry quick­ly ordered him to retract his note, and pub­lish a clar­i­fi­ca­tion, or face a dai­ly fine of rough­ly $27,000.
Hang was also forced to desist from pres­sur­ing his employ­ees to vote for Bol­sonaro, after a judge from the 7th dis­trict labor court of Flo­ri­a­nop­o­lis threat­ened a rough­ly $135,000 fine. On Octo­ber 5, Hang pub­lished a mes­sage on his Face­book page com­ply­ing with the court order and cer­ti­fy­ing that his employ­ees were free to vote for whomev­er they choose.
Echoes of the Past
There is a long his­to­ry in Brazil of pow­er­ful indi­vid­u­als attempt­ing to sway the vote of others.
In the ear­ly years of the Brazil­ian Repub­lic, in a sys­tem known as the Cabresto Vote, feu­dal strong­men forced elec­tors to cast their bal­lots for them or their candidates.
"What's at the root of this is a pro­found dis­re­spect for the indi­vid­ual," Ernesto Sei­dl, polit­i­cal sci­ence pro­fes­sor at the San­ta Cata­ri­na Fed­er­al Uni­ver­si­ty, told In These Times. ​"There is a con­cept that is cen­turies old in Brazil, and held by the pow­er­ful, the boss­es, the own­ers, the rich, the employ­ers, that their employ­ees, are prac­ti­cal­ly their followers."
Employ­ers today — par­tic­u­lar­ly in the coun­try­side — are known to attempt to intim­i­date work­ers to vote for their can­di­date. But nev­er so bla­tant­ly and vis­i­bly as this year. The ever-per­va­sive pow­er of the Inter­net is one factor.
The San­ta Cata­ri­na-based labor lawyer and uni­ver­si­ty pro­fes­sor Pru­dente Mel­lo also blames the 2016 impeach­ment of pres­i­dent Dil­ma Rouss­eff and the pas­sage of the 2017 Labor Reform — which weak­ened unions, and gut­ted labor rights and work­ers' abil­i­ty to resolve griev­ances — for empow­er­ing busi­ness­es to take actions like those by Havan and Condor.
"Employ­ers are feel­ing total­ly free to do these types of things. In the world we are liv­ing in today, work­ers today have become mer­chan­dise. Mer­chan­dise which the employ­ers feel free to use, and to impose what they want, how they want it, or else they are thrown away," Mel­lo told In These Times.
Mel­lo said that intim­i­da­tions like these against employ­ees are a clear vio­la­tion against Brazil­ian law, inter­na­tion­al labor con­ven­tions, and the dec­la­ra­tion of human rights.
But Hang has denied that he has done any­thing wrong.
"You can tell them who you think they should vote for, but you can't ever force them to vote for any­one," he told the Fol­ha de Sao Paulo newspaper.
The mea­sures tak­en by the Labor Min­istry have barred Hang from using his employ­ees to cam­paign, but it hasn't slowed down his activism in sup­port of Bol­sonaro. From his Face­book page, where he has almost 2 mil­lion fol­low­ers, he holds dai­ly Face­book lives where he ral­lies for the can­di­date. The week after the first-round elec­tion, he was joined by none oth­er than Bol­sonaro himself.
"It's life or death [for the 2nd round elec­tion] on Octo­ber 28," said Hang. ​"It's a ref­er­en­dum. Either you vote for Bol­sonaro and you are for Brazil. Or you are against Brazil. There is noth­ing else to say."
"
Michael Fox
is a free­lance reporter and video jour­nal­ist based in Brazil. He is the for­mer edi­tor of the NACLA Report on the Amer­i­c­as and the author of two books on Latin Amer­i­ca. He tweets at @mfox_us.