U.S. Invasion of Venezuela Would Be a Nightmare for Its People
Under the pretext of delivering aid, Trump is threatening to unleash military violence.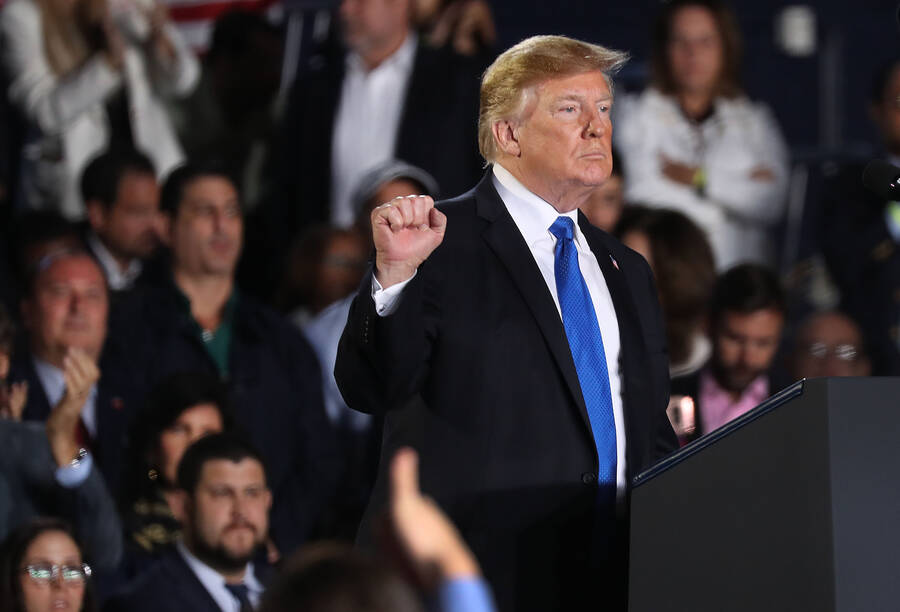 On Mon­day, Trump issued an ulti­ma­tum to Venezuela's troops. Either defect and back Juan Guaidó the Unit­ed States' man in Venezuela, or suffer.
This is setting the scene for conflict. And that is exactly what the United States and Guaidó are looking for.
"If you choose this path, you will find no safe har­bor, no easy exit, and no way out. You will lose every­thing," he said dur­ing a speech, while he was vis­it­ing with the Venezue­lan com­mu­ni­ty in Miami.
It's the lat­est in a slow-mov­ing U.S. effort to top­ple Venezue­lan pres­i­dent Nico­las Maduro, that has seen the Unit­ed States back Nation­al Assem­bly pres­i­dent Juan Guaidó in his grab for the pres­i­den­cy, and impose a sec­ond round of dev­as­tat­ing sanc­tions on Venezuela, block­ing it from cru­cial oil rev­enue from sales in the Unit­ed States.
The lat­est phase of the coup cen­ters on tons of human­i­tar­i­an aid that the Unit­ed States is try­ing to force into the coun­try. Over the week­end, U.S. mil­i­tary C‑17 car­go planes land­ed in Colom­bia car­ry­ing aid for Venezuela. It's the sec­ond attempt by the Unit­ed States to car­ry aid into the coun­try, a move the UN has warned against and which Venezuela sees as lay­ing the ground­work for a U.S. mil­i­tary deployment.
Venezuela's Nico­las Maduro, who is wary of the true U.S. inten­tions, has refused to allow the assis­tance across the bor­der. Juan Guaidó has said the aid will enter Venezuela on Feb­ru­ary 23, and has called on Venezue­lans to mobi­lize across the coun­try and form aid ​"car­a­vans" and a ​"human­i­tar­i­an avalanche" at the borders.
This is set­ting the scene for con­flict. And that is exact­ly what the Unit­ed States and Guaidó are look­ing for.
"Any actions by the Venezue­lan mil­i­tary to con­done or insti­gate vio­lence against peace­ful civil­ians at the Colom­bian and Brazil­ian bor­ders will not be for­got­ten. Lead­ers still have time to make the right choice," White House Nation­al Secu­ri­ty Advi­sor John Bolton tweet­ed on Tues­day night, as if lay­ing out the future jus­ti­fi­ca­tion for a response from the Unit­ed States or its Colom­bia allies.
Using human­i­tar­i­an aid as a weapon
Both the Unit­ed Nations and the Red Cross warned the Unit­ed States against using aid deliv­er­ies to Venezuela as a polit­i­cal tool. ​"Human­i­tar­i­an action needs to be inde­pen­dent of polit­i­cal, mil­i­tary or oth­er objec­tives," UN spokesper­son Stephane Dujar­ric told reporters in New York in ear­ly February.
Venezuela does accept inter­na­tion­al sup­port. The Red Cross dou­bled its bud­get for Venezuela in recent weeks to 18 mil­lion Swiss francs. Maduro announced that 300 tons of med­i­cine and oth­er aid would arrive from Rus­sia on Wednes­day, although this has been bare­ly been men­tioned in the U.S. media.
As Adam John­son point­ed out ear­li­er this month for Fair­ness and Accu­ra­cy in Report­ing, the U.S. aid is noth­ing more than a P.R. stunt. If the Unit­ed States want­ed to send aid to Venezuela, it would be doing it through the Red Cross and anoth­er orga­ni­za­tions that are already work­ing in the coun­try, with the con­sent of the Maduro government.
Instead it is look­ing to cre­ate conflict.
"The cost of this block­ade is over 30 bil­lion dol­lars," Venezue­lan for­eign min­is­ter Jorge Arreaza told reporters at the Unit­ed Nations, refer­ring to the cost of the U.S. sanc­tions. ​"And they're send­ing this so-called ​'human­i­tar­i­an aid' for 20 mil­lion dol­lars? So what is this? I'm chok­ing you, I'm killing you, and then I'm giv­ing you a cookie?"
The aid is actu­al­ly not very large. Trump says it will help ​"the mil­lions and mil­lions in need", but accord­ing to a USAID press release, the fig­ure is in the thou­sands. A team from The New York Times vis­it­ed the ware­house in Cucu­ta and esti­mat­ed that it could maybe feed 100,000 peo­ple for one day.
In the 1980s, the Unit­ed States used aid ship­ments to shut­tle weapons into the hands of Con­tras, who were try­ing to over­throw the Nicaraguan gov­ern­ment. The man respon­si­ble for those ship­ments was Elliott Abrams, Trump's new spe­cial rep­re­sen­ta­tive for Venezuela.
Show­down at the border
Now British bil­lion­aire Richard Bran­son is weigh­ing in. He is plan­ning to hold a Live Aid-inspired con­cert on Fri­day in Cucu­ta, along the Venezue­lan-Colom­bian bor­der, the day before Guaidó's dead­line. He says his goal is to raise more mon­ey for aid and to get the ship­ments across. He admit­ted that the show came at the request of Guaidó and oppo­si­tion leader Leopol­do López.
But Maduro says the Unit­ed States is using the sup­posed human­i­tar­i­an cri­sis as a pre­text for mil­i­tary inter­ven­tion.
This comes sev­er­al weeks after Bolton appeared at a White House press brief­ing with a yel­low clip­board on which the words ​"5,000 troops to Colom­bia," were written.
Colom­bian pres­i­dent Ivan Duque was in Wash­ing­ton last week to dis­cuss the Venezue­lan sit­u­a­tion with Don­ald Trump. He has called for Maduro to step down and has rec­og­nized Guaidó as inter­im pres­i­dent, though he has been tight-lipped about the ques­tion of whether he would allow U.S. troops into the coun­try from which to launch a poten­tial inva­sion of Venezuela.
"What I can say is that we are work­ing active­ly, decid­ed­ly, for the lib­er­a­tion of the Venezue­lan peo­ple," Duque told Bricio Segovia, a jour­nal­ist with the U.S.-government news ser­vice Voice of Amer­i­ca.
Last week, Cuba accused the Unit­ed States of send­ing spe­cial forces to Puer­to Rico and oth­er Caribbean islands with the goal of top­pling Pres­i­dent Nico­las Maduro.
U.S. media have been help­ing to build the case for inva­sion by repeat­ing the U.S. gov­ern­ment line on Venezuela and fail­ing to point out the com­plex­i­ties of the cri­sis. Bloomberg went so far as to pro­pose that per­haps there are pos­i­tive inva­sions after all. It pub­lished an arti­cle on Sat­ur­day titled ​"In Venezue­la's Back­yard, Here's a U.S. Inva­sion That End­ed Well," which tried to paint the 1989 U.S. inva­sion of Pana­ma as an exam­ple where U.S. mil­i­tary inter­ven­tion has gone right.
The arti­cle left out the death and destruc­tion. The esti­mat­ed 3,500 killed. The Pana­ma City neigh­bor­hood El Chor­ril­lo was so wiped out that ambu­lance dri­vers called it ​"Lit­tle Hiroshi­ma." A truth com­mis­sion had to be set up to inves­ti­gate the facts.
Trump's rhetoric on Venezuela seems to point toward jus­ti­fy­ing mil­i­tary action by the Unit­ed States or its prox­ies. ​"We want to restore Venezue­lan democ­ra­cy," Trump told Venezue­lans in Mia­mi. ​"The twi­light hour of social­ism has arrived in Venezuela and frankly in many many places around the world."
Any res­o­lu­tion to the cri­sis by force will not end well. If the the Unit­ed States goes down this path, it will mean mean dev­as­ta­tion for Venezuela and its cit­i­zens. Vio­lent inter­ven­tion could eas­i­ly unleash a bloody civ­il war that would have reper­cus­sions across the region. Iron­i­cal­ly, the loud­er Trump barks, the less sup­port the Unit­ed States is going to have in Venezuela for any action it might take. Dic­tat­ing demands in the name of the Venezue­lan peo­ple will not resolve the impasse in Venezuela. It will only make it worse.
"
Michael Fox
is a free­lance reporter and video jour­nal­ist based in Brazil. He is the for­mer edi­tor of the NACLA Report on the Amer­i­c­as and the author of two books on Latin Amer­i­ca. He tweets at @mfox_us.