BREAKING: Iowa Lawmakers Pass Sweeping Anti-Union Bill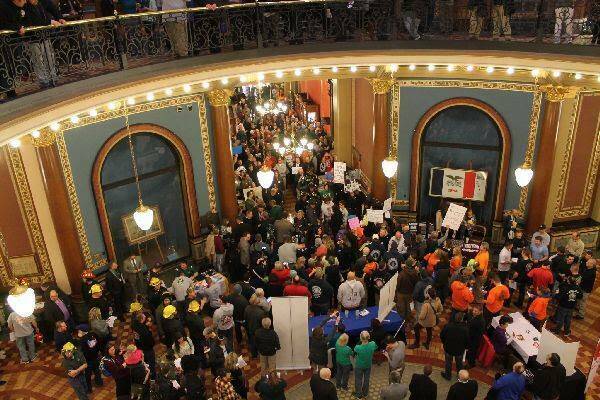 DES MOINES, Iowa – Law­mak­ers in Iowa have vot­ed to dis­man­tle the state's 40-year-old col­lec­tive bar­gain­ing law, dra­mat­i­cal­ly weak­en­ing the pow­er of pub­lic sec­tor labor unions and leav­ing some 185,000 pub­lic work­ers unable to bar­gain over ben­e­fits, health­care, vaca­tions, retire­ment, and near­ly all work­place issues out­side of wages.
Iowa is a right-to-work state, and the new law would pre­vent vol­un­tary union dues from being deduct­ed from a pub­lic employee's pay­check. It would also require reg­u­lar recer­ti­fi­ca­tion votes. Police offi­cers, fire­fight­ers and tran­sit work­ers are exempt from most of the bill's provisions.
Repub­li­can law­mak­ers intro­duced their union-bust­ing bill on Feb­ru­ary 7 and fast-tracked it through the leg­isla­tive process. Both the House and Sen­ate, which are con­trolled by the GOP, approved the bill Thurs­day, pass­ing the most sweep­ing and impact­ful changes to Iowa law in decades. Gov. Ter­ry Branstad is expect­ed to sign the bill soon.
Dur­ing the 10-day stretch before law­mak­ers vot­ed, Iowa saw its largest labor mobi­liza­tion in years, with thou­sands of union mem­bers stand­ing up, speak­ing out and tak­ing action. The week­end before Valen­tine's Day, work­ers and their fam­i­lies packed leg­isla­tive forums and town hall meet­ings in dis­tricts across the state. Teach­ers and their allies ral­lied and marched at the state Capitol.
A union ral­ly and pub­lic hear­ing Mon­day drew scores of demon­stra­tors so dense that the Iowa Capi­tol was packed shoul­der-to-shoul­der on every floor. Fire­fight­ers wore their icon­ic hel­mets. Nurs­es showed up after their shifts in scrubs. Work­ers con­tin­ued to pour into the Capi­tol for hours after the event start­ed, with lines of peo­ple spilling out of the state­house entrances. More than 4,600 peo­ple went through the Capi­tol secu­ri­ty check­points, Radio Iowa report­ed. Thou­sands more Iowans flood­ed state­house switch­boards and law­mak­ers' emails.
Minor­i­ty Democ­rats in both cham­bers man­aged to briefly slow down the bill's pas­sage, extend­ing debate over three days of marathon ses­sions and rais­ing impor­tant ques­tions about out­side influ­ence by cor­po­rate inter­ests like the Koch Broth­ers, ALEC and Amer­i­cans for Pros­per­i­ty.
"We're talk­ing about people's lives, their kids, and their homes," said Can­dace Acord, an AFSCME mem­ber and com­mu­ni­ty-based cor­rec­tions offi­cer from Iowa City. ​"I don't under­stand what the prob­lem is here when we just want health insur­ance for our families."
"My main con­cern is insur­ance may now become so unat­tain­able due to the cost that I may not be able to afford health­care for me and my fam­i­ly," said Lynette Hal­st­ed, an SEIU mem­ber and emer­gency room nurse at the Uni­ver­si­ty of Iowa Hos­pi­tals and Clin­ics. ​"Staffing ratios are no longer per­mis­si­ble sub­jects of bar­gain­ing, but evi­dence-based prac­tice shows that the more patients a nurse has the worse the out­come can be for patients."
The non­par­ti­san Iowa Pol­i­cy Project weighed in with a report on the impacts of the new law, stat­ing it will:
"exac­er­bate exist­ing trends — low and stag­nat­ing wages, grow­ing uncer­tain­ty about access to afford­able health care, and increas­ing income inequal­i­ty — that are already accel­er­at­ing down­ward mobil­i­ty for many Iowa house­holds. And these effects are like­ly to dis­pro­por­tion­ate­ly harm rur­al com­mu­ni­ties, low-income work­ers, and to threat­en the qual­i­ty of the health care, pub­lic safe­ty, and pub­lic edu­ca­tion sys­tems upon which all Iowans depend."
Thou­sands of peo­ple also sub­mit­ted writ­ten com­ments oppos­ing the union-bust­ing bill.
Car­rie Dodd, a junior high Eng­lish teacher from rur­al Madrid, wrote: ​"My hus­band and I both work in school dis­tricts and we will be finan­cial­ly dev­as­tat­ed if we lose our insur­ance, receive low­er pay, and have to work more for less."
T.J. Foley, a senior at Val­ley High School in Des Moines, wrote: ​"Union pow­er is key to effec­tive teach­ers, and effec­tive teach­ers mean Iowa's stu­dents are suc­cess­ful and our future as a state is secure."
The recent demon­stra­tions high­light­ed the pow­er, how­ev­er dimin­ished, that labor still has to edu­cate, orga­nize, and mobi­lize work­ers and their fam­i­lies, and the crit­i­cal role unions play in bring­ing every day, reg­u­lar peo­ple into social jus­tice movements.
But the future of orga­nized labor is now more uncer­tain than ever, and the path for­ward is unclear. Many work­ers at the demon­stra­tions said they believe the next step is to re-elect Democ­rats into the major­i­ty in 2018. That task will be even more dif­fi­cult now that Iowa's pub­lic sec­tor unions have been severe­ly weak­ened, arguably the real pur­pose of the new law.
There is also no guar­an­tee a Demo­c­ra­t­ic major­i­ty would restore col­lec­tive bar­gain­ing rights. Democ­rats con­trolled the Iowa Sen­ate in 2013, and col­lab­o­rat­ed with a Repub­li­can gov­er­nor and House Repub­li­cans to pass the largest cor­po­rate prop­er­ty tax cuts in state his­to­ry, cuts which caused a bud­get short­fall that Repub­li­cans are now using to jus­ti­fy their attacks on labor. Unions were unable to expand their col­lec­tive bar­gain­ing rights even when Democ­rats held a tri­fec­ta of polit­i­cal pow­er in 2008.
But work­ers aren't giv­ing up.
"We will resist and per­sist in the face of these neolib­er­al attacks," said Nao­ki Izv­mo, a teach­ing assis­tant and UE-COGS mem­ber at the Uni­ver­si­ty of Iowa. ​"Work­ers are the true source of pow­er in soci­ety, not the law."
David Good­ner
is a writer, orga­niz­er and Catholic Work­er from Iowa City.