BREAKING: Obama Administration Steps In to Halt Dakota Access Pipeline—For Now
After months of protest by Native tribes, the federal government has issued an order to stop the pipeline, reversing a judge's ruling made earlier in the day.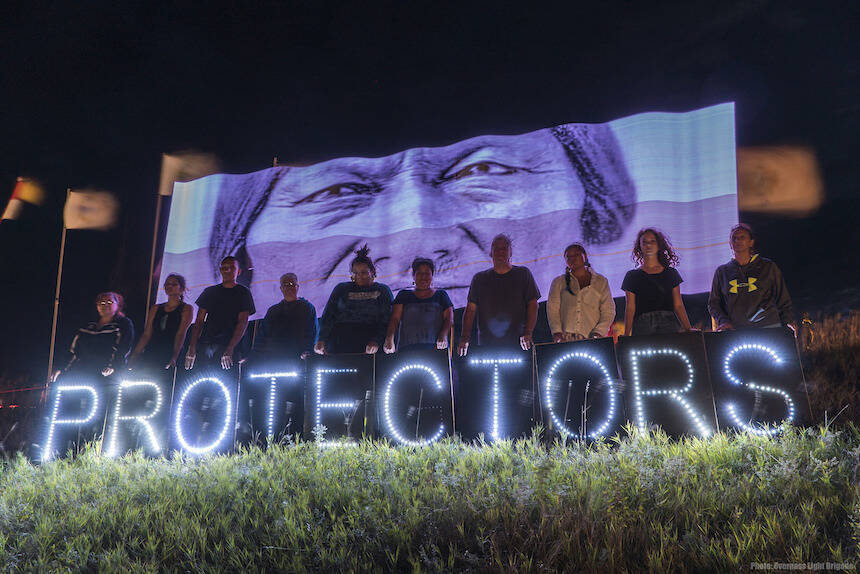 The state that saw the rise and fall of America's shale gas boom is once again at the cen­ter of its ener­gy pol­i­tics. Respond­ing to months of sus­tained protests, in the Great Plains and nation­wide, the Oba­ma admin­is­tra­tion stepped in today to stop the con­tro­ver­sial Dako­ta Access pipeline in its tracks — at least for the time being.
But while the fight against the pipeline will continue—and the Obama administration's step today has bought protesters some time—its fate still remains to be decided by Washington.
The pipeline, a $3.7 bil­lion, 1,172-mile behe­moth threat­en­ing to cut through four states, sev­er­al sacred sites and the Mis­souri Riv­er, has attract­ed dis­sent from Native groups and thou­sands of oth­ers look­ing to stop it from being built. Since April, demon­stra­tions — led by the Stand­ing Rock Sioux, whose land lies along the pipeline's pro­posed path — have bloomed into the largest Native Amer­i­can upris­ing in U.S. his­to­ry, with sup­port from thou­sands more around the country.
Today might be their biggest day yet. After grant­i­ng a tem­po­rary restrain­ing order to the Sioux against pipeline builders ear­li­er in the week, U.S. Dis­trict Judge James A. Boas­berg today denied the Stand­ing Rock Sioux's request that con­struc­tion be post­poned until the con­clu­sion of their law­suit against the Army Corps of Engi­neers, the reg­u­la­to­ry body over­see­ing the project. Filed in July, the suit alleges that the Corps over­stepped reg­u­la­to­ry process in approv­ing per­mits at 200 water cross­ings for Ener­gy Trans­fer Part­ners (ETP), the pri­ma­ry com­pa­ny back­ing the pipeline. The tribe argues that the project, in addi­tion to vio­lat­ing sev­er­al fed­er­al laws, pos­es a thread to bur­ial grounds and water sup­plies. Today's rul­ing seemed to mean that ETP will be per­mit­ted to begin con­struc­tion on these locations.
"The Court scru­ti­nizes the per­mit­ting process here with par­tic­u­lar care," the one-page rul­ing reads. ​"Hav­ing done so, the Court must nonethe­less con­clude that the Tribe has not demon­strat­ed that an injunc­tion is war­rant­ed here." The tribe will return to court for a sta­tus hear­ing on the wider law­suit on Sep­tem­ber 16, and is already work­ing to appeal Boasberg's ruling.
En route to the cap­i­tal in Bis­mar­ck, LaDon­na Allard of the Stand­ing Rock Sioux and Camp of Sacred Stones told In These Times by phone that, ​"We stand and we pray. We stand for the water."
Coun­ter­act­ing the rul­ing short­ly after it came down, how­ev­er, was a joint state­ment from the Depart­ment of Jus­tice, the Depart­ment of the Army and the Depart­ment of the Inte­ri­or. Cit­ing a need for fur­ther review of the pipeline's route ​"bor­der­ing and under" Lake Oahu, the agen­cies write that ​"con­struc­tion of the pipeline on Army Corps land bor­der­ing or under Lake Oahu will not go for­ward at this time," essen­tial­ly squash­ing the project for the fore­see­able future. They add that the fight over the pipeline ​"has high­light­ed the need for a seri­ous dis­cus­sion on whether there should be nation­wide reform with respect to con­sid­er­ing tribes' views on these types of infra­struc­ture projects," out­lin­ing gov­ern­ment-to-gov­ern­ment con­sul­ta­tions to hap­pen over the fall on exist­ing and poten­tial approval frameworks.
In addi­tion to stop­ping the pipeline, today's state­ment — like Obama's dis­missal of the Key­stone XL pipeline last year — solid­i­fies the role the fed­er­al gov­ern­ment can play in stop­ping pri­vate infra­struc­ture projects. If only tem­po­rary, the administration's deci­sion sets an encour­ag­ing prece­dent for oppo­nents of both the Dako­ta Access pipeline and sim­i­lar infra­struc­ture projects.
Despite encour­ag­ing sig­nals from the fed­er­al lev­el, the fight over the pipeline is far from over, as Dako­ta Access may still be able to con­tin­ue build­ing on oth­er sec­tions of the pipeline's route. The fight is also now more mil­i­ta­rized than ever. In antic­i­pa­tion of today's rul­ing, offi­cials in North Dako­ta had tak­en a dras­tic route to con­tain protests, which turned vio­lent last week­end when pri­vate secu­ri­ty hired by ETP, sicced dogs and pep­per spray on activists. Alleg­ing that protests had become threat­en­ing to local res­i­dents, Gov. Jack Dal­rym­ple (R‑ND) held a press con­fer­ence yes­ter­day to announce the acti­va­tion of the state's Nation­al Guard. Air Force Maj. Amber Balken, a spokes­woman for the Guard, said that some two dozen sol­diers have moved into place near demon­stra­tors, with anoth­er 100 on call.
"The deci­sion by the Gov­er­nor to call in the Nation­al Guard is an unnec­es­sary esca­la­tion in an already tense moment," says Dal­las Gold­tooth, an orga­niz­er of protests in North Dako­ta with the Indige­nous Envi­ron­men­tal Net­work. ​"It doesn't serve any good pur­pose oth­er than to cre­ate greater ten­sions on both sides of the fence." He empha­sized that the encamp­ment remained com­mit­ted to non­vi­o­lent direct action, and that he did not expect any major con­fronta­tions with Guardsmen.
"I don't expect the [Nation­al Guard] to make any moves. I believe they'll stick to bar­ri­cades," Gold­tooth told In These Times. ​"No one intends to raid the camp, or any­thing of the sort."
Though the Guard has been acti­vat­ed for protests against the war, for civ­il rights and — most recent­ly — for racial jus­tice in Fer­gu­son and Bal­ti­more, this is the only time it has been used for a demon­stra­tion either on legal­ly-rec­og­nized native land or against a piece of fos­sil fuel infrastructure.
But while the fight against the pipeline will con­tin­ue — and the Oba­ma administration's step today has bought pro­test­ers some time — its fate still remains to be decid­ed by Wash­ing­ton, which will deter­mine whether the pipeline is allowed to run over fed­er­al lands writ large. At a meet­ing between the Corps and sev­er­al tribes yes­ter­day in Oma­ha, Neb., pro­test­ers were told that the call on whether to go ahead with the project is now being punt­ed to D.C. The Corps has said they would grant an ease­ment for the project, and will now send a request for approval over to Con­gress, which has two weeks to either debate the project or wait for it to be auto­mat­i­cal­ly approved. This is stan­dard pro­ce­dure, and Con­gress gen­er­al­ly sits on Corps requests until they are auto­mat­i­cal­ly approved after two weeks.
Anti-pipeline advo­cates, though, hope this time will be different.
"What this does is places an issue that Con­gress has said they have noth­ing to do with in their lap," says Oliv­er ​"OJ" Semans of the Native Orga­niz­ers Alliance, who was in the meet­ing with the Corps in Oma­ha yes­ter­day and helped lead a protest out­side. ​"Regard­less of what state you're in, you have a voice in whether or not the DAPL and all of the bag­gage it car­ries with it goes for­ward." Seams added that the Corps gave a ver­bal com­mit­ment to noti­fy tribes as soon as the Corp's ease­ment request is received in Washington.
At the urg­ing of indige­nous and envi­ron­men­tal groups, Bernie Sanders (I‑VT) has now joined pro­test­ers in try­ing to make sure the Dako­ta Access does not pass through Capi­tol Hill qui­et­ly. After issu­ing a state­ment oppos­ing the pipeline in late August, he intro­duced an amend­ment on Thurs­dayevening ​"to pro­hib­it the grant­i­ng of a cer­tain ease­ment until the date on which an envi­ron­men­tal impact statement…is com­plet­ed" — lan­guage almost iden­ti­cal to that used in the suit filed by the Stand­ing Rock Sioux. That amend­ment is itself an amend­ment to one pro­posed by Sen. James Inhofe (R‑OK) — of the Ener­gy and Pub­lic Works Com­mit­tee — to the Water Resources and Devel­op­ment Act, now being debat­ed on the Sen­ate floor.
Every seat in the House of Rep­re­sen­ta­tives is up for re-elec­tion this fall, along with 34 in the Sen­ate. Semans — now with Sanders's help — hopes to turn the Dako­ta Pipeline into an elec­tion issue, mak­ing or break­ing law­mak­ers' chances come Novem­ber. ​"You'll be see­ing direct action in Wash­ing­ton DC, the House, the Sen­ate and at the White House," Semans said, adding that he hopes orga­niz­ers at the local lev­el will also ramp up pres­sure at offi­cials' home offices.
As in the fight against Key­stone, the deci­sion over the Dako­ta Access pipeline's approval could ulti­mate­ly end up in the Oval Office, where activists hope it will end. Jane Kleeb — a promi­nent anti-Key­stone voice and, now, incom­ing leader of Nebraska's Demo­c­ra­t­ic Par­ty — put out a state­ment lateThurs­day night call­ing on Pres­i­dent Oba­ma to stop the con­struc­tion, as well as for Con­gress ​"to take seri­ous­ly the issue of emi­nent domain for pri­vate gain and stop the abuse of land tak­ing by cor­po­ra­tions when they receive the land ease­ment from the Army Corps."
She and fel­low incom­ing par­ty lead­ers Frank LaMere and Tom Tilden also request­ed that Con­gress con­vene hear­ings with trib­al nations and landown­ers ​"so their con­cerns about the cli­mate, land and water can be heard and act­ed upon."
As Steve Horn points out at DeSmog Blog, the Dako­ta Access has enjoyed an abbre­vi­at­ed approval process thanks to its Nation­wide 12 (NWP 12) per­mits, grant­ed by the Corps to fast-track the project through tra­di­tion­al­ly more rig­or­ous envi­ron­men­tal and pub­lic review. Fos­sil fuel indus­try groups — includ­ing War­ren Buffett's Berk­shire Hath­away Ener­gy and the Amer­i­can Petro­le­um Insti­tute — sub­mit­ted com­ments to the Corps to ensure the per­mits stuck, while com­ments from a col­lec­tion of envi­ron­men­tal orga­ni­za­tions alleged that the Corps and the Oba­ma admin­is­tra­tion had abused NWP 12 pow­ers to advance both DAPL and oth­er pipelines, includ­ing the south­ern leg of the now-defunct Key­stone XL.
And while North Dako­ta has served as the epi­cen­ter of oppo­si­tion to the pipeline, par­al­lel legal bat­tles are being fought else­where along its route. In Iowa, for instance, farm­ers have argued to a dis­trict court that the com­pa­ny behind the pipeline, Dako­ta Access LLC, has not proven its project rep­re­sents the kind of pub­lic good nec­es­sary to trig­ger emi­nent domain. The Yank­ton Sioux Tribe, in South Dako­ta, have also sued the Corps along with the U.S. Fish and Wildlife Ser­vice for issu­ing approval per­mits for the project.
Between protests in North Dako­ta, Sanders's amend­ment, law­suits in sev­er­al states, sol­i­dar­i­ty demon­stra­tions around the coun­try this week, and — now — the Oba­ma administration's inter­ven­tion, ETP is fac­ing a tougher path to DAPL approval than they could have expect­ed. Still, the fight against it is far from over. And — as with Key­stone — it could drag on for months and even years to come. Accord­ing to Semans, though, ETP and oth­er fos­sil fuel com­pa­nies have already learned one major les­son from the show­down in Stand­ing Rock: ​"We're not going away. We've been here since the begin­ning of time, and we're going to be here to fight that pipeline."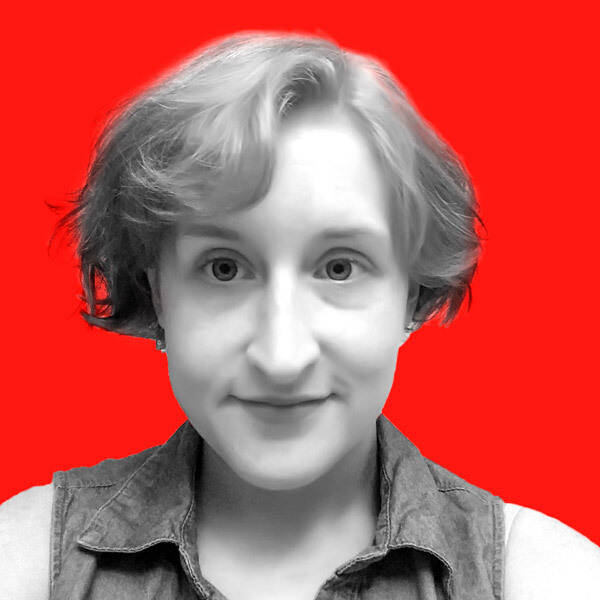 Kate Aronoff
is a Brook­lyn-based jour­nal­ist cov­er­ing cli­mate and U.S. pol­i­tics, and a con­tribut­ing writer at The Inter­cept. Fol­low her on Twit­ter @katearonoff.