The Kavanaugh Debacle Shows How "Never-Trump" Republicans Are Frauds
These Republicans are publicly billing themselves as Trump critics. But when it comes Brett Kavanaugh, they are largely pushing the president's agenda.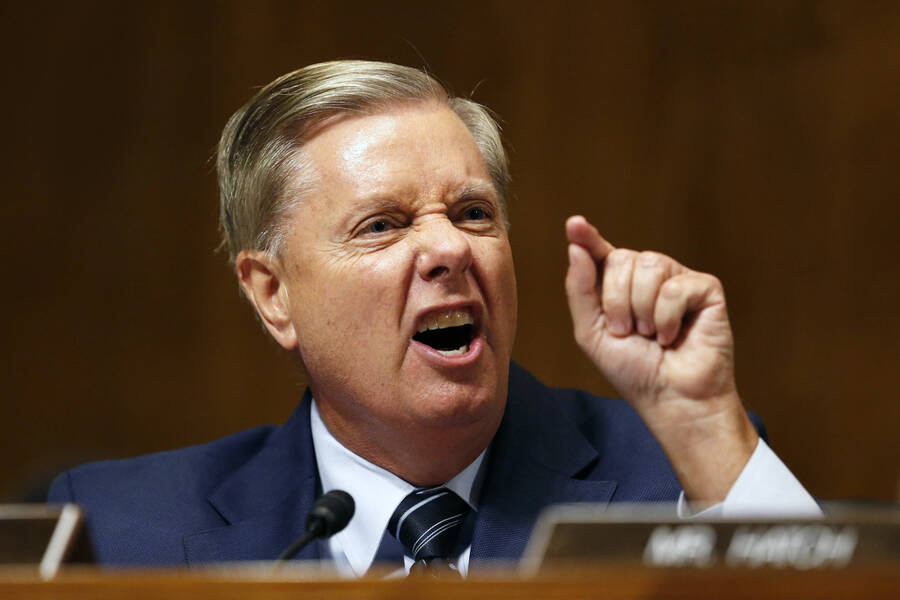 Dur­ing the 2016 pres­i­den­tial cam­paign, numer­ous Repub­li­can Sen­a­tors crit­i­cized Don­ald Trump and opposed his nom­i­na­tion, posi­tion­ing them­selves as prin­ci­pled alter­na­tives to his brand of pol­i­tics. How­ev­er, the cur­rent fight over Trump's Supreme Court pick Brett Kavanaugh clear­ly demon­strates that the pres­i­den­t's most pop­u­lar ​"nev­er-Trump" crit­ics in the Repub­li­can Par­ty are pre­pared to push Trump's agenda.
For Kavanaugh's critics, an investigation is obviously preferable to an immediate confirmation, but there are many reasons to be skeptical.
Chief among them is South Car­oli­na Sen­a­tor Lind­sey Gra­ham, a Repub­li­can. Gra­ham backed Jeb Bush in 2016 after his own pri­ma­ry run failed, denounc­ing Trump as ​"bat­shit crazy" and a ​"kook." In Jan­u­ary 2016, Gra­ham said that choos­ing between Trump or Texas Sen­a­tor Ted Cruz was like ​"death by being shot or by poi­son­ing, doesn't real­ly mat­ter." A month lat­er, Gra­ham tweet­ed, ​"Don­ald Trump is not a con­ser­v­a­tive Repub­li­can. He's an oppor­tunist. He's not fit to be Pres­i­dent of the Unit­ed States." On the cam­paign trail, Trump infa­mous­ly read Graham's pri­vate cell phone num­ber aloud at one of his tele­vised ral­lies, forc­ing him to get a new one.
Two years lat­er, things have changed con­sid­er­ably. Gra­ham has devel­oped a per­son­al rela­tion­ship with Trump, claim­ing that he was won over by his poli­cies. He plans to endorse him in 2020 ​"with­out equiv­o­ca­tion." At Kavanaugh's Judi­cia­ry Com­mit­tee hear­ing on Sep­tem­ber 27, Gra­ham angri­ly defend­ed Trump's nom­i­nee and lashed out at Democ­rats over Chris­tine Blasey Ford's sex­u­al assault alle­ga­tions being brought for­ward. ​"This is the most uneth­i­cal sham since I've been in pol­i­tics," screeched Gra­ham, ​"and if you real­ly want­ed to know the truth, you sure as hell wouldn't have done what you've done to this guy."
Kavanaugh has also got­ten a boost from notable ​"nev­er-Trump" crit­ics out­side of Wash­ing­ton. Bret Stephens, the polit­i­cal com­men­ta­tor and New York Times colum­nist, has ques­tioned Trump's men­tal sta­bil­i­ty, said he has ​"nar­cis­sis­tic per­son­al­i­ty dis­or­der" and argued that his ​"fre­quent­ly unhinged and spas­mod­ic tweets sug­gests a guy who isn't in con­trol of him­self." Stephens has penned op-eds with titles like, ​"Why I'm Still a Nev­er-Trumper" and ​"Trump Will Have Blood on his Hands." How­ev­er, Stephens has defend­ed Trump's Supreme Court pick. ​"Bot­tom line, I came away from the hear­ings feel­ing no more con­fi­dent than I had the day before of who was being truth­ful," wrote Stephens on Sep­tem­ber 28. ​"It was high dra­ma but it was also a wash. What hap­pened Thurs­day should not pre­vent Kavanaugh's confirmation."
George W. Bush is anoth­er promi­nent fig­ure who claims to be more prin­ci­pled than Trump, yet is back­ing the president's Supreme Court pick. Bush's favor­a­bil­i­ty rat­ing has sky­rock­et­ed since Trump's elec­tion, as he's offered vague cri­tiques of the Pres­i­dent. Last Octo­ber, Bush gave a speech where he con­demned the chang­ing tone of U.S. pol­i­tics, attack­ing a ​"dis­course degrad­ed by casu­al cru­el­ty." A piece pub­lished by CNN​'s Chris Cil­liz­za last Octo­ber declared that Bush had ​"laid a major smack­down on Trump­ism." Bush cer­tain­ly isn't lay­ing a smack­down on Trump in rela­tion to Kavanaugh: Accord­ing to The Wash­ing­ton Post, Bush is cur­rent­ly con­tact­ing Sen­a­tors to whip votes for the nom­i­nee. Bush may have had a pub­lic rela­tions makeover, cast­ing him­self as a grand­fa­ther­ly for­mer pres­i­dent who has now tak­en to paint­ing. But in real­i­ty, he is work­ing behind the scenes to ensure an accused rapist has a life­time seat on the most pow­er­ful court in the country.
Unlike Gra­ham, Sen­a­tor Jeff Flake (R‑Ariz.) didn't devel­op a rela­tion­ship with Trump after his elec­tion, and his cri­tiques of the admin­is­tra­tion have been unre­lent­ing. Flake has been cit­ed for crit­i­ciz­ing Trump ​"like no oth­er Repub­li­can." After announc­ing that he wouldn't seek reelec­tion last Octo­ber, Flake launched into a fiery Sen­ate speech, attack­ing his own par­ty broad­ly and the Pres­i­dent specif­i­cal­ly. ​"The prin­ci­ples that under­lie our pol­i­tics, the val­ues of our found­ing, are too vital to our iden­ti­ty and to our sur­vival to allow them to be com­pro­mised by the require­ments of pol­i­tics," said Flake. ​"Because pol­i­tics can make us silent when we should speak, and silence can equal com­plic­i­ty. I have chil­dren and grand­chil­dren to answer to, and so, Mr. Pres­i­dent, I will not be complicit."
A cur­so­ry exam­i­na­tion of Flake's vot­ing record indi­cates that he has actu­al­ly been com­plete­ly com­plic­it in advanc­ing the Trump administration's agen­da. Accord­ing to FiveThir­tyEight​'s Trump Track­er, Flake votes in line with the President's posi­tion 83.6 per­cent of the time. He has also sup­port­ed each one of Trump's most con­tro­ver­sial nom­i­nees: Jeff Ses­sions, Bet­sy DeVos, Neil Gor­such and Scott Pruitt.
Kavanaugh was des­tined to be no dif­fer­ent, as the ​"Nev­er Trumper" revealed that he planned to back Trump's pick despite mul­ti­ple sex­u­al assault alle­ga­tions. How­ev­er, after Flake was con­front­ed on an ele­va­tor by two sex­u­al assault sur­vivors, Maria Gal­lagher and Ana Maria Archi­la, Flake seem­ing­ly soft­ened his stance and called for a one-week delay while the FBI inves­ti­gates the accu­sa­tions. The inves­ti­ga­tion was imme­di­ate­ly backed by Alas­ka Sen­a­tor Lisa Murkows­ki and Maine Sen­a­tor Susan Collins, two occa­sion­al Trump crit­ics who are wide­ly regard­ed as ​"mod­er­ate Repub­li­cans." Accord­ing to FiveThir­tyEight, Murkows­ki votes in line with Trump 82.9 per­cent of the time while Collins does so 79.2 percent.
For Kavanaugh's crit­ics, an inves­ti­ga­tion is obvi­ous­ly prefer­able to an imme­di­ate con­fir­ma­tion, but there are many rea­sons to be skep­ti­cal. For starters, the inves­ti­ga­tion will be led by FBI Direc­tor Christo­pher Wray, who took over for the fired James Comey. Wray was two years behind Kavanaugh at Yale and Yale Law before they both end­ed up in the Bush admin­is­tra­tion. Kavanaugh's for­mer class­mate will over­see an inves­ti­ga­tion with strict para­me­ters. The Trump admin­is­tra­tion has made it clear that the FBI won't be car­ry­ing out a crim­i­nal inves­ti­ga­tion, but a spe­cif­ic inquiry on behalf of the White House. The FBI will be allowed to take a clos­er look at the accu­sa­tions from Chris­tine Blasey Ford and Deb­o­rah Ramirez — who accused Kavanaugh of expos­ing him­self to her at a par­ty. But the agency hasn't been giv­en per­mis­sion to exam­ine the claims of Julie Swet­nick, who said Kavanaugh engaged in acts of sex­u­al mis­con­duct while he was a stu­dent at George­town Prepara­to­ry School.
Accord­ing to a New York­er sto­ry by Jane May­er and Ronan Far­row, mul­ti­ple peo­ple with knowl­edge of Kavanaugh's past have been unable to get in touch with the FBI to tes­ti­fy. This includes his for­mer girl­friend Eliz­a­beth Rasor, who has infor­ma­tion on the alleged sex­u­al mis­con­duct at par­ties Kavanaugh attend­ed, and Yale class­mate Charles Lud­ing­ton, who can tes­ti­fy to Kavanaugh's alleged his­to­ry with alco­hol. In fact, accord­ing to Chris­tine Blasey Ford's attor­ney, she hadn't even been con­tact­ed by the FBI as late as Sun­day, despite the fact that the inves­ti­ga­tion is only being per­mit­ted to last one week. The New York­er sto­ry quotes Leah Lit­man, an assis­tant pro­fes­sor of law at the Uni­ver­si­ty of Cal­i­for­nia-Irvine, who dis­miss­es the inves­ti­ga­tion as a ​"joke." She asks, ​"What kind of an inves­ti­ga­tion into an assault that hap­pened under the influ­ence of alco­hol doesn't include inves­ti­gat­ing the accused's use of alcohol?"
A con­strict­ed one-week inves­ti­ga­tion might seem insuf­fi­cient to many fol­low­ing the process, but it's an obvi­ous choice for ​"mod­er­ate" mem­bers of the GOP. Once again, they get to cel­e­brate the rit­u­als of democ­ra­cy with­out impair­ing Trump's agenda.
"
Michael Arria
is the U.S. cor­re­spon­dent for Mon­doweiss. Fol­low him on Twit­ter: @michaelarria.