Kavanaugh Is Terrible on Workers' Rights—And That's Anti-Woman, Too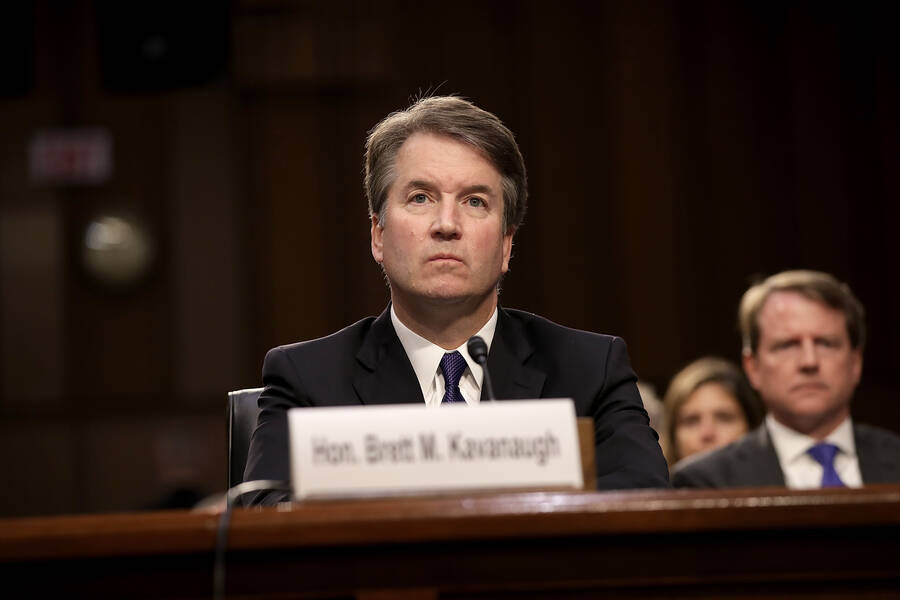 On Octo­ber 6, the Sen­ate vot­ed to con­firm Brett Kavanaugh, the Repub­li­can fed­er­al appel­late judge accused by mul­ti­ple women of sex­u­al assault, to the Supreme Court.
In light of the alle­ga­tions — which include attempt­ed rape — the oppo­si­tion to Kavanaugh has been dom­i­nat­ed by con­cerns about the impact he will have on the lives of women. In addi­tion to his alleged his­to­ry of phys­i­cal and sex­u­al vio­lence, pro­test­ers fear what Kavanaugh's ​"rad­i­cal" con­ser­vatism may augur for repro­duc­tive-rights vic­to­ries, name­ly Roe v. Wade, the land­mark 1973 deci­sion that expand­ed the legal right to abor­tion in the Unit­ed States. Yet these don't con­sti­tute the only per­ils of the judge's appoint­ment: Kavanaugh bears a pat­tern of anti-work­er adju­di­ca­tion — a stance that inor­di­nate­ly harms women.
Kavanaugh's cat­a­log of judi­cial deci­sions indi­cates a clear predilec­tion for the cap­i­tal­ist class. In 2008's Agri Proces­sor Co. Inc. v. Nation­al Labor Rela­tions Board, Kavanaugh argued that a kosher-meat whole­saler, Agri Proces­sor Co., wasn't required to bar­gain with an employ­ee union. Before the suit, the Unit­ed Food and Com­mer­cial Work­ers Union, filed an unfair labor prac­tice charge with the Nation­al Labor Rela­tions Board (NLRB) after Agri Proces­sor Co. refused to bar­gain. Kavanaugh upheld the company's claim that the work­ers who had vot­ed in the union elec­tion were undoc­u­ment­ed work­ers and there­fore didn't qual­i­fy as ​"employ­ees" pro­tect­ed by the Nation­al Labor Rela­tions Act — and thus were pre­vent­ed from union­iz­ing, so their votes in the union elec­tion were invalid.
There are numer­ous oth­er exam­ples of Kavanaugh issu­ing anti-work­er rul­ings. In 2015, Kavanaugh ruled in favor of a Las Vegas casi­no that request­ed that police offi­cers issue crim­i­nal cita­tions against demon­stra­tors protest­ing the lack of col­lec­tive-bar­gain­ing rights of casi­no employ­ees. And in 2013, he argued that a Black woman, LaTaun­ya Howard, couldn't pur­sue a race dis­crim­i­na­tion suit after being fired from her posi­tion at the Office of the Chief Admin­is­tra­tive Offi­cer of the U.S. House of Rep­re­sen­ta­tives for ​"insub­or­di­na­tion." Howard alleged that her ter­mi­na­tion was both racial­ly moti­vat­ed and in response to com­plaints she'd made about racial pay dis­par­i­ties at her place of work. What's more, Kavanaugh helped thwart an NLRB order that would have required the Trump Plaza Hotel and Casi­no to bar­gain with the Unit­ed Auto Workers.
This anti-labor posi­tion­ing is par­tic­u­lar­ly inju­ri­ous to women, who ben­e­fit dis­pro­por­tion­ate­ly from union mem­ber­ship. The Insti­tute for Women's Pol­i­cy Research found that women cov­ered by a union con­tract earn an aver­age of 30.9 per­cent more per week that women with non-union jobs, com­pared to men's increase of 20.6 per­cent. Cor­re­spond­ing­ly, the wage gap between men and women work­ers is more nar­row among those with union rep­re­sen­ta­tion than those with­out it. The Eco­nom­ic Pol­i­cy Insti­tute report­ed last year that female union work­ers earn 94 cents for every dol­lar their male peers earn, ver­sus 74 cents on the dol­lar with­out union safeguards.
Kavanaugh also has a his­to­ry of jeop­ar­diz­ing the work ben­e­fits that inform earn­ings. Work­ers with union rep­re­sen­ta­tion enjoy greater access to fam­i­ly, med­ical and mater­ni­ty leave — an advan­tage for women, who are more often tasked with child and elder care than men, and often lose wages as a result. Union­ized women are much more like­ly to have at least par­tial­ly paid health insur­ance than those who aren't union­ized: Notably, 73.1 per­cent of women in union jobs have employ­er- or union-pro­vid­ed health insur­ance, an advan­tage only 49.1 per­cent of their non-union coun­ter­parts receive. It's vir­tu­al­ly the same case for retire­ment: The ratio of union­ized to non-union­ized women with employ­er-spon­sored plans is 74.4 per­cent to 41.8 percent.
If unions and earn­ings among women are to be exam­ined, it's nec­es­sary to con­sid­er the huge impact a fig­ure like Kavanaugh could have on Black women. Though the union­ized work­force has decreased pre­cip­i­tous­ly over the last sev­er­al decades, Black women have tra­di­tion­al­ly had a high­er rate of union­iza­tion, par­tic­u­lar­ly in pub­lic-sec­tor jobs, than women of oth­er racial and eth­nic groups. As of 2013, Black women out­num­bered white, Lat­inx and Asian-Amer­i­can women in terms of union­iza­tion. And by 2015, union­ized Black women out­num­bered union­ized Black men.
This is essen­tial for a demo­graph­ic that, research shows, would have to work an addi­tion­al sev­en months to receive the same pay as white men, despite work­ing more hours than white women. (Black women are also paid less than white men for the same job, inde­pen­dent of edu­ca­tion level.)
The same urgency for pro­tec­tions applies to Lat­inx women, who are now the least like­ly of all women to have union rep­re­sen­ta­tion. Sta­tis­tics show that they're in the most dire need of the boons of orga­nized labor: Lat­inx women, for exam­ple, make 54 cents for every dol­lar earned by white men. As Esther López of Unit­ed Food and Com­mer­cial Work­ers urges, ​"There exists a sure-fire way for Lati­na women to earn the bet­ter wages they deserve: join­ing a union in their indus­try. Lati­na women who have joined a union earn more than their non-union coun­ter­parts—$242 more per week, in fact, accord­ing to the Bureau of Labor Statistics."
Anoth­er con­cern aris­ing from Kavanaugh's anti-labor record — and one par­tic­u­lar­ly point­ed in the wake of the alle­ga­tions levied against him — is women's vul­ner­a­bil­i­ty to work­place sex­u­al harass­ment. The Equal Employ­ment Oppor­tu­ni­ty Com­mis­sion found that ​"25 per­cent to 85 per­cent of women report hav­ing expe­ri­enced sex­u­al harass­ment in the work­place." Echo­ing López, writer Michelle Chen con­tends that col­lec­tive bar­gain­ing is a viable means of com­bat­ing this. ​"Union agree­ments," she writes, ​"pro­tect equal­i­ty at work, pro­vide every­day orga­ni­za­tion­al sup­port for work­ers, and pro­mote pub­lic account­abil­i­ty by estab­lish­ing legal­ly bind­ing con­di­tions of employ­ment," and can pur­sue such mea­sures as munic­i­pal anti-harass­ment ordinances.
Heed­ing Kavanaugh's ros­ter of rul­ings, the AFL-CIO, Com­mu­ni­ca­tions Work­ers of Amer­i­ca, Nation­al Nurs­es Unit­ed and oth­er unions have for­mal­ly opposed the now-Supreme Court asso­ciate jus­tice. NNU has cit­ed spe­cif­ic con­cerns for women, stat­ing his assaults on col­lec­tive bar­gain­ing rights and work­ers' health­care ren­der him ​"unfit to serve on the Supreme Court of the Unit­ed States." The sub­text is that women will pay the great­est price.
Julianne Tveten
writes about tech­nol­o­gy, labor, and cul­ture, among oth­er top­ics. Her work has appeared in The Nation, Cap­i­tal
&
Main, KPFK Paci­fi­ca Radio, and elsewhere.