British Soccer Clubs Have the Chance To Level the Playing Field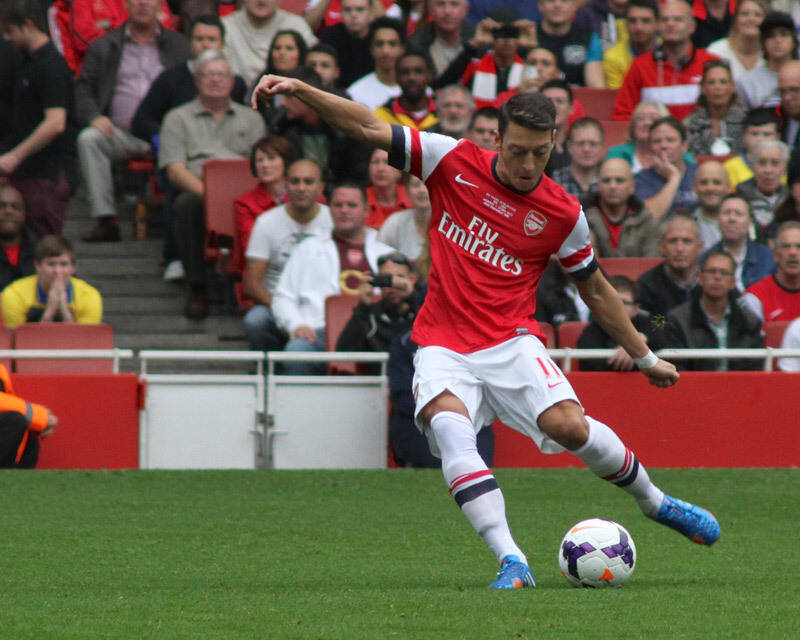 Soc­cer is big busi­ness in Britain, but not every­one who works in the Pre­mier League ben­e­fits from that pros­per­i­ty. Accord­ing to a recent report by the com­mu­ni­ty orga­ni­za­tion coali­tion Cit­i­zens UK, even while chief exec­u­tives make mil­lions, work­ers who cater, clean and pro­vide secu­ri­ty for top soc­cer clubs are get­ting paid min­i­mum wage. Right now, the report says, many employ­ees at sta­di­ums around the coun­try are earn­ing £6.31 an hour — well below the esti­mat­ed nation­al liv­ing wage of £7.65.
Sophie Stephens, the report's author and lead orga­niz­er of the North Lon­don branch of Cit­i­zens UK, says chal­leng­ing soc­cer clubs to increase their wages makes sense because ​"these are busi­ness­es that employ a huge num­ber of peo­ple on a short-term basis right in the heart of our com­mu­ni­ty." Since 2011, mem­bers of the North Lon­don Cit­i­zens have been cam­paign­ing to make the local teams Arse­nal and Tot­ten­ham Hot­spur pay all their work­ers a liv­ing wage, which, in Lon­don, would be £8.80 an hour. So far, though, they've had lim­it­ed success.
Arse­nal is the world's fourth most valu­able soc­cer team, with an esti­mat­ed year­ly rev­enue of £235 mil­lion. And with Arse­nal spec­ta­tors pay­ing the high­est tick­et prices in the league—at least £985 for an adult sea­son tick­et—some fans say they want the club to do more to por­tion out the wealth.
​"Fans already make quite a big finan­cial con­tri­bu­tion," says Tom Chig­bo, an orga­niz­er with Lon­don Cit­i­zens and a long­time Arse­nal fan. ​"A lot of peo­ple feel dis­ap­point­ed that their finan­cial con­tri­bu­tion isn't being shared around the club."
Cit­i­zens UK's report also includ­ed a tes­ti­mo­ny from Richard Poku, a for­mer cater­er at sev­er­al sta­di­ums, includ­ing Arse­nal's Emi­rates Sta­di­um. Poku points out the enor­mous dis­par­i­ty between play­ers' salaries and work­ers' wages.
​"It's ridicu­lous that peo­ple with kids have to come from so far away to earn basi­cal­ly noth­ing. Foot­ballers are earn­ing that much because peo­ple are pay­ing to watch the match­es, and we are the ones cater­ing for them," he says.
Top play­ers like Arsenal's Mesut Özil reg­u­lar­ly earn almost 180,000 pounds a week, the report says; Stephens esti­mates it would take 13 years for a full-time clean­er to make the same amount. She also says that many work­ers are often forced to take sec­ond jobs in order to make ends meet.
The issue is com­pli­cat­ed some­what by the fact that many work­ers at sta­di­ums are employed by sub­con­trac­tors rather than by the teams them­selves. But Stephens main­tains that the respon­si­bil­i­ty for pay­ing those work­ers still rests with the clubs.
​"Ulti­mate­ly the peo­ple who decide the cost of the con­tract are the peo­ple who put it out to ten­der," says Stephens. ​"It's much eas­i­er for us to make a dif­fer­ence to the per­son who holds the con­tract, rather than the per­son deliv­er­ing the contract."
Though region­al branch­es of Cit­i­zens UK have focused on putting pres­sure on their local teams to boost salaries, the campaign's over­all goal is to per­suade at least one of the country's Pre­mier­ship soc­cer clubs to take the lead on offer­ing work­ers a liv­ing wage. It's a strat­e­gy that has worked in oth­er sec­tors, points out Jane Wills, a pro­fes­sor of human geog­ra­phy at Queen Mary, Uni­ver­si­ty of London.
​"Once you get one big com­pa­ny or big orga­ni­za­tion to sign up and they become a cham­pi­on for it, then it becomes much eas­i­er," she points out.
Such tac­tics are famil­iar ter­ri­to­ry for Cit­i­zens UK. In addi­tion to its mis­sion to improve soc­cer clubs, since 2011, the cam­paign has recruit­ed near­ly 500 employ­ers around the coun­try to meet cri­te­ria set up by the Liv­ing Wage Foun­da­tion, one of Cit­i­zen UK's oth­er initiatives.
Wills says the achieve­ment is impres­sive, albeit surprising.
​"I don't think any­one thought it would work," she says. ​"We've also had at least 20 years of unions try­ing to resist … reduc­tions in wages and con­di­tions through sub­con­tract­ing and fail­ing to do that, so it real­ly seemed very unlike­ly that this group was going to make any progress at all."
Work­ing pover­ty is a prob­lem all over Britain. Twen­ty per­cent of employ­ees earn below the liv­ing wage; in some areas, like Wales or the north of Ire­land, that num­ber is even high­er. Accord­ing to the gov­ern­men­t's own sta­tis­tics, in the past five years, aver­age wage rais­es have failed to keep up with infla­tion — mean­ing that, in real terms, work­ers have had a pay cut.
In response, per­haps, the pub­lic has become in favor of imple­ment­ing a liv­ing wage across all sectors.
​"What's been bril­liant about the cam­paign is that it's put togeth­er a real­ly broad coali­tion of sup­port," says Wills, ​"So that it's almost impos­si­ble not to sup­port the liv­ing wage."
The fans them­selves have been among the most vocal sup­port­ers of rais­ing soc­cer clubs' wages. Andrew Jacobs, a Tot­ten­ham Hot­spur sea­son tick­et hold­er for almost 50 years, says the liv­ing wage is ​"an idea whose time has come."
As a lay-leader at Finch­ley Reform Syn­a­gogue, Jacobs says he's talked with mem­bers of his com­mu­ni­ty who sup­port Lon­don clubs like Arse­nal or Tot­ten­ham ​"to ask them to get involved and lend their voice … to show [their clubs] the broad base of sup­port that there is with­in the com­mu­ni­ty for adop­tion of the liv­ing wage."
Hav­ing lost to local rivals Arse­nal on the pitch this year, Jacobs says he hopes that his team can get one over on their neigh­bors. ​"I would love to see Tot­ten­ham pip Arse­nal to become the first Pre­mier League club to become a liv­ing wage employ­er," says Jacobs. But so far, he says, the response from his club has been ​"stand­off­ish."
In fact, that's been the response from many clubs in the Pre­mier­ship, who have most­ly refused to meet with the cam­paign. At the Arse­nal Annu­al Gen­er­al Meet­ing, which is open to share­hold­ers and fan asso­ci­a­tions, a group of fans asked Chief Exec­u­tive Ivan Gazidis to raise the pay rate for con­tract work­ers to a liv­ing wage. Gazidis replied, ​"the Lon­don liv­ing wage [cam­paign] is well-inten­tioned, but the issue is com­plex and polit­i­cal and, in any case, the Arse­nal ben­e­fits pack­ages are gen­er­ous in mar­ket terms." Though he would not clar­i­fy the specifics of the pack­ages, Cit­i­zens UK main­tains that this gen­eros­i­ty doesn't apply to subcontractors.
In an email to In These Times, an Arse­nal spokesper­son con­firmed, ​"Our employ­ee remu­ner­a­tion pack­ages exceed the Lon­don liv­ing wage require­ments. Ulti­mate­ly this is a mat­ter for nation­al leg­is­la­tion." (The rep­re­sen­ta­tive declined to state the exact wage rate for Arsenal's direct­ly employed or sub­con­tract­ed staff.)
That's a ​"poor excuse," accord­ing to Stephens. ​"There's no rea­son employ­ers can't be get­ting on with adopt­ing this if they believe it's the right thing to do," she says. ​"It's sad that they feel they have to wait for nation­al legislation."
Man­ches­ter City has come clos­est to meet­ing Cit­i­zen UK's demands. Last year, the club announced it would pay interns and appren­tices the liv­ing wage. How­ev­er, the team has not yet extend­ed the liv­ing wage to its con­trac­tors. In a recent let­ter to the Liv­ing Wage Foun­da­tion the club wrote, ​"As dis­cus­sions have pro­gressed around the pos­si­bil­i­ty of for­mal­ly becom­ing a ​'liv­ing wage accred­it­ed employ­er', it has become appar­ent that there are some prac­ti­cal and eco­nom­ic dif­fi­cul­ties in achiev­ing accred­i­ta­tion." To become an accred­it­ed liv­ing wage employ­er, busi­ness­es must com­mit to ensur­ing all work­ers, includ­ing sub­con­trac­tors, are paid the liv­ing wage. Still, the club has voiced sup­port for the liv­ing wage and ​"rec­og­nizes the impor­tance of pro­mot­ing it wher­ev­er possible."
Many clubs in the Pre­mier­ship, includ­ing Arse­nal, like to tout their his­to­ry of sup­port­ing local char­i­ties as evi­dence of their com­mit­ments to improv­ing their neigh­bor­hoods. As the coun­try's favorite game has become a mul­ti­mil­lion-pound indus­try, how­ev­er, Stephens says soc­cer clubs ​"have become more and more busi­ness-ori­ent­ed and have moved away from the com­mu­ni­ties they are sup­posed to serve and represent."
For Stephens, and oth­er cam­paign­ers, becom­ing a liv­ing wage employ­er would be a great way for clubs to share the success.
George Laven­der
is an award-win­ning radio and print jour­nal­ist based in Los Ange­les. Fol­low him on Twit­ter @GeorgeLavender.