Care Before Profit? Nurses Get Radical in Fight to Save Brooklyn Hospitals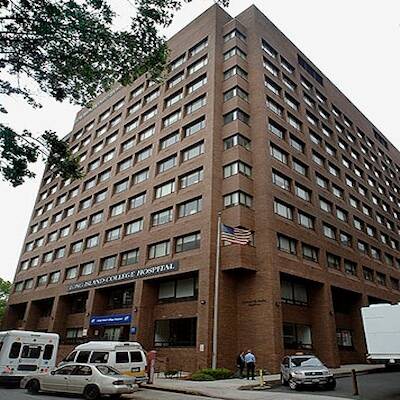 ​"We are here tonight because our hospitals are in a crisis," said New York City Public Advocate Letitia James as she stood behind a podium at Pleasant Grove Baptist Church in Bedford-Stuyvesant, Brooklyn on Thursday evening. James was at the church to host a town-hall meeting about healthcare needs in Brooklyn and the possible closure of Interfaith Medical Center along with other elected officials, advocates and workers from the New York State Nurses Association (NYSNA) and 1199SEIU United Healthcare Workers East.
In Brooklyn, James stressed, there are just two hospital beds per thousand people. Meanwhile, across the river in the borough of Manhattan, there are six beds per thousand people. And without the battle that unions and community members have been waging for over a year now, there might be even fewer, because Interfaith and Long Island College Hospital (LICH) would very likely be shuttered already.
The question when it comes to Interfaith, according to NYSNA organizer Eliza Carboni, is, ​"How do we get decisions about our healthcare needs out of bankruptcy court and into the hands of the community?" The hospital, which has been in bankruptcy court since 2012, has nearly closed several times — most recently this winter — before the state agreed to release some $25 million in funds to keep it open through March as bankruptcy proceedings continue. The crowd at the church hopes to see real changes in how healthcare decisions are made in a borough where most people get their primary care at the hospital, and where a large number of residents are reliant on Medicaid and Medicare to cover their treatment. They're hoping that the state will step in to help keep it open. But NYSNA and 1199, together with community and elected leaders, are also exploring the idea of running the hospital as a cooperative — a move that if successful could have far-reaching implications in the healthcare sector.
A recent win for a community-labor coalition at LICH, which has kept the hospital open for the last year, suggests a blueprint for organizing at other cash-strapped hospitals. The unprecedented deal reached in court over LICH opens up a new request for proposals (RFP) to purchase the hospital and its property. Unlike previous iterations, the new RFP will prioritize proposals that keep a full-service hospital open, and the community and labor groups that filed suit to save the hospital will be represented on the committee that will evaluate the bids. While this doesn't guarantee the hospital will remain open, it represents a huge shift in priorities — nurses and elected officials had previously felt that the State University of New York (SUNY), which currently operates the hospital, simply wanted to sell off the valuable real estate to the highest bidder, regardless of healthcare need.
Vincent Alvarez, president of the New York City Central Labor Council, said that the partnership between the unions and the community ​"embodies the mission of the labor movement." But NYSNA wasn't always engaged in this kind of deep community organizing. While 1199 has a long history of progressive activism, it was only when a new, more activist board won control of the union in 2012 that the nurses' union began investing in organizing. After having experienced other hospital closures (notably at St. Vincent's in Manhattan in 2010), the nurses rallied immediately when rumors began that LICH would be closed, staging protests, holding health fairs and other creative public actions that even drew the participation of now-Mayor Bill de Blasio, who was arrested outside of SUNY's Manhattan office in July. Like other recent successes for labor, most notably the Chicago Teachers Union, the nurses and hospital workers succeeded by putting community needs at the center of their demands and putting union resources to work building a base that trusts them.
Throughout the fight, which has kept the hospital open for more than a year past its supposed closure date, the hospital administrators at LICH diverted ambulances and transferred patients to other facilities. Security guards filled the halls. But day after day, the nurses kept showing up to work. Carboni thinks that commitment, demonstrated on the job and in the streets as they fought to save their workplace, should make the staff at LICH even more appealing to a potential bidder. Nurses, doctors and other labor and community leaders made presentations to some prospective new operators last Monday, March 3. (One of those potential new operators is John Catsimatidis, former Republican mayoral candidate and owner of Gristedes foods.)
At both LICH and Interfaith (as well as other struggling Brooklyn hospitals), a major issue is Medicaid and Medicare funds. Smaller, independent facilities often receive lower reimbursements for the same services than larger ones, which have more leverage to negotiate with insurance companies for favorable rates. As a result, Carboni notes, doctors are incentivized to take paying patients to hospitals that are part of a larger chain. That leaves hospitals in lower-income neighborhoods (often in communities of color) even more dependent on Medicaid and Medicare dollars — and those rates may fluctuate. ​"It's not that it's not possible to balance your books off of a Medicare/​Medicaid population, it's just that it requires more work to do so," Carboni says.
If Interfaith is to remain open, it will require an infusion of money to keep it going. James, the nurses and hospital employees, and Bed-Stuy community members hope that some of that money will come from a Medicaid waiver requested by the state in 2012. That waiver, recently approved, will send $8 billion in federal funds to New York, but it's not clear yet how it will be spent. Governor Andrew Cuomo, James reminded the crowd at Pleasant Grove Baptist, promised that the money would be spent on Brooklyn hospitals — but she and others noted that such promises have not been kept in the past. As negotiations continue over where that money will go, state officials are debating which hospitals qualify as ​"safety net."
Interfaith serves a federally-recognized healthcare shortage area in Bedford-Stuyvesant and Crown Heights. Its neighborhood (which includes this reporter's apartment) has gentrified in recent years, but still is home to many low-income residents who have long been underinsured and undercared-for. Around 60 percent of its services go to Medicaid enrollees, according to NYSNA.
Much of the future of Interfaith rests on the decisions Cuomo makes about the Medicaid money and what happens in bankruptcy court. The unions are pushing for the definition of ​"safety net" not to be solely dictated by the Hospital Association, but defined around community needs. That means hospitals like Interfaith, which if closed could create a ​"healthcare desert," should be prioritized for funding.
There's also the question of who is going to be in charge of guiding Interfaith towards a possible new future. Carboni says that NYSNA is concerned anyone appointed to govern the hospital through bankruptcy court is going to be ​"slash and burn, just making sure the bills get paid." Instead, the state should be involved to ensure that a trustee doesn't simply steer the hospital toward closure.
​"We hope that whoever is going to make decisions for Interfaith to remain open, they will look at the needs of the community," says Charmayne Saddler-Walker, a nurse in the psychiatric department at Interfaith, and part of a group of women workers saluted at the church Thursday night for their part in keeping the hospital open. ​"Not on the financial structure or where we stand financially but the needs of the community."
As a parallel track to the bankruptcy proceedings, the community-labor coalition that has rallied around Interfaith is working on an alternative model for Interfaith — a co-op, based on the idea that decisions on healthcare services at the hospital should be according to the needs of a community with high levels of diabetes, heart disease, and psychiatric illness, rather than the logic of the market. This model, Carboni told the crowd at Pleasant Grove, would save money by cutting administrative bloat, not healthcare services. They're hoping that a successful hospital co-op, which would be the first of its kind, could be a model for others in the future.
Indeed, the battles over Brooklyn healthcare illustrate well why markets don't work for many human services: If profit is the only goal, it will always be more profitable to build condos for the wealthy than healthcare for the sick.
Brooklyn Borough President Eric Adams appears interested in the co-op plan. At the church, he told the crowd that he'd be holding listening sessions around the idea at Borough Hall.
The hospital fights may have benefited from an election year where candidates wanted to find an issue that made them stand out from the pack. It certainly helped de Blasio, who benefited from endorsements from 1199 and, eventually, from NYSNA — notably, the nurses didn't make their endorsements until shortly before the primary and after de Blasio had made his famed trip to lockup. James and other elected officials have continued to play a role in the hospital fight, while Sharonnie Perry, chair of Interfaith's Community Advisory Board, noted Thursday night that de Blasio hasn't been around as much lately. ​"We miss him," she said.
It will be a while before any permanent solutions are found for either LICH or Interfaith, but the struggle of the workers and their communities to save the hospitals has already challenged some of the basic assumptions of the American healthcare system. The radical ideas that profit has no place in healthcare, that patients deserve care whether or not they can make hospital executives rich, and that communities should be able to make decisions about the services that exist within it are out there before the broader public.
​"Both unions and the community leaders, we have used every medium possible to educate the community about what's going on," says Saddler-Walker. ​"They're really aware of what is really going on." That's included a ​"race for care" from underserved Red Hook to LICH, a public theater performance at Interfaith, and regular rallies, vigils and marches.
And as for the hospitals, she says, ​"We're still open for care, we make sure all our patients are safe and that the quality of care that we give is one of the best."
Sarah Jaffe is a Type Media Center Fellow, co-host (with Michelle Chen) of Dissent magazine's Belabored podcast, and a columnist at The New Republic and New Labor Forum. She was formerly a staff writer at In These Times and the labor editor at AlterNet. Her previous book is Necessary Trouble: Americans in Revolt, which Robin D.G. Kelley called ​"The most compelling social and political portrait of our age." You can follow her on Twitter @sarahljaffe.