Care Before Profit? Nurses Get Radical in Fight to Save Brooklyn Hospitals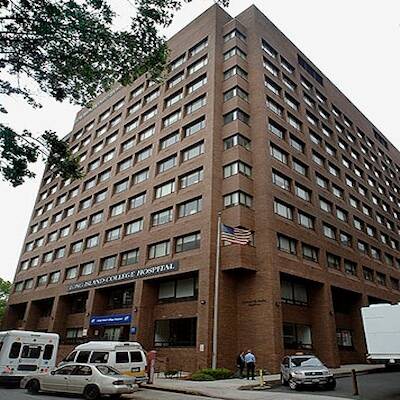 ​"We are here tonight because our hos­pi­tals are in a cri­sis," said New York City Pub­lic Advo­cate Leti­tia James as she stood behind a podi­um at Pleas­ant Grove Bap­tist Church in Bed­ford-Stuyvesant, Brook­lyn on Thurs­day evening. James was at the church to host a town-hall meet­ing about health­care needs in Brook­lyn and the pos­si­ble clo­sure of Inter­faith Med­ical Cen­ter along with oth­er elect­ed offi­cials, advo­cates and work­ers from the New York State Nurs­es Asso­ci­a­tion (NYS­NA) and 1199SEIU Unit­ed Health­care Work­ers East.
In Brook­lyn, James stressed, there are just two hos­pi­tal beds per thou­sand peo­ple. Mean­while, across the riv­er in the bor­ough of Man­hat­tan, there are six beds per thou­sand peo­ple. And with­out the bat­tle that unions and com­mu­ni­ty mem­bers have been wag­ing for over a year now, there might be even few­er, because Inter­faith and Long Island Col­lege Hos­pi­tal (LICH) would very like­ly be shut­tered already.
The ques­tion when it comes to Inter­faith, accord­ing to NYS­NA orga­niz­er Eliza Car­boni, is, ​"How do we get deci­sions about our health­care needs out of bank­rupt­cy court and into the hands of the com­mu­ni­ty?" The hos­pi­tal, which has been in bank­rupt­cy court since 2012, has near­ly closed sev­er­al times — most recent­ly this win­ter — before the state agreed to release some $25 mil­lion in funds to keep it open through March as bank­rupt­cy pro­ceed­ings con­tin­ue. The crowd at the church hopes to see real changes in how health­care deci­sions are made in a bor­ough where most peo­ple get their pri­ma­ry care at the hos­pi­tal, and where a large num­ber of res­i­dents are reliant on Med­ic­aid and Medicare to cov­er their treat­ment. They're hop­ing that the state will step in to help keep it open. But NYS­NA and 1199, togeth­er with com­mu­ni­ty and elect­ed lead­ers, are also explor­ing the idea of run­ning the hos­pi­tal as a coop­er­a­tive — a move that if suc­cess­ful could have far-reach­ing impli­ca­tions in the health­care sector.
A recent win for a com­mu­ni­ty-labor coali­tion at LICH, which has kept the hos­pi­tal open for the last year, sug­gests a blue­print for orga­niz­ing at oth­er cash-strapped hos­pi­tals. The unprece­dent­ed deal reached in court over LICH opens up a new request for pro­pos­als (RFP) to pur­chase the hos­pi­tal and its prop­er­ty. Unlike pre­vi­ous iter­a­tions, the new RFP will pri­or­i­tize pro­pos­als that keep a full-ser­vice hos­pi­tal open, and the com­mu­ni­ty and labor groups that filed suit to save the hos­pi­tal will be rep­re­sent­ed on the com­mit­tee that will eval­u­ate the bids. While this does­n't guar­an­tee the hos­pi­tal will remain open, it rep­re­sents a huge shift in pri­or­i­ties — nurs­es and elect­ed offi­cials had pre­vi­ous­ly felt that the State Uni­ver­si­ty of New York (SUNY), which cur­rent­ly oper­ates the hos­pi­tal, sim­ply want­ed to sell off the valu­able real estate to the high­est bid­der, regard­less of health­care need.
Vin­cent Alvarez, pres­i­dent of the New York City Cen­tral Labor Coun­cil, said that the part­ner­ship between the unions and the com­mu­ni­ty ​"embod­ies the mis­sion of the labor move­ment." But NYS­NA wasn't always engaged in this kind of deep com­mu­ni­ty orga­niz­ing. While 1199 has a long his­to­ry of pro­gres­sive activism, it was only when a new, more activist board won con­trol of the union in 2012 that the nurs­es' union began invest­ing in orga­niz­ing. After hav­ing expe­ri­enced oth­er hos­pi­tal clo­sures (notably at St. Vin­cen­t's in Man­hat­tan in 2010), the nurs­es ral­lied imme­di­ate­ly when rumors began that LICH would be closed, stag­ing protests, hold­ing health fairs and oth­er cre­ative pub­lic actions that even drew the par­tic­i­pa­tion of now-May­or Bill de Bla­sio, who was arrest­ed out­side of SUN­Y's Man­hat­tan office in July. Like oth­er recent suc­cess­es for labor, most notably the Chica­go Teach­ers Union, the nurs­es and hos­pi­tal work­ers suc­ceed­ed by putting com­mu­ni­ty needs at the cen­ter of their demands and putting union resources to work build­ing a base that trusts them.
Through­out the fight, which has kept the hos­pi­tal open for more than a year past its sup­posed clo­sure date, the hos­pi­tal admin­is­tra­tors at LICH divert­ed ambu­lances and trans­ferred patients to oth­er facil­i­ties. Secu­ri­ty guards filled the halls. But day after day, the nurs­es kept show­ing up to work. Car­boni thinks that com­mit­ment, demon­strat­ed on the job and in the streets as they fought to save their work­place, should make the staff at LICH even more appeal­ing to a poten­tial bid­der. Nurs­es, doc­tors and oth­er labor and com­mu­ni­ty lead­ers made pre­sen­ta­tions to some prospec­tive new oper­a­tors last Mon­day, March 3. (One of those poten­tial new oper­a­tors is John Cat­si­ma­tidis, for­mer Repub­li­can may­oral can­di­date and own­er of Grist­edes foods.)
At both LICH and Inter­faith (as well as oth­er strug­gling Brook­lyn hos­pi­tals), a major issue is Med­ic­aid and Medicare funds. Small­er, inde­pen­dent facil­i­ties often receive low­er reim­burse­ments for the same ser­vices than larg­er ones, which have more lever­age to nego­ti­ate with insur­ance com­pa­nies for favor­able rates. As a result, Car­boni notes, doc­tors are incen­tivized to take pay­ing patients to hos­pi­tals that are part of a larg­er chain. That leaves hos­pi­tals in low­er-income neigh­bor­hoods (often in com­mu­ni­ties of col­or) even more depen­dent on Med­ic­aid and Medicare dol­lars — and those rates may fluc­tu­ate. ​"It's not that it's not pos­si­ble to bal­ance your books off of a Medicare/​Medicaid pop­u­la­tion, it's just that it requires more work to do so," Car­boni says.
If Inter­faith is to remain open, it will require an infu­sion of mon­ey to keep it going. James, the nurs­es and hos­pi­tal employ­ees, and Bed-Stuy com­mu­ni­ty mem­bers hope that some of that mon­ey will come from a Med­ic­aid waiv­er request­ed by the state in 2012. That waiv­er, recent­ly approved, will send $8 bil­lion in fed­er­al funds to New York, but it's not clear yet how it will be spent. Gov­er­nor Andrew Cuo­mo, James remind­ed the crowd at Pleas­ant Grove Bap­tist, promised that the mon­ey would be spent on Brook­lyn hos­pi­tals — but she and oth­ers not­ed that such promis­es have not been kept in the past. As nego­ti­a­tions con­tin­ue over where that mon­ey will go, state offi­cials are debat­ing which hos­pi­tals qual­i­fy as ​"safe­ty net."
Inter­faith serves a fed­er­al­ly-rec­og­nized health­care short­age area in Bed­ford-Stuyvesant and Crown Heights. Its neigh­bor­hood (which includes this reporter's apart­ment) has gen­tri­fied in recent years, but still is home to many low-income res­i­dents who have long been under­in­sured and under­cared-for. Around 60 per­cent of its ser­vices go to Med­ic­aid enrollees, accord­ing to NYSNA.
Much of the future of Inter­faith rests on the deci­sions Cuo­mo makes about the Med­ic­aid mon­ey and what hap­pens in bank­rupt­cy court. The unions are push­ing for the def­i­n­i­tion of ​"safe­ty net" not to be sole­ly dic­tat­ed by the Hos­pi­tal Asso­ci­a­tion, but defined around com­mu­ni­ty needs. That means hos­pi­tals like Inter­faith, which if closed could cre­ate a ​"health­care desert," should be pri­or­i­tized for funding.
There's also the ques­tion of who is going to be in charge of guid­ing Inter­faith towards a pos­si­ble new future. Car­boni says that NYS­NA is con­cerned any­one appoint­ed to gov­ern the hos­pi­tal through bank­rupt­cy court is going to be ​"slash and burn, just mak­ing sure the bills get paid." Instead, the state should be involved to ensure that a trustee does­n't sim­ply steer the hos­pi­tal toward closure.
​"We hope that who­ev­er is going to make deci­sions for Inter­faith to remain open, they will look at the needs of the com­mu­ni­ty," says Char­mayne Sad­dler-Walk­er, a nurse in the psy­chi­atric depart­ment at Inter­faith, and part of a group of women work­ers salut­ed at the church Thurs­day night for their part in keep­ing the hos­pi­tal open. ​"Not on the finan­cial struc­ture or where we stand finan­cial­ly but the needs of the community."
As a par­al­lel track to the bank­rupt­cy pro­ceed­ings, the com­mu­ni­ty-labor coali­tion that has ral­lied around Inter­faith is work­ing on an alter­na­tive mod­el for Inter­faith — a co-op, based on the idea that deci­sions on health­care ser­vices at the hos­pi­tal should be accord­ing to the needs of a com­mu­ni­ty with high lev­els of dia­betes, heart dis­ease, and psy­chi­atric ill­ness, rather than the log­ic of the mar­ket. This mod­el, Car­boni told the crowd at Pleas­ant Grove, would save mon­ey by cut­ting admin­is­tra­tive bloat, not health­care ser­vices. They're hop­ing that a suc­cess­ful hos­pi­tal co-op, which would be the first of its kind, could be a mod­el for oth­ers in the future.
Indeed, the bat­tles over Brook­lyn health­care illus­trate well why mar­kets don't work for many human ser­vices: If prof­it is the only goal, it will always be more prof­itable to build con­dos for the wealthy than health­care for the sick.
Brook­lyn Bor­ough Pres­i­dent Eric Adams appears inter­est­ed in the co-op plan. At the church, he told the crowd that he'd be hold­ing lis­ten­ing ses­sions around the idea at Bor­ough Hall.
The hos­pi­tal fights may have ben­e­fit­ed from an elec­tion year where can­di­dates want­ed to find an issue that made them stand out from the pack. It cer­tain­ly helped de Bla­sio, who ben­e­fit­ed from endorse­ments from 1199 and, even­tu­al­ly, from NYS­NA — notably, the nurs­es did­n't make their endorse­ments until short­ly before the pri­ma­ry and after de Bla­sio had made his famed trip to lock­up. James and oth­er elect­ed offi­cials have con­tin­ued to play a role in the hos­pi­tal fight, while Sharon­nie Per­ry, chair of Inter­faith's Com­mu­ni­ty Advi­so­ry Board, not­ed Thurs­day night that de Bla­sio has­n't been around as much late­ly. ​"We miss him," she said.
It will be a while before any per­ma­nent solu­tions are found for either LICH or Inter­faith, but the strug­gle of the work­ers and their com­mu­ni­ties to save the hos­pi­tals has already chal­lenged some of the basic assump­tions of the Amer­i­can health­care sys­tem. The rad­i­cal ideas that prof­it has no place in health­care, that patients deserve care whether or not they can make hos­pi­tal exec­u­tives rich, and that com­mu­ni­ties should be able to make deci­sions about the ser­vices that exist with­in it are out there before the broad­er public.
​"Both unions and the com­mu­ni­ty lead­ers, we have used every medi­um pos­si­ble to edu­cate the com­mu­ni­ty about what's going on," says Sad­dler-Walk­er. ​"They're real­ly aware of what is real­ly going on." That's includ­ed a ​"race for care" from under­served Red Hook to LICH, a pub­lic the­ater per­for­mance at Inter­faith, and reg­u­lar ral­lies, vig­ils and marches.
And as for the hos­pi­tals, she says, ​"We're still open for care, we make sure all our patients are safe and that the qual­i­ty of care that we give is one of the best."
Sarah Jaffe
is a for­mer staff writer at
In These Times
and author of
Nec­es­sary Trou­ble: Amer­i­cans in Revolt
, which Robin D.G. Kel­ley called ​
"
The most com­pelling social and polit­i­cal por­trait of our age." You can fol­low her on Twit­ter
@sarahljaffe
.