Better Treatment of Trans Women by Philly Police Could Have Averted Brutal Murder, Says Activist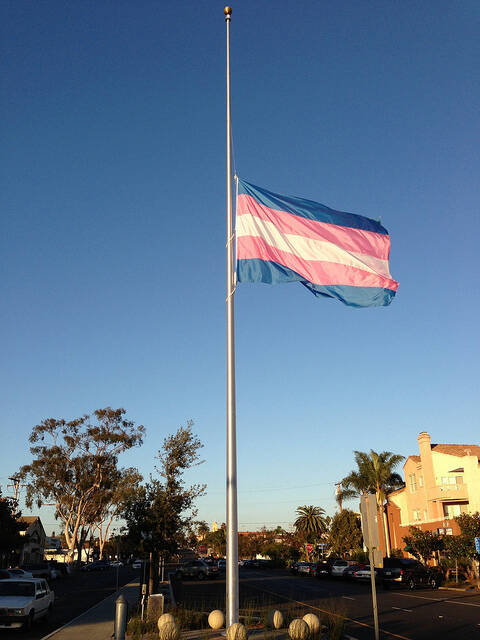 ​"We always seemed to real­ly click togeth­er, per­son­al­i­ty-wise," Aam­i­na Mor­ri­son says of Dia­mond Williams, whom she first met in a Philadel­phia LGBT youth group 12 years ago. ​"Like the issues of oppres­sion we shared or things that came up in her own tran­si­tion. She did­n't real­ize those lit­tle things she did for me right there helped me see the pos­si­bil­i­ty for who I am today."
Williams was bru­tal­ly mur­dered last month, her body dis­mem­bered and thrown in a field. A 43-year-old Philadel­phia man named Charles Sar­gent, who has pre­vi­ous­ly been charged with rape and aggra­vat­ed assault, con­fessed to the crime and led the police to Williams's remains. He will be tried for murder.
Mor­ri­son is now co-direc­tor of the peer-led Trans-Health Infor­ma­tion Project, which, along with oth­er LGBTQ and social jus­tice groups in Philadel­phia, is demand­ing jus­tice for Williams. They believe Williams was tar­get­ed because she was trans­gen­der and work­ing in the sex trade. Bring­ing Sar­gent to tri­al isn't enough, they say; they want changes to how police and the media respond to vio­lence against mem­bers of the trans­gen­der community.
Mor­ri­son has her own rea­son to believe that if Philadel­phia police treat­ed trans­gen­der vic­tims of vio­lence bet­ter, the friend she remem­bers from her youth group would still be alive. She says that when she saw Sargent's pho­to­graph in the press after his con­fes­sion, ​"it imme­di­ate­ly took me back to an inci­dent I had with him."
She was approached by Sar­gent in the win­ter of 2003, she tells In These Times. ​"I was between jobs at the time, and I had to go back to dif­fer­ent ends so I could be able to sur­vive." Sar­gent offered her a ride home, she says, ​"and I gave him a price for what­ev­er it was that he was look­ing for, and he com­plied. But some­thing seemed a lit­tle sketchy." He insist­ed that they park in an iso­lat­ed place. Mor­ri­son says that when Sar­gent asked her to reach across him to the over­head com­part­ment to take her mon­ey, ​"he put a knife to my neck and a gun to my side," and said he would kill her if she did­n't do ​"every­thing he asked."
He raped her, says Mor­ri­son. ​"It felt like for­ev­er. It felt like I would nev­er be able to get out of that car." When he was done, she recalls, he took back the mon­ey he paid her and the rest of the mon­ey from her purse. He told her to get out of his car and that if she ran, he would shoot her, she says. ​"I remem­ber him say­ing to me, ​'Look me in my eye,' Which is why, when I saw the pic­ture, I knew."
But when Sar­gent looked away, Mor­ri­son says, she took a chance and ran, and final­ly man­aged to escape when a taxi dri­ver stopped and posi­tioned the car so that she could safe­ly get in and avoid Sar­gent. ​"We did­n't say any­thing for about four blocks. And then he said, ​'I just had a feel­ing that you were in trou­ble,' and he took me home."
Mor­ri­son says she did not feel con­fi­dent that she could report Sar­gent to the police. A year ear­li­er, she says, she was assault­ed in a sim­i­lar inci­dent, and a police offi­cer found her after­ward and took her to the sta­tion to file a report. ​"But as soon as that offi­cer left, it was like the whole room changed," she remem­bers. The oth­er police called her names, Mor­ri­son says. ​"They told me, ​'We should have locked your ass up.' "
Stud­ies show that inter­ac­tions like this are com­mon, and make trans­gen­der peo­ple wary of report­ing crimes to police. More than one-quar­ter of trans women in the U.S. who went to the police for help in 2012 report­ed receiv­ing hos­tile treat­ment, accord­ing to an analy­sis [PDF] of reports of vio­lence against LGBTQ and HIV-affect­ed (LGBTQH) peo­ple con­duct­ed by the Nation­al Coali­tion of Anti-Vio­lence Pro­grams (NCAVP). The report also found that trans­gen­der women were 2.9 times more like­ly than cis­gen­der women to expe­ri­ence vio­lence from police when seek­ing help. Giv­en this, it's unsur­pris­ing that 43.5 per­cent of sur­vivors of anti-LGBTQH vio­lence sur­veyed by the NCAVP opt­ed not to go to the police.
​"I need to tell my sto­ry now," Mor­ri­son tells In These Times. After Dia­mond Williams's mur­der, Mor­ri­son learned ​"he's assault­ed oth­er girls, and they've been afraid to speak up about it."
Not anoth­er statistic
Dia­mond Williams's death is not only dis­turb­ing in itself; it is part of a dis­turb­ing pat­tern. ​"We con­tin­ue to see a dis­pro­por­tion­ate impact of dead­ly vio­lence against trans­gen­der peo­ple, trans­gen­der women and peo­ple of col­or," says Chai Jin­da­sur­at, co-direc­tor of com­mu­ni­ty orga­niz­ing and pub­lic advo­ca­cy at the New York Anti-Vio­lence Project, a mem­ber of the NCAVP. The group's 2012 report found that trans­gen­der women were the vic­tims of 53 per­cent of all anti-LGBTQH homicides.
​"We feel that we have to look at the root caus­es of why trans­gen­der women of col­or are being killed in dis­pro­por­tion­ate rates," says Jin­da­sur­at. One fac­tor is that trans­gen­der women face wide­spread dis­crim­i­na­tion in employ­ment and hous­ing, and as a result may be iso­lat­ed from sup­port and may also be per­ceived as vul­ner­a­ble. ​"When I look at the details of the cas­es," says Jin­da­sur­at, who co-authored the report, ​"many of the trans­gen­der women who are killed are low income, many of them are home­less, and many often may also be engaged in sex work."
​"We're also real­ly look­ing at where some of this starts, [includ­ing] the crim­i­nal­iza­tion of LGBTQ com­mu­ni­ties," says Jin­da­sur­at. When police pro­file these com­mu­ni­ties, trans­gen­der peo­ple are per­ceived as crim­i­nals even when they seek help — as when police threat­ened to lock up Mor­ri­son after she report­ed being assaulted.
The trans­gen­der com­mu­ni­ty in Philadel­phia is fed up with it all. ​"The ini­tial response [to Williams's death] was sad­ness, and then out­rage — that this is hap­pen­ing yet again," says Eli­cia Gon­za­les, exec­u­tive direc­tor of Philadel­phi­a's GALAEI, a queer Latin@ social jus­tice orga­ni­za­tion. Last Sep­tem­ber, Kyra Kruz, a trans­gen­der woman of col­or and activist, was mur­dered in Philadelphia.
​"The out­rage was inten­si­fied because the media did such a hor­ri­ble job — real­ly, I feel like, did a hate­ful job in report­ing the [Williams] case," Gon­za­les says. Reports of Williams's mur­der called her ​"a trans­gen­der pros­ti­tute" and used incor­rect male pro­nouns, or described her as a ​"male pros­ti­tute dressed as a woman." One ran an old mugshot instead of a reg­u­lar pho­to­graph. Mon­i­ca Roberts, blog­ging at Trans­gri­ot, point­ed out that media ran with this cov­er­age ​"with­out any attempt at bal­ance in terms of find­ing any­one in the trans com­mu­ni­ty who knew the vic­tim." LGBT media advo­ca­cy group GLAAD crit­i­cized local Philadel­phia media for run­ning ​"irrel­e­vant infor­ma­tion about her past."
Most trou­bling­ly, ear­ly cov­er­age of the mur­der by out­lets such as the New York Dai­ly News and Philadel­phi­a's NBC10 repeat­ed the Philadel­phia Police Department's claim that she was killed by Sar­gent after he ​"dis­cov­ered" she was trans­gen­der. ​"Accord­ing to the police, he pan­icked," says Mor­ri­son. ​"But accord­ing to myself and oth­er mem­bers of the trans com­mu­ni­ty, we are all aware of Mr. Sar­gent," includ­ing his past encoun­ters pay­ing trans­gen­der women for sex. ​"This seem­ing­ly dis­parate cry of ​'I did­n't know she was trans,' that's a very bold and straight-faced lie."
Com­mu­ni­ty mem­bers also point out that even if Sar­gent and Williams had been strangers, the idea that such a ​"dis­cov­ery" would explain Williams's mur­der is an attempt to blame the vic­tim. ​"I don't care if he knew or he did­n't know — no one deserved to die like that," said Williams's close friend Rachel Rose to local reporters at a vig­il at Love Park in July. ​"That's some­one's life — that he bru­tal­ly mur­dered. And dis­mem­bered. And threw her parts in a field."
​'Trayvon Mar­tin many times over'
As Sargent's case goes to tri­al, Mor­ri­son said she will turn her work towards the indi­vid­ual com­mu­ni­ty mem­bers, their griev­ing and their demands for account­abil­i­ty. With all the atten­tion to the Trayvon Mar­tin case, Mor­ri­son says, ​"and this is not to take any­thing away from him — but we have been Trayvon Mar­tin many times over. I have been bury­ing my broth­ers for many, many years. I have bury­ing my sis­ters for many, many years. We know the jus­tice sys­tem is not meant for us."
​"We are hop­ing, should [Sar­gent] get a hear­ing," says Mor­ri­son, ​"that we be present so he can see the many faces of the oth­er peo­ple he has vic­tim­ized and who have lived to tell the story."
Melis­sa Gira Grant
has writ­ten for
Slate, the Guardian
(UK), the
New York Observ­er
and
Jezebel
, among oth­ers. Fol­low her on Twit­ter: @melissagira.