'Budapest Hotel' Is Too 'Grand' To Function
Wes Anderson's latest film takes his signature style to a truly obnoxious level.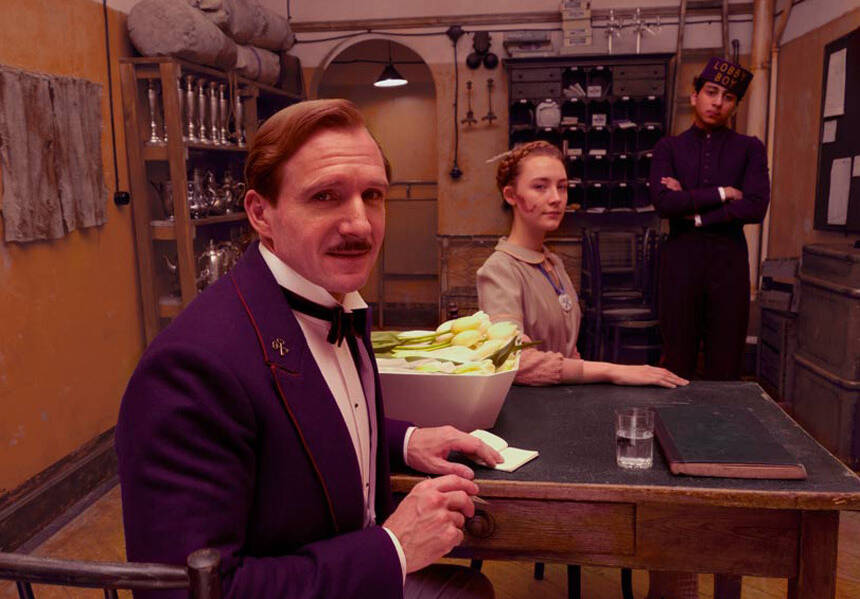 I can still remem­ber where I was — and, more impor­tant­ly, who I was — the first time I saw Wes Anderson's The Roy­al Tenen­baums. The year was 2001; I was a teenag­er, work­ing at an unpaid intern­ship at my Ohio hometown's sole ​"lit­er­ary cen­ter." I had no friends, no boyfriend for most of the time and only one goal: I was going to find a way out of Ohio and into New York City, so that I could be an hon­est-to-God Intellectual.
Somehow, Wes Anderson has become the Niles Crane of contemporary cinema. He's transformed himself from an oddball perfectionist into a snooty, pompous fussbudget.
And when The Roy­al Tenen­baums came out in the­aters, I watched it at least three times. At the time, it felt like a rev­e­la­tion. The clipped, ele­gant mid-cen­tu­ry-style dia­logue was beau­ti­ful. The micro-man­aged, can­dy-col­ored onset visu­als were excit­ing­ly weird. The metic­u­lous speci­fici­ty of the char­ac­ters — the way they behaved less like peo­ple than like car­toons, exhibit­ing the same nar­row range of per­son­al­i­ty traits and wear­ing the same out­fits in every pan­el — seemed like a way to tell a sto­ry while call­ing self-dep­re­cat­ing atten­tion to that story's artifice.
To me, every­thing in the film was aspi­ra­tional­ly upper-class: Sure, my extend­ed fam­i­ly lived in trail­ers and worked the night shift at gro­cery stores, but thanks to Joan Did­ion and Woody Allen (and now to Ander­son), I knew that real smart peo­ple, the kind I hoped to con­vinc­ing­ly imi­tate some­day, were all rich and ele­gant­ly dis­en­chant­ed about their rich­ness. The movie appeared to invoke about ten dif­fer­ent his­tor­i­cal eras, cher­ry-pick­ing only the trendi­est fash­ion state­ments from each one. And the music! Why, I myself lis­tened to this strange and obscure band called ​"the Vel­vet Under­ground!" Wes Ander­son seemed, star­tling­ly, to under­stand that very band's appeal — and, more broad­ly, the appeal of the entire inten­sive­ly twee and gen­tri­fied-Brook­lyn‑y world he por­trayed in his films.
It wasn't just me. When I moved to New York the fol­low­ing autumn, I went to a Hal­loween parade where I saw about two dozen dif­fer­ent Richie and/​or Mar­got Tenen­baums. For a while, Ander­son seemed like a watch­word for a cer­tain brand of ambi­tious, dis­con­tent young adult. You would throw out his name in con­ver­sa­tions with new friends or sug­gest see­ing his films on dates; a prop­er appre­ci­a­tion of The Roy­al Tenen­baums or Rush­more was ver­i­fi­ca­tion that some­one was worth your time, proof that they, like, got it. What­ev­er the hell ​"it" was. Now, as an adult woman, I have a grow­ing sus­pi­cion that the ​"it" we were all so eager to grab hold of was just anoth­er term for ​"being an insuf­fer­able, pre­ten­tious teenager."
Ander­son­'s sta­tus-obsessed, sur­face-wor­ship­ing approach to sto­ry­telling was use­ful if you were pret­ty sta­tus-obsessed and sur­face-focused your­self. But it's cur­dled over the years into some­thing unap­pe­tiz­ing. We grew up, but Wes Ander­son nev­er did.
The Grand Budapest Hotel, Anderson's lat­est effort, repeats all the tropes and quirks I once loved, inten­si­fy­ing them to the point of obnox­ious­ness. The movie's dia­logue has gone beyond ​"styl­ized" to impos­si­bly man­nered — some­one men­tions ​"neuras­the­nia" and ​"Ara­bi­an baths" with­in the first ten min­utes, and it only gets fanci­er from there on in. Though the Tenen­baum home or the inte­ri­ors of The Life Aquat­ic some­times sug­gest­ed doll­hous­es, the Grand Budapest Hotel is actu­al­ly por­trayed by a doll­house in sev­er­al shots. Visu­als that used to be detailed and metic­u­lous are now fussy and obses­sive: Would-be dra­mat­ic moments fal­ter and fade into the back­ground, as the view­er's eye is drawn away by the film­mak­er's dis­tract­ing and near­ly com­pul­sive need to arrange every shot into a Rubik's cube of inter­lock­ing rectangles.
And Ander­son has stuck to his spe­cif­ic vari­ety of sta­tus-con­scious humor: Rarely fun­ny-ha-ha, usu­al­ly fun­ny-some­one-is-less-cool-than-I-am. At the show­ing I attend­ed, peo­ple actu­al­ly gig­gled like a bunch of scan­dal­ized sev­en-year-olds at char­ac­ters who said the word ​"shit." I doubt that movie­go­ers actu­al­ly think the word ​"shit" is fun­ny, giv­en that we've all said it when spilling some­thing on a new sweater. (Not that any of Wes Anderson's char­ac­ters would dare to spill some­thing on them­selves; their out­fits are too fab­u­lous.) But say­ing a dirty word, with­in the fetishis­tic upper-crust con­text of an Ander­son movie, makes you sound crude, stu­pid, dif­fer­ent. To be pre­cise, it makes you sound poor.
Some­how, Wes Ander­son has become the Niles Crane of con­tem­po­rary cin­e­ma. He's trans­formed him­self from an odd­ball per­fec­tion­ist into a snooty, pompous fuss­bud­get. Though he still arranges gor­geous col­or palettes, strik­ing geo­met­ric frames, and era-blend­ing visions that are part French New Wave, part Vogue pho­to shoot, when he sticks his char­ac­ters into those shots, he bare­ly even lets them move. Human flesh and noise and body lan­guage — the stuff that most of us are used to think­ing of as ​"dra­ma," and the rea­son we refer to films col­lo­qui­al­ly as ​"movies" — have become unwel­come intru­sions in Wes Anderson's relent­less­ly pret­ty and sta­t­ic universe.
The sub­ject mat­ter of The Grand Budapest Hotel is a strik­ing­ly bad match for that aes­thet­ic. For one thing, it's the most vio­lent Ander­son movie I can recall: There are ser­i­al killers, gun­fights, jail­breaks, dis­mem­ber­ments and Nazi inva­sions on offer. And yet, these action scenes are shot with all the raw, kinet­ic, pulse-pound­ing pas­sion of an episode of Antiques Road­show. If you're look­ing for the fran­tic, swing­ing hand­held cam­era work of the fight scenes in Rush­more or Tenen­baums, you won't find it here, where the cam­era stands stock still in an art­ful­ly locat­ed posi­tion and refus­es to so much as zoom. And while sex is invoked and even pret­ty graph­i­cal­ly depict­ed — an Egon Schiele paint­ing of two women fuck­ing plays a piv­otal role — it's deployed as a joke, invit­ing us to gasp and smirk like mid­dle-school­ers who've uncov­ered a stash of Play­boys. In fact, Ander­son has become a strange­ly vir­ginal film­mak­er in the years since his love­ly pass­ing-a-sheet-over-the-lovers scene in Bot­tle Rock­et. Actu­al eroti­cism, actu­al sex, sim­ply wouldn't work for him any­more: There's too much sweat and spit and un-chore­o­graphed, unflat­ter­ing facial expres­sion involved. The actors would have to move around too much; they'd have to take off their fab­u­lous outfits.
This unwill­ing­ness to ground his char­ac­ters in real­i­ty, or in any­thing oth­er than care­ful­ly select­ed ref­er­ences and raw visu­al appeal, is Anderson's sig­na­ture ​"irony" at work. When Ander­son invokes a fic­tion­al­ized ver­sion of Nazism, he does so in order to give us a belea­guered, good-heart­ed sol­dier played by Edward Nor­ton. He also makes sure the régime's fas­cist logo — a thun­der­bolt-edged ​"ZZ" that view­ers will be unable to look at with­out men­tal­ly fill­ing in the ​"Top" — is a dar­ling shade of East­er-egg pink. That's meant to be incon­gru­ous and sil­ly, and in the abstract, it is. In prac­tice, though: Six mil­lion Jews died in the real-life ver­sion of Anderson's con­struct­ed total­i­tar­i­an­ism. Should the Holo­caust real­ly be cute?
And as Ander­son has become more and more will­ful­ly alien­at­ed from human­i­ty, his female char­ac­ters have been the ones to suf­fer most. Ander­son wasn't always bad with women. Think of the great scene in Rush­more when the teenage anti-hero Max Fis­ch­er — the kind of kid who rou­tine­ly brags about all the imag­i­nary ​"hand jobs" he's get­ting from women — tries to force a kiss on an adult teacher played by Olivia Williams. She shoves him away, hard, and she's both enraged and hor­ri­fied: ​"What do you real­ly think is going to hap­pen between us? Do you think we're going to have sex?" He demurs, calls her cheap. She paus­es, sizes him up, and rips him in half: ​"How would you describe it to your friends? Would you say you'd fin­gered me? Or maybe I could give you a hand job. Would that put an end to all of this?" He can't answer her. For one sec­ond, the cute sto­ry we think we know falls apart, and we see Max for who he real­ly is: a stalk­er and creep who's been run­ning on bor­rowed misog­y­nist swagger.
But Ander­son has nev­er writ­ten any­thing since to match that scene, and he seems unin­ter­est­ed in try­ing. These days, the writer-direc­tor can book an actress as unde­ni­ably watch­able as Til­da Swin­ton. But Grand Budapest Hotel uses the decid­ed­ly unelder­ly Swin­ton as an 84-year-old woman who's being sex­u­al­ly exploit­ed — appar­ent­ly humor­ous­ly, accord­ing to the film — by Budapest's hero. In one of Swinton's pre­cise­ly two scenes, she's a joke, flut­ter­ing and swoon­ing like Mar­garet Dumont in a Marx Broth­ers pic­ture; in the sec­ond, she does­n't even get that much to do, because she's play­ing a god­damned corpse. Short­ly after her death, her erst­while lover of 19 years, Gus­tave (Ralph Fiennes), refers to her as a ​"cheap­er cut" of meat thanks to her age, with younger women being ​"fil­let."
The only oth­er female char­ac­ter with a major role in the plot, a bak­er played by Saoirse Ronan, is described by Gus­tave, uniron­i­cal­ly, as beau­ti­ful ​"because of her puri­ty." Ronan's plot func­tion is pret­ty sim­ple: After learn­ing in an ear­ly flash-for­ward that she will die trag­i­cal­ly, audi­ences are invit­ed to spend the rest of the movie try­ing to guess who will bump her off. So for those keep­ing track: Accord­ing to the mod­ern Ander­son, women are either old, deval­ued ​"cheap­er cuts" whose sex­u­al­i­ty and need for love is a hilar­i­ous joke, or young, beau­ti­ful, ​"pure" vir­gins. But either way, they're dead meat.
I don't want to feel this way. I remem­ber how much I used to adore Anderson's work, and it's rarely per­son­al­ly or pro­fes­sion­al­ly ful­fill­ing to lose faith in an artist. On paper, Wes Ander­son still checks all the right box­es: I like film­mak­ers with strong­ly defined, high­ly indi­vid­ual aes­thet­ics. I like spec­ta­cle that serves no oth­er pur­pose but to be beau­ti­ful. I like wordy screen­writ­ing and struc­tur­al inno­va­tion; all that beau­ti­ful old-timey talk about neuras­the­nia ought to cap­ti­vate me, and the mul­ti-lay­ered flash­backs and six-act struc­ture of Grand Budapest Hotel should be refresh­ing. But some­how, the thrill is gone. Though Anderson's hyper-aes­theti­cized strange­ness once felt like an invi­ta­tion into a slight­ly more inter­est­ing uni­verse, it now feels pre­ten­tious and suf­fo­cat­ing, like being served a sump­tu­ous din­ner by a man who won't stop crit­i­ciz­ing your table manners.
It also feels strange­ly cru­el: Ander­son has no room for raw emo­tion, for un-self-con­scious pas­sion or pain, for any­thing resem­bling psy­cho­log­i­cal depth. He treats peo­ple like one more set of pret­ty objects, pur­chased and arranged to fill out the req­ui­site amount of space with­in a cam­era shot. This is now a man who can make a film about the loom­ing pseu­do-Holo­caust and devote most of his atten­tion to shots of elab­o­rate­ly iced pastries.
Either Ander­son has changed, or I have. But no mat­ter which one it is, Budapest Hotel feels like the end of some­thing. His sig­na­ture style has been inten­si­fied and exag­ger­at­ed to its break­ing point. From this point for­ward, Ander­son can either stag­nate, or let go of that aes­thet­ic and try to come up with some­thing new. I hope it's the lat­ter: If he ever got over try­ing to make Wes Ander­son movies, I think Wes Ander­son might be capa­ble of mak­ing a real­ly great film.