What the Supreme Court Doesn't See
Striking down clinic buffer zones doesn't protect free speech; it invites harassment.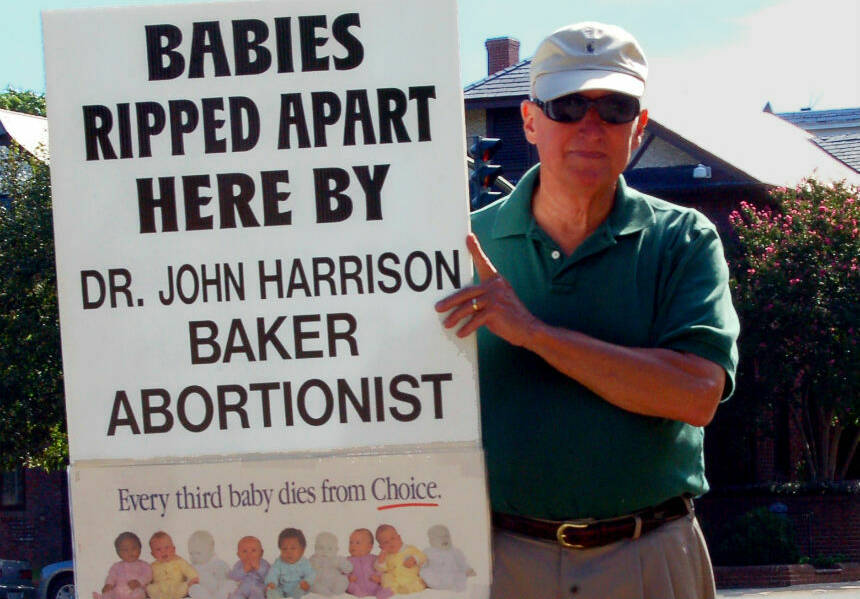 Reprint­ed with per­mis­sion from RH Real­i­ty Check.
I've had patients ask me, with terror in their eyes, 'Why are they doing this to me?'
This Sat­ur­day was like most Sat­ur­days for me. While oth­ers were head­ing for a run, for brunch, or even were still asleep, I was on a side­walk, wear­ing a neon-yel­low vest, wait­ing for patients at an abor­tion clinic.
I took a piece of bright orange chalk and care­ful­ly marked the eight-foot radius around the building's entrances. My clin­ic has a buffer zone.
On Thurs­day, the Supreme Court unan­i­mous­ly struck down Mass­a­chu­setts' 35-foot buffer zone. In a blow to patients in Mass­a­chu­setts and per­haps nation­wide, the Court ruled that the state's 35-foot buffer zone at abor­tion clin­ics vio­lates the First Amend­ment rights of anti-choice pro­test­ers. These pro­test­ers, the Court argued, aren't real­ly pro­test­ers at all, but rather ​"peti­tion­ers" who seek ​"to engage in per­son­al, car­ing, con­sen­su­al con­ver­sa­tions with women about var­i­ous alternatives."
If only the Supreme Court could see what I see every weekend.
It's easy to crit­i­cize buffer zones as inhibit­ing peace­ful, free speech if you don't see what I see on Sat­ur­day morn­ings. I believe fer­vent­ly in the right to free speech, but what hap­pens out­side of abor­tion clin­ics, whether at the last clin­ic in Mis­sis­sip­pi or at a clin­ic in ​"pro-choice" New Jer­sey, isn't peace­ful assem­bly. It is harass­ment, hid­ing behind the First Amend­ment. On Thurs­day, the Supreme Court said that the abuse and harass­ment so many patients expe­ri­ence at abor­tion clin­ics sim­ply doesn't mat­ter to them.
I've been a vol­un­teer escort at an abor­tion clin­ic in Engle­wood, New Jer­sey, for the past six months. For the first three months of my time as a clin­ic escort, our clin­ic had no buffer zone. Our clin­ic escort pro­gram was start­ed in Decem­ber 2013 by two incred­i­ble activists who orga­nized the pro­gram in response to the increas­ing vit­ri­ol that was tak­ing place in front of the clin­ic. My first few weeks on the side­walk were a rude awak­en­ing about abor­tion access in my own state, as I tried might­i­ly to walk patients through a lit­er­al gaunt­let of shame and intim­i­da­tion, as you can see here.
In that time, I have seen count­less women reduced to tears and shak­ing, just for try­ing to access the health­care to which they are con­sti­tu­tion­al­ly enti­tled. Pri­or to the imple­men­ta­tion of our buffer zone, there would be two men posi­tioned on either side of the door, film­ing the faces of every sin­gle patient and com­pan­ion who walked inside. I've had patients ask me, with ter­ror in their eyes, ​"Why are they doing this to me?" I have wit­nessed a man whose wife was ter­mi­nat­ing a want­ed preg­nan­cy due to a fetal anom­aly be lec­tured by an anti-choice ​"side­walk coun­selor" on why God has a plan for that ​"baby" and he should ​"be a man, Dad." I have watched as patients and com­pan­ions cov­er their face to avoid being filmed by the anti-choice pro­test­ers who put their images online. I have watched one of my fel­low clin­ic escorts be vio­lent­ly shoved by an anti-choice pro­test­er. I have per­son­al­ly been sex­u­al­ly harassed by an anti-choice protester.
In mid-March, the Engle­wood City Coun­cil vot­ed unan­i­mous­ly to enact an eight-foot buffer zone at the city's abor­tion clin­ics, among oth­er health­care facil­i­ties. The ordi­nance went into effect a few weeks lat­er, on April 1. The clin­ic has not been the same since.
While the anti-choice pro­test­ers are still there, the mood is notice­ably dif­fer­ent. Some of the"counselors" from a near­by cri­sis preg­nan­cy cen­ter still shove lit­er­a­ture filled with junk sci­ence into patients' faces, and yes, we still have some men who scream at patients and com­pan­ions who enter the clin­ic. This tells us that the buffer zone doesn't infringe on anyone's First Amend­ment rights; they are still free to inter­act with patients out­side of the eight-foot zone, and they are doing just that.
But the demeanor of patients over­all has real­ly changed. They feel safer know­ing that there is a space up ahead at which point no one can get in their faces. Anti-choice pro­test­ers have stopped overt­ly block­ing the side­walk, not allow­ing patients and their com­pan­ions to pass, and pro­test­ers have stopped phys­i­cal­ly jostling for dom­i­nance, shov­ing their backs and some­times elbows into escorts and occa­sion­al­ly patients. Patients aren't sub­ject to phys­i­cal harass­ment, and that isn't just a good thing — it's their right.
The rea­son that buffer zones are often cre­at­ed specif­i­cal­ly for abor­tion clin­ics is because this kind of harass­ment and intim­i­da­tion sim­ply doesn't exist in any oth­er branch of health­care. A patient seek­ing care for ton­sil­li­tis isn't told they've defiled their body, that God will pun­ish them for this deci­sion. A patient seek­ing care for a bro­ken arm won't be filmed against their will and have their images spread across the Inter­net with the words ​"mur­der­er" and ​"sin­ner" under­neath. But a patient seek­ing abor­tion care is sub­ject to all of this and more. A patient seek­ing abor­tion care is often treat­ed as less than human, all in the name of ​"free speech."
While the rul­ing is def­i­nite­ly a set­back for buffer zone laws and could con­tribute to the repeal of sim­i­lar buffer zones around the coun­try, the Supreme Court did not throw out buffer zones at abor­tion clin­ics entire­ly, as Jes­si­ca Mason Piek­lo notes. Instead, it found Mass­a­chu­setts' buffer zone to be uncon­sti­tu­tion­al because it bur­dens ​"sub­stan­tial­ly more speech than necessary."
In light of this rul­ing, I and oth­er Engle­wood clin­ic escorts remain con­fi­dent that the city'sbuffer zone law would hold up to a legal chal­lenge. Unlike Mass­a­chu­setts' law, Englewood's buffer zone law cre­ates an eight-foot buffer at all of the city's health­care facil­i­ties as well as tran­si­tion­al facil­i­ties, like domes­tic vio­lence and sex­u­al assault shel­ters. Englewood's buffer zone isn't specif­i­cal­ly about abor­tion — though, it's clear these clin­ics need buffer zones most — but about allow­ing peo­ple to freely access all types of care to which they are con­sti­tu­tion­al­ly entitled.
This Sat­ur­day, after the rul­ing, it was sur­pris­ing­ly qui­et at the Engle­wood clin­ic. We had our usu­al cast of char­ac­ters, but the calm after the pre-buffer zone storm con­tin­ued. That's a tes­ta­ment to our buffer zone: Even after such a dra­mat­ic, emo­tion­al rul­ing for all sides on this issue, patients were still able to access the clin­ic. They were still able to get in the door with­out fear­ing for their phys­i­cal safe­ty. That's a vic­to­ry for Engle­wood, for patients, and for our democracy.
I don't know what the future holds for buffer zone leg­is­la­tion in Engle­wood or any­where else — if, for instance, every sin­gle buffer zone law will be struck down, domi­no-style. But I sin­cere­ly hope that every per­son who feels that buffer zones infringe on the First Amend­ment rights of ​"peace­ful pro­test­ers" takes a lit­tle time out of their Sat­ur­day morn­ing to see what real­ly goes on at abor­tion clin­ics, to expe­ri­ence first­hand the hor­ren­dous abuse and ter­ri­fy­ing intim­i­da­tion that patients endure in order to access con­sti­tu­tion­al­ly pro­tect­ed health care.
I will con­tin­ue to wield that bright orange chalk with pride because I know that, for now, our buffer zone is in effect. It is the law. And, most impor­tant­ly, it works.
Lau­ren Rankin
is a fem­i­nist writer and activist. Her work has appeared at pub­li­ca­tions such as Salon and TruthOut. Cur­rent­ly a grad­u­ate stu­dent in Wom­en's and Gen­der Stud­ies at Rut­gers Uni­ver­si­ty, she focus­es on repro­duc­tive pol­i­tics and the polit­i­cal use of shame. Fol­low her on twit­ter at @laurenarankin.