Meet the Group of African-American Organizers Building Black Support for Bernie Sanders
Will grassroots organizing within the black electorate be able to challenge Clinton's hegemony?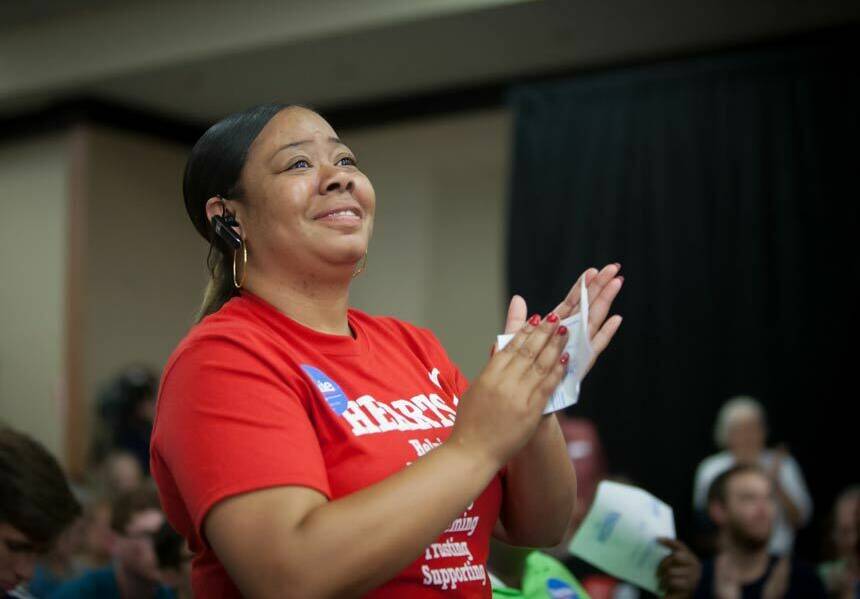 Will Cros­by, 63, a vet­er­an polit­i­cal orga­niz­er in Chicago's bruis­ing elec­toral bat­tles, is wor­ried that the black com­mu­ni­ty will be caught flat-foot­ed in the 2016 pres­i­den­tial campaign.
As his campaign understands, unless he can ignite the so-called Obama coalition that includes youth, people of color and single women, his likelihood of victory goes from remote to infinitesimal.
The way he sees things, too much of the black elec­torate is sleep­walk­ing in lock­step sup­port of Hillary Clin­ton. She is by far the black electorate's favored can­di­date, with an 80 per­cent approval rate.
But Cros­by thinks Bernie Sanders is the best pres­i­den­tial can­di­date for African Amer­i­cans. ​"Bernie Sanders is talk­ing about issues that direct­ly affect our com­mu­ni­ty and he's doing it in a fear­less way," Cros­by says. Unfor­tu­nate­ly, he adds, Sanders' mes­sage has yet to pen­e­trate into the black community.
Cros­by and oth­er Chica­go-based black activists have formed a group called the Bernie Brigade that attempts to show­case Sanders' pro­gres­sive plat­form and long his­to­ry of sup­port for the black strug­gle. The group can­vass­es for Sanders in major­i­ty-black neigh­bor­hoods and holds pro-Sanders events. ​"We're still very much engaged in an edu­ca­tion­al process," he notes. ​"Many in our com­mu­ni­ty are unfa­mil­iar with Bernie. They just see an elder­ly white man from remote, white Ver­mont. And, quite frankly, that's a hard sell."
Cros­by says atti­tudes are eas­i­ly changed when they hear Sanders' polit­i­cal spiel and his pol­i­cy pre­scrip­tions, espe­cial­ly on reform­ing the crim­i­nal jus­tice sys­tem and curb­ing wealth inequal­i­ty. But a black elec­torate that feels warm­ly toward Clin­ton may not take the time to lis­ten. Accord­ing to a CNN poll from June, Sanders had the sup­port of just 2 per­cent of black Democrats.
The Bernie Brigade is strug­gling to get polit­i­cal trac­tion in a city still raw from recent hard-fought bat­tles for both Illi­nois gov­er­nor and Chica­go may­or. The group includes many mem­bers who were bit­ter antag­o­nists in those elec­tions. ​"If Bernie can bring us togeth­er for one cause, I know he can grow his appeal to the larg­er black com­mu­ni­ty," Cros­by says.
That's essen­tial for Sanders. As his cam­paign under­stands, unless he can ignite the so-called Oba­ma coali­tion that includes youth, peo­ple of col­or and sin­gle women, his like­li­hood of vic­to­ry goes from remote to infinitesimal.
In 2012, the per­cent­age of black vot­er turnout sur­passed white vot­er turnout for the first time in his­to­ry and, in large part, account­ed for Obama's re-elec­tion. But with­out Oba­ma as a can­di­date, gen­er­at­ing that kind of elec­toral enthu­si­asm seems unlikely.
Sanders faces a prob­lem that often con­fronts pro­gres­sive mav­er­icks who strike a chord with an enthu­si­as­tic sliv­er of the Demo­c­ra­t­ic elec­torate, but who rou­tine­ly fail to ring a bell with vot­ers of col­or — Paul Tsongas, Gary Hart, Jer­ry Brown, Eugene McCarthy. These can­di­dates have often been blind­ed by cul­tur­al assump­tions that deval­ue the sen­si­bil­i­ties of the black com­mu­ni­ty. Adding to this tra­di­tion­al dis­tance is Sanders' decid­ed­ly old-school brand of social­ist pol­i­tics, which is devot­ed to the mate­ri­al­ist notion that eco­nom­ics pri­mar­i­ly shape the sociopo­lit­i­cal agen­da. In that for­mu­la­tion, race is super­struc­tur­al — a mere appendage to the means of production.
But in 21st-cen­tu­ry Amer­i­ca, race is fun­da­men­tal. Sanders was rude­ly informed of this when Black Lives Mat­ter activists inter­rupt­ed his speech­es dur­ing two cam­paign stops. These dis­rup­tions have forced Sanders to read­just his pol­i­cy plat­form and stump speech­es, which now include dia­tribes against insti­tu­tion­al racism and the crim­i­nal­iza­tion of the black community.
If Sanders stands a chance, black vot­ers will have to be con­vinced, again, that Clin­ton is not the best can­di­date. A black man con­vinced them last time; can an elder­ly white man do it this time?
Some are already con­vinced. ​"Bernie Sanders' goals for the coun­try line up with mine bet­ter than those of any oth­er can­di­date in the race," says Stel­la Het­her­ing­ton, a Chica­go res­i­dent who orga­nized one of the many ​"African-Amer­i­cans for Bernie Sanders" Face­book groups. ​"Even if he didn't direct­ly address black issues, the issues he does address will still have a pos­i­tive effect on our lives."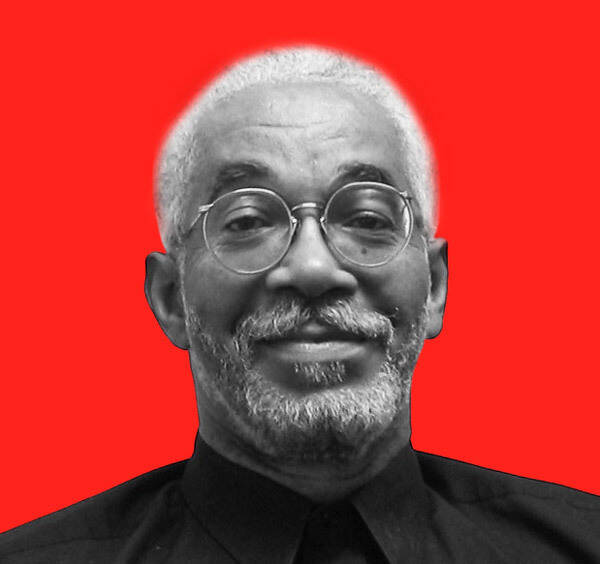 Sal­im Muwakkil
is a senior edi­tor of
In These Times
, where he has worked since
1983
. He is the host of The
Sal­im Muwakkil
show on WVON, Chicago's his­toric black radio sta­tion, and he wrote the text for the book
HAROLD: Pho­tographs from the Harold Wash­ing­ton Years
.