Building Parent-Teacher Unions
Inspired by Chicago, teachers unions across the country are looking to parents and communities for support.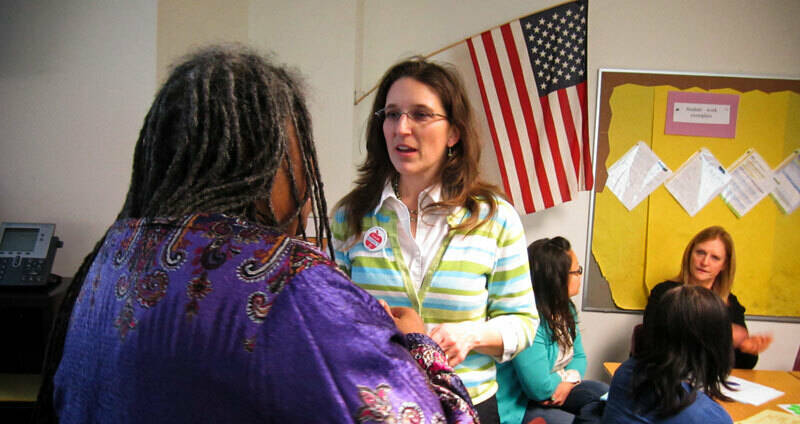 On a Sat­ur­day after­noon in ear­ly March, some 60 peo­ple packed into a class­room at a tech­ni­cal high school north of Saint Paul, Minn., to dis­cuss the strate­gic course of Saint Paul Fed­er­a­tion of Teach­ers (SPFT) Local 28's upcom­ing con­tract nego­ti­a­tions. The remark­able thing is that most of them were not card-car­ry­ing union mem­bers, or even teach­ers. They were stu­dents, par­ents and com­mu­ni­ty activists con­cerned about their schools and the attack on pub­lic education.
'The idea behind the home visit is that you come as a guest in their home,' says Ricker. 'You start by asking only two questions: "What are your hopes and dreams for your child?" and "How can we support you?" '
Dur­ing the ses­sion, one group focused on the needs of teach­ers by answer­ing the sim­ple, yet impor­tant, prompt, ​"If you had the best school in the world, what would teach­ers deserve?" The oth­er focused on stu­dents and asked, ​"If you had the best school in the world, what would stu­dents look like?"
The answers from the two groups mir­rored each oth­er. They called for wages and work­ing con­di­tions that sus­tain a teach­ing career and long-term pro­fes­sion­al growth, small­er class sizes, a focus on inter­dis­ci­pli­nary and expe­ri­en­tial learn­ing, an empha­sis on teach­ing over test­ing, and time set aside to allow stu­dents to learn, process and grow.
The ses­sion reflects what SPFT Pres­i­dent Mary Cathryn Rick­er calls the ​"new mod­el" of com­mu­ni­ty involve­ment, ​"with teach­ers, and par­ents, at the cen­ter of advo­cat­ing for their pro­fes­sion, as opposed to teach­ers stand­ing on the side­lines."
The suc­cess of the 2012 Chica­go Teach­ers Union (CTU) strike embold­ened and inspired oth­er teacher orga­ni­za­tions such as the SPFT by demon­strat­ing what strong com­mu­ni­ty alliances can do. ​"We're very con­scious of the false nar­ra­tive in our soci­ety — that what teach­ers want is dif­fer­ent from what par­ents and com­mu­ni­ties want," says Paul Rohlf­ing, an SPFT mem­ber who joined the Chica­go strike and worked with 12 schools on the South Side. He wit­nessed Chica­go teach­ers engag­ing their com­mu­ni­ties and explain­ing to par­ents the con­se­quences of the war on pub­lic edu­ca­tion. That engage­ment paid off: Even as the nation­al media and main­stream politi­cians maligned the sev­en-day strike, polls showed Chicagoans sup­port­ed the union, 55 per­cent to 40 per­cent. This sup­port helped the CTU hold firm until a con­tract agree­ment could be reached.
Such alliance-build­ing strate­gies are not entire­ly new — for years, unions from Saint Paul to Chica­go to Oak­land have been build­ing rela­tion­ships with com­mu­ni­ty orga­ni­za­tions. In the past, these rela­tion­ships have been most­ly trans­ac­tion­al, such as buy­ing a table at an annu­al fundrais­er. But today's exis­ten­tial threat to orga­nized labor adds a new sense of urgency, as unions real­ize they must deep­en com­mu­ni­ty rela­tion­ships as bul­warks of defense.
SPFT has been ahead of the curve. Since 2011, the union has embraced Minnesota's open meet­ings law — which makes teacher con­tract nego­ti­a­tions open to the pub­lic — and encour­aged the com­mu­ni­ty to attend and tes­ti­fy. As many as 100 com­mu­ni­ty mem­bers attend­ed ses­sions of the SPFT's last round of con­tract nego­ti­a­tions, which end­ed in Jan­u­ary 2012. Com­mu­ni­ty mem­bers influ­enced the final con­tract by secur­ing a cap on class sizes.
The local is gear­ing up for its next round of nego­ti­a­tions in May, encour­ag­ing par­ents and activists to take part in these meet­ings as a way for teach­ers to learn from com­mu­ni­ty mem­bers what their chil­dren need at school and for the com­mu­ni­ty to under­stand what teach­ers need in order to help.
This strat­e­gy is spread­ing. The Amer­i­can Fed­er­a­tion of Teach­ers (AFT) is now hold­ing sim­i­lar com­mu­ni­ty town halls in 12 cities, and AFT has invit­ed three com­mu­ni­ty mem­bers and two union teach­ers from each of those cities to speak at its nation­al con­fer­ence in April.
Because SPFT believes com­mu­ni­ty involve­ment must be rec­i­p­ro­cal as well, the union hasn't just been invit­ing par­ents into its ter­ri­to­ry; the union has also been invit­ing its teach­ers into their stu­dents' lives out­side of the class­room. ​"When an edu­ca­tor looks at an issue, we can almost always draw that line to how improv­ing con­di­tions [in the home envi­ron­ment] will improve teach­ing and learn­ing con­di­tions," says Rick­er.
A major val­i­da­tion of this approach came in 2007 when then-Repub­li­can Gov. Tim Paw­len­ty signed his ​"Cov­er All Kids" bill into law, which expand­ed health­care access to approx­i­mate­ly 40,000 more Min­neso­ta chil­dren. Among those urg­ing the leg­is­la­tion had been SPFT school nurs­es tes­ti­fy­ing at the Capi­tol about set­ting up triage care in their offices to deal with oth­er­wise treat­able afflic­tions, such as pink­eye, impeti­go and even head lice.
SPFT is also work­ing with hous­ing jus­tice groups such as Neigh­bor­hoods Orga­niz­ing for Change to push for a legal mora­to­ri­um on evict­ing fam­i­lies with school-age chil­dren dur­ing the school year, and team­ing up with the Sec­ond Chance Coali­tion and Take­Ac­tion, Minnesota's ​"Jus­tice 4 All" cam­paign to empha­size reha­bil­i­ta­tion, civic engage­ment and rein­te­gra­tion for crim­i­nals, instead of prison and punishment.
Local 28 has also part­nered with the Parent/​Teacher Home Vis­it Project, which began in Sacra­men­to, Calif., 15 years ago and has since blos­somed nation­wide. ​"The idea behind the home vis­it is that you come as a guest in their home," says Rick­er. ​"You start by ask­ing only two ques­tions: ​'What are your hopes and dreams for your child?' and ​'How can we sup­port you?'"
If the Chica­go teach­ers' strike and SPFT's pre­vi­ous con­tract nego­ti­a­tions are any indi­ca­tion, the com­mu­ni­ty will rec­i­p­ro­cate by sup­port­ing their teach­ers and pub­lic edu­ca­tion sys­tem in the bat­tles to come.