How Did Minnesota Stay Blue in the Midterms? By Embracing, Not Running From, Progressive Values
Minnesota bucked the nationwide swing to the right. The national Democratic Party could learn a few things from how they did it.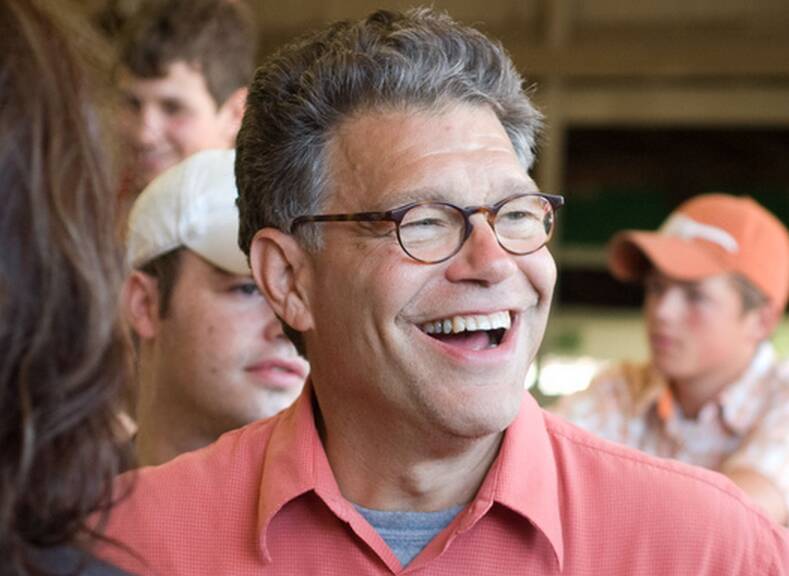 In the land of Lake Wobe­gon, pro­gres­sives still reign.
How did Minnesota Democrats do it? By focusing on women's issues, fair pay and raising the minimum wage, and by championing—not running away from—progressive accomplishments such as workers' rights and President Obama's Affordable Care Act.
Repub­li­cans gave Democ­rats a nation­al whol­lop­ing dur­ing Tuesday's midterm elec­tions, seiz­ing the Sen­ate, expand­ing their lead in the House, and gob­bling up gov­er­nors' man­sions in Mary­land, Mass­a­chu­setts and Illinois.
But Min­neso­ta bucked the right­ward trend. In the upper Mid­west­ern state known for pro­gres­sive pol­i­tics, Scan­di­na­vian sen­si­bil­i­ty and high vot­er turnout, Al Franken eas­i­ly held onto his U.S. Sen­ate seat (win­ning 53 per­cent of the vote), Gov­er­nor Mark Day­ton con­vinc­ing­ly won reelec­tion (by 5.5 per­cent), and the Demo­c­ra­t­ic-Farm-Labor Par­ty (DFL) held onto five of its eight Con­gres­sion­al seats.
Franken's and Dayton's land­slide vic­to­ries were par­tic­u­lar­ly note­wor­thy because each of them had to endure statewide recounts in their ini­tial runs for office. Franken won in 2008 — a ​"wave year" for Democ­rats — by only 312 votes. (He lat­er jok­ing­ly called that ​"the most effi­cient Sen­ate race in his­to­ry.") Day­ton won his first guber­na­to­r­i­al elec­tion in 2010 by less than 9,000 votes.
Repub­li­cans did regain con­trol of the State House by oust­ing 11 DFL incum­bents, most­ly in rur­al Min­neso­ta: they now have a four-seat major­i­ty (Democ­rats con­trol the State Sen­ate, which was not up for reelec­tion this year). But the GOP failed to win seats in all but one of the first-ring sub­urbs of the Twin Cities, despite sev­er­al tight races. In typ­i­cal midterm elec­tion years, House seats in the sub­urbs of Eagan, Edi­na, Shore­view and Min­neton­ka would typ­i­cal­ly swing red. This year, they all remained blue.
The DFL's suc­cess­ful defense of the sub­urbs around Min­neapo­lis and St. Paul, and con­vinc­ing vic­to­ries for Day­ton and Franken, could offer valu­able lessons for pro­gres­sives nation­wide as they lick their wounds and try to devel­op an effec­tive polit­i­cal strat­e­gy for 2016.
How did Min­neso­ta Democ­rats do it? By focus­ing on women's issues, fair pay and rais­ing the min­i­mum wage, and by cham­pi­oning — not run­ning away from — pro­gres­sive accom­plish­ments such as work­ers' rights and Pres­i­dent Obama's Afford­able Care Act.
The com­mu­ni­ty orga­niz­ing group Take­Ac­tion Min­neso­ta has focused much of its atten­tion on build­ing infra­struc­ture and form­ing rela­tion­ships in those first-ring sub­urbs, and bring­ing con­ver­sa­tions about eco­nom­ic inequal­i­ty and gen­der inequity to people's doorsteps.
"We've been orga­niz­ing in the sub­urbs — build­ing rela­tion­ships, recruit­ing vol­un­teers, knock­ing on doors and work­ing the phones," said Take­Ac­tion com­mu­ni­ca­tions direc­tor Gre­ta Bergstrom. ​"The issues we focused on were women's eco­nom­ic secu­ri­ty, pay equi­ty and rais­ing the min­i­mum wage. These are issues that poll high­ly in Min­neso­ta, and we didn't see Repub­li­cans attack­ing or oppos­ing us on those issues."
It doesn't hurt that the Twin Cities' first-ring sub­urbs, like sub­urbs across Amer­i­ca, are becom­ing more eth­ni­cal­ly and eco­nom­i­cal­ly diverse. It also didn't hurt that Mike McFad­den, an invest­ment banker who lost to Al Franken in the U.S. Sen­ate race, fared poor­ly with Min­neso­ta women on Tues­day. The DFL par­ty suc­cess­ful­ly por­trayed McFad­den as run­ning a white male-cen­tered cam­paign that offered lit­tle in the way of women's issues. The par­ty lumped him togeth­er with Wis­con­sin Repub­li­can Sen­a­tor Ron John­son, who vot­ed against the Vio­lence Against Women Act and the Pay­check Fair­ness Act.
Mar­riage equal­i­ty, which Min­neso­ta passed in 2013 after State House and Sen­ate Repub­li­cans failed to con­sti­tu­tion­al­ly ban it on the 2012 bal­lot, also did not reemerge as a deci­sive issue in the sub­urbs, though some thought it would. In fact, some House Repub­li­cans who had vot­ed against gay mar­riage lost on Tuesday.
Mike McIn­tee, who lives in Eagan and is exec­u­tive pro­duc­er of The UpTake, a cit­i­zen jour­nal­ism-dri­ven, online video stream­ing web­site, has seen his first-ring sub­urb change polit­i­cal­ly. The res­i­dents of Eagan's cul-de-sacs no longer exclu­sive­ly resem­ble an episode of The Brady Bunch, but include dif­fer­ent eth­nic­i­ties and low-income housing.
"There's a core group of hard-work­ing vol­un­teers who have done work to sup­port the DFL and their can­di­dates," said McIn­tee. ​"The par­ty has also done a good job of research­ing and reach­ing out to res­i­dents who are more tran­sient or not as polit­i­cal­ly engaged."
McIn­tee also cred­its the work of Pro­tect Min­neso­ta, which works to end gun vio­lence by turn­ing it into a polit­i­cal issue in urban and sub­ur­ban areas. Pro­tect Min­neso­ta sent out mail­ers this elec­tion sea­son attack­ing can­di­dates who opposed gun con­trol. Its gun-safe­ty cham­pi­ons who won on Tues­day include Ron Erhardt, who rep­re­sents the sub­urb of Edi­na. Mean­while, the Nation­al Rifle Association's influ­ence may be wan­ing in Min­neso­ta. Three rur­al DFLers who were endorsed by the NRA all lost.
But more than any­thing, Franken's and Dayton's embrace of pro­gres­sive val­ues, and resist­ing temp­ta­tions to run to the cen­ter, was what kept Min­neso­ta blue on Tuesday.
"They tout­ed they were for increas­ing the min­i­mum wage, work­ers rights and tax­ing the rich and mak­ing them pay their fair share," said McIn­tee. ​"This res­onat­ed with peo­ple who have been kicked around by the econ­o­my. Call it pop­ulist, but these are issues that have been Demo­c­ra­t­ic for a long time."