Building Trades Activists Protest Trump to His Face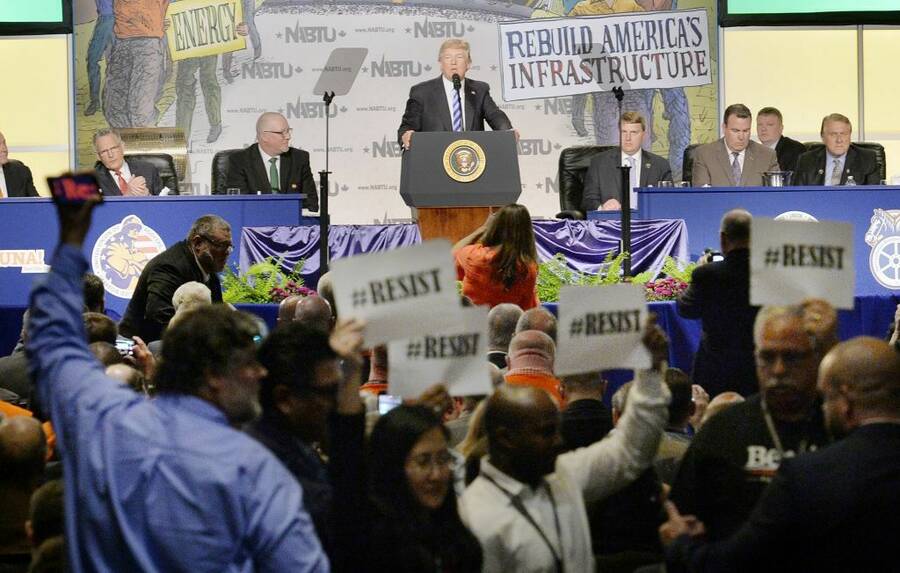 This arti­cle was first post­ed by Labor Notes.
When they heard Pres­i­dent Don­ald Trump would address the Build­ing Trades nation­al leg­isla­tive con­fer­ence, activists from Elec­tri­cal Work­ers (IBEW) Local 569 knew they had to do something.
"We couldn't let him come and speak to us and just sit there," said William Sted­ham, a ​"worka­day Joe" and exec­u­tive board mem­ber of the San Diego-based local. ​"If we hadn't, every­one would think that the Build­ing Trades was on board with him 100 per­cent, and we're not."
So a few min­utes into his speech, six of them stood up with signs that said ​"Resist" and turned their backs on the bil­lion­aire-in-chief. The ges­ture flew in the face of a direc­tive from Build­ing Trades lead­er­ship that atten­dees should ​"be on their best behavior."
Demon­stra­tors includ­ed the polit­i­cal direc­tor and busi­ness man­ag­er of Local 569 as well as the pres­i­dent and polit­i­cal direc­tor of the San Diego Build­ing Trades.
San Diego activists are hot about Trump's deci­sion to appoint a top lob­by­ist from the anti-union Asso­ci­a­tion of Build­ing Con­trac­tors to a key role on his incom­ing Depart­ment of Labor team.
They're also furi­ous that for­mer Her­itage Foun­da­tion staffer James Sherk is now the White House Domes­tic Pol­i­cy Council's labor and employ­ment advis­er. Sherk has writ­ten a seem­ing­ly infi­nite num­ber of arti­cles attack­ing union work­ers. A sam­ple: fre­quent pieces attack­ing min­i­mum wage increas­es, an argu­ment in favor of requir­ing unions to be re-cer­ti­fied every two to four years à la Scott Walker's Wis­con­sin, and a report titled ​"Right to Work Increas­es Jobs and Choic­es."
"The things we've been fight­ing hard for — more project labor agree­ments, more local-hire agree­ments, and bet­ter train­ing and work­place safe­ty — none of them are being sup­port­ed by the Trump admin­is­tra­tion," says Gretchen New­som, polit­i­cal direc­tor of Local 569.
"

That took guts"

The annu­al con­fer­ence draws 2,000 del­e­gates from build­ing trades unions across the U.S. and Cana­da. It took place in the Wash­ing­ton Hilton, the same hotel where Ronald Rea­gan was shot after giv­ing a speech to the same group near­ly 36 years ago to the day. (Just four months lat­er, Rea­gan fired 11,000 strik­ing air traf­fic con­trollers, ush­er­ing in a cas­cade of union-bust­ing from which the labor move­ment has yet to recover.)

The protest was a silent one, a strate­gic deci­sion by the activists. ​"One of the things that Trump real­ly likes is that when peo­ple are angry with him and volatile, he becomes volatile — so we want­ed to do a silent protest," New­som said.

Nev­er­the­less, it man­aged to be dis­rup­tive. Secu­ri­ty snatched their signs and yanked the demon­stra­tors out of the room. ​"Our polit­i­cal direc­tor, she had a satchel full of 8 ½ by 11 sheets that said ​'Resist,' so every time they pulled them away from her, she pulled out anoth­er one, and anoth­er one. I think she did it six times," said Sted­ham, who proud­ly sport­ed a Bernie Sanders T‑shirt dur­ing the action. (Local 569 endorsed Sanders in the primary.)

Audi­ence reac­tions were split, Sted­ham said. ​"There were jeers from the crowd, half a dozen yelling ​'Sit down, sit down,' and then there were a cou­ple of oth­er voic­es say­ing, ​'Leave ​'em alone' or ​'Let them stand.'"

After­wards the pro­test­ers received a pos­i­tive response from oth­er del­e­gates. ​"I'm still wear­ing my Bernie shirt, and I've had dozens of peo­ple com­ing up and shak­ing my hand, say­ing, ​'Thank you — that took guts,'" said Sted­ham, speak­ing from his hotel room a cou­ple hours lat­er. ​"I've had busi­ness man­agers from oth­er trades come up to me and giv­ing me their cards."
Don't trust him
The demon­stra­tors said they don't trust Trump's talk about jobs. ​"There are dozens and dozens of union con­trac­tors that have had to sue him to get paid," Sted­ham said. Those include IBEW sig­na­to­ry con­trac­tor AES Elec­tri­cal, which in Jan­u­ary sued Trump's Wash­ing­ton, D.C., hotel for $2 mil­lion in unpaid work done to get the hotel open pri­or to Elec­tion Day.
"He's say­ing things that on their face might sound good," said New­som. ​"But he doesn't once men­tion that he's going to rebuild Amer­i­ca with pre­vail­ing wages, or say that we're going to be doing projects with local hires or project labor agreements."
Pre­vail­ing wage laws like the fed­er­al Davis-Bacon Act require con­trac­tors using pub­lic mon­ey to pay a spe­cif­ic wage and ben­e­fit pack­age to work­ers, based on the most com­mon rate for a trade in a local area. In places where unions are rel­a­tive­ly strong, this rate is usu­al­ly equiv­a­lent to the union rate. Such laws pro­tect against the race-to-the-bot­tom in the high­ly com­pet­i­tive con­struc­tion industry.
"We have no faith that he's going to deal with us in good faith," said Sted­ham. ​"With Davis-Bacon, I can very eas­i­ly see him sit­ting at the table with us and try­ing to cut some deal over this $2 tril­lion in infra­struc­ture projects where he says, ​'That's got to go.'" Sherk, now posi­tioned as one of Trump's top labor and econ­o­my pol­i­cy advis­ers, authored a screed against pre­vail­ing wages titled ​"Why the Davis-Bacon Act Should Be Repealed."
"He's already cut back on OSHA report­ing and safe­ty," said Sted­ham. He doesn't like the president's sex­ism, either: ​"I have a wife and two teenage daugh­ters, and I don't want them to grow up in this coun­try with this pres­i­dent and his cabinet."
Local 569 mem­bers are also con­cerned about Trump's posi­tion on cli­mate change. ​"We do a lot of work relat­ed to renew­able ener­gy — solar, geot­her­mal, wind," said New­som. Many mem­bers have been work­ing in the Impe­r­i­al Val­ley, east of San Diego, installing desert solar arrays. ​"When you have a pres­i­den­cy that denies that cli­mate change exists, and is active­ly try­ing to seek the end of the Envi­ron­men­tal Pro­tec­tion Agency, we're very con­cerned," she said.
Sted­ham is sym­pa­thet­ic to union locals near pro­posed pipelines like Dako­ta Access and Key­stone XL, though he per­son­al­ly oppos­es both. ​"I under­stand those locals," he said. ​"They need to pur­sue work, and that's their in-house dis­cus­sion. But I don't think that we should chase work just for the idea of get­ting work. We need to be respon­si­ble. I think we have to be social­ly and envi­ron­men­tal­ly con­scious when we pur­sue work."