NAFTA Renegotiations Are No Cure-All, But They Might Slow the Bleeding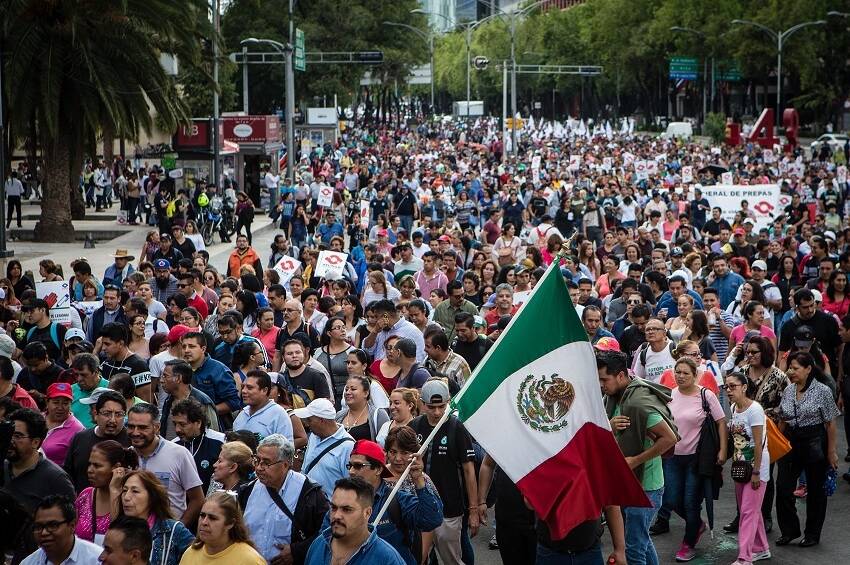 What does a rene­go­ti­at­ed NAF­TA mean for work­ers in the U.S., Cana­da, and Mex­i­co? At best, it might stem some of the bleeding.
The pres­i­dents of the U.S. and Mex­i­co announced on August 27 that they had reached a deal. A month lat­er, Cana­da is still out of the agree­ment, though nego­ti­a­tions are like­ly to con­tin­ue over the next few months. Text of the draft deal between the U.S. and Mex­i­co may be pub­lished as soon as today.
Work­ers in all three coun­tries have suf­fered under a decades-long cor­po­rate offen­sive. Unions and civ­il soci­ety groups have long pushed to amend or scrap the 24-year-old agreement.
NAF­TA is blamed for the loss of over a mil­lion man­u­fac­tur­ing jobs from the U.S. and Cana­da to low-wage Mex­i­co. It also dec­i­mat­ed Mex­i­can farm­ers and small busi­ness­es, help­ing spur migra­tion to urban areas and into the U.S.
On the cam­paign trail, now-Pres­i­dent Trump pledged to pull the U.S. out of what he termed ​"the worst trade deal ever." Once in office, he shift­ed to rene­go­ti­at­ing it.
New rules for cars
The ten­ta­tive pact between the U.S. and Mex­i­co would require that any vehi­cle sold in the U.S. must have 75 per­cent North Amer­i­can con­tent, or else face a 2.5 per­cent import tar­iff. That's up from the exist­ing 62.5 per­cent requirement.
Forty to 45 per­cent of a vehi­cle would have to be built by work­ers mak­ing at least $16 an hour — mean­ing U.S. and Cana­di­an work­ers (assum­ing Cana­da is even­tu­al­ly includ­ed), although it's pos­si­ble work done in coun­tries like Ger­many and South Korea could also be included.
Wages for Mex­i­can auto work­ers aver­aged $7.34 an hour in assem­bly and $3.41 in auto parts last year, accord­ing to the Cen­ter for Auto­mo­tive Research. Indus­try spokes­peo­ple have ruled out rais­ing them to $16.
Many ana­lysts are skep­ti­cal that these rules will add jobs in the U.S. or Cana­da. Rather than move pro­duc­tion out of Mex­i­co, com­pa­nies might just pay the tariff.
For most automak­ers, meet­ing the require­ments will take only mar­gin­al adjust­ments — one rea­son why the indus­try has react­ed rel­a­tive­ly favor­ably to the news.
Most vehi­cles sold in the U.S. are already pro­duced with North Amer­i­can con­tent well above 62.5 per­cent to avoid acci­den­tal­ly trig­ger­ing a tar­iff. The rule that 40 per­cent of a car must be made by work­ers mak­ing $16 an hour could have more of an effect, espe­cial­ly if it only counts work done in the U.S. and Cana­da. But Bloomberg esti­mates that at most, a third of Mex­i­co's 2.3 mil­lion vehi­cle exports to the U.S. in 2017 would be affect­ed by the new rules.
Many of the union auto jobs ​"lost" in recent decades haven't moved over­seas at all, but to the low-wage U.S. South. "[A rene­go­ti­at­ed] NAF­TA is not going to bring South Car­oli­na jobs back to a union­ized Detroit," said Stephanie Luce, a pro­fes­sor at the City Uni­ver­si­ty of New York's School of Labor and Urban Studies.
The Trump admin­is­tra­tion ini­tial­ly pushed for high­er thresh­olds — 50 per­cent built in the U.S., 85 per­cent in North Amer­i­ca — but those were dropped dur­ing negotiations.
Trump is still threat­en­ing to impose 25 per­cent tar­iffs on all auto imports on grounds of ​"nation­al secu­ri­ty," as he's done with steel, though it's unclear if he will fol­low through. Pick­up truck imports already face a 25 per­cent tariff.
Mex­i­co report­ed­ly agreed to set quo­tas on its export of vehi­cles and auto parts to the U.S., above which the 25 per­cent tar­iffs could apply.
Secure a footprint
While it's unlike­ly to bring many jobs back, the deal might slow the flight of auto pro­duc­tion for the North Amer­i­can mar­ket to Mex­i­co and to oth­er continents.
A quar­ter of cars sold in North Amer­i­ca are pro­duced else­where — a far high­er per­cent­age than the Euro­pean Union, South Korea, Japan, or Chi­na. ​"We treat­ed this rene­go­ti­a­tion as a gen­er­a­tional oppor­tu­ni­ty to fix that," said Ange­lo DiCaro, a researcher at Uni­for, Canada's largest pri­vate sec­tor union.
If Cana­da is includ­ed, the deal could ​"cre­ate a struc­ture that secures a foot­print of pro­duc­tion," DiCaro said. ​"Or else at some point [Cana­da] won't have an auto indus­try, like Australia."
Cars are still Canada's top export. But Cana­di­an employ­ment at the Big Three auto firms has shrunk from 52,000 pre-NAF­TA to just 23,000 in 2017.
"The North Amer­i­can mar­ket isn't grow­ing that fast," said Sam Gindin, for­mer research direc­tor at the Cana­di­an Auto Work­ers. ​"There are not a lot of new plants on the horizon."
While trade is often blamed for job loss, down­siz­ing due to tech­nol­o­gy and speedup has been just as, if not more, impor­tant. Adjust­ed for infla­tion, total U.S. man­u­fac­tur­ing out­put grew 63 per­cent between 1994 and 2015, accord­ing to the Brook­ings Insti­tu­tion, while man­u­fac­tur­ing employ­ment shrank by 28 per­cent dur­ing the same peri­od. ​"In the long term, jobs in this indus­try are going to fall," Gindin said.
Lousy con­tracts
The old NAF­TA rel­e­gates labor rights to a side agree­ment with no real enforce­ment mech­a­nism. The rene­go­ti­at­ed deal brings the labor sec­tion into its core, which should make it sub­ject to the same dis­pute set­tle­ment pro­ce­dures as the rest of the agreement.
Mex­i­co has report­ed­ly agreed to elim­i­nate so-called ​"pro­tec­tion con­tracts" where cor­rupt union lead­ers sign off on poor wages and ben­e­fits, often years before a busi­ness hires anybody.
"We have this ter­ri­ble defect in Mex­i­co — con­tracts, signed by union lead­ers behind the backs of work­ers, that pro­tect com­pa­nies from mil­i­tant work­ers," said Bene­dic­to Mar­tinez of a union called the Authen­tic Work­ers' Front (Frente Autén­ti­co del Trabajo).
A gen­uine crack­down on pro­tec­tion con­tracts would ​"throw a grenade into the pro­duc­tion mod­el that has exist­ed in Mex­i­co," DiCaro said.
Real wages in Mex­i­co have declined since NAF­TA was signed in 1994.
"Mex­i­cans have real­ly been the most exploit­ed, because the jobs that have been gen­er­at­ed through NAF­TA are not enough to meet the require­ments in this coun­try," Mar­tinez said. ​"The aver­age nation­al salary is around 200 pesos ($10.60) a day. Who can live on that?"
Mex­i­can Pres­i­dent-Elect Andrés Manuel López Obrador has pledged to raise the country's min­i­mum wage, cur­rent­ly 88.36 pesos ($4.70) a day. He will take office in December.
Labor law reforms wend­ing their way through the Mex­i­can Con­gress would make it eas­i­er for work­ers to form inde­pen­dent unions. That in turn could help raise wages.
"We can eas­i­ly tar­get Mex­i­co for steal­ing our jobs, but they didn't steal $35-an-hour jobs with defined-ben­e­fit pen­sion plans," DiCaro said. ​"They were giv­en jobs with con­tracts they nev­er vot­ed on, with unions they didn't ask for, that kept them in poor liv­ing conditions."
Lucy with football
Every time there's a new free-trade agree­ment, U.S. trade reps tout its labor pro­vi­sions as the strongest yet.
Unions will use what­ev­er enforce­ment mech­a­nisms they get to put pres­sure on gov­ern­ments and employ­ers, as they have done under NAF­TA, CAF­TA, and oth­er agreements.
But enforc­ing these pro­vi­sions has gen­er­al­ly been an excru­ci­at­ing­ly slow, frus­trat­ing process. Cas­es drag on for years — and even if a gov­ern­ment is final­ly found not to be enforc­ing its own labor laws, the poten­tial penal­ty is a mere slap on the wrist.
"We keep putting hopes in the [labor] agree­ments in these trade deals," said Luce. ​"But we have yet to see any of them yield anything."
"The only real mech­a­nism for enforc­ing labor laws is inde­pen­dent labor unions," said Jonathan Kissam, com­mu­ni­ca­tions direc­tor with the Elec­tri­cal Work­ers (UE).
Cracks in the consensus
Six U.S. union pres­i­dents issued a joint state­ment gen­er­al­ly sup­port­ive of the deal but say­ing that ​"more work needs to be done" to make sure it con­tains ​"swift and cer­tain enforce­ment tools." They're also push­ing to include Canada.
The Trump admin­is­tra­tion has been court­ing labor's sup­port because it hopes to win back­ing from some Con­gres­sion­al Democ­rats. It also wants to neu­tral­ize poten­tial oppo­si­tion. Unions mobi­lized hard and played an impor­tant role in the defeat of the Trans-Pacif­ic Partnership.
"We appre­ci­ate U.S. Trade Rep­re­sen­ta­tive Robert Lighthizer's close con­sul­ta­tions and will­ing­ness to con­sid­er new ideas," read one AFL-CIO press release. But most civ­il soci­ety groups have been shut out.
Activists say the dev­il will be in the details, which will prob­a­bly include a lot of cor­po­rate giveaways.
Kissam is glad to see more con­ver­sa­tion about what poli­cies could bet­ter sup­port indus­tri­al jobs. But ​"it seems unlike­ly that any­thing will come out of this that will actu­al­ly get passed and sig­nif­i­cant­ly improve work­ers' lives," he said. ​"We're not going to get a good trade deal until work­ers have more polit­i­cal pow­er in all three countries."
This sto­ry furst appeared in Labor Notes.