Bumpy Road
Plan for peace gets U.S. push toward uncertain destination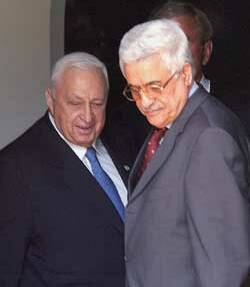 Jerusalem
—In the Bush administration's first foray deep into Middle East peacemaking, nothing was left to chance. When Secretary of State Colin Powell arrived in May to meet Israeli Prime Minister Ariel Sharon and newly appointed Palestinian Prime Minister Mahmoud Abbas, even the timing of the party's statements and counterstatements was orchestrated to give the impression of a smooth transformation toward reconciliation. Hence, a meeting between Sharon and Abbas privately characterized as "disastrous" was called "very positive" by both sides.
Behind the scenes, the new engagement was marked by rancor. The diplomatic push to showcase the road map, a document painstakingly crafted by Russia, the European Union, United Nations, and the United States, was met obstinately by an Israeli government ideologically opposed to most of its tenets. "The road map is not worth the paper used in printing it," declared transportation minister Avigdor Leiberman. The Israeli cabinet, made up of settlement proponents, could not swallow the road map's incremental call for a settlement freeze. The cabinet eventually accepted the document, adding 14 reservations that had the effect of turning the plan on its head.
But the three-stage plan for a two-state solution to the Israeli-Palestinian conflict was the product of months of difficult diplomacy, and certainly not a Palestinian favorite. The Palestinian complaint was consistently that the plan remained predicated upon Israel's security requirements and gave short shrift to Palestinian humanitarian concerns. At the same time, Palestinians pointed out, there was absolutely no way of making the enclosed timetable stick.
Still, as one opposition leader said, "The Palestinian Authority has no other options." With newly named Abbas personally convinced that the armed aspects of the Palestinian uprising must end and with the rest of Palestinian society exhausted, the Palestinian leadership was in no position to reject the U.S.-backed proposal. Even Hamas, the largest Palestinian opposition group, indicated that if Israel stopped its assassinations and incursions and undertook a significant prisoner release, the way would be open for a comprehensive ceasefire.
Israel, however, rejected that proposal out of hand. "We have no intention of negotiating or talking to Hamas or any other kind of terrorist organization," says a foreign ministry spokesperson. Instead, it wants the Palestinian Authority to outlaw its opposition and forcefully disarm the various armed wings that continue anti-Israel attacks.
While Abbas is opposed to such a crackdown, calling it an invitation to civil war, he and Palestinian security officials are mum on their exact security plans. Abbas' security chief, Muhammad Dahlan, has met twice with opposition leaders, but says no deal can be finalized until the Palestinians rebuild their security forces, which they say were three-quarters decimated in Israel's Gaza and West Bank incursions. Even that may not be easy: As long as Israeli troops move freely in areas ostensibly under Palestinian Authority control, Palestinian officials say they won't bother to reinstate security. "Life must get easier to convince people" such an effort would be worth it, says a Dahlan aide.
Given these hurdles and after months in which the United States had refused to apply any pressure, President Bush finally committed to calling a Jordan summit that included all the major players. American officials tried to remain optimistic. "Let's not look for the 56-yard pass right away or the 54-yard field goal," Powell said, referring to dramatic football plays. "We have to get this started. The tensions are great and the mistrust is high."
But as
In These Times
went to press, one day prior to the theatrical June 4 event in which Bush, Abbas and Sharon would renounce violence in accordance with the road map's first step, Israeli officials remained opposed to any wording outside the usual Israeli lexicon describing its army as fighting "a war on terrorism," not offensively wielding force. Meanwhile, travel restrictions on Palestinians were tightened even further. "This creates very bad feelings on the part of the Palestinian people," says labor minister Ghassan Khatib, sitting in his home cloistered by patrolling military.
While U.S. officials lent credibility to the road map process by appointing a team to follow up on the three-stage plan, observers are worried that the administration has neither the stamina nor the time required to work out details for implementing the plan. "Sharon's current position is entirely consistent with his advocacy of a Palestinian 'state' divided into enclaves that take up around 50 percent of the territories," writes Israeli analyst Yossi Alpher, "and that does not involve the dismantling of settlements, which in his view serve a permanent strategic defensive purpose."
In other words, the only hope for a viable two-state solution is if Bush himself is there cajoling and pressuring the parties along the way. Given the looming presidential elections and increasing pressure from Israel lobby groups to oppose the road map, Palestinian and Israeli analysts believe that this brief window of peacemaking opportunity may soon close.
For a limited time: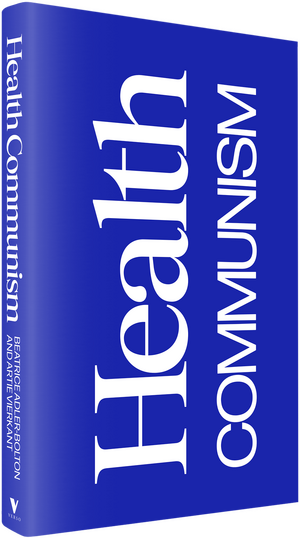 Donate $25 or more to support In These Times and we'll send you a copy of Health Communism.
A searing analysis of health and illness under capitalism from hosts of the hit podcast "Death Panel," Health Communism looks at the grave threat capitalism poses to global public health, and at the rare movements around the world that have successfully challenged the extractive economy of health.
"This is a book you should read before you die, because the ideas synthesized by Adler-Bolton and Vierkant could save our collective lives." –Jon Shaffer