Union President Says Minneapolis Is Trying to Punish Transit Workers Who Wouldn't Help the Police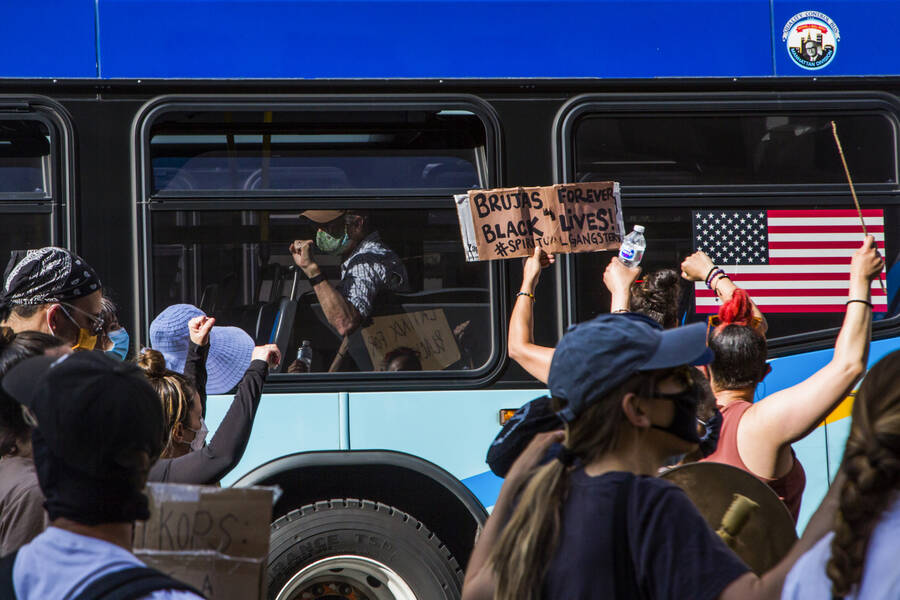 In late May, as Min­neapo­lis and St. Paul erupt­ed in protests against the police killing of 46-year-old Black man George Floyd, mem­bers of the Twin Cities' Amal­ga­mat­ed Tran­sit Union (ATU) Local 1005 pub­licly refused to trans­port pro­test­ers to jail. ​"As a tran­sit work­er and union mem­ber, I refuse to trans­port my class and rad­i­cal youth," Min­neapo­lis bus dri­ver Adam Burch told the labor pub­li­ca­tion Pay­day Report, which first report­ed the refusals on May 28. ​"An injury to one is an injury to all," said Burch.
ATU Local 1005 also issued a state­ment in sol­i­dar­i­ty with the protests on May 28. ​"This sys­tem has failed all of us in the work­ing class from the Coro­n­avirus to the eco­nom­ic cri­sis we are fac­ing," the union declared. ​"But this sys­tem has failed Peo­ple of Col­or and Black Amer­i­cans and black youth more than any­one else."
The union's pub­lic sup­port for the upris­ings, and some mem­bers' pub­lic refusal to do work that helps the police, sparked praise and inspi­ra­tion around the coun­try. As the Black Lives Mat­ter protests spread, so did tran­sit work­ers' refusal to assist in police crack­downs. In New York, bus dri­vers refused to trans­port peo­ple arrest­ed at protests, as crowds cheered them on. ​"None of our bus ops should be used for that," J.P. Patafio, vice pres­i­dent of New York's Trans­port Work­ers Union Local 100, told Moth­er­board on May 29.
The impacts of the upris­ings are already being felt, par­tic­u­lar­ly in Min­neapo­lis, where a veto-proof major­i­ty of city coun­cilors pledged to dis­band the police depart­ment, under pres­sure from activists. In These Times spoke with Ryan Tim­lin, the pres­i­dent of ATU Local 1005, about the impact of the union's actions on the lives of its mem­bers, and on the polit­i­cal cli­mate. ​"It was­n't just the bus dri­vers' union, it was all the protests," Tim­lin said. ​"Even though the mil­i­tary came in, the pro­test­ers kept march­ing forward."
Sarah Lazare: Has your union faced retal­i­a­tion for show­ing sol­i­dar­i­ty with the protests?
Ryan Tim­lin: We are work­ing on a class-action griev­ance, because they cut the pay for those who refused to trans­port state troop­ers. Metro­Tran­sit said they're not going to do mass-arrest bussing because of the peti­tion we did, but they did do some trans­port­ing of state troop­ers. A lot of our low-senior­i­ty mem­bers got stuck doing that, and we reached out to them to make sure they under­stood the right to refuse. I don't know an over­all num­ber, but some of them refused, most­ly over the issue of safe­ty. I'd put it at around a dozen who refused.
As a result of our peti­tion, they stopped hav­ing bus dri­vers trans­port pro­test­ers. They went and got decom­mis­sioned metro and mobil­i­ty bus­es, and some police end­ed up dri­ving them.
Sarah: So the griev­ance was about being docked pay?
Ryan: Any­body who refused to do the work, they did not pay them. They paid them if they showed up and were there for three or four hours at the garage, they paid them for that work. But if they got called to do a run and they refused, their pay got cut: They used vaca­tion time or sick time. The com­pa­ny said they weren't going to pay peo­ple for not doing any­thing. Well they had sent 90% home and paid them to stay home. They forced the low­er senior­i­ty trans­port state troop­ers. We filed the griev­ance and are going to col­lect the data about who is impact­ed. As soon as I got a phone call that some­one got their pay cut, we got paper­work ready.
Sarah: Do you think your union's actions had an impact?
Ryan: I hope it helped pro­test­ers. To be hon­est, I don't know if it did. It clear­ly excit­ed peo­ple, espe­cial­ly the let­ter of sol­i­dar­i­ty we wrote. We got so many phone calls, and we got a lot of thank yous. It was over­whelm­ing­ly sup­port­ive, just a few peo­ple called pissed off. We got lots of thank yous com­ing in — I wish we had kept a bet­ter list. I remem­ber I saw an email from the RMT, the union of British rail­way work­ers, and a lot of oth­er ran­dom peo­ple. There were a lot of indi­vid­ual letters.
It was­n't just the bus dri­vers' union, it was all the protests. Even though the mil­i­tary came in, the pro­test­ers kept march­ing for­ward. More and more unions came in and start­ed to speak out, that move­ment led to the change of charges for the mur­der of George Floyd. It's the move­ment that's been keep­ing all these politi­cians accountable.
Sarah: How do your mem­bers feel about the Min­neapo­lis City Council's pledge to dis­band the police?
Ryan: I can't say our union has spo­ken specif­i­cal­ly on dis­band­ing, but I think there's a strong feel­ing inside the union that too much mon­ey has gone into the police and more mon­ey needs to go to pub­lic ser­vices like edu­ca­tion, tran­sit itself, and even the postal service.
Sarah: Do you think hav­ing a union made you feel secure enough to take this action?
Ryan: They knew that they had some form of pro­tec­tion. If you don't have a union, and you're a work­place that is not orga­nized in any way — no work­ers' cen­ter or any­thing — the more you stick togeth­er, the more pro­tec­tion you have, the less iso­lat­ed you are. the union is a legal body that gives you pro­tec­tion to exert your rights.
Sarah: Did you have dis­cus­sions with­in your union about racism?
Ryan: Even before this, racism has been a dis­cus­sion in the union any­way. I can't real­ly give details, because it has­n't gone through arbir­tra­tion, but we have a case deal­ing with dis­crim­i­na­tion, where there was dis­crim­i­na­tion in the work­place. We recent­ly had a meet­ing about dis­crim­i­na­tion, and there were peo­ple who did­n't sup­port us, peo­ple who did. It became clear to them why the union had to take it for­ward and could­n't walk away from it. This was going on against the back­drop of what's hap­pen­ing in Minneapolis.
A lot of our mem­bers face racism on a dai­ly basis. The work­force is diverse,especially if you get to oper­a­tions, not just main­te­nance. We have Soma­li and Hmong, a lot of black dri­vers. Those mem­bers face racism on the bus, but also they come from the third precinct and have to deal with how police treat them. One cowork­er told me a sto­ry of how he had to have his pay­check in his glove box to be able to prove to police he could afford the car he was dri­ving. i have heard so many sto­ries over the years, that one's the one that stuck out the most.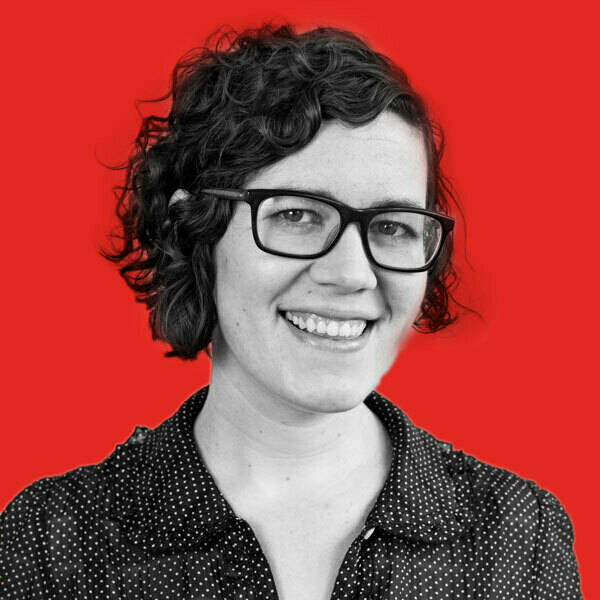 Sarah Lazare is web edi­tor at In These Times. She comes from a back­ground in inde­pen­dent jour­nal­ism for pub­li­ca­tions includ­ing The Inter­cept, The Nation, and Tom Dis­patch. She tweets at @sarahlazare.