Buttigieg and Centrist Dems Want a Military Response to Climate Change. That's Dangerous.
The Pentagon sees climate victims as threats.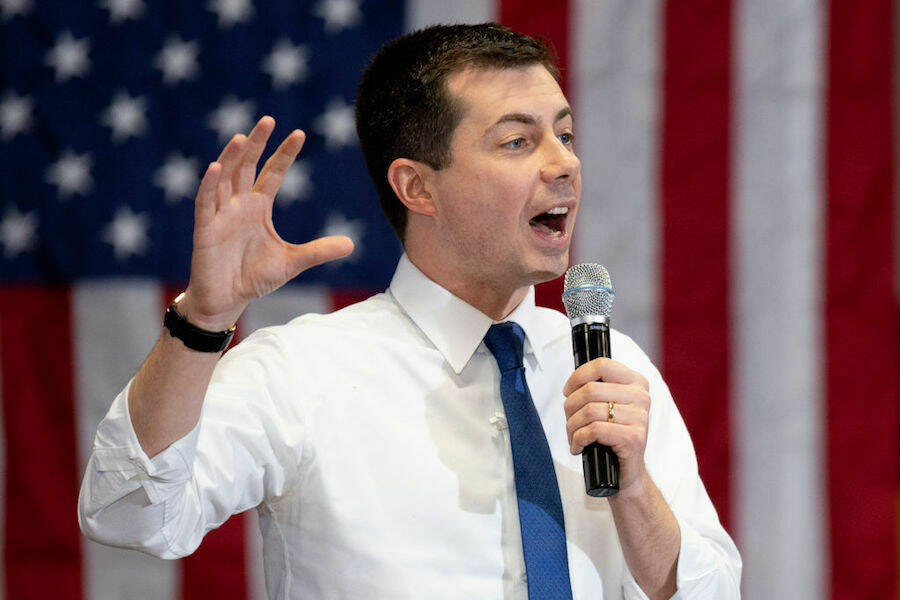 May­or Pete Buttigieg says that if he were elect­ed pres­i­dent, he would use the Depart­ment of Defense to fight cli­mate change by cre­at­ing ​"a senior cli­mate secu­ri­ty role in the Sec­re­tary of Defense's office respon­si­ble for man­ag­ing cli­mate secu­ri­ty risks" and boost­ing the Pentagon's bud­get to ​"allow our mil­i­tary lead­ers to build resilience for mil­i­tary bases and installations."
Will the U.S. response to climate change be steered by xenophobia, premised on fortressing U.S. borders and forcibly repatriating people to places that are in crisis?
A sim­i­lar ethos was reflect­ed in the $738 bil­lion Nation­al Defense Autho­riza­tion Act for Fis­cal Year 2020 signed by Pres­i­dent Trump in Decem­ber 2019. One pro­vi­sion, based on leg­is­la­tion intro­duced by cen­trist demo­c­ra­t­ic Rep. Den­ny Heck (Wash.), will cre­ate a ​"Cli­mate Secu­ri­ty Advi­so­ry Coun­cil" instruct­ed to improve coor­di­na­tion between intel­li­gence, defense and gov­ern­ment agen­cies in ana­lyz­ing ​"cli­mate security."
These efforts to address cli­mate change through a nation­al secu­ri­ty lens are deeply wor­ri­some. If an eth­ic of fear and nation­al self-inter­est — and not jus­tice and sol­i­dar­i­ty — shapes the U.S. response to cli­mate change, it could unleash a num­ber of fright­en­ing actions, in which the U.S. fortress­es its bor­ders, pro­tects its mil­i­tary bases and slams the door on those its emis­sions have harmed.
Yet as Trump has rolled back scant Oba­ma-era cli­mate pro­tec­tions, includ­ing the Clean Pow­er Act, and instruct­ed all agen­cies to set aside efforts to com­bat cli­mate pre­pared­ness, many cen­trist Democ­rats have looked to the nation­al secu­ri­ty estab­lish­ment — par­tic­u­lar­ly the Depart­ment of Defense — as an ally, because it is the arm of the exec­u­tive branch that pur­ports to take cli­mate change most seri­ous­ly. The NDAA mea­sure is based on leg­is­la­tion intro­duced by Rep. Den­ny Heck (Wash.), a cen­trist Demo­c­rat who sits on the House Intel­li­gence Com­mit­tee and has cham­pi­oned the role of the ​"intel­li­gence com­mu­ni­ty" in address­ing cli­mate threats. Buttigieg, who has flaunt­ed his mil­i­tary cre­den­tials through­out his cam­paign, insists that the Depart­ment of Defense must be involved in address­ing the ​"secu­ri­ty chal­lenge of our era." He writes, ​"Cli­mate secu­ri­ty must be deeply inte­grat­ed into all aspects of nation­al secu­ri­ty planning."
The Cli­mate Secu­ri­ty Advi­so­ry Coun­cil pro­vi­sion flew under the radar in Decem­ber, eclipsed by more trou­bling mea­sures that increased fund­ing for nuclear weapons and F‑35s. But the impli­ca­tions should give pause. The NDAA instructs the coun­cil to define ​"cli­mate secu­ri­ty" pri­mar­i­ly in terms of how cli­mate change affects the Unit­ed States and its allies. The lan­guage zeroes in on pro­tect­ing ​"nation­al secu­ri­ty infra­struc­ture" and ​"the secu­ri­ty of allies and part­ners of the Unit­ed States," and warns of ''ongo­ing or poten­tial polit­i­cal vio­lence, includ­ing unrest, riot­ing, guer­ril­la war­fare, insur­gency, ter­ror­ism, rebel­lion, rev­o­lu­tion, civ­il war and inter­state war."
Many of the coun­tries not deemed ​"allies" of the Unit­ed States are on the front lines of chang­ing weath­er pat­terns, whether heat waves, droughts or increas­ing­ly severe storms. Are we to assume that, under the rubric of the coun­cil, the suf­fer­ing of peo­ple liv­ing in Iran, Venezuela, North Korea, Cuba or Nicaragua is to be dis­count­ed? What about those liv­ing in coun­tries that are allied but deemed less strate­gi­cal­ly cen­tral to U.S. nation­al secu­ri­ty, like the Mar­shall Islands, which are already suf­fer­ing the severe effects of cli­mate change?
It is also deeply trou­bling to imag­ine the U.S. mil­i­tary — the world's most vio­lent insti­tu­tion, and itself a cli­mate vil­lain—tak­ing a lead­er­ship role in shap­ing the response to a cri­sis that could sub­ject count­less peo­ple to ill­ness, food inse­cu­ri­ty, severe storms and human dis­place­ment. The NDAA lan­guage has no acknowl­edge­ment of cli­mate vic­tims except through the lens of ​"ongo­ing or poten­tial polit­i­cal vio­lence." As Michael Klare notes in his book All Hell Break­ing Loose, when Gen. John F. Kel­ly was com­man­der of U.S. South­ern Com­mand, he estab­lished a ​"Joint Task Force — Migrant Oper­a­tions" in Guan­tanamo Bay, which held exer­cis­es to pre­pare for ​"mass migra­tion events." One such exer­cise, staged in 2015, respond­ed to a fake sce­nario that involved ​"mass migra­tion of peo­ple from mul­ti­ple Caribbean islands after a series of hur­ri­canes dev­as­tate the area," a reporter not­ed at the time. ​"The goal of the exer­cise sce­nario was to effec­tive­ly inter­dict and repa­tri­ate the migrants at sea who were attempt­ing to enter the Unit­ed States."
Lind­say Koshgar­i­an is the pro­gram direc­tor for the Insti­tute for Pol­i­cy Stud­ies' Nation­al Pri­or­i­ties Project, a bud­get-focused non­prof­it. She tells In These Times, ​"The U.S. ten­den­cy will already be to respond to refugee crises and unrest caused by cli­mate desta­bi­liza­tion as mil­i­tary prob­lems with a mil­i­tary solu­tion, and I'm afraid this is just evi­dence of that. There is too much dan­ger that cli­mate change will become just anoth­er jus­ti­fi­ca­tion for big­ger Pen­ta­gon bud­gets, and more troops and more bases in more places."
The Pen­ta­gon has long eval­u­at­ed cli­mate change through the lens of U.S. mil­i­tary inter­ests, includ­ing the effects on rough­ly 800 U.S. mil­i­tary bases that span the plan­et. ​"If extreme weath­er makes our crit­i­cal facil­i­ties unus­able or neces­si­tate cost­ly or man­pow­er-inten­sive work-arounds, that is an unac­cept­able impact," states a Depart­ment of Defense cli­mate risk assess­ment from Jan­u­ary 2018. This view is in line with the ethos of an ever-expand­ing U.S. mil­i­tary empire: Such ​"extreme weath­er" is ​"unac­cept­able" not because it indi­cates that peo­ple around the world are suf­fer­ing severe con­se­quences of cli­mate change, but because it threat­ens the military's glob­al foothold.
The Pentagon's lens pre­cludes oth­er ways of under­stand­ing a poten­tial U.S. response to the cli­mate cri­sis: name­ly, as jus­tice and repa­ra­tions for U.S. wrong­do­ing. The Unit­ed States is dis­pro­por­tion­ate­ly dri­ving the cli­mate cri­sis as the biggest per-capi­ta emit­ter of green­house gas­es, while Chi­na is the over­all high­est emit­ter. A 2016 study pub­lished in the jour­nal Sci­en­tif­ic Reports found that the coun­tries most respon­si­ble for dri­ving cli­mate change are the ones least harmed by it in the imme­di­ate term. "'Free rid­er' coun­tries con­tribute dis­pro­por­tion­ate­ly to glob­al GHG [green­house gas] emis­sions with only lim­it­ed vul­ner­a­bil­i­ty to the effects of the result­ing cli­mate change, while ​'forced rid­er' coun­tries are most vul­ner­a­ble to cli­mate change but have con­tributed lit­tle to its gen­e­sis," the study finds.
Cli­mate change is in motion and will require a mass mobi­liza­tion — both to mit­i­gate the cri­sis glob­al­ly and to help peo­ple sur­vive it. Will the U.S. response be steered by xeno­pho­bia, premised on fortress­ing U.S. bor­ders and forcibly repa­tri­at­ing peo­ple to places that are in cri­sis? Or will the response be root­ed in sol­i­dar­i­ty and inter­na­tion­al­ism, premised on the prin­ci­ple that one's life shouldn't be tossed aside sim­ply because of where one was born? The only way to ensure a response root­ed in sol­i­dar­i­ty is cast off nar­row notions of ​"nation­al secu­ri­ty" and make sure any cli­mate response is firm­ly under the con­trol of civil­ians. If the nation­al secu­ri­ty estab­lish­ment is steer­ing the ship, much of human­i­ty will not be on board.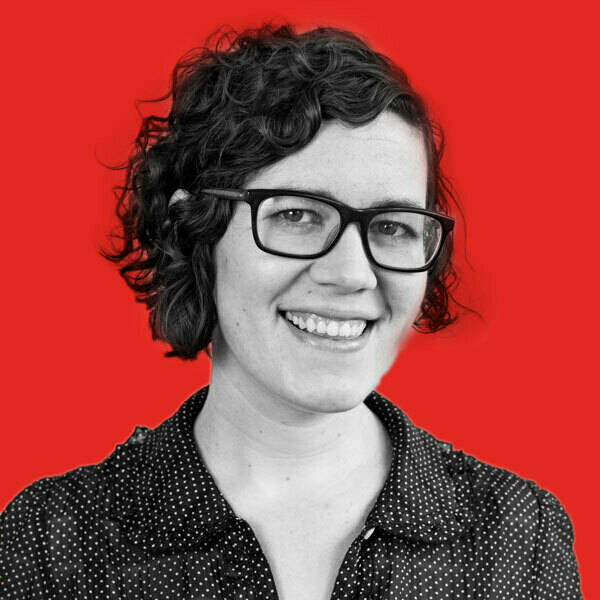 Sarah Lazare is web edi­tor at In These Times. She comes from a back­ground in inde­pen­dent jour­nal­ism for pub­li­ca­tions includ­ing The Inter­cept, The Nation, and Tom Dis­patch. She tweets at @sarahlazare.