Homeland, Season 3, Episode 9: Bye Bye Brody
Brody returns just long enough for some furniture destruction and a training montage.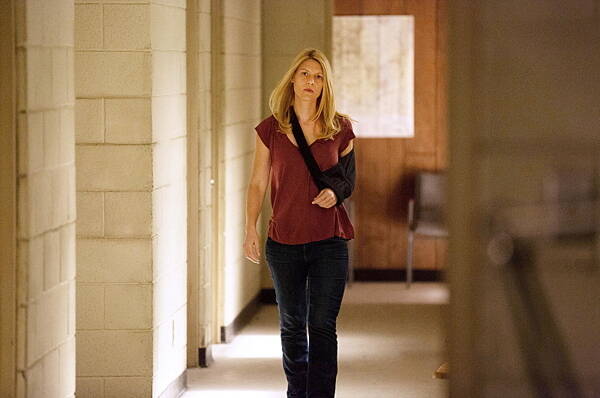 Read­ers: Let's begin this week's Home­land recap with an exer­cise in empa­thy. Imag­ine you are Nicholas Brody — for­mer ter­ror­ist, cur­rent Lan­g­ley bomb­ing sus­pect and gen­er­al poor-deci­sion-mak­ing dude — and you've just been freed from your hero­in-strewn cell in Cara­cas by the increas­ing­ly omnipo­tent Saul Beren­son. Do you:
It's a nonstop thrill ride of hunched crawling, pallid weeping and occasional bouts of random, frenetic, graphic violence!
A) Stare vacant­ly into the cam­era whilst weep­ing and singing ​"The Marines' Hymn"
B) Grab the near­est chair in your cell, smash it into tiny bits and repeat­ed­ly stab your­self in the arm with the sharpest frag­ment in the bunch
C) Go for a dri­ve with some burly sol­diers and your for­mer star-crossed lover Car­rie, spot your estranged daugh­ter through the car win­dow and prompt­ly begin head-butting your fel­low pas­sen­gers, occa­sion­al­ly scream­ing at Car­rie that she is a ​"fuck­ing bitch"
D) Decide to save the world, then engage in a pep­py train­ing montage
This is a trick ques­tion, of course, for in his tri­umphant return to the main plot of Home­land, Nicholas Brody does all of the above. Dami­an Lewis is a fine actor, and he's giv­ing it his all here — indeed, you could plau­si­bly argue that he should be giv­ing a lit­tle less — but his per­for­mance through­out most of this episode lands some­where between ​"Andy Serkis as Gol­lum" and ​"Nicholas Cage in The Wick­er Man." It's a non­stop thrill ride of hunched crawl­ing, pal­lid weep­ing and occa­sion­al bouts of ran­dom, fre­net­ic, graph­ic vio­lence! And that's before we get to the part of the train­ing mon­tage where he has to demon­strate his improved men­tal acu­men to his fel­low Marines by spelling the last names of porn stars.
Frankly, I wel­comed Lewis' scenery-chew­ing as a blessed relief from Car­rie and her increas­ing­ly trou­bling EmBry­o­dy plot line. As writ­ing deci­sions go, the one to impreg­nate the strong female lead with her love interest's child looks more sex­ist and regres­sive every week. It's not just that the show has made it all-but-impos­si­ble to sep­a­rate said lead's plot sig­nif­i­cance from her sex life. Home­land is also qui­et­ly but insis­tent­ly mak­ing the case that Car­rie Math­i­son can­not have a healthy preg­nan­cy if she con­tin­ues to work for the CIA. As Carrie's OB-GYN all but told her out­right last week, she has to choose between her career and moth­er­hood because con­tin­u­ing to pur­sue the for­mer will destroy her chances at the lat­ter. Though it's amus­ing to watch Car­rie con­tin­ue down the path toward being the World's Least Healthy Preg­nant Woman — this week, in addi­tion to the binge drink­ing, the Lithi­um and the gun­shot wound, she's pumped full of heavy painkillers and starts smok­ing cig­a­rettes — the mes­sage that women with high-pres­sure careers can't have fam­i­lies is dis­ap­point­ing­ly famil­iar. Peo­ple, myself includ­ed, used to praise this show for hav­ing one of the strongest, least stereo­typ­i­cal female pro­tag­o­nists on TV. This sea­son, though, she's become hys­ter­i­cal and incom­pe­tent, defined large­ly in terms of her uterus and appar­ent­ly inca­pable of even wait­ing nine months to buy a pack of Marlboros.
So let's train our focus instead on Brody and his ago­niz­ing climb out of the depths of Junkie Hell. As we all expect­ed, Saul's top-secret Java­di play relies upon anoth­er, even more top-secret Brody play: Now that Java­di is embed­ded in Iran, Saul wants to send Brody in too, to assas­si­nate Javadi's boss, Akhma­di. With that accom­plished, Saul hopes, Java­di will be able to take over Akhmadi's job ​"at the very top of the Iran­ian food chain" and serve the inter­ests of the Unit­ed States more efficiently.
What Saul wants to accom­plish with all this, as he explains to Car­rie, is, ​"Some­thing besides anoth­er war; some­thing that will change the facts on the ground just enough that two coun­tries that haven't been able to com­mu­ni­cate for over 30 years, except through ter­ror­ist actions and threats, can sit down and talk." Of course, the day this episode aired, Iran engaged in real-life talks with six oth­er world pow­ers and agreed to ​"sub­stan­tial lim­i­ta­tions that will help pre­vent Iran from cre­at­ing a nuclear weapon," as per Pres­i­dent Oba­ma. ​"None of this could have been accom­plished with­out our nation's tire­less defend­er, Mandy Patinkin," Oba­ma did not add, but I think we can all assume that he was think­ing it anyway.
Regard­less, in order for any of this to work, Brody has to kick the hero­in and get back into shape before Lock­hart takes con­trol of the CIA in six days' time and puts the brakes on the plan. For­tu­nate­ly, Saul finds a way to extend that dead­line a bit: The das­tard­ly faux-jour­nal­ist Alan, last seen dat­ing Saul's wife, turns out to have been in cahoots with Lock­hart all along. Saul's team snaps pho­tos of him break­ing into the Beren­son home and, lat­er, lunch­ing with Lock­hart. After a bit of ques­tion­ing by Saul's peo­ple, Alan con­fess­es that he is an Israeli intel­li­gence agent who has been help­ing Lock­hart to col­lect infor­ma­tion on Saul via a lis­ten­ing device he plant­ed in Saul's home. In exchange for not destroy­ing Lockhart's career, Saul asks for a few more weeks in which he can com­plete the Javadi/​Brody play. Lock­hart consents.
That leaves Car­rie, along with some help­ful Marines, get­ting Brody ready to roll — a painful, metic­u­lous and long-term process that is encap­su­lat­ed by the afore­men­tioned mon­tage. (There's vague­ly tech­no music under­scor­ing it all, along with a help­ful title card that reads ​"SIX­TEEN DAYS LAT­ER.") Brody seems more or less unin­ter­est­ed in resum­ing a roman­tic rela­tion­ship with Car­rie, thank good­ness, and for her part, she nev­er even tells him about the preg­nan­cy. But at the end of his train­ing, as pay­ment for his co-oper­a­tion in what is being opti­misti­cal­ly described as a ​"sui­cide mis­sion," he does ask Car­rie to let him vis­it his daughter.
Yes: Just when it seemed we'd lost track of her for­ev­er, Dana Brody re-emerges, first glimpsed in this episode through that fate­ful car win­dow. She's been work­ing as a hotel maid, bless­ed­ly unat­tached to any fur­ther mur­der­ous boyfriends. She is also decid­ed­ly not pleased to see the man who ruined her fam­i­ly and her life, and she doesn't par­tic­u­lar­ly care if he's inno­cent of the Lan­g­ley bomb­ing, giv­en the chaos he's caused ever since his first arrival back in the States. In a sat­is­fy­ing­ly acidic dis­play, Dana waves a notepad and pen at her father and tells him to dic­tate any mes­sage of fil­ial grat­i­tude he wants to hear from her — she'll say it to him, she says, on the con­di­tion that she nev­er has to see him again.
And so, Brody, with his last ties to his old life thus neat­ly sev­ered, embarks on the mis­sion to Iran. His death is heav­i­ly fore­shad­owed — most­ly by every­body talk­ing about how very like­ly it is he will die, though his last-act long­ing glances at Car­rie don't help — though not guar­an­teed. Per­son­al­ly, I would love it if Home­land had kept Brody alive for a sea­son with the inten­tion of only using him in two or three episodes before killing him off entire­ly. But all that rabid Dami­an Lewis silli­ness list­ed above would seem to argue against it: When you've got an actor who's will­ing to take this much for the team, you keep him around, and in high­ly vis­i­ble pain, for as long as the plot can stand.