Cairo: One Day after Mubarak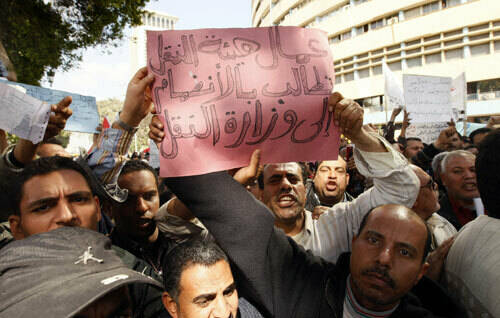 CAIRO — I arrived at a near­ly emp­ty Cairo air­port on Sat­ur­day Feb­ru­ary 12, one day after Pres­i­dent Hos­ni Mubarak resigned, an act thought unthink­able only 18 days ago. Over 1 mil­lion tourists left Egypt in the last week, accord­ing to the country's press reports, so the hotels and streets were emp­ty of vis­i­tors.

I was eager to see how a people's move­ment actu­al­ly was able to forge such a pow­er­ful move­ment in such a short span of time. I was excit­ed and exhil­a­rat­ed to be here.

I passed the pres­i­den­tial palace while on my way to down­town Cairo and heard the con­stant car horn honk­ing by pass­ing motorists cel­e­brat­ing Mubarak's depar­ture. This gave me my first indi­ca­tion that I was enter­ing a city super-charged with con­fi­dence and enthu­si­asm. I would see the same excite­ment through­out the streets of Cairo on my first day.
In par­tic­u­lar, I noticed how informed peo­ple were, how will­ing every­one was to talk pol­i­tics. Every­one seemed to have an opin­ion. There was an explo­sion of dia­logue about what had hap­pened and why it had hap­pened.

And, I found out imme­di­ate­ly that peo­ple were eager to speak with me, absolute­ly no hos­til­i­ty. This was dif­fer­ent from the last sev­er­al weeks as report­ed to me by a British edu­ca­tor liv­ing in Cairo. I bumped into him as we both shared a drink inside the bar of my down­town hotel, only a 20-minute walk from Tahrir Square.

​"Today (Sat­ur­day, Feb­ru­ary 12), is the first day I actu­al­ly feel com­fort­able out­side," my British acquain­tance explained. ​"Before, the gov­ern­ment was try­ing to stir up anger against for­eign­ers by blam­ing them for the demon­stra­tions, and this gave thugs and police free range to harass us."

So, I was quite free to explore the scenes of Cairo only 24 hours after Mubarak left the scene and, most impor­tant, to observe the cur­rent think­ing of the peo­ple. The most inter­est­ing aspect of com­ing to Egypt amidst this his­toric polit­i­cal awak­en­ing, for me, was to encounter the var­i­ous trends of thought as peo­ple expe­ri­ence for the first time in their lives the abil­i­ty to speak freely and to open­ly express their ideas.

With Mubarak's res­ig­na­tion on Fri­day, Feb­ru­ary 11, the army high com­mand quick­ly declared that the ​"pro­tes­tors had won" and that the country's pro­found social and polit­i­cal tur­moil, there­fore, must come to an imme­di­ate end. This undoubt­ed­ly strikes a chord among many Egyp­tians who gen­uine­ly believe the whole bank­rupt régime, not just one despised pres­i­dent, has col­lapsed.

Notably, most Egyp­tians I spoke with believe the mil­i­tary has his­tor­i­cal­ly stayed out of pol­i­tics, unlike the hat­ed-police appa­ra­tus. Many Egyp­tians will also tell you that the army has not been taint­ed by the rot­ten lega­cy of cor­rup­tion. ​"Our army is hon­or­able, they are not busi­ness peo­ple," a 55-year old man­ag­er of a cloth­ing store sell­ing Gug­gi and oth­er top brands told me.

Ques­tions in inter­views reflect­ed my skep­ti­cism about the role of the army but, so far, I found gen­er­al appre­ci­a­tion for the army alike by pro­tes­tors in Tahrir Square, peo­ple in the adja­cent poor neigh­bor­hoods, ven­dors and shop­keep­ers and numer­ous men and women I spoke with while I was walk­ing around, includ­ing a dis­tance away from Tahrir Square.

Unques­tion­ably, decid­ed­ly favor­able views of the mil­i­tary saved the whole bour­geois polit­i­cal and eco­nom­ic struc­ture from implod­ing. In fact, the army was the only remain­ing insti­tu­tion under Mubarak that enjoyed any sem­blance of cred­i­bil­i­ty in Egypt­ian soci­ety. Nei­ther Mubarak, nor the Speak­er of Par­lia­ment, nor the Par­lia­ment itself, and absolute­ly no sec­tor of busi­ness whose crimes would make Al Capone envi­ous, nor any of the docile legal polit­i­cal par­ties could have han­dled the tran­si­tion.

Vice Pres­i­dent Omar Suleiman, groomed to take over for Mubarak, was also thor­ough­ly dis­cred­it­ed by claim­ing Egypt was not ready for democ­ra­cy. This infu­ri­at­ed a whole nation and with­in a few hours of Mubarak's attempt to cling to pow­er, the old despot was was gone and the army had super­seded Suleiman's new pow­ers.

What next?
From a vari­ety of occu­pa­tions and neigh­bor­hoods, the sen­ti­ment of the many pro­tes­tors I spoke with is essen­tial­ly that we must now begin to rebuild our coun­try. The coun­try is ours now, we want sta­bil­i­ty so we can build democ­ra­cy and restore Egypt's eco­nom­ic pow­er."

A young man in his ear­ly thir­ties who was a man­ag­er of an engi­neer­ing firm across from Tahrir Square par­tic­u­lar­ly empha­sized this. He par­tic­i­pat­ed in all the protests, includ­ing being the first on his block to orga­nize defense of the homes and busi­ness­es in the ear­ly days of the revolt, when crim­i­nal loot­ers insti­gat­ed by the gov­ern­ment were on the loose.

The pro-democ­ra­cy activists who want to remain in Tahrir Square until the decades-long state of emer­gency and oth­er polit­i­cal reforms are imple­ment­ed will be iso­lat­ed if they stay, he told me. They don't rep­re­sent the major­i­ty opin­ion. As we spoke in a café, his younger broth­er, a stu­dent; his sis­ter, an artist; and their friend, a young Mus­lim woman who worked for an insur­ance com­pa­ny, were all in agree­ment.

When I asked why they would sup­port the army so much and did not agree with con­tin­u­ing to occu­py Tahrir Square, they all respond­ed in uni­son talk­ing over each oth­er. It was a dra­mat­ic, emo­tion­al response and one repeat­ed many times in inter­views on my first day in Cairo.

​"Yes, we want to get back to rebuild our coun­try," declared the young man­ag­er. ​"But, we will return if we have to! Every­one knows and under­stands this, includ­ing the army. Our mas­sive protests and the broad uni­ty of all class­es was a warn­ing to them. If they do not rapid­ly safe­guard our tran­si­tion to democ­ra­cy, if there are not gen­uine eco­nom­ic reforms, then we will return. We are no longer afraid. Hun­dreds have been killed and we do not for­get their sac­ri­fice. Our move­ment is incred­i­bly deep. There were protests in 15 cities yes­ter­day. This is why we belong at work now and do not have to be in the square."

The beloved ground of Tahrir Square
The gov­ern­ment, now under the firm con­trol of the mil­i­tary, clear­ly wants to move as rapid­ly as pos­si­ble to estab­lish the sta­bil­i­ty they now pro­claim as the country's most urgent need. At Tahrir Square I saw evi­dence of this when sev­er­al dozen army troops began push­ing and shov­ing pro­tes­tors away from the bar­ri­cades built sev­er­al weeks ago dur­ing the worst of the police attacks. Hun­dreds of fam­i­lies with young chil­dren scat­tered, but a large core of obvi­ous­ly expe­ri­enced pro­tes­tors locked hands and urged peo­ple to stay. The mes­sage was, ​"It is our Square, where blood has been shed, we will not leave."

At the same time, all across Tahrir Square, hun­dreds of Egyp­tians could be seen sweep­ing and clean­ing the beloved scene of their most valiant sac­ri­fices and most pro­found vic­to­ries. Some­thing hal­lowed and hon­or­able hap­pened in Tahrir and real­ly through­out Egypt, and it has deeply pen­e­trat­ed the hearts and minds of mil­lions of Egyp­tians.

A 24-year old doc­tor, lock­ing his arms with hun­dreds of oth­er young peo­ple as the troops attacked only 25 yards away, refused to leave and was urg­ing oth­ers to ​"Stay, don't wor­ry, do not leave." He respond­ed to my ques­tion of why Tahrir Square was being cleaned by sim­ply turn­ing the ques­tion back to me, ​"If your house is dirty, don't you clean it?"

My encounter with this young, brave doc­tor and his com­rades in Tahrir Square revealed some­thing impor­tant to me. First, deserved­ly, there is an extreme sense of pride by pro­tes­tors for what they have achieved, leav­ing many to con­sid­er Tahrir Square as almost sacred ground. Sec­ond, they under­stood through­out their 18-day strug­gle lead­ing up to Mubarak's res­ig­na­tion that it was only the grow­ing size and pub­lic nature of the protests in the square that made the move­ment pow­er­ful.

There are many opin­ions now on the streets of Egypt. The seem­ing con­tra­dic­tion of want­i­ng to get ​"our great coun­try mov­ing again" with the mass move­ment ​"want­i­ng to main­tain a pub­lic pres­ence" is what spawns divid­ed opin­ion in these first free hours on how to move the coun­try for­ward. We shall see how major­i­ty opin­ion devel­ops on these and oth­er crit­i­cal­ly impor­tant polit­i­cal issues fac­ing the future of the Egypt­ian rev­o­lu­tion.

One thing is cer­tain. The free­doms won in the last few weeks gives Egyp­tians the oppor­tu­ni­ty to demo­c­ra­t­i­cal­ly decide their future with a new con­fi­dence. The peo­ple are no longer afraid. No doubt that real­i­ty in itself must fright­en those who long prof­it­ed from the old régime, both in gov­ern­ment and busi­ness, and who now may want to reestab­lish their own idea of ​"sta­bil­i­ty" in order to return to the past.

Thanks to my friend Mark Har­ris in Port­land for help­ing put this report togeth­er.

Carl Finamore is retired pres­i­dent of Local 1781 of the Inter­na­tion­al Asso­ci­a­tion of Machin­ists (IAM) at San Fran­cis­co air­port. He is in Egypt with let­ters of intro­duc­tion from his local union and the San Fran­cis­co Labor Coun­cil, AFL-CIO. While he is in Cairo, you can read his brief updates on Facebook.
Carl Finamore
is a del­e­gate to the San Fran­cis­co Labor Coun­cil, AFL-CIO, and for­mer Pres­i­dent (retired), Air Trans­port Employ­ees, Local Lodge
1781
, IAMAW.