Calif. Mineworkers Locked Out After Contract Rejection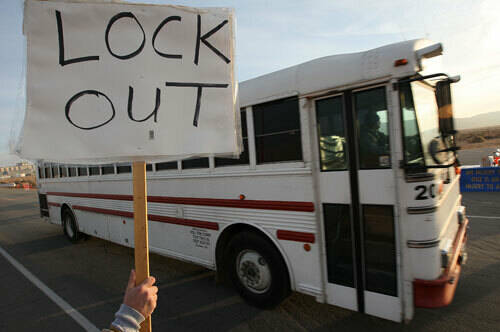 A southern California town is on edge after a mining company locked out more than 500 employees and hired replacement workers at the world's second largest borate mine after their union refused to sign a contract.

The Bakersfield Californian reported that the 560 workers at the Rio Tinto mine were confronted by county deputies in riot gear when they arrived for work at 7 a.m. Sunday. They were given their final paychecks, which included accrued vacation hours.

Three busloads of replacement workers swept into the mine — purportedly transported by bus to protect their safety.

At stake? As part of contract negotiations with the International Longshore and Warehouse Union Local 30, the giant London-based Rio Tinto mining company wanted to hire more nonunion employees and alter the seniority system so as to promote employees based on performance instead of years of service.
Craig Merrilees, a union spokesman, says all members of the union voted over the weekend to reject the contract, though it did include a 2-percent wage increase, 80-percent healthcare coverage and a $4,000 bonus. He told the Los Angeles Times:
The contract would allow the right to discriminate and practice cronyism when it comes to deciding who gets a raise, who gets overtime and who gets training opportunities.
Many of the 2,000 residents of the town of Boron, about 120 miles northeast of Los Angeles, work at the mine. An ongoing conflict could be devastating to the community, which grew up around the mine. The site is California's largest open-pit mine.

The mine's general manager Dean Gehring told the Times:
It's obviously a drastic measure and I am well aware of the fact that this has very real consequences to our employees. It's not a bully tactic, but it's our only real alternative.
The company attributed the changes to losing a 25-percent share of the global borax market and the need to stay competitive. Borax is a compound that is found in a variety of products, including detergents and cosmetics, buffer solutions in biochemistry, fire retardants and fiberglass.

Rio Tinto said the lockout means it has ended negotiations and the Bakersfield paper reported that the number of replacement workers would be ramped up in coming weeks. Merrilees said:
It's not just about Rio Tinto but all the companies doing this to people across the country. In this little town, people are drawing the line.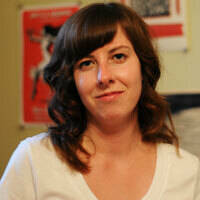 Emily Udell
is a writer for Angie's List Magazine in Indianapolis. In
2009
, she finished a stint drinking bourbon and covering breaking news for
The Courier-Journal
in Louisville, Ky. Her eclectic media career also includes time at the Associated Press,
Punk Planet
(R.I.P.),
The Daily Southtown
in southwest Chicago, and Radio Prague in the Czech Republic. She co-hosted and co-produced
In These Times
' radio show ​
"
Fire on the Prairie
" from
2003
to
2006
.