California Domestic Workers Ask for a Little R-E-S-P-E-C-T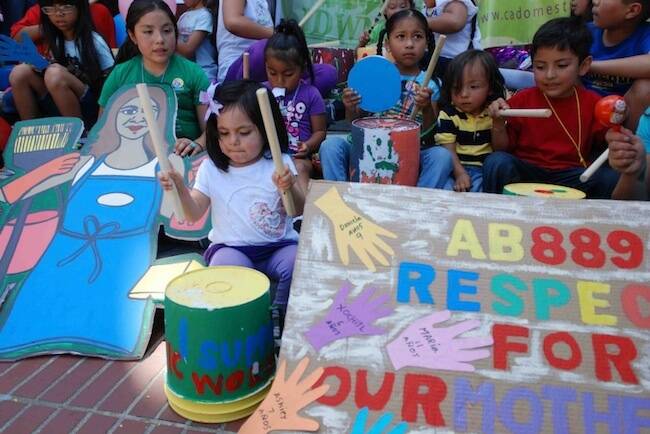 Domes­tic work­ers such as nan­nies are the heroes of many house­holds, han­dling every­thing from burp­ing babies to mak­ing sure grand­ma takes her med­i­cine. Now they're adding anoth­er tal­ent to their skill set: flash­mob­bing. A new video pub­lished by Mujeres Unidas Y Acti­vas helps train Cal­i­for­nia domes­tic work­ers to make a splash in pub­lic places with a song and dance number.
With Aretha Frank­in's ​"Respect" as its sound­track, it's one of the many cre­ative ways grass­roots advo­cates are spot­light­ing the strug­gles of domes­tic work­ers – women who are often lit­er­al­ly shut indoors and silenced by dis­crim­i­na­to­ry labor policies.
Behind the fun street the­ater is a seri­ous cause: Cal­i­for­nia domes­tic work­ers are push­ing for a Domes­tic Work­ers Bill of Rights–a set of prin­ci­ples that would be enact­ed through state leg­is­la­tion to ensure secu­ri­ty, dig­ni­ty and basic pro­tec­tion from abuse on the job. On August 21, they ral­lied in Sacra­men­to, build­ing on a groundswell of nation­al sup­port for the bill, which mir­rors a sim­i­lar mea­sure in New York.
These nan­nies, house­keep­ers and senior health aides rep­re­sent impov­er­ished Lati­no immi­grant com­mu­ni­ties who are struc­tural­ly rel­e­gat­ed to the bot­tom rung of the labor force. As David Bacon report­ed ear­li­er this year, weak labor law makes it easy for employ­ers to exploit them with impunity.
One of the groups at the ral­ly was El Cen­tro Lab­o­ral de Gra­ton/​The Gra­ton Day Labor Cen­ter, which advo­cates for domes­tic work­ers as well as oth­er work­ers who do not have equal pro­tec­tion under fed­er­al labor stan­dards. On Tues­day, El Cen­tro activist Mau­reen Pur­till told In These Times via email:
We are a small day labor cen­ter in rur­al Sono­ma Coun­ty. Our mem­bers are domes­tic work­ers, farm work­ers and day labor­ers. We feel the momen­tum build­ing in this cam­paign, and know that a vic­to­ry for Domes­tic Work­ers is inevitable. Their exclu­sion from basic labor laws is a shame­ful part of the his­tor­i­cal lega­cy of racism in this coun­try, and we cel­e­brate the amaz­ing women who lead this his­toric effort with their voic­es, love and ded­i­ca­tion to justice.
Pur­till added that some­times, domes­tic and farm work­ers may live togeth­er as heads of one house­hold – illus­trat­ing the need for a glob­al, fam­i­ly-cen­tered response to attacks on labor rights across dif­fer­ent low-wage sectors.
The Cal­i­for­nia Domes­tic Work­ers Bill of Rights would embody a more holis­tic approach to labor rights. The Nation­al Domes­tic Work­ers Alliance sum­ma­rizes the main demands:
Equal over­time pay. Cur­rent­ly, per­son­al atten­dants are exclud­ed from over­time rights and live-in domes­tic work­ers receive less pro­tec­tion under over­time laws. The CDW­BR would include ALL domes­tic work­ers in California's over­time pro­tec­tions of time and a half after

8

hours in one work­day and

40

hours in one work­week and dou­ble time after

12

hours in one workday.
Equal right to worker's com­pen­sa­tion. Domes­tic work­ers are carved-out of California's worker's com­pen­sa­tion laws when they work in pri­vate house­holds less than

52

hours or earn less than $

100

in the pre­vi­ous

90

days. The CDW­BR would cov­er ALL domes­tic work­ers under California's worker's com­pen­sa­tion laws.
Equal right to report­ing time pay. … The CDW­BR would extend report­ing time pay rights that most Cal­i­for­nia work­ers enjoy to per­son­al attendants.
Right to

8

hours unin­ter­rupt­ed sleep under ade­quate con­di­tions. … Domes­tic work­ers often labor around the clock plac­ing them­selves and the peo­ple they care for at risk of sick­ness and unin­ten­tion­al mis­takes caused by exhaus­tion. The CDW­BR would guar­an­tee domes­tic work­ers at least

8

hours of unin­ter­rupt­ed sleep under ade­quate conditions.
Right to cook one's own food. Unlike most Cal­i­for­nia work­ers, domes­tic work­ers are often con­fined to the home of their employ­er and are forced to eat food that is unhealthy or not to their lik­ing. The CDW­BR would grant domes­tic work­ers the right to make basic deci­sions regard­ing the type of food they eat.
There's been a long-run­ning debate over the ethics of mod­ern child­care, focused on the anx­i­ety that some mid­dle-class work­ing moth­ers feel over employ­ing nan­nies. Many right­ly voice fem­i­nist frus­tra­tion over a lack of sub­si­dized child­care or paid mater­nal leave options.
But the untold side of the sto­ry is that of the work­ers, who have their own house­holds to sup­port. Cal­i­for­ni­a's domes­tic work sec­tor is dom­i­nat­ed by low-income women and immi­grants. Eco­nom­ic des­per­a­tion – which, in the case of undoc­u­ment­ed work­ers, may be aggra­vat­ed by fears of being exposed to immi­gra­tion author­i­ties – rais­es the pres­sure to keep qui­et and often, to endure day-to-day abuse. Under­ly­ing the rou­tine abus­es is a lack of pro­tec­tions and ben­e­fits that deep­ens work­ers' vul­ner­a­bil­i­ty in the infor­mal labor mar­ket: no paid sick days, for instance, or a lack of enforce­able labor con­tracts or col­lec­tive bar­gain­ing pow­er. The strug­gles of Cal­i­for­ni­a's nan­nies and house­keep­ers are also stitched into glob­al pat­terns of infor­mal house­hold-based work: legions of women cross bor­ders to earn high­er wages abroad, but pay a heavy social toll of fam­i­ly sep­a­ra­tion and chron­ic instability.
Ini­tia­tives like the Bill of Rights move­ment seek glob­al change on a local lev­el, by mak­ing labor pol­i­tics inti­mate­ly per­son­al. The chil­dren of Cal­i­for­ni­a's domes­tic work­ers have also turned out to push for the Bill of Rights, rep­re­sent­ing what's at stake when care­givers them­selves are not cared for.
There's real­ly no rea­son why these kids should have to spend any more time won­der­ing if their moms will ever be treat­ed fair­ly at work. All they're ask­ing for is a lit­tle respect.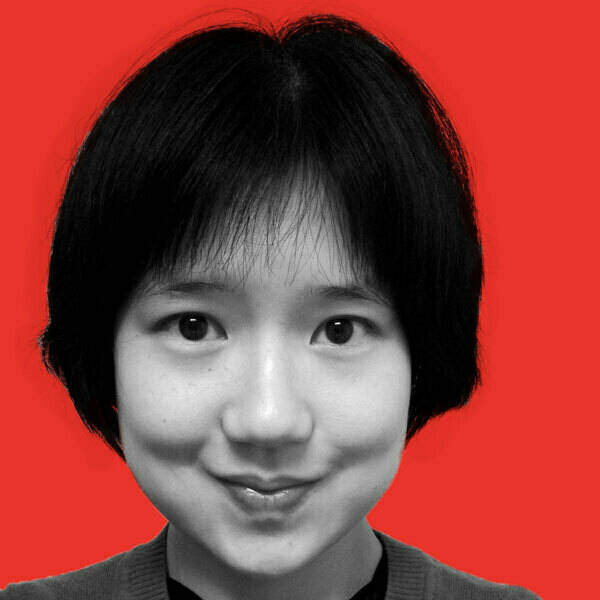 Michelle Chen is a con­tribut­ing writer at In These Times and The Nation, a con­tribut­ing edi­tor at Dis­sent and a co-pro­duc­er of the ​"Bela­bored" pod­cast. She stud­ies his­to­ry at the CUNY Grad­u­ate Cen­ter. She tweets at @meeshellchen.