Undocumented Communities Devastated By Calif. Wildfires Are Now Being Left Out of Federal Relief
Grassroots fundraising efforts aim to prevent undocumented immigrants from slipping through the cracks.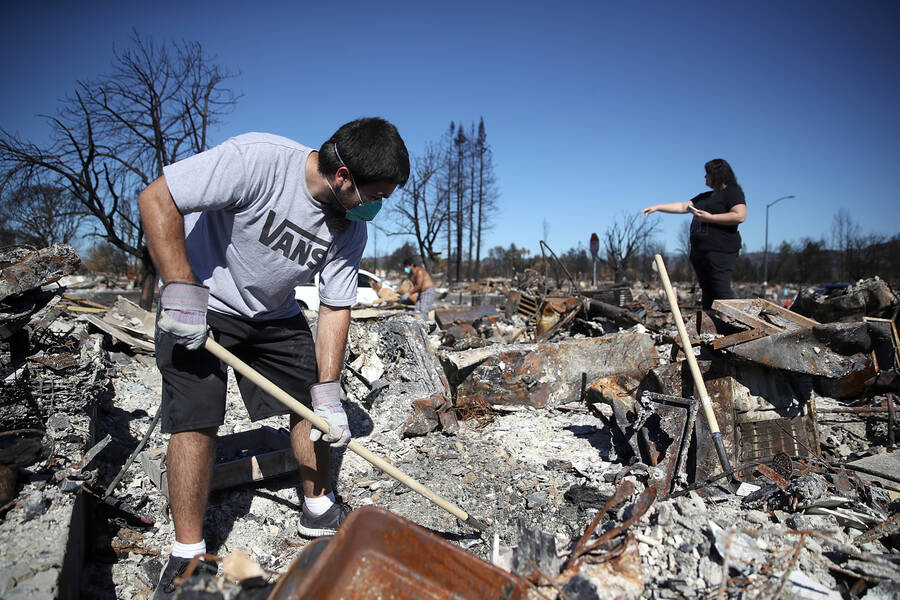 Since early October, fires in Northern California have ravaged tens of thousands of acres of land. While now contained, the infernos have introduced a number of grave repercussions, compromising access to food, water, housing and jobs.
Deprived of these services as a result of their citizenship status, undocumented immigrants are rendered vulnerable to extreme, protracted scarcity.
The ruination has impacted countless residents, but the Bay Area's undocumented population suffers uniquely dire consequences.
At the time of the fires, the region's Napa County was home to approximately 15,500 undocumented immigrants. Roughly 28,000 undocumented immigrants live in the neighboring county of Sonoma, another area profoundly impacted by the wreckage.
These numbers, however, may soon be in flux. Aggravating the losses they've brooked, undocumented communities in Northern California are debarred from some of the most crucial forms of federal aid in the wake of disaster, including that from the Federal Emergency Management Agency (FEMA) and disaster unemployment assistance.
Depending on a number of factors, FEMA-eligible survivors may be entitled to assistance with obtaining and financing various necessities — such as employment, housing, food and medical care. Similarly, disaster unemployment assistance, while limited and often insufficient, mitigates the financial aftermath of job loss for those who qualify. Deprived of these services as a result of their citizenship status, undocumented immigrants are rendered vulnerable to extreme, protracted scarcity.
Ineligible for government aid, undocumented Sonoma County resident Agustín Aguilera approached a credit union relief fund and the Red Cross for financial assistance shortly after losing his home, car and belongings. At the time of the interview, Aguilera hadn't yet received approval from the credit union, and the Red Cross was providing housing assistance but not funds, he said. (The Red Cross told In These Times that, while it offered aid with food, shelter, and other needs beginning October 8, it didn't provide funding for survivors until approximately October 21.) In the meantime, Aguilera and his family have primarily relied on the largesse of their community, receiving emotional and material support from friends whose homes have remained intact.
"The only support I've been having right now is [from] some of my friends," Aguilera told In These Times. ​"They have been able to help us out with clothing and some food and a little bit of everything. That's the only support that we've been getting."
To address the needs of people who share Aguilera's plight, Sonoma County organization UndocuFund was conceived days after the fires began as an alternative fundraising resource. In partnership with local nonprofits like La Luz Center and North Bay Organizing Project, UndocuFund had raised over $930,000 by the beginning of November, according to coordinator Omar Medina.
Such assistance is proving vital, as undocumented residents scramble for places to live amid threats of displacement from their neighborhoods. Many have seen their homes reduced to ash. The prospect of securing a new living space is tenuous for workers who are statistically likely to make low wages in the already-exorbitant and competitive housing market of Sonoma County — an increasingly unaffordable location whose median income reaches north of $64,000.
"The majority [of undocumented immigrants in the area] are already low-income," Medina said. ​"In terms of competing for new places for those that have been completely displaced, they don't have that money to make a deposit on a new spot."
In the city of Santa Rosa, conditions are particularly grim. Vacancy rates in the rental housing market are a mere 3.2 percent, according to estimates from the U.S. Department of Housing and Urban Development. Worse, ​"there was no type of eviction protections, no type of rent control," said Medina. Local hostility to such regulations came to the fore when a measure to institute rent control and just-cause protections for evictions in Santa Rosa failed earlier this year. ​"If you lost your spot, or maybe you had a good, reasonable, let's say $1,200 rent, now you're moving into the regular market, where the average before the fire for a two-bedroom was around $1,900 a month," said Medina. ​"Now, the prices have gone up significantly."
Such circumstances are compounded by the loss of jobs for large numbers of undocumented workers who, according to Medina, provide labor paid by the hour or day, such as cleaning services, farming or construction. With the destruction of hotels and houses, and the desiccation of arable land for Sonoma and Napa vineyards and marijuana farms, job opportunities have shriveled.
Aguilera was one such laborer; the havoc wreaked by the fires forced him into unemployment for several weeks. ​"I do construction for a living, so a couple of the jobs that my company had were affected by the fires, too," Aguilera said. ​"I wasn't able to work until now…Several of my friends lost their house and lost their job, too."
In addition to a lack of financial security, a language barrier exists for those undocumented survivors who aren't comfortable communicating in English, further obscuring the process of navigating governmental structures. Though Sonoma County government has improved its bilingual presence in recent weeks through minor efforts such as a Spanish-English texting service, the area retains a reputation for sub-optimal service to Spanish speakers, Medina said.
Exacerbating these challenges is an even more exigent peril: law enforcement. Initially, Medina said, local relief shelters were riddled with police, along with the National Guard, creating a predatory environment for beleaguered undocumented communities and deterring them from receiving desperately needed aid. (Heightening dismay, FEMA is a division of the Department of Homeland Security.)
"You have these shelters where there's military-uniformed folks. There's law enforcement all over," recounted Medina, who said he witnessed such a scene in Santa Rosa. ​"You've got all these Homeland Security cars around, people with Homeland Security outfits all over the place. Think about that view from an undocumented perspective."
Recently, county officials have sought to dispel rumors of immigration crackdowns, and Immigration and Customs Enforcement (ICE) has stated that it would suspend its activity at shelters. But Medina argued the time frame remains vague. ​"Now that we're a couple weeks out, we don't know if [the ICE ban] is still in effect or what that means," Medina said.
Amid fears the fires will continue to uproot undocumented immigrants and other marginalized communities, Medina emphasized the urgency of organizing to protect those who rank among the area's most vulnerable populations.
"The community that I know, the diversity within it, is in danger of being lost through housing and displacement," said Medina. ​"Immigrants and people of color, low-income folks, are most likely to be displaced, further decreasing the diversity of the community that we have here right now."
Julianne Tveten
writes about technology, labor, and culture, among other topics. Her work has appeared in The Nation, Capital
&
Main, KPFK Pacifica Radio, and elsewhere.