Undocumented Communities Devastated By Calif. Wildfires Are Now Being Left Out of Federal Relief
Grassroots fundraising efforts aim to prevent undocumented immigrants from slipping through the cracks.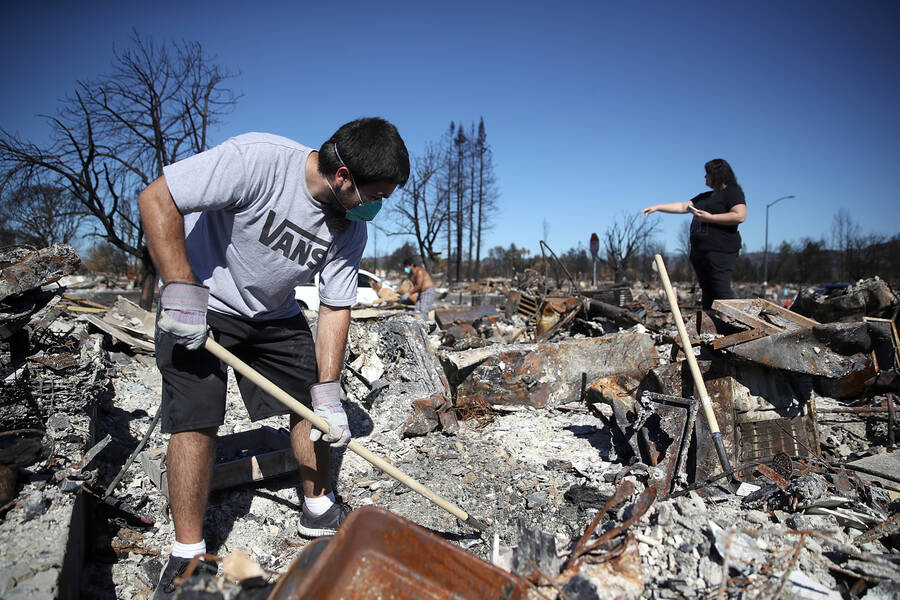 Since ear­ly Octo­ber, fires in North­ern Cal­i­for­nia have rav­aged tens of thou­sands of acres of land. While now con­tained, the infer­nos have intro­duced a num­ber of grave reper­cus­sions, com­pro­mis­ing access to food, water, hous­ing and jobs.
Deprived of these services as a result of their citizenship status, undocumented immigrants are rendered vulnerable to extreme, protracted scarcity.
The ruina­tion has impact­ed count­less res­i­dents, but the Bay Area's undoc­u­ment­ed pop­u­la­tion suf­fers unique­ly dire consequences.
At the time of the fires, the region's Napa Coun­ty was home to approx­i­mate­ly 15,500 undoc­u­ment­ed immi­grants. Rough­ly 28,000 undoc­u­ment­ed immi­grants live in the neigh­bor­ing coun­ty of Sono­ma, anoth­er area pro­found­ly impact­ed by the wreckage.
These num­bers, how­ev­er, may soon be in flux. Aggra­vat­ing the loss­es they've brooked, undoc­u­ment­ed com­mu­ni­ties in North­ern Cal­i­for­nia are debarred from some of the most cru­cial forms of fed­er­al aid in the wake of dis­as­ter, includ­ing that from the Fed­er­al Emer­gency Man­age­ment Agency (FEMA) and dis­as­ter unem­ploy­ment assistance.
Depend­ing on a num­ber of fac­tors, FEMA-eli­gi­ble sur­vivors may be enti­tled to assis­tance with obtain­ing and financ­ing var­i­ous neces­si­ties — such as employ­ment, hous­ing, food and med­ical care. Sim­i­lar­ly, dis­as­ter unem­ploy­ment assis­tance, while lim­it­ed and often insuf­fi­cient, mit­i­gates the finan­cial after­math of job loss for those who qual­i­fy. Deprived of these ser­vices as a result of their cit­i­zen­ship sta­tus, undoc­u­ment­ed immi­grants are ren­dered vul­ner­a­ble to extreme, pro­tract­ed scarcity.
Inel­i­gi­ble for gov­ern­ment aid, undoc­u­ment­ed Sono­ma Coun­ty res­i­dent Agustín Aguil­era approached a cred­it union relief fund and the Red Cross for finan­cial assis­tance short­ly after los­ing his home, car and belong­ings. At the time of the inter­view, Aguil­era hadn't yet received approval from the cred­it union, and the Red Cross was pro­vid­ing hous­ing assis­tance but not funds, he said. (The Red Cross told In These Times that, while it offered aid with food, shel­ter, and oth­er needs begin­ning Octo­ber 8, it didn't pro­vide fund­ing for sur­vivors until approx­i­mate­ly Octo­ber 21.) In the mean­time, Aguil­era and his fam­i­ly have pri­mar­i­ly relied on the largesse of their com­mu­ni­ty, receiv­ing emo­tion­al and mate­r­i­al sup­port from friends whose homes have remained intact.
"The only sup­port I've been hav­ing right now is [from] some of my friends," Aguil­era told In These Times. ​"They have been able to help us out with cloth­ing and some food and a lit­tle bit of every­thing. That's the only sup­port that we've been getting."
To address the needs of peo­ple who share Aguilera's plight, Sono­ma Coun­ty orga­ni­za­tion Undocu­Fund was con­ceived days after the fires began as an alter­na­tive fundrais­ing resource. In part­ner­ship with local non­prof­its like La Luz Center and North Bay Orga­niz­ing Pro­ject, Undocu­Fund had raised over $930,000 by the begin­ning of Novem­ber, accord­ing to coor­di­na­tor Omar Medina.
Such assis­tance is prov­ing vital, as undoc­u­ment­ed res­i­dents scram­ble for places to live amid threats of dis­place­ment from their neigh­bor­hoods. Many have seen their homes reduced to ash. The prospect of secur­ing a new liv­ing space is ten­u­ous for work­ers who are sta­tis­ti­cal­ly like­ly to make low wages in the already-exor­bi­tant and com­pet­i­tive hous­ing mar­ket of Sono­ma Coun­ty — an increas­ing­ly unaf­ford­able loca­tion whose medi­an income reach­es north of $64,000.
"The major­i­ty [of undoc­u­ment­ed immi­grants in the area] are already low-income," Med­i­na said. ​"In terms of com­pet­ing for new places for those that have been com­plete­ly dis­placed, they don't have that mon­ey to make a deposit on a new spot."
In the city of San­ta Rosa, con­di­tions are par­tic­u­lar­ly grim. Vacan­cy rates in the rental hous­ing mar­ket are a mere 3.2 per­cent, accord­ing to esti­mates from the U.S. Depart­ment of Hous­ing and Urban Devel­op­ment. Worse, ​"there was no type of evic­tion pro­tec­tions, no type of rent con­trol," said Med­i­na. Local hos­til­i­ty to such reg­u­la­tions came to the fore when a mea­sure to insti­tute rent con­trol and just-cause pro­tec­tions for evic­tions in San­ta Rosa failed ear­li­er this year. ​"If you lost your spot, or maybe you had a good, rea­son­able, let's say $1,200 rent, now you're mov­ing into the reg­u­lar mar­ket, where the aver­age before the fire for a two-bed­room was around $1,900 a month," said Med­i­na. ​"Now, the prices have gone up significantly."
Such cir­cum­stances are com­pound­ed by the loss of jobs for large num­bers of undoc­u­ment­ed work­ers who, accord­ing to Med­i­na, pro­vide labor paid by the hour or day, such as clean­ing ser­vices, farm­ing or con­struc­tion. With the destruc­tion of hotels and hous­es, and the des­ic­ca­tion of arable land for Sono­ma and Napa vine­yards and mar­i­jua­na farms, job oppor­tu­ni­ties have shriveled.
Aguil­era was one such labor­er; the hav­oc wreaked by the fires forced him into unem­ploy­ment for sev­er­al weeks. ​"I do con­struc­tion for a liv­ing, so a cou­ple of the jobs that my com­pa­ny had were affect­ed by the fires, too," Aguil­era said. ​"I wasn't able to work until now…Several of my friends lost their house and lost their job, too."
In addi­tion to a lack of finan­cial secu­ri­ty, a lan­guage bar­ri­er exists for those undoc­u­ment­ed sur­vivors who aren't com­fort­able com­mu­ni­cat­ing in Eng­lish, fur­ther obscur­ing the process of nav­i­gat­ing gov­ern­men­tal struc­tures. Though Sono­ma Coun­ty gov­ern­ment has improved its bilin­gual pres­ence in recent weeks through minor efforts such as a Span­ish-Eng­lish tex­ting ser­vice, the area retains a rep­u­ta­tion for sub-opti­mal ser­vice to Span­ish speak­ers, Med­i­na said.
Exac­er­bat­ing these chal­lenges is an even more exi­gent per­il: law enforce­ment. Ini­tial­ly, Med­i­na said, local relief shel­ters were rid­dled with police, along with the Nation­al Guard, cre­at­ing a preda­to­ry envi­ron­ment for belea­guered undoc­u­ment­ed com­mu­ni­ties and deter­ring them from receiv­ing des­per­ate­ly need­ed aid. (Height­en­ing dis­may, FEMA is a divi­sion of the Depart­ment of Home­land Security.)
"You have these shel­ters where there's mil­i­tary-uni­formed folks. There's law enforce­ment all over," recount­ed Med­i­na, who said he wit­nessed such a scene in San­ta Rosa. ​"You've got all these Home­land Secu­ri­ty cars around, peo­ple with Home­land Secu­ri­ty out­fits all over the place. Think about that view from an undoc­u­ment­ed perspective."
Recent­ly, coun­ty offi­cials have sought to dis­pel rumors of immi­gra­tion crack­downs, and Immi­gra­tion and Cus­toms Enforce­ment (ICE) has stat­ed that it would sus­pend its activ­i­ty at shel­ters. But Med­i­na argued the time frame remains vague. ​"Now that we're a cou­ple weeks out, we don't know if [the ICE ban] is still in effect or what that means," Med­i­na said.
Amid fears the fires will con­tin­ue to uproot undoc­u­ment­ed immi­grants and oth­er mar­gin­al­ized com­mu­ni­ties, Med­i­na empha­sized the urgency of orga­niz­ing to pro­tect those who rank among the area's most vul­ner­a­ble populations.
"The com­mu­ni­ty that I know, the diver­si­ty with­in it, is in dan­ger of being lost through hous­ing and dis­place­ment," said Med­i­na. ​"Immi­grants and peo­ple of col­or, low-income folks, are most like­ly to be dis­placed, fur­ther decreas­ing the diver­si­ty of the com­mu­ni­ty that we have here right now."
Julianne Tveten
writes about tech­nol­o­gy, labor, and cul­ture, among oth­er top­ics. Her work has appeared in The Nation, Cap­i­tal
&
Main, KPFK Paci­fi­ca Radio, and elsewhere.