California Walmart Store Workers Go Out on Historic Strike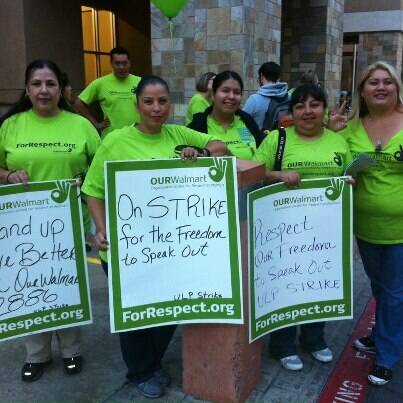 About 60 morning-shift workers at the Walmart Supercenter in Pico Rivera, California, reported for duty Thursday – not in the cavernous store but on a picket line in front of it for a historic strike that looks to be part of a rapidly expanding wave of protest this fall.
Forty late-night workers, then more from the afternoon shift, joined the picket line. And over the course of the morning, dozens of workers from 10 other Los Angeles-area Walmarts also walked out. Workers called the one-day, unfair labor practice strike to demand that the nation's largest private employer treat its workers with more respect and stop retaliation against outspoken workers.
Other than a small walkout several years ago in Florida, this is the first – and certainly the largest – strike by Walmart ​"associates" in the United States. Although no Walmart stores in the United States are unionized, an organization of associates with support from the United Food and Commercial Workers – OUR Walmart – has over the past year created a network both in individual stores and nationally among thousands of employees, including about 30 active members out of 300 associates employed at the Pico Rivera store.
Leaders and members of community and labor groups rallied Thursday morning at Pico Rivera to support the strikers. The strike also occurred while leaders of unions representing Walmart workers in nine countries also met in Los Angeles to plan a globally coordinated strategy through UNI, a global union federation.
The retail store workers took inspiration from the recent strikes by subcontract workers at Walmart warehouses in southern California, who ended their strike last Saturday, and outside of Chicago, who continue their job action and plan to present a petition to Walmart Friday with signatures of 100,000 supporters.
Like the warehouse workers, the retail store employees are also responding to escalating cases of what workers say is retaliation by managers against OUR Walmart activists and other workers who speak out against common complaints, such as low pay, inadequate health insurance, short or unpredictable work weeks, understaffing, and lack of appreciation and respect. For example, one southern California Walmart worker, Girshriela Green, called on Walmart to treat its employees better at a June 30 rally. Less than a week later, on July 6, Walmart sent her a letter firing her.
​"The warehouse workers did it," Pico Rivera associate Dan Hindman, 28, says, explaining how he and his colleagues decided to take action. ​"If they can, we all can do it. We're protected by the law. We're doing it for our rights and to get the company to follow their own policies that they've broken."
Even though they are not in a union, workers have a right to take collective action over grievances, and by striking over unfair labor practices, workers are protected from being permanently replaced.
​"I can't afford to work at Walmart, but I have no choice," says Hindman, a college graduate who says that since Walmart cut his hours, after expenses – such as child support and health insurance payments for his son and former wife – he often takes home only around $75 for a two-week pay period. Financially forced to live with his mother, he's over $7,000 in debt, he says.
​"I'm fighting for a lot," Hindman says. ​"This is a big deal for me…All we're asking for is respect. … I've never been a slave, but I don't like this. It's out of control. This is about freedom, about our rights. Why should Walmart take them away?"
Walmart workers and community allies have escalated their long-time battle with the company that has been widely blamed for driving down working conditions in the retail sector, forcing many small retailers out of business, squeezing its own suppliers (often pushing them to bankruptcy after lowering prices), depressing labor conditions and pay among suppliers, and driving suppliers overseas and depressing wages even in countries like China.
When workers in the United States and Canada have tried to organize unions, Walmart in the past has often closed stores or departments.
In recent months, Walmart associates and allies have:
taken proposals, such as executive pay reform, to the corporate shareholders' meeting;
presented evidence to major investors and stock analysts that Walmart's labor practices are contributing to the company's relatively poor economic performance;
filed unfair labor practice charges with the National Labor Relations Board;
opposed new stores in New York and Los Angeles, persuading many politicians to refuse Walmart campaign contributions;
and held marches in Dallas and San Diego.
Workers at a Louisiana seafood supplier went on strike in June, and the Department of Labor fined the supplier for wage and hour violations. Human Rights Watch criticized Walmart for failng to monitor its overseas suppliers, many of whom commit serious violations of labor and human rights. The company also faces new lawsuits on gender discrimination and investigations of bribery in Mexico.
In Los Angeles, community groups have fought Walmart's plans for a new, smaller scale urban store near Chinatown that residents and local merchants feel will threaten the character of the community and the survival of its smaller stores. The Los Angeles Alliance for a New Economy, a community-labor advocate of equitable economic development, is pushing for a year-long moratorium on the Chinatown Walmart as part of a larger campaign for a greater community voice on the development of all big box retailers.
The UFCW's Making Change at Walmart campaign has set several goals: a minimum of $25,000 a year pay for all workers in retail stores and the distribution network; quality, affordable health care; a national community benefits agreement; Walmart's signature on a global labor union agreement to recognize workers' right to organize; and the company's commitment to a legally binding global responsible contractor policy. The unions at the UNI conference formed a Walmart Global Union Alliance, which, along with fighting for improved working conditions, will try to get Walmart to recognize the basic human right to free association and organization of unions at work.
Next Wednesday about 200 Walmart workers from around the country will gather at corporate headquarters in Bentonville, Arkansas, to deliver their protest to financial analysts assembled for Walmart's own presentation of its condition and prospects. Continuing strikes and protest during the important pre-Christmas retail season could prove costly to the company and worrisome to investors.
As supporters of the strikers in lime-green t‑shirts gathered Thursday morning for a rally, amidst a background of palm trees and placards reading, ​"Stand Up, Live Better," ​"Respect Work, Rebuild America," and ​"Stop Cutting Hours," the strikers felt elated, despite their trepidation about potential retaliation.
​"I'm so proud to be part of this historic event," said Paramount, Calif., Walmart store veteran employee and striker Carlton Smith. ​"I'm in awe. This is what it's going to take to do the right thing."
Next to him, Pico Rivera striker Venanzi Luna beamed as she thought about what they were doing, saying, ​"For the first time in my life, I'm making history."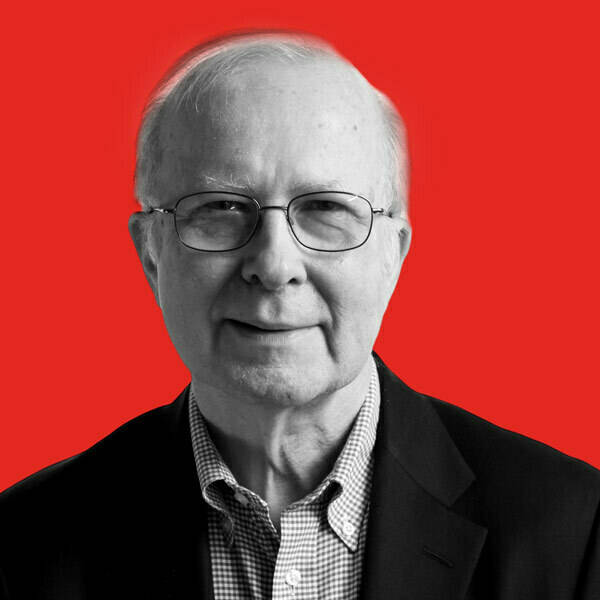 David Moberg, a senior editor of In These Times, has been on the staff of the magazine since it began publishing in 1976. Before joining In These Times, he completed his work for a Ph.D. in anthropology at the University of Chicago and worked for Newsweek. He has received fellowships from the John D. and Catherine T. MacArthur Foundation and the Nation Institute for research on the new global economy.