Can Socialists Win Elections in the U.S.?
Kshama Sawant of Seattle showed socialist victories are possible. Will they spread?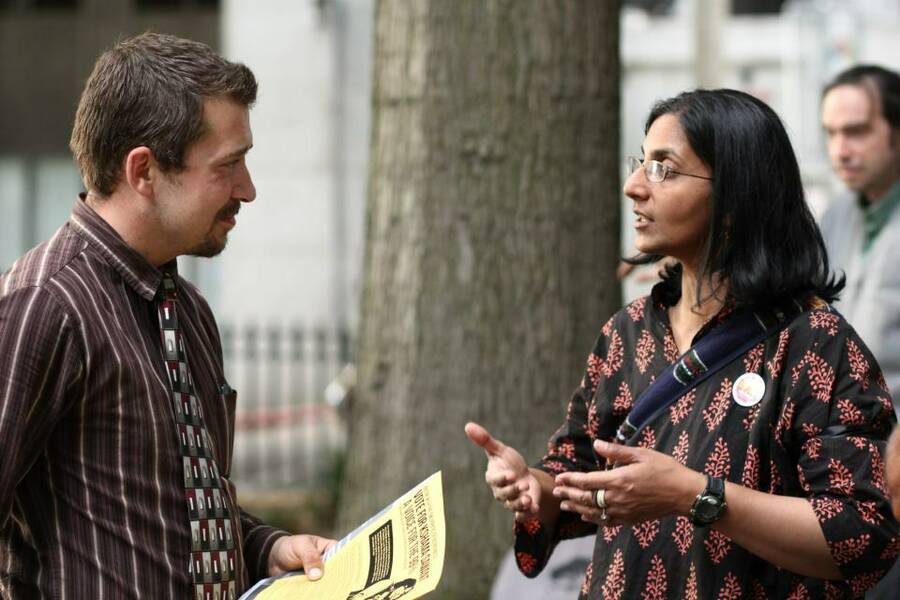 ​"Indi­an-ori­gin Kshama Sawant is first elect­ed social­ist in U.S.," read a head­line from The Times of India, the world's most wide­ly cir­cu­lat­ed Eng­lish-lan­guage dai­ly. This was tes­ta­ment to the atten­tion Sawant's cam­paign for Seat­tle City Coun­cil has gen­er­at­ed — and to how much of America's social­ist her­itage has been forgotten.
Much of the Left 'has assimilated a culture of low expectations and isolation,' Moore says. 'But this is something the Left should be capable of doing in many cities.'
Sawant isn't even the thou­sandth elect­ed social­ist in the Unit­ed States, much less the first. At its peak a cen­tu­ry ago, the Social­ist Par­ty of Amer­i­ca polled at 6 per­cent nation­al­ly, had two rep­re­sen­ta­tives in Con­gress and boast­ed hun­dreds of state and local legislators.
But for more than a gen­er­a­tion, social­ism has been vir­tu­al­ly invis­i­ble on the Amer­i­can scene. Its return in sev­er­al high-pro­file local city coun­cil races — Sawant's in Seat­tle, Ty Moore's in Min­neapo­lis and Sea­mus Whelan's in Boston — has been sur­pris­ing. Espe­cial­ly giv­en the gen­e­sis of this push: not just wide­spread dis­sat­is­fac­tion with the econ­o­my and grow­ing social inequity, but the efforts of a small Trot­sky­ist par­ty called Social­ist Alternative.
Social­ist Alter­na­tive first emerged as ​"Labor Mil­i­tant" in 1986. Its activists were inspired by the exam­ple of the U.K. social­ist group ​"Mil­i­tant ten­den­cy," which sought to enter the British Labour Par­ty in order to rad­i­cal­ize its rank-and-file. A decade lat­er it would use its posi­tion on the Liv­er­pool City Coun­cil and else­where to lead an aggres­sive cam­paign against the Thatch­er administration's cuts to social programs.
The Amer­i­can mil­i­tants adapt­ed their tac­tics to the con­di­tions in their own coun­try. With­out a mass social-demo­c­ra­t­ic par­ty to enter into, Social­ist Alter­na­tive used its ear­ly influ­ence in the now-defunct U.S. Labor Par­ty of the late 1990s to advo­cate for elec­toral oppo­si­tion to Demo­c­ra­t­ic Par­ty politi­cians. In the com­ing years the orga­ni­za­tion would be active in social move­ments, but it wasn't much of a pres­ence even by the slim stan­dards of the Amer­i­can Left. It had nei­ther the clout of the Demo­c­ra­t­ic Social­ists of Amer­i­ca nor the num­ber of activists of the largest Amer­i­can bas­tion of Trot­sky­ism, the Inter­na­tion­al Social­ist Organization.
That all changed with the lat­est elec­tion cycle, when Social­ist Alter­na­tive decid­ed to run open­ly social­ist can­di­dates in just the right races.
The results, par­tic­u­lar­ly for Sawant and Moore, were impres­sive. Sawant defeat­ed long­time Demo­c­ra­t­ic incum­bent Richard Con­lin by more than 1,000 votes. Moore lost, but by a nar­row mar­gin of 229 votes out of more than 4,000 cast, despite run­ning against Demo­c­ra­t­ic can­di­date Alon­dra Cano, who attract­ed last-minute sup­port from promi­nent Min­neso­ta Democ­rats like Rep. Kei­th Elli­son, co-chair of the Pro­gres­sive Con­gres­sion­al Cau­cus, and Sen. Al Franken, as well as cor­po­rate inter­ests such as the Nation­al Asso­ci­a­tion of Realtors.
Sawant's vic­to­ry and Moore's close race have been labeled by some pro­gres­sives as Cin­derel­la tales of sorts: scrap­py first-time politi­cians backed by a mar­gin­al social­ist par­ty bat­tling against the Demo­c­ra­t­ic Par­ty. There's some­thing appeal­ing about the nar­ra­tive. Yet the real­i­ty on the ground was different.
Sawant and Moore had the back­ing of the local hous­ing and immi­grant rights move­ments, as well as labor. Sawant drew offi­cial endorse­ments from four dif­fer­ent union locals, includ­ing her own, the Amer­i­can Fed­er­a­tion of Teach­ers Local 1789. Moore attract­ed the sup­port of the Ser­vice Employ­ees Inter­na­tion­al Union (SEIU) Min­neso­ta State Council.
Javier Moril­lo, pres­i­dent of SEIU Local 26, one of the council's three mem­ber locals, says the union saw an oppor­tu­ni­ty to shift debate in the city to the left by sup­port­ing Moore.
​"Pro­gres­sive gov­er­nance needs left flanks," Moril­lo says. The union's ​"goal is always to move the ball for­ward as far as we can on pro­gres­sive issues. That's what we did in this race."
Both can­di­dates out-fundraised their oppo­nents and had access to labor and com­mu­ni­ty activists will­ing to put in long hours to sup­port their cam­paigns, cre­at­ing a vast­ly supe­ri­or ground game to the Democ­rats. Sawant also had the curi­ous sup­port of promi­nent lib­er­al media out­lets — most notably Seattle's alt-week­ly The Stranger, which endorsed her cam­paign ear­ly on and cov­ered it closely.
The Stranger news edi­tor Dominic Hold­en says that while the paper, and most Seat­tleites, don't share Sawant's pol­i­tics, they saw in Sawant some­one who would take on the ​"toady, aging city coun­cil that is increas­ing­ly out of touch with the peo­ple who live here."
​"The fact that she is a social­ist is irrel­e­vant to most peo­ple and is irrel­e­vant to us," Hold­en says. ​"What's excit­ing is that she's pre­sent­ing actu­al pol­i­cy ideas about how to solve some of the prob­lems in our city." Those ​"actu­al pol­i­cy ideas" were basic social-demo­c­ra­t­ic demands. Moore, anchored in the city's large and mil­i­tant hous­ing-rights cam­paign and run­ning in an immi­grant com­mu­ni­ty, called for a mora­to­ri­um on fore­clo­sures and depor­ta­tions. The cen­ter­piece of Sawant's cam­paign was a push for a $15 per hour min­i­mum wage, echo­ing the ongo­ing nation­al push by fast-food work­ers. She also raised the idea of rent con­trol in a city where hous­ing costs are sky­rock­et­ing. Both the min­i­mum wage and afford­able hous­ing became cen­tral not only to Sawant's race, but to Seattle's oth­er 2013 cam­paigns as well.
​"Peo­ple said, ​'Okay, maybe I'm not a social­ist, but I sup­port these demands, and I like that this per­son seems like a seri­ous fight­er for these demands,' " Sawant says. ​"A lot of peo­ple told us after the cam­paign that they vot­ed for us because they were excit­ed about social jus­tice, and, ​'Oh, by the way, who was that guy you were run­ning against? I have no idea who he is.' "
Though Sawant has secured a seat in City Hall, she sees elec­toral vic­to­ries as offer­ing lim­it­ed gains. ​"This can't be our endgame," she says. ​"We can't accept that push­ing the Democ­rats to the left is as far as we can go. We are look­ing for a much, much big­ger change in soci­ety. But it's a process, and you have to bring peo­ple with you on the things you agree with, while being hon­est about your disagreements."
Con­di­tions on the ground may be bet­ter than they've been in the past, but this was still the vic­to­ry of a com­mit­ted, media-savvy minor­i­ty. Yet the les­son from both cam­paigns is clear: Social­ists can win, as long as they patient­ly build orga­ni­za­tion­al capa­bil­i­ties, raise ade­quate funds and win over key seg­ments of the Demo­c­ra­t­ic coali­tion. With these con­di­tions in place, Sawant's Demo­c­ra­t­ic oppo­nent was out­gunned and Moore's bare­ly pulled off an upset.
Much of the Left ​"has assim­i­lat­ed a cul­ture of low expec­ta­tions and iso­la­tion," Moore says. ​"But this is some­thing the Left should be capa­ble of doing in many cities. … These are times when very bold ini­tia­tives can take off."
Do these cam­paigns rep­re­sent an elec­toral mod­el ready for export else­where? Min­neapo­lis and Seat­tle are cities with long pro­gres­sive his­to­ries and elec­torates open to insur­gent can­di­dates. But Sawant says that rather than try­ing to attribute their suc­cess to unique fac­tors in the two cities, left­ists should fig­ure out how to be suc­cess­ful in oth­er con­texts around the country.
​"There are always speci­fici­ties. You can pick any issue in glob­al his­to­ry and say it was unique to its con­text," Sawant says. ​"There are open­ings every­where. … It would be irre­spon­si­ble of us on the Left if we didn't take advan­tage of them."
Social­ists should not expect to always suc­ceed when they engage in mass pol­i­tics. This is a peri­od of slow regroup­ment — of set­back, as well as advance. But the Social­ist Alter­na­tive cam­paigns show that those will­ing to take risks might find them­selves in a posi­tion most on the Left aren't used to: winning.
Bhaskar Sunkara
, the found­ing edi­tor of Jacobin, is an In These Times senior edi­tor. Fol­low him on Twit­ter: @el_bhask.
Mic­ah Uet­richt
is an In These Times con­tribut­ing edi­tor. He is an assis­tant edi­tor at Jacobin and has writ­ten for The Nation, Al Jazeera Amer­i­ca, Dis­sent, Salon, and the Chica­go Read­er, and the author of
Strike for Amer­i­ca: Chica­go Teach­ers Against Aus­ter­i­ty
(Verso/​Jacobin Books, March
2014
). Per­haps most impor­tant­ly, he is also a proud for­mer In These Times edi­to­r­i­al intern. Fol­low him on Twit­ter @micahuetricht or con­tact him at micah.uetricht [at] gmail.