"Electability" Is Astrology for Pundits
Expert predictions often represent little more than calcified prejudice.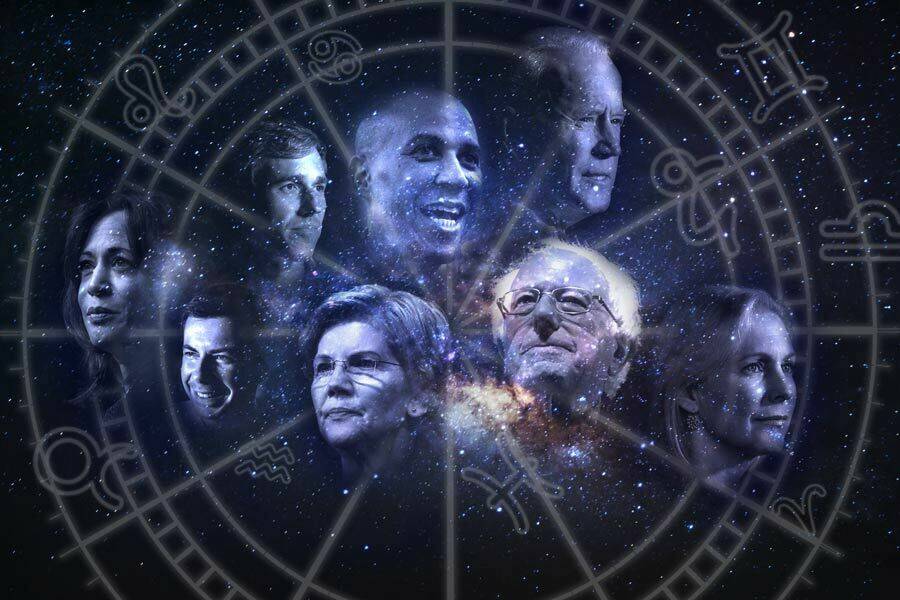 When Ayan­na Press­ley was first elect­ed to the Boston City Coun­cil in 2009, she wasn't the image of an ​"elec­table" can­di­date. In the 100 years of the Boston City Coun­cil, there had nev­er been a woman of color.
Electability is no more a science than astrology. Indeed, it is often little more than calcified prejudice.
Fast for­ward eight years, and ​"elec­tabil­i­ty" in Boston looked pret­ty dif­fer­ent. In 2017, six of the 13 coun­cilors elect­ed were women of col­or, and the Coun­cil is more will­ing to defy the may­or and push for pro­gres­sive poli­cies. It's pos­si­ble that, come 2020, the Coun­cil will be major­i­ty female and major­i­ty peo­ple of color.
Press­ley won't be there, though. She's now in Congress.
In 2018, when Press­ley ran against 20-year incum­bent Rep. Michael Capuano in Massachusetts's 7th Dis­trict, insid­ers didn't think she had much of a chance. An infor­mal poll of more than 50 local polit­i­cal insid­ers by WGBH found 81% expect­ed a Capuano vic­to­ry. Indeed, polling a month before the elec­tion showed that she was large­ly unknown to vot­ers, lag­ging by 13 points. But Press­ley won by 17.
These insid­ers were also proven wrong in Boston's race for dis­trict attor­ney. They deemed the white, Irish, male, con­ser­v­a­tive can­di­date the fron­trun­ner, cit­ing the city's demo­graph­ics and a belief that vot­ers wouldn't take to crim­i­nal jus­tice reform. Instead, Rachael Rollins, a woman of col­or who oppos­es cash bail, won big.
If you live in Boston (as I do), it's clear how Press­ley and Rollins man­aged their upset vic­to­ries: They both had aggres­sive ground games. Press­ley vol­un­teers, per­suad­ed by the pas­sion and urgency of Pressley's ​"change can't wait" mes­sage, turned out thou­sands of infre­quent vot­ers. Rollins won after activist groups coa­lesced behind her and pound­ed the pave­ment to explain why the dis­trict attor­ney, an office few pay atten­tion to, was so important.
Boston was not the only place to see the estab­lished wis­dom of ​"elec­tabil­i­ty" upend­ed in 2018. Vot­ers in Orange Coun­ty, Calif., known as a Repub­li­can strong­hold, not only elect­ed Democ­rats in all sev­en House dis­tricts, but elect­ed Democ­rats like Katie Porter and Mike Levin, who sup­port Medicare for All and oth­er pro­gres­sive pri­or­i­ties. Porter and Levin defied the con­ven­tion­al wis­dom that run­ning to the cen­ter is the way to win swing seats, and they won because peo­ple — many orga­nized through dozens of new grass­roots orga­ni­za­tions— were enthu­si­as­tic enough to work to get them elected.
Even can­di­dates who lose can change what ​"elec­tabil­i­ty" looks like. Stacey Abrams may not be Georgia's gov­er­nor (we can thank vot­er sup­pres­sion for that), but she received more votes than any Demo­c­rat ever run­ning statewide in Geor­gia, and a high­er per­cent­age of the vote (48.8%) than any Demo­c­ra­t­ic guber­na­to­r­i­al can­di­date since 1998. In 2014, Geor­gia Democ­rats ran the cen­trist grand­son of Jim­my Carter for gov­er­nor; he got 44.9%. Abrams, a Black woman with a pro­gres­sive plat­form, out­per­formed him by amass­ing thou­sands of vol­un­teers to knock doors and make calls.
As we go into 2020, it is impor­tant to remem­ber so-called elec­tabil­i­ty is no more a sci­ence than astrol­o­gy. Indeed, it is often lit­tle more than cal­ci­fied prej­u­dice. Can­di­dates up and down the bal­lot rou­tine­ly dis­prove the notion that only white or male or cen­trist can­di­dates can win a com­pet­i­tive elec­tion. And they do so by inspir­ing every­day peo­ple to put blood, sweat and tears (and mon­ey) into their campaigns.
So, when weigh­ing which pres­i­den­tial can­di­date to back in the Demo­c­ra­t­ic pri­ma­ry, vot­ers should dis­pense with a def­i­n­i­tion of ​"elec­tabil­i­ty" that relies on gam­ing out what oth­er vot­ers will do. The test should be whether you are will­ing to work to get that can­di­date elect­ed — and can inspire oth­ers to join you.
The best advice on elec­tabil­i­ty I have ever heard comes not from any TV pun­dit or elite colum­nist, but from a bot­tle cap still sit­ting on my bureau: Good things come to those who hustle.
Jonathan Cohn
is a Boston-based activist and edi­tor who has vol­un­teered on numer­ous elec­toral and bal­lot ini­tia­tive cam­paigns. He chairs the Elec­tions Com­mit­tee at Pro­gres­sive Mass­a­chu­setts, a statewide grass­roots advo­ca­cy group, and was a cam­paign fel­low for Oba­ma for Amer­i­ca in
2012
.