A New Crop of Candidates, Refusing Industry Money, Vows To Halt Fracking in Pennsylvania
15 candidates for state legislature have promised to stop fracking and the construction of pipelines, which are tearing up rural Pennsylvania.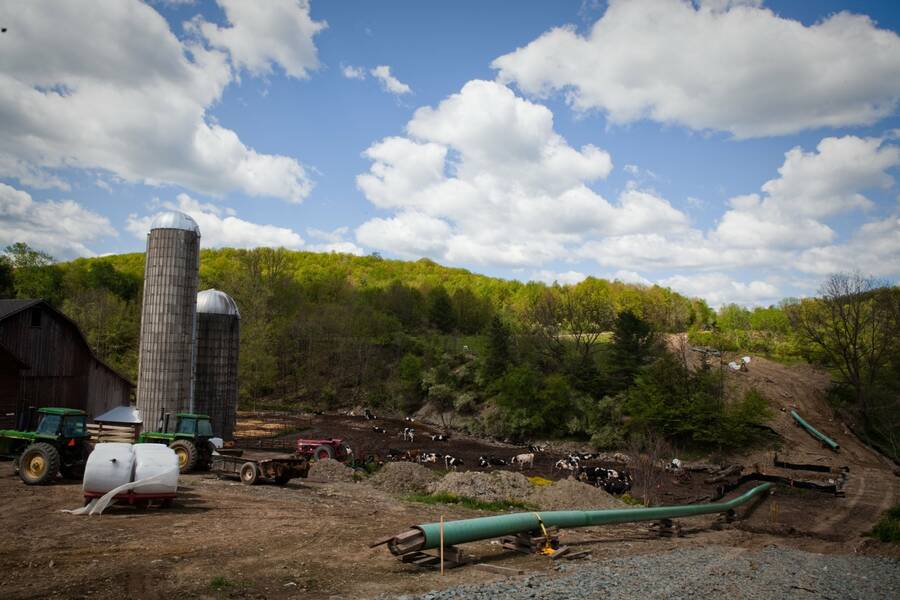 In Penn­syl­va­nia, a rush is on to extract gas and oth­er fos­sil fuels from the Mar­cel­lus and Uti­ca Shales. Both Demo­c­ra­t­ic and Repub­li­can state offi­cials have been quick to give the green light to the oil and gas indus­try to drill, frack and build pipelines. But local back­lash against pol­lu­tion, explo­sions and seizure of prop­er­ty is fir­ing up a new crop of state leg­isla­tive chal­lengers who vow to stay clean of indus­try mon­ey and put a halt to the gas rush.
The pro-fracking stance of many elected and appointed officials in PA crosses party lines.
Grass­roots envi­ron­men­tal­ist cam­paign Proud Penn­syl­va­nia has col­lab­o­rat­ed with Food and Water Action PAC to endorse 15 can­di­dates for Penn­syl­va­nia Sen­ate and House of Rep­re­sen­ta­tives on the Novem­ber 6 bal­lot who sup­port a ban on frack­ing and a mora­to­ri­um on all new fos­sil fuel infra­struc­ture. All have pledged not to accept indus­try mon­ey. Twelve of the 15 are women, reflect­ing the wave of women run­ning for office in 2018.
These races could serve as a test of whether res­i­dents of Penn­syl­va­nia, like many in the Appalachi­an region, are tired of see­ing their state embrace resource extrac­tion with a high envi­ron­men­tal toll.
The frack­ing boom
Since the nation's first oil well went up in 1859 near Titusville, Pa., dirty ener­gy has been a dri­ver of the Penn­syl­va­nia econ­o­my. Start­ing with Gov. Ed Ren­dell (D) in rough­ly 2007, Penn­syl­va­nia has giv­en the green light to the fos­sil fuel indus­try to drain nat­ur­al gas from the Mar­cel­lus and Uti­ca Shales through frack­ing. The Mar­cel­lus and Uti­ca Shales also pro­duce the col­or­less, odor­less, high­ly explo­sive Nat­ur­al Gas Liq­uids (NGL) used, among oth­er things, to make plas­tic. Once nat­ur­al gas and NGLs are extract­ed, they are moved through pipelines, trains and trucks to ports where they are typ­i­cal­ly sent to inter­na­tion­al mar­kets. Suno­co, for exam­ple, has repur­posed Mariner East 1 (ME1), built in the 1930s to car­ry gaso­line, to car­ry up to 70,000 bar­rels dai­ly of NGLs to the Mar­cus Hook refin­ery near Philadel­phia. Two more Suno­co pipelines in con­struc­tion, Mariner East 2 (ME2) and ME2X, will respec­tive­ly increase the car­ry­ing capac­i­ty of ME1 by 275,000 bar­rels and 250,000 bar­rels of NGL daily.
Frack­ing and the Revolv­ing Door in Penn­syl­va­nia, a 2013 report by watch­dog group the Pub­lic Account­abil­i­ty Ini­tia­tive, details just how close state reg­u­la­tors and offi­cials are to the oil and gas indus­try. Gov­er­nors, leg­is­la­tors and employ­ees of state reg­u­la­to­ry agen­cies — from high-rank­ing offi­cials down to well inspec­tors — have con­sult­ed for, lob­bied, worked for, received cam­paign con­tri­bu­tions from or pro­vid­ed legal ser­vices to a wide assort­ment of fos­sil fuel com­pa­nies. Since the cre­ation of the state Depart­ment of Envi­ron­men­tal Pro­tec­tion (DEP) in 1995, every head of the agency has had ties to the ener­gy industry.
New frack­ing wells require per­mis­sion from a vari­ety of reg­u­la­to­ry bod­ies, but they've still pro­lif­er­at­ed. Accord­ing to the statewide envi­ron­men­tal advo­ca­cy orga­ni­za­tion Pen­n­Fu­ture, as of late 2016, 10,000 gas wells had been drilled in the state since the boom began in 2007, and per­mits were issued for anoth­er 18,000. In 2017, Penn­syl­va­nia was sec­ond only to Texas in gas pro­duc­tion, with near­ly 5.5 tril­lion cubic feet of nat­ur­al gas pro­duc­tion, pri­mar­i­ly from the Mar­cel­lus Shale.
Leaks, explo­sions and land seizure
The harm to the res­i­dents and envi­ron­ment has been enor­mous. Accord­ing to research and advo­ca­cy orga­ni­za­tion Frac­Track­er Alliance, fed­er­al reg­u­la­tors have logged reports of 108 pipeline ​"inci­dents" in Penn­syl­va­nia since 2010, includ­ing 15 explo­sions. These inci­dents have killed eight peo­ple, injured 21, dis­placed 1,118 and caused $67 mil­lion in dam­ages. Most recent­ly, on Sep­tem­ber 11, a fire­ball from Ener­gy Trans­fer Part­ner's Rev­o­lu­tion Pipeline destroyed a house in Beaver Coun­ty, Pa. No one was injured, but res­i­dents with­in a half mile were evac­u­at­ed and a local school was tem­porar­i­ly closed.
The DEP has giv­en out 60 notices of vio­la­tion to Suno­co since con­struc­tion on ME2 began in Feb­ru­ary 2017. These range from spills of drilling flu­ids to sink­holes, which envi­ron­men­tal­ists say is a haz­ard of drilling and con­struct­ing pipelines through karst, an unsta­ble topog­ra­phy found through­out Penn­syl­va­nia. Suno­co has sim­ply paid the resul­tant fines, many of which are so tiny as to amount to a slap on the wrist, and con­tin­ued con­struc­tion. Even the largest penal­ties, like $12.6 mil­lion set­tle­ment for what the DEP called ​"egre­gious and will­ful vio­la­tions," are a frac­tion of Sunoco's $2 bil­lion ME2 budget.
ME2 is not yet car­ry­ing NGLs, but ME1 has already had at least three leaks. None have result­ed in explo­sions, accord­ing to State Impact, a report­ing project of NPR. But if a leak is ignit­ed by some­thing as com­mon­place as a cell­phone, a car or door­bell, these sub­stances can wipe out an entire area, with a blast radius rang­ing wide­ly due to fac­tors such as weather.
The Penn­syl­va­nia Pub­lic Util­i­ty Com­mis­sion grant­ed Suno­co the pow­er to exer­cise emi­nent domain to devel­op ME2, leav­ing landown­ers with lit­tle legal recourse to stop the pipeline from being built across their land. Among those landown­ers are Ellen and Steve Ger­hart, a retired spe­cial edu­ca­tion teacher and artist, respec­tive­ly, who own 27 acres in rur­al Hunt­ing­don Coun­ty and say Suno­co has spilled 4,000 gal­lons of drilling flu­ids in the vicin­i­ty of their prop­er­ty. The Ger­harts have tak­en numer­ous steps, includ­ing law­suits, to pro­tect their home from the dev­as­tat­ing effects of resource extrac­tion.
Rolfe Blume of Cum­ber­land Coun­ty says he has been with­out clean water since con­struc­tion of ME2 began on his land in 2017. He and his wife have to go out once a day for a hot meal and can't wash dish­es or take a show­er at their home with­out an over­whelm­ing smell of sulfur.
Suno­co did not respond to requests for com­ment for this article.
A dif­fer­ent form of danger
Along with water and health issues, some res­i­dents are con­cerned about the high preva­lence of rape around pipeline projects.
Oil and gas com­pa­nies set up man­camps — tem­po­rary camp­sites with hun­dreds or even thou­sands of tran­sient work­ers, pre­dom­i­nant­ly men — near project sites. Sex­u­al and phys­i­cal vio­lence and oth­er crimes increased dur­ing the Bakken Shale boom, prompt­ing the FBI to set up a per­ma­nent field office in Willis­ton, N.D. Joye Braun of the Cheyene Riv­er Sioux, whose reser­va­tion is close to Key­stone XL pipeline, believes that crimes like sex­u­al assault ​"are tied direct­ly to these extrac­tive indus­tries." She adds, ​"Stand­ing up against frack­ing and tar sands is so much more than just fight­ing cli­mate change — which we as First Nations feel the effects of right now — it's also about pro­tect­ing our women and chil­dren and Two Spir­it Nation."
Bar­bara Robin­son of Chester Coun­ty, Pa., who has a pipeline being con­struct­ed direct­ly behind her house, says that she does­n't feel safe being in her back­yard or pool when the pipeline work­ers are around. Her 15-year-old grand­daugh­ter won't go out either.
A two-par­ty problem
The pro-frack­ing stance of many elect­ed and appoint­ed offi­cials in PA cross­es par­ty lines. ​"When it comes to frack­ing, the only dif­fer­ence between Repub­li­cans and Democ­rats is that Repub­li­cans want to give away our health, safe­ty, and envi­ron­ment; Democ­rats want to sell those things" by tax­ing them, says Karen Feridun, a found­ing mem­ber of the Bet­ter Path Coali­tion, an advo­ca­cy group that hopes to elim­i­nate frack­ing and shale gas infrastructure.
Cur­rent Demo­c­ra­t­ic Gov. Tom Wolf received $1.5 mil­lion in cam­paign and in-kind con­tri­bu­tions from the fos­sil-fuel indus­try when he was first elect­ed in 2014. Under Wolf, the state has moved $24 mil­lion from a renew­able ener­gy fund to its PIPE pro­gram, which makes the mon­ey avail­able for grants to insti­tu­tions to install last-mile infra­struc­ture to facil­i­tate their use of nat­ur­al gas. In ref­er­ence to a 2017 report aim­ing to ​"enhance Pennsylvania's oppor­tu­ni­ties in petro­chem­i­cal man­u­fac­tur­ing," Wolf said that ​"Penn­syl­va­nia has a once-in-a-gen­er­a­tion oppor­tu­ni­ty to devel­op and imple­ment a strat­e­gy that will cul­ti­vate a man­u­fac­tur­ing renaissance."
Not all cam­paign-finance fil­ings are avail­able for 2018, but Wolf has accept­ed at least $5,000 from ETP, the com­pa­ny behind the Dako­ta Access Pipeline and Sunoco's par­ent com­pa­ny. ETP has one of the worst safe­ty records in the indus­try, with spills aver­ag­ing one every 11 days. The com­pa­ny has also hired pri­vate secu­ri­ty to sur­veil and aggres­sive­ly sup­press pipeline activists in mul­ti­ple states, accord­ing to an inves­ti­ga­tion by The Inter­cept. In the Ger­hart's legal bat­tles with Suno­co, one evi­den­tiary sup­ple­ment pro­vid­ed by Suno­co Logis­tics was a detailed sur­veil­lance log by Leighton Secu­ri­ty. It includ­ed phys­i­cal descrip­tions of peo­ple and vehi­cles com­ing and going from the property.
The gov­er­nor's office refused com­ment for this story.
Proud Penn­syl­va­nia is not try­ing to oust Wolf, who's up for reelec­tion in Novem­ber. ​"We have no choice but to reelect Gov. Wolf," says Judy Wicks, founder of Proud Penn­syl­va­nia. ​"I'm dis­ap­point­ed about his posi­tion on frack­ing, but he is good on oth­er issues that I care about such as pub­lic edu­ca­tion and wom­an's rights, and far supe­ri­or than anoth­er Cor­bett, who was a dis­as­ter on all counts."
Instead, with their endorse­ments of Penn­syl­va­nia state leg­isla­tive can­di­dates, Proud Penn­syl­va­nia and Food and Water Action are try­ing to assem­ble a leg­is­la­ture that will tru­ly stand up to industry.
The chal­lenger
Among their 15 endorsees is Erin McCrack­en, a Demo­c­ra­t­ic can­di­date in the 171st Dis­trict, who has agreed to back a ten per­cent increase in solar ener­gy pro­duc­tion, as well as refus­ing indus­try con­tri­bu­tions to her cam­paign and sup­port­ing a mora­to­ri­um on frack­ing. ​"It doesn't mat­ter what your par­ty is," she says. ​"There is no deny­ing that cli­mate change is already impact­ing our com­mu­ni­ties and our lives, espe­cial­ly our farm­ing communities."
She's also con­cerned about the pipelines con­t­a­m­i­nat­ing the water sup­ply. ​"Clean water is some­thing that we all have a right to, and we need to pro­tect that," she says.
Anoth­er mat­ter that may come before the leg­is­la­ture is the ques­tion of protest sup­pres­sion. Pennsylvania's Sen­ate has already passed a bill, SB652, based on the pro-oil and gas Amer­i­can Leg­isla­tive Exchange Coun­cil's crit­i­cal infra­struc­ture bill, which aims to enhance penal­ties for peo­ple who crim­i­nal­ly tres­pass on infra­struc­ture of a ​"crit­i­cal infra­struc­ture facil­i­ty" — which include oil and gas projects. A sim­i­lar bill in Louisiana has been writ­ten into law and sev­er­al peo­ple resist­ing ETP's Bay­ou Bridge Pipeline have been charged with felonies. The bill was recent­ly tabled in the state House.
When asked how she would vote on SB652 if it comes up, McCrack­en said that she's ​"extreme­ly opposed to that. Protest is a part of our First Amend­ment rights that are non-nego­tiable. … We need to take it fur­ther. We need to pro­vide pro­tec­tion to peo­ple who are express­ing their opinions."